The backdrop of Maurice Harris' new Echo Park coffee shop—Bloom & Plume Coffee, located next to his longtime flower shop of the same name—is a very Maurice Harris shade of purple. Creamy, cool, and luxurious. Celebratory. It's a purple that evokes Prince and pure royalty, but with a warm twist. The perfect purple for a community space like Harris', where you'll find him on most days, resplendent in his trademark purple French worker jacket and orange sneakers, standing outside, chatting animatedly to a passerby, a neighbor, a colleague, a friend. The 37-year-old California native, who co-owns the coffee shop with his brother, has designed a serene and carefully curated space. Outside, tables and chairs are dotted with miniature versions of Harris' floral arrangements. Inside, his logo—a Kara Walker-esque silhouette of a Black boy—is hung atop colorful Moroccan market bags and booklets of postcards featuring Harris' cult favorite portraits of Black bodies wreathed in his luxe flowers. The menu—consisting of hearty toasts, waffles, drinks—is simple but beautifully sneaky. The avocado toast is called "Becky."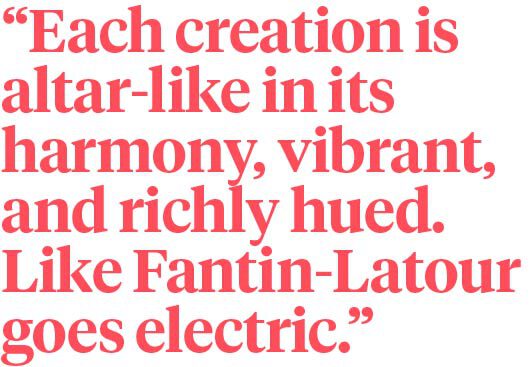 Considering how busy Harris finds himself (designing floral installations for Ava DuVernay, Florence and the Machine, and this year, a flower-themed Vogue Ukraine editorial featuring it-model Alton Mason) one wonders how he found the time to open a second business while also building a healthy and honest social media presence. Harris' Instagram followers—126,000 and growing—are regularly treated to the artist's compositional genius for color and botanical flair. Each creation is altar-like in its harmony, vibrant, and richly hued. Like Fantin-Latour goes electric. In person, Harris —a dancer— is a flurry of movement. He is at once sarcastic and earnest, joyful, and serious. Maurice, who is a friend, tells me he's rooted in his Blackness, in his gayness, in his "feminine side" and his masculine side, too. His many identities and talents bleed into one another, informing his artistry one arrangement at a time.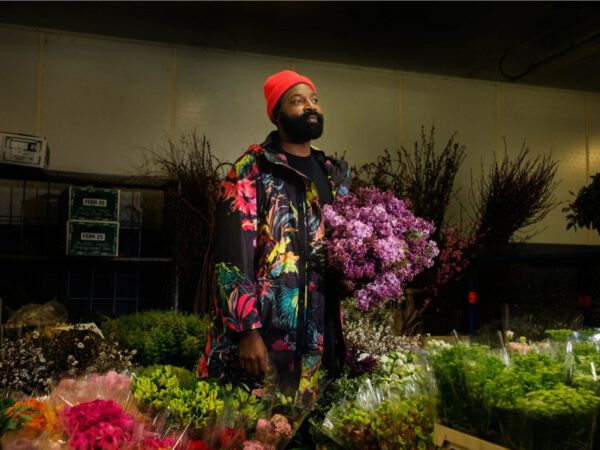 What was the first arrangement you ever made?
I think it was for the last day of elementary school. I was going to Lemon Grove Middle School and picked flowers around my house and made an arrangement for my teacher, who was a big inspiration to me. My mom was like, "Sure, but I'm not giving you any money." I think we had a lemon tree in my backyard and some geraniums. I had some easter tinsel lying around. It was a mess.
What do you call your practice?
These days I say I'm an artist and flowers are the medium I use to communicate my ideas. We do what we know or what we're exposed to. I watched my grandmother create arrangements and hats since I was really little—she really inspired me. Seeing her making things, and specifically flowers, I thought, "Oh I could figure this out." My mom is also super creative. I'd see her crafting.
What do you fantasize about for your art?
I really want to create environments and experiences for people. One of the people I look up to is Nick Cave. He did this whole dance and installation experience in New York recently that my friend saw. And as he was sitting there, [my friend] was like, "This is so you, I can't wait for you to do this in your way." I want to be paid to be creative, to have a creative voice. My ideas can sometimes be grand so it's not always easy to execute. To do that would be magical.
You used to design window displays for Juicy Couture. How'd you get from windows to flowers?
I was sourcing from places near the flower district. And I would see things and ask questions while I was down there. It was on the job training, I guess you could say. If people needed flowers for something back at the office, they would just ask me to grab something while I was down there. I had an eye for composition and people responded well to my arrangements.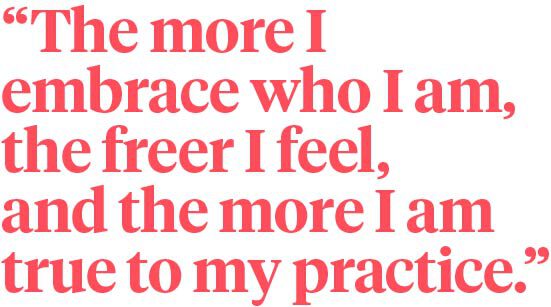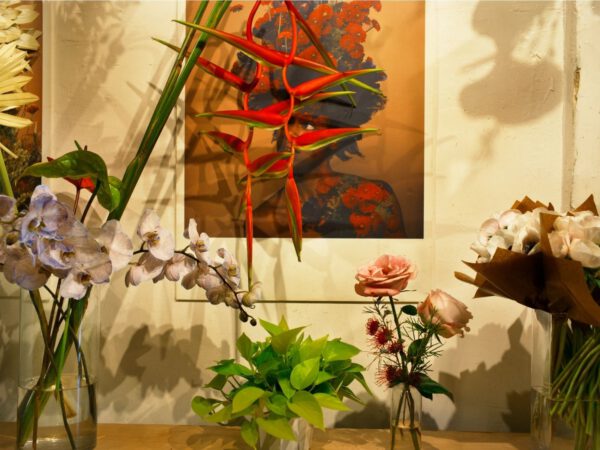 What was your hustle? How'd you go from Juicy to opening a shop with actual employees?
I got laid off. During the economic downturn, they did a creative overhaul and I wasn't on that team. I was ousted! And that was...fine by me. I took my severance package and did some odd jobs. For Cirque du Soleil, I was a prop sourcer for clowns. I did random dance jobs on commercials. I was trying to hustle and make it like everyone else in this city. But little flower things kept popping up so I'd do them and then flowers kept getting more and more consistent. Eventually, that took up the bulk of my time, so we ran with it.