Dutch photographer Loes Heerink lived in Hanoi from 2012 until 2015 during which time she became fascinated by the lively streets and the countless vendors that ply their wares. Flower Merchants in Motion is the floral photo story from this adventurous Dutch photographer and storyteller.
Hanoi, Vietnam
"Cramped into a van with other tourists, arriving in this bustling city known as Hanoi. Sweat is dripping from my back as I am bathing in sweat, not used to the heath. Meanwhile, I stare out of the small windows. I can hardly see the old yellow houses due to the number of trees and dangerous-looking electricity cables. Our van professionally avoids all the scooters on the road. And there are many. While ignoring the red stoplights.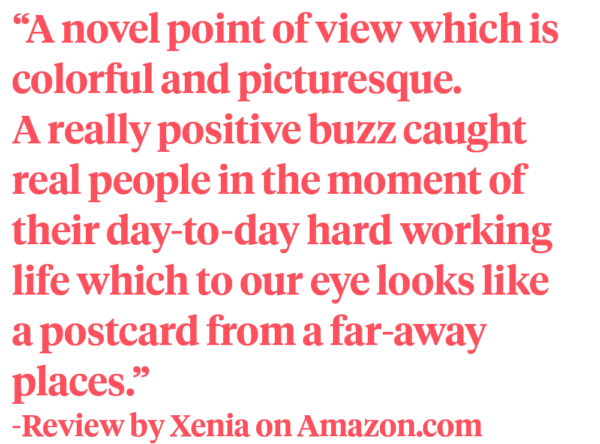 The van stops, and me and my backpack are pushed out. I have no clue where I am. The streets are so crowded! And everybody is honking. Thus I panic a little. In the distance, a lady slowly walks up the road. She walks next to her bicycle with sooo many groceries on there. Her slow pace and burst of colors calm me down. When she gets closer I see that she is actually selling the items on her bike.
This reminds me of my mum. Because sometimes, I had to do groceries for our family and I always complained to her that I had to do them on my bike. I hear 14-year-old myself complain: "No person can carry so much stuff on a bike, mum!" I smile because today I learned they can. And how! In short: this is where the seed was planted!"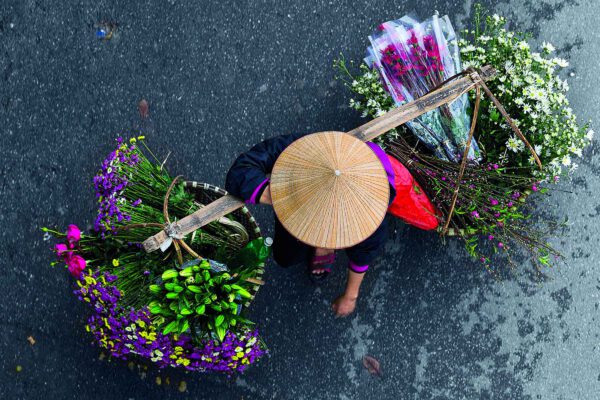 Flower Merchants in Motion Photos
The thousands of street vendors in Hanoi are a well-liked and much-photographed feature among visitors to the Vietnamese capital. Merchants in Motion is the first book that captures the subject from a unique vantage point. The colors, shapes, and textures can be an inspiration for designers and artists in many fields.
Every day, thousands of vendors descend on the Vietnamese capital Hanoi with their goods-laden bicycles. They make the trip from the countryside to the city to sell fruits, flowers, food, and a whole variety of other goods. The merchandise is carefully displayed in baskets, and balancing these on their bicycles the vendors walk the streets of Hanoi in search of customers. Dutch photographer Loes Heerink became intrigued with the vendors and their stories, but photographing them in the overcrowded streets proved a challenge. Until she decided to change her vantage point.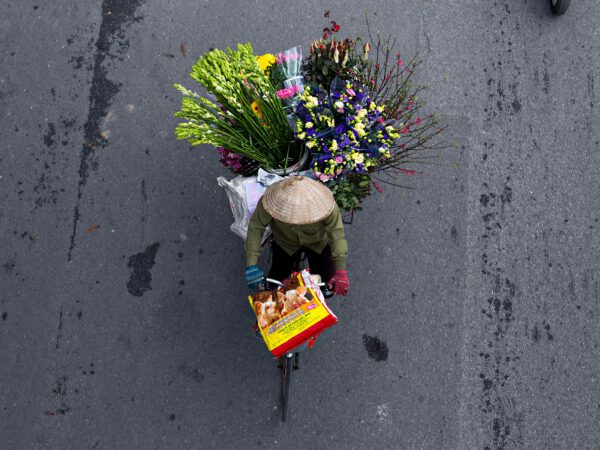 Perched high on a pedestrian bridge or other overpass she captured the merchants from above, eliminating the usual distracting street clutter. The resulting images are mesmerizing and colorful pieces of art; shapes, colors, and textures drawn on the grey canvas of the street. Complimented with portraits of some of the vendors, Merchants in Motion offers a unique perspective on a fascinating subject.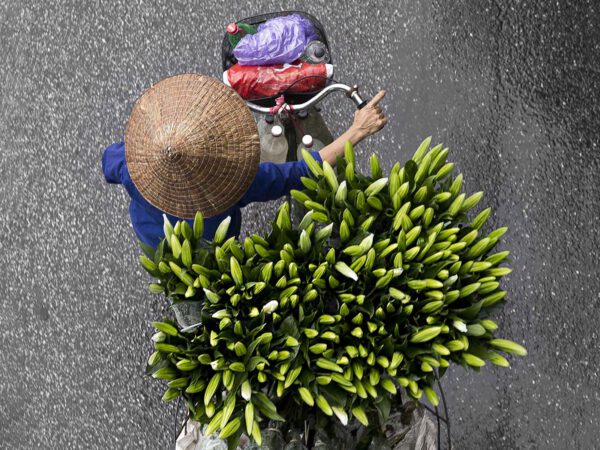 The Photo Book
Loes Heerink: "As you may know 'Merchants in Motion: The Art of Vietnam's Street Vendors' appeared in book form, but there are also prints available. I work with a specialized printing agency, that handles special edition prints. RE-art handles printing and shipping. If you like RE-art also frames the images. More information about my products is up on the product page! Each image is printed not more than 100 times (excluding some kickstart backers). Some of them only 10 or 15 times.
Firstly, I sign and number each print. Secondly, each print receives an authenticity stamp. And thirdly the print comes with a guarantee. And little gloves haha, just to make sure to protect the print as much as can be! Also just because it's cute! Everything is in order to get the best quality possible!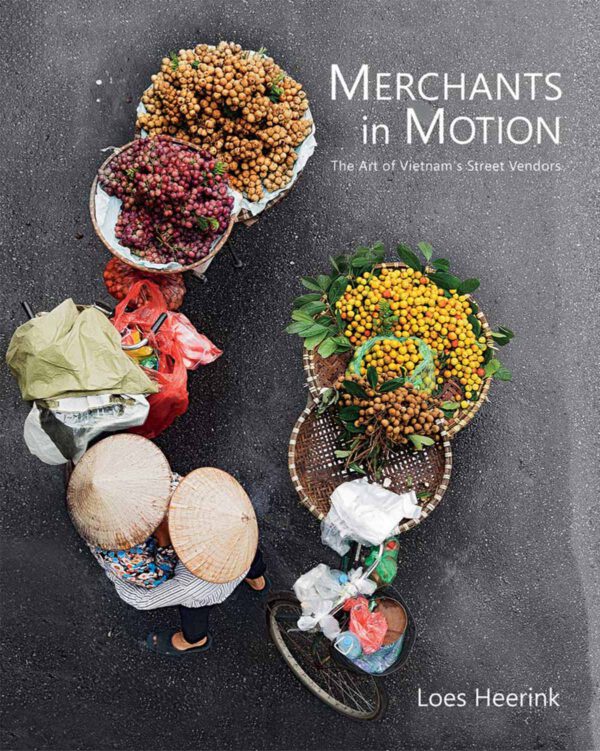 Note: have a look at the product page of Loes Heerink.