A fresh-faced Emily Michele Smith meets me at the gate to her studio. I've walked the twenty minutes from Epping station despite Emily's offer to pick me up, admiring the stillness of the residential area just forty minutes away from bustling Sydney center. On my way I see roses everywhere; perhaps it is my interviewee who has inspired me to notice them. 26-year-old Emily runs Boutierre Girls, an Instagram sensation and one of Sydney's most prestigious floral businesses.
Learn About What Sparked Emily's Rise to Floral Fame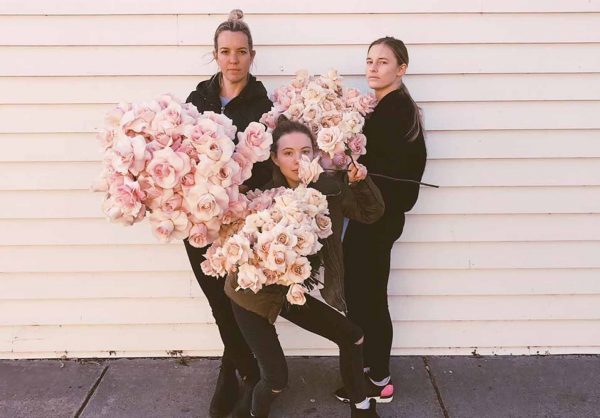 It's 10 am and Emily has already had four shots of coffee. She has apologetically rescheduled three times; her black van full of flowers is relentlessly on the move, catering to last-minute orders. This week alone, she has also received three other requests for interviews. The Boutierre Girls studio is a crisp white space that sets the scene for many of Emily's Instagram photos. It's the social media platform that sparked her rise to floral fame and features frequently in her speech when talking about Boutierre Girls. Emily has nearly 35 000 followers, a figure that is steadily rising.
Behind The Scenes at Sydney Flower Market
The walls of the studio are covered with urns and vases, some filled with blooms leftover from the morning's deliveries. Emily is apologetic there aren't more and automatically rearranges them, unasked, for a better photograph. We sit down at a grey concrete table where she fiddles with a massive nude Mayfair rose, gently peeling back its petals as she talks.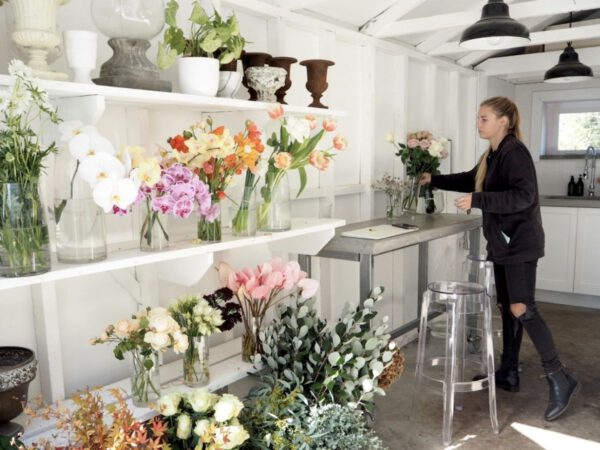 Emily in her studio. Image: Laura Syvaniemi
"I got up at 3.45," She says as I ask her about her morning. "I've been to the markets, bought all my flowers, come back and stripped everything down, made all my deliveries, and delivered them. I've delivered flowers for a photoshoot as well. That's about it."
The early alarm is no stranger to Emily: she always gets up that time on Mondays and Wednesdays, when fresh flowers come into the flower markets. On Fridays, it's "around 2.30". Emily works seven days a week – the amount of coffee quickly makes sense.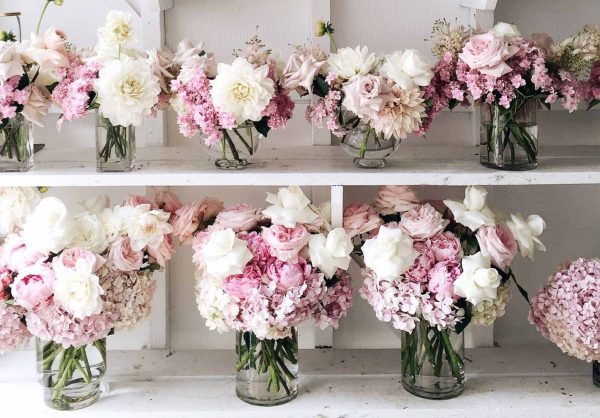 The Birth of Boutierre
Before Boutierre Girls Emily studied medical science at UNSW, spending her spare time making cakes and playing with flowers.
"I have chronic fatigue and was sort of bed-ridden for three or four years," Emily explains. "I would have weird hobbies and flowers was one of them. I started as cakes, and then I was like; I actually hate cakes." She laughs. "And the reason my cakes were so popular was I'd deck them out with fresh flowers. So I just got rid of cakes and did flowers instead."
A florist, just like her first cake client, found Emily on Instagram and offered her a job. After two months, in 2014, she quit and started her own business. "It's been going nuts ever since!"

"Pictures on Instagram that get a lot of likes tend to be just one flower," Emily says of her most reposted images. Images courtesy of Boutierre Girls.
Due to her explosive rise in popularity, Emily had to leave UNSW and a brief period at TAFE. She now creates florals for weddings, as well as fashion labels and photoshoots, which she loves. Recently she had her first magazine cover.
"I'd love to move overseas and do stuff with big labels," Emily says. "If I ever did a job for like Balmain, I'd probably die. I still scream like a little kid when I get a job offer from a label that I'm obsessed with."