The gateway to the Americas Cup is an International Floral Design Competition founded in 1996 and since organized by Gus and Deborah de la Flor. This event is brought to life to promote the art of floral design, education, and camaraderie within the floral community throughout the Americas.
Gateway to the Americas Cup

After doing floral presentations and teaching in North, Central & South America, Deborah and Gus fell in love with the beautiful florists in these countries and knew they should do something to bring the love of the floral industry together. Gateway to the Americas was born in 1996.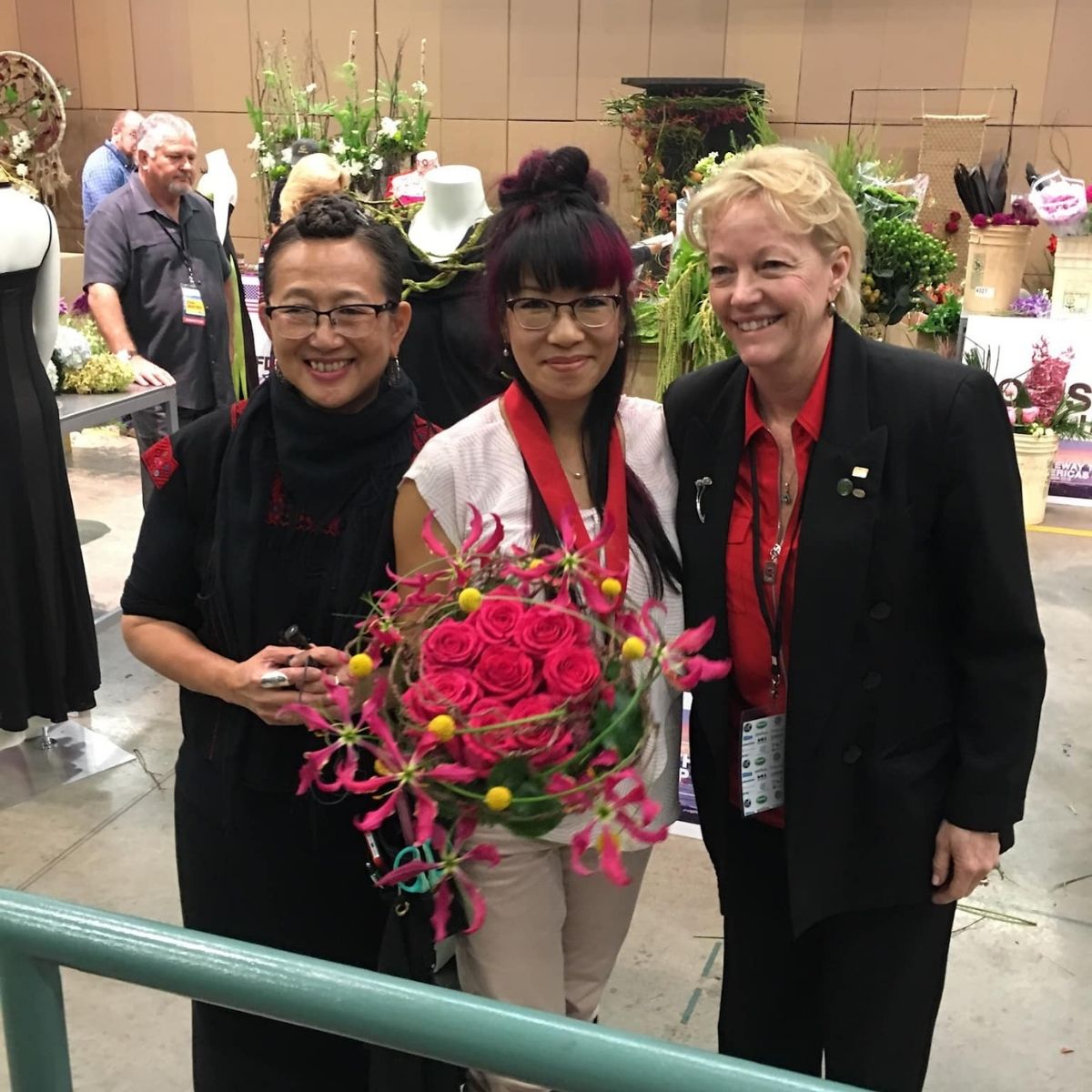 Hitomi Gilliam, Brenna Quan, and Deborah De La Flor

Dates and Program
The best and the brightest floral artists are selected for entry into this competition to represent their respective countries.

This floral design competition will take place from 22nd to 24th of July during the convention of FSFA (Florida State Florist Association). In Orlando, Florida, near Disney World, it runs over three days of intense competition covering five different categories of design. Each category/task is timed, all competitors must complete the design within a time frame.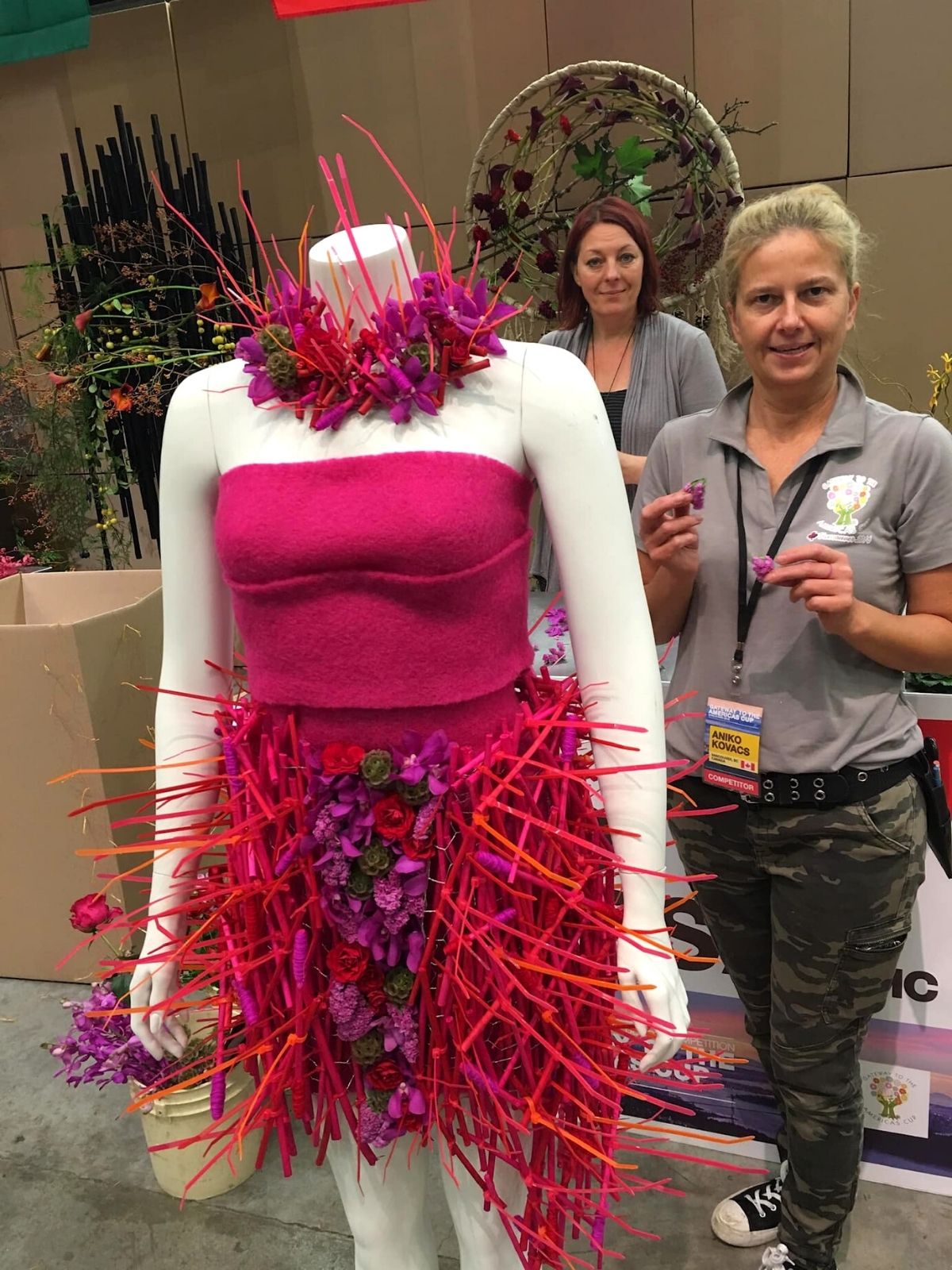 Aniko Kovaks
Our Floral Designers
Deborah herself competed in this competition in 1999: FTD (Florists' Transworld Delivery) borrowed and ran the cup from Las Vegas, and that gave her the possibility to do so.
Deborah:
"The competitors are judged on their extreme skills, creativity as well as all principles and elements of floral design. We are extremely proud of all the great floral talents who have competed over the years in our gateway competition. Several of our winners have gone on to compete in the Interflora World Cup, and became icons in the floral industry. Ivan Moreno (Colombia), Tanus Saab (Brazil), Jacob McCall AIFD (USA), Leopoldo Gomez (Mexico), Paul Jaras AIFD (Canada), and even myself. We hope to continue this trend."

A very special thanks to the extremely talented Varito Vasquez for creating the Gateway to the Americas logo!


Hall of Fame… Past Champions

WINNER COUNTRY HOST CITY
MARY PATTON USA FORT LAUDERDALE, FL 1996
IVAN MORENO COLOMBIA ORLANDO, FL
DEBORAH DE LA FLOR aifd USA LAS VEGAS, NV 1999
TANUS SAAB BRAZIL CANCUN, MEXICO
LEONARDO BIONE BRAZIL HOLAMBRA BRAZIL 2011
JACOB MCCALL aifd * USA HOLAMBRA BRAZIL 2011
BROOKE RAULERSON aifd USA FORT LAUDERDALE, FL 2014
JULIANA HAMES BRAZIL VANCOUVER, BC 2016
BROOKE RAULERSON aifd* USA VANCOUVER, BC 2016
BRENNA QUAN aifd * CANADA VANCOUVER, BC 2016
LEOPOLDO GOMEZ MEXICO ORLANDO, FL 2018
JENNY THOMASSON aifd * USA ORLANDO, FL 2018
PAUL JARAS aifd* CANADA ORLANDO, FL 2018
*First or Second Runner up
"Embrace"
Deborah:
"I'm really looking forward to this year's Gateway to the Americas that will take place during "Embrace", the convention from FSFA International. I'm really proud. I love what I do and I do what I love. Happy me."
Florida State Florist Association Annual Convention "Embrace"
FSFA INTERNATIONAL & "Gateway to the Americas International Floral Design Competition"
July 22-24th2022
Signia by Hilton Orlando Bonnet Creek
14100 Bonnet Creek Resort Lane
Orlando, Fl 32821
407-597-3600
For Hotel Reservations go to floridastatefloristsassociaton.com
Questions: Deborah De La Flor 954-684-2398
Gus De La Flor 954-914-9681