In Vietnam's Ha Long City, you can find the My Montessori Garden, a green school that encourages children to develop natural interests instead of focusing on a formal curriculum full of grades and tests.
Green School in Vietnam Improves Educational Environment
Flowers bloom and plants climb up the walls of this steel-framed school, designed by Vietnamese studio HGAA. The green school is designed to support the Montessori education system, showing children there is more to education than homework and tests. Because they only have a maximum lease of 10 years on the land, the building is designed for easy dismantling and relocating.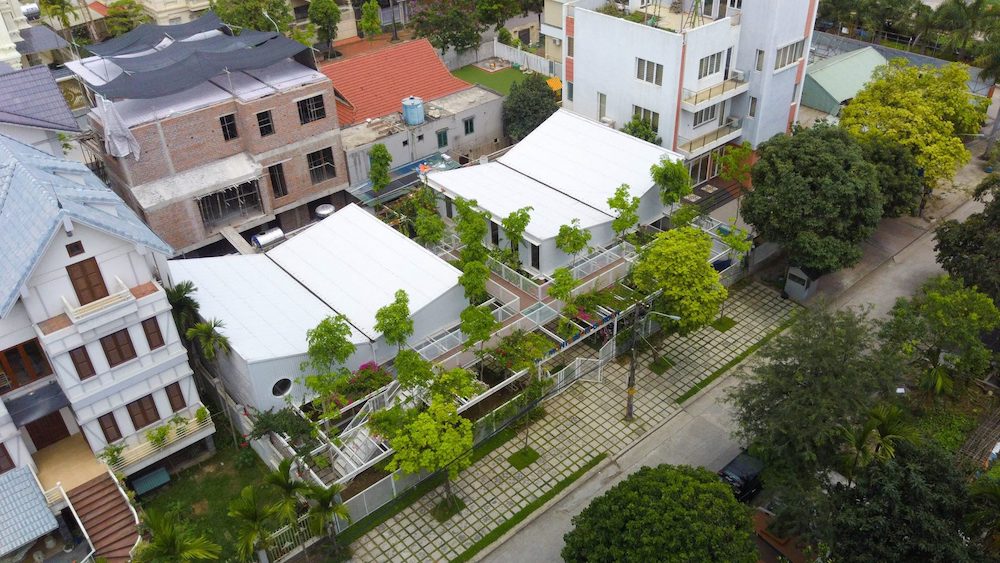 A Community Vegetable Garden
Before the green school took root in this place, the space used to be a community vegetable garden, spurring HGAA to develop their concept of a 'garden school', infilling the steel frame with wire mesh that allows climbing plants to gradually take over.
"We hope to bring a simple, effective and practical model that contributes to a positive improvement in the educational environment,"
explained the studio.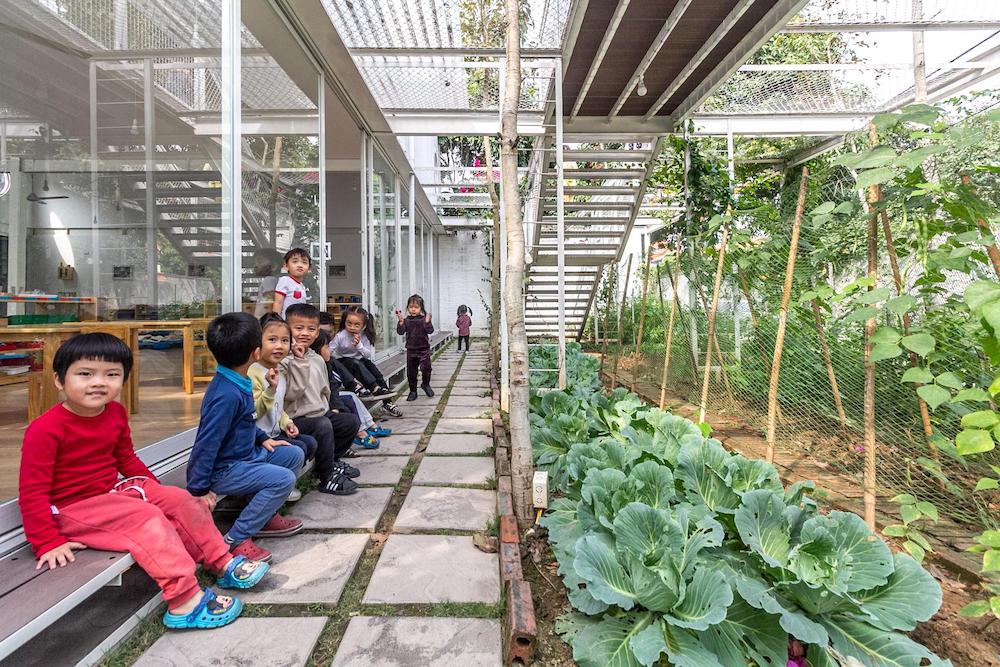 Exploring Nature in a Green School
A garden, where children can be immersed in nature, run freely, jump, climb, and explore the world around them in a natural way. That was the aim of the Montessori Kindergarten green school. Two large classrooms are housed in a pair of corrugated steel blocks with butterfly roofs, surrounded by mesh panels that enclose an open paved garden on the ground floor and elevated planted walkways above.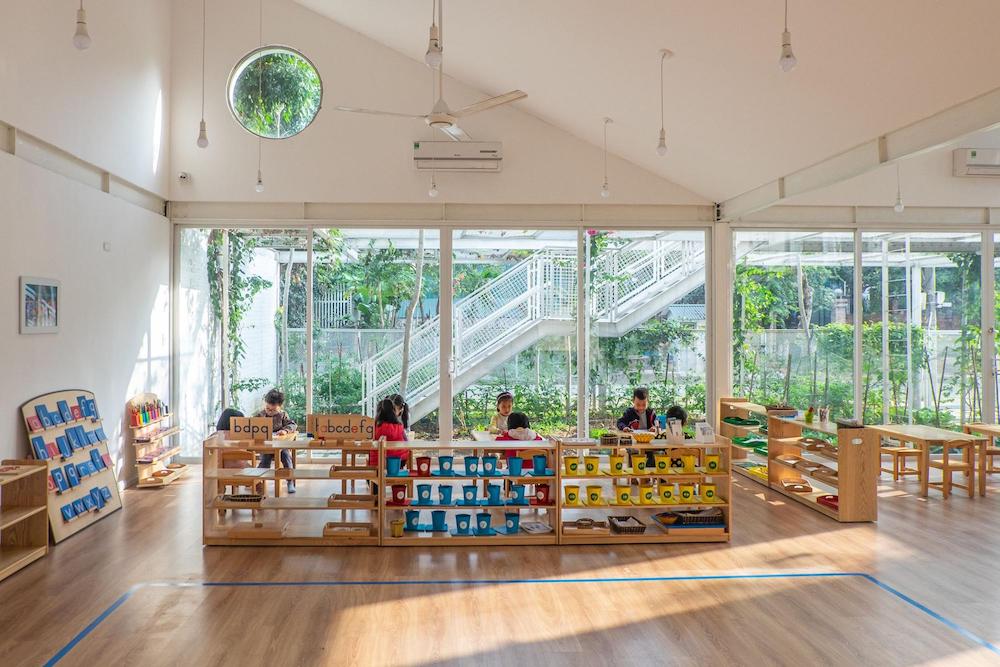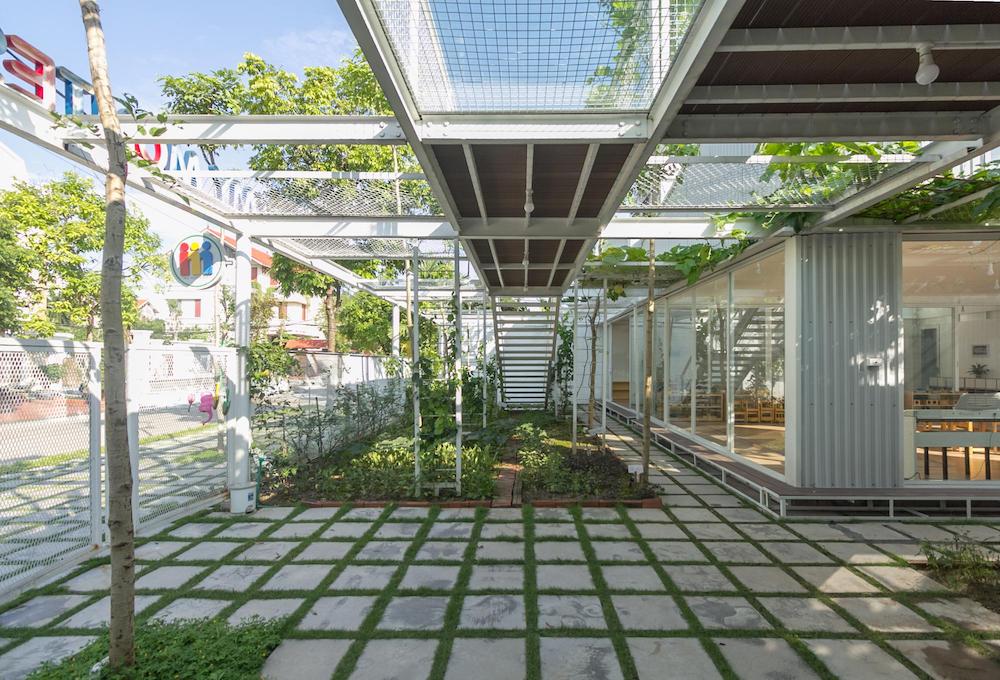 Forming a canopy over the ground-floor garden space are alternating panels of mesh, metal, and transparent plastic in the grid of the steel frame, creating patches of light and shade with some spaces left open for trees and plants to grow through.
"In this garden, children can learn how to plant and care for fruit vines, seasonal vegetables, and their favorite flowers,"
said HGAA.
Inside the classrooms, windows and sliding glass doors continue the close relationship to nature outside, with upper-level openings creating views in from the elevated walkways and overheating prevented by shade from the trees.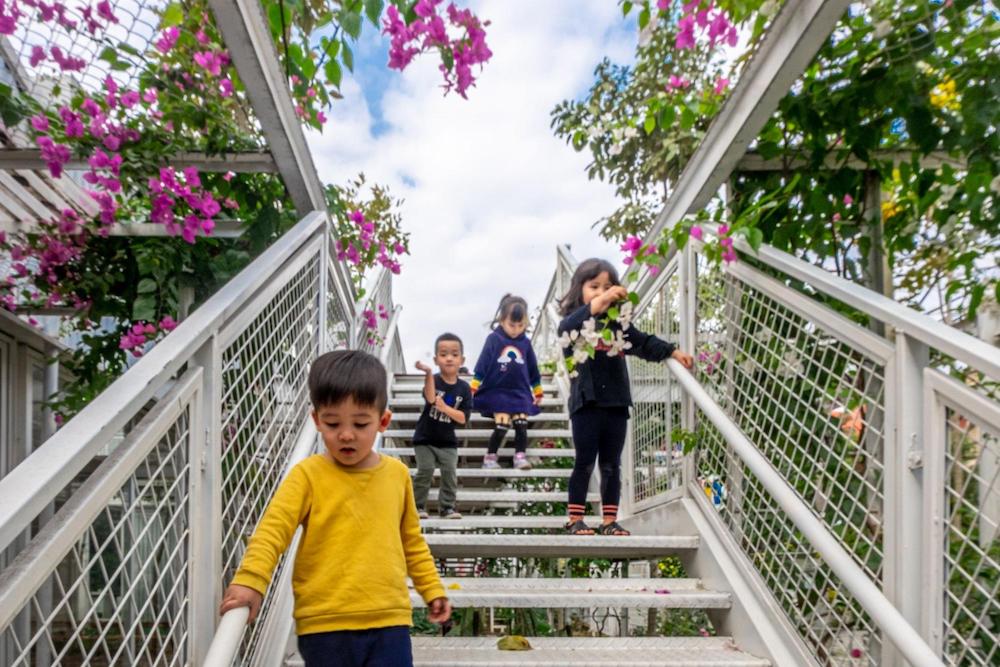 Architectural Solutions
With simple architectural solutions, HGAA works towards making changes in the educational system, hoping to inspire others to follow their example and improve the educational environments for children. Go to the HGAA website to see more of their green initiatives and architectural projects.