GRIF is an award-winning multidisciplinary visual artist and director. Most recently, he collaborated with Wiz Khalifa on his 'Millions' video and worked with Kanye West, Givenchy, Nike, Apple, Adidas, and many more. Winner of PRINT magazines New Visual Artist award in 2015, and ADC Young Guns in 2012. His studio and art practice is located in New York City.
The Equinox Collection by GRIF
The Equinox Collection presents surrealist depictions of familiar objects, scenes, and characters, each in motion. As an invisible catalyst moves through each artwork, – a transfer of natural energy causes the subjects and environments to be pollinated with blooming nature. Each composition is overtaken and consumed, ultimately re-imagined as expansive floral tapestries.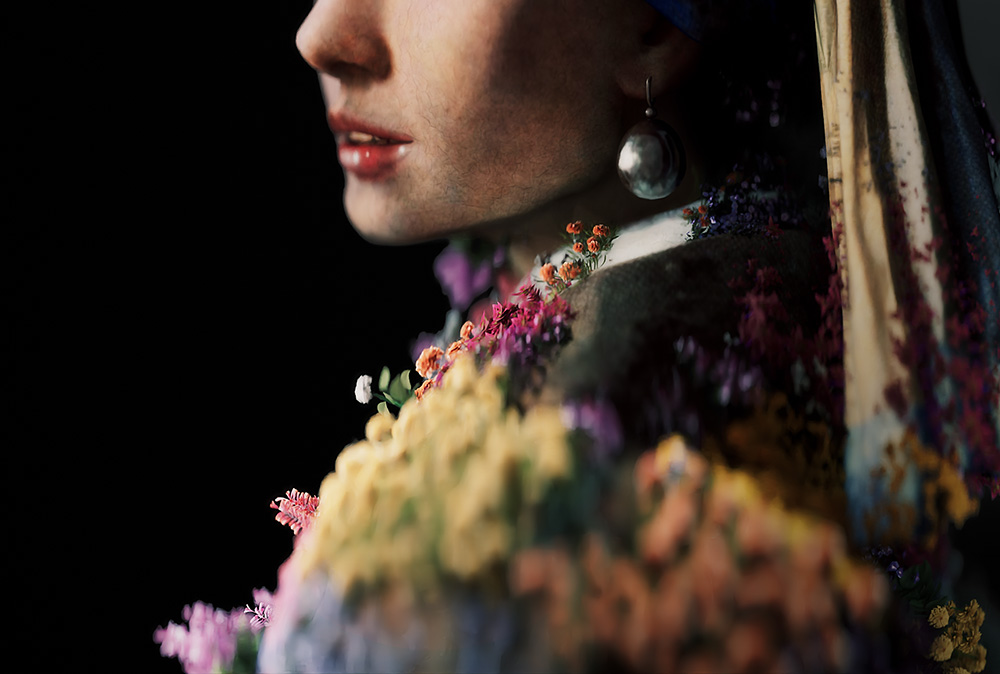 A One-Of-A-Kind Collection of Digital Artwork by GRIF
The collection presents surrealist depictions of every day as it is overtaken by nature. An invisible catalyst moves through each piece - a transfer of natural energy that pollinates each environment, reimagining it as an expansive floral tapestry.
GRIF:
"This concept was born out of wanting to craft something optimistic and beautiful, but also to create concepts and works that can only exist within the medium of 3D. These expressions of nature could never exist in the natural world, it's a reinterpretation born only from the digital space."

Angels Gate
The piece takes its title from the idyllic basketball court in Angels Gate Park, San Pedro CA.
"The introduction of floral growth finds itself in evolving on the more unexpected, non-organic surfaces in the scene - populating the graphic and geometric lines of the basketball court markings."
Brooklyn Brownstone
A transfer of energy rushes from the street to the tall brownstone buildings of Brooklyn, transforming the iconic architecture into a vertical garden
Girl With a Pearl Earring
The form of the girl becomes appended with a blooming floral arrangement, representing the passing of time with something that is timeless, nature.
"Here in the re-imagining of 'Girl with a Pearl Earring' (Johannes Vermeer 1665), the flat oil painting becomes dimensionalized. We step through the looking glass and into the portrait, frozen in time. The camera explores a more intimate relationship with our subject, investigating the details of the cracking paint and subtle light across her face."
GRIF Going Green
We're transported to a remote desert location, desolate and dry. A luxury car reflects the barren landscape from its manufactured shell. We see a wave of energy wash over the surface, re-imagining the steel shell as a fertile garden.
Great Basin Skate Heaven
We follow a skater as they perform tricks and stunts in a skater's paradise, located in the Utah Great Basin. The idyllic sunset scene bears witness to the transfer of energy between this floral figure and the contrasting concrete environment beneath, saturated in graffiti. The figure acts as a catalyst that pollinates the park causing nature to reclaim the concrete.
GRIF's Relationship With Nature
Each artwork concludes as a juxtaposition of the subject's relationship with nature, somewhat ignorant yet seemingly no match for the godly power nature wields, and is often shy to remind us of. GRIF's work questions this invisible catalyst's motivation, suggesting the omnipresence of higher energy.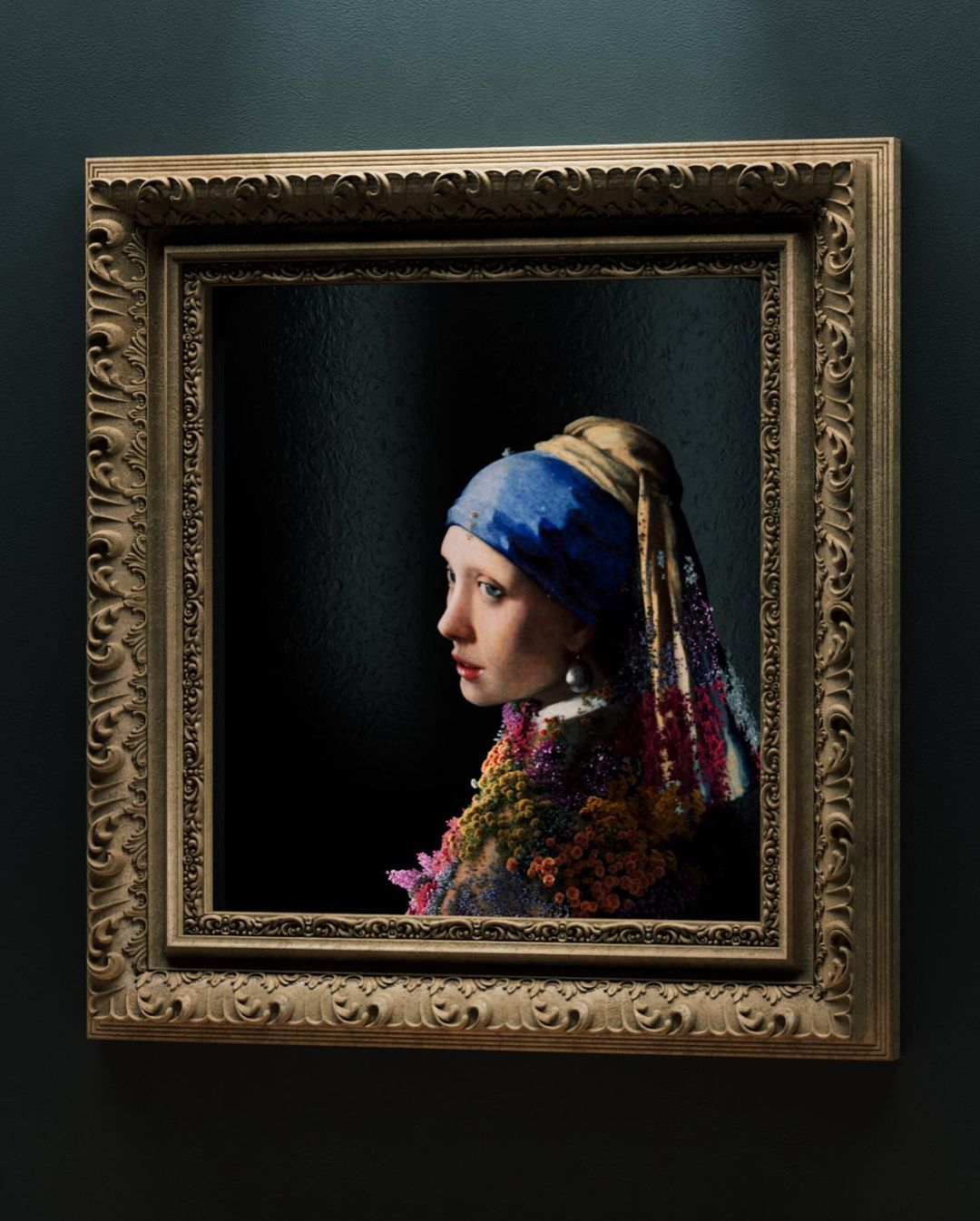 Moreover, as we progress further to a purely digital lifestyle, the works double as a hyper-real reminder of the coexistence of artificial objects and nature, and how even the escapism of online life may need to be escaped. The symbolism of flowers elicits feelings of energy, optimism, timelessness, and curiosity.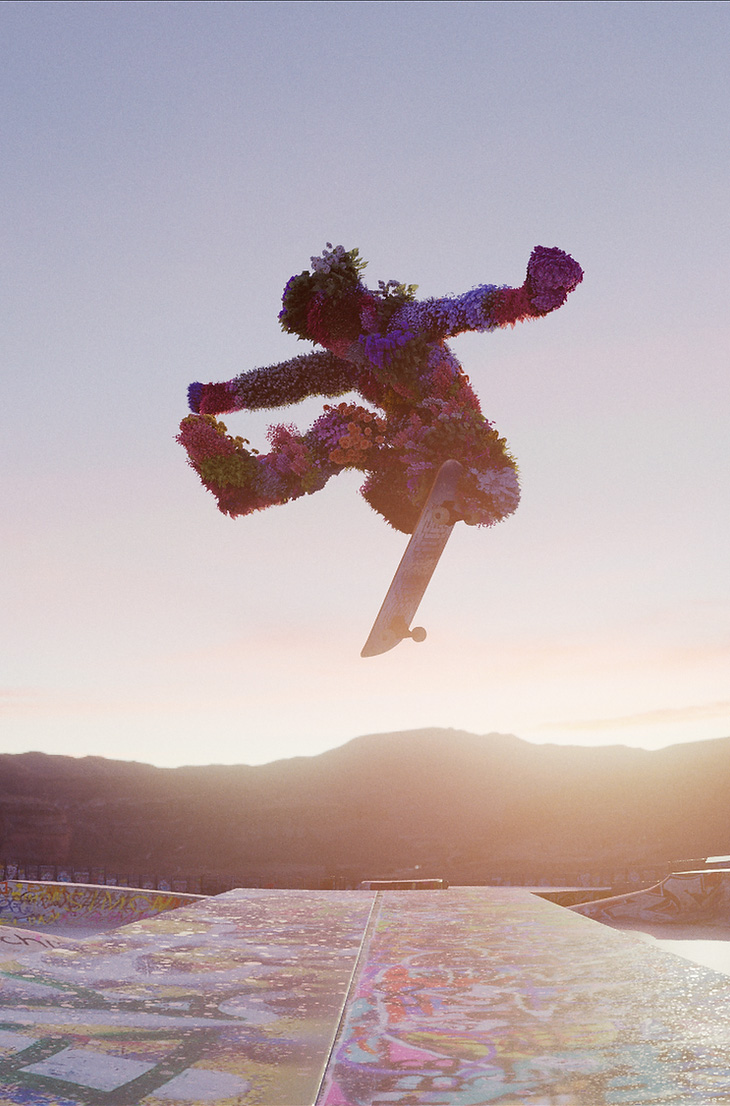 Some of the pieces have been seen by the public already and met with viral success, racking up millions of organic impressions on social media. The Equinox Collection was made available exclusively on SuperRare, released in weekly increments.
See GRIF's Instagram and GRIF's website for additional artwork.