Think big, think small. That's probably what Willem Kuipers had in mind when he started growing tiny begonias in his nursery. Although Willem is still around and active in the company, his son Marco is in charge of the daily business at the Dutch nursery Willem Kuipers Potplanten. Let's find out about their passion that stretches out no further than 9 centimeters, but is big in many ways. This is a grower's story of Begonia Sweeties.
Begonia Sweeties
Although it's never quiet and easy at nursery Willem Kuipers, the Begonia Sweeties season still has to start. But production is on its way and there's time to talk about the upcoming season for his small flowering begonia plants. You may know them as Begonia Sweeties.
Kuipers holds a unique position because he is the only grower in the Netherlands for this ever-so-cute and colorful product from breeder Koppe Begonia.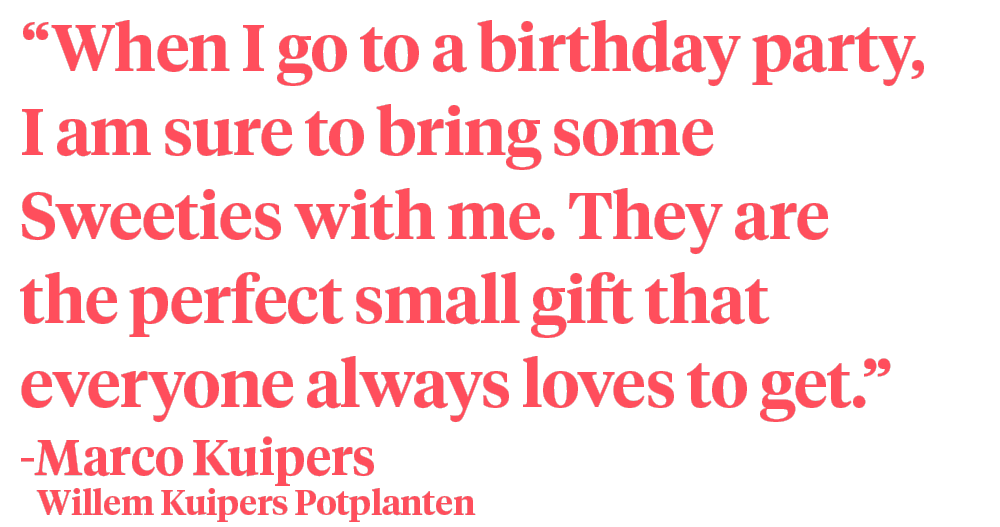 Smaller is Smarter
People are people, and if you can say one thing about people is that we've grown accustomed to thinking that 'bigger is better'. But is it really? On this crowded planet, not everyone has a lot of living or working space anymore. And we humans are becoming more and more aware of the 'bigger is bigger footprint' we leave behind.
So, can we go for 'smaller is smarter' perhaps? At least that is the impression when looking over the 1.5 hectares of greenhouse tables in the Kuipers nursery. It looks calm and serene, but don't get fooled here; the six million plants that are produced here annually all work just as hard to be ready for you in only thirteen weeks' time.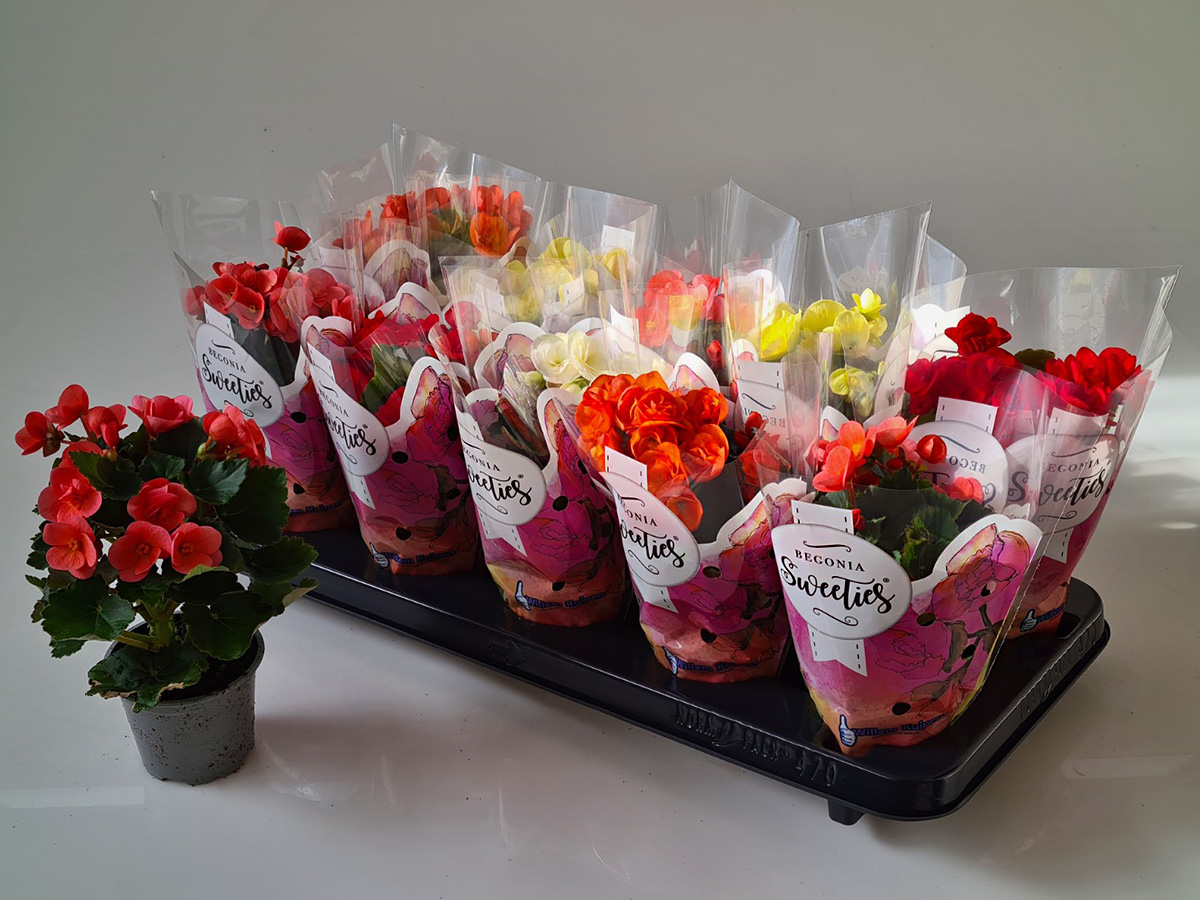 Google Small House Plants
If you would search for small houseplants, where would you start? Probably on Google, or ask your wholesaler or florist. What would you ask? Probably not exactly for the words 'Begonia Sweeties'. Why not? These cuties are a perfect way to fill your home, office, shop, or any tiny space with fresh-colored plants that are no bigger than a pot size of 9 cm. Ideal for anybody! And if you happen to have more space, think about how easily you can mix & match the five colors of the Begonia Sweeties series. Without any hassle or a big budget, you have created your cheerful interior.
Willem Kuipers Potplanten
First Willem Kuipers, and nowadays his son Marco, have understood this completely. Marco speaks enthusiastically about his 9 cm pot plants, and of the upcoming Sweeties season. He can't wait to bring his plants to the clocks of Royal FloraHolland, directly to his wholesale customers, and to numerous retail clients. Did you know you can get Begonia Sweeties everywhere in Europe, like Tesco, Carrefour, Lidl, Kaufland, Albert, and Penny?
"Overall, it's not an easy market these days", explains Marco. "We grow small pot plants and leave a lower impact on the environment. That is helping us right now to thrive. There is more and more interest in smaller pot plants emerging. We expect that this will have an influence on the price people are willing to pay for good quality in smaller sizes as well.

But the quality needs to be perfect. For that reason, we have chosen to dedicate most of our production to the Begonia Sweeties series. These plants are small but very compact, a colorful feast for the eye. We grow five colors, so you can either pick one color or mix them in a bigger pot, tray, or bowl. They cheer up the room instantly."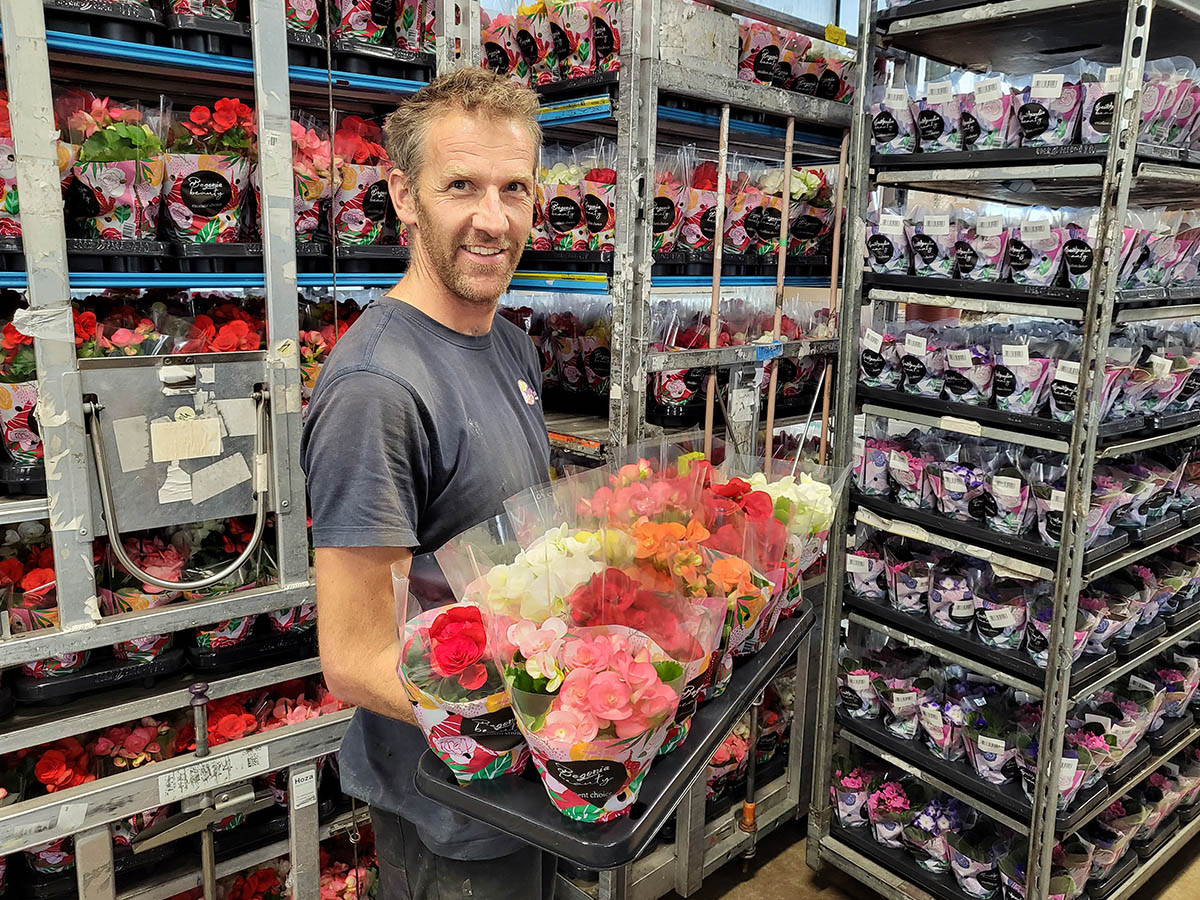 Cool Grey Pots and Trays
Kuipers does not only have a lower emission per plant because of its size, but they are also taking action in reducing their environmental impact by offering so-called 'cool grey' pots and trays for their plants. These materials are made of 100% recycled polystyrene.
Marco is willing to go a lot further, like with paper pots and sleeves. This will come when the market is ready to pay these few extra cents so Kuipers Potplanten can at least break even on these materials.
Perfect Gift Plant
It's always tricky to ask a grower if he would buy his products himself. Marco has no doubt:
"Yes, definitely. Not only do I love Begonia Sweeties, but also my wife finds them beautiful plants and uses them for decorating our home. And when I go to a birthday party, I am sure to bring some Sweeties with me. They are the perfect small gift that everyone always loves to get."
Always With Koppe Begonia
Willem Kuipers Potplanten is already growing small potplants for over thirty years. Back in 1989, Willem started with Koppe Begonia when he took over the business from grower/breeder Umaco, and Koppe has delivered top-quality cuttings ever since.
Marco:
"The relationship with breeder Koppe Begonia has always been good, built on trust. Their cuttings are from Europe, so the lines are short. Koppe is constantly improving and developing its lines of begonias, which helps us develop as a grower as well. We get useful input from them about the potential their plants have as 9 cm pot plants. You see this perfectly with the Begonia Sweeties."
The interaction between Koppe and Kuipers is helping both. Kuipers is a test location for newly bred varieties. Marco enthusiastically tells that this very week news came from Koppe that there is an exciting new red begonia that Kuipers may test in its greenhouse. He gladly makes space on one of the growing tables to see how this red novelty will do in a 9 cm pot.

Why Buy Begonia Sweeties?
Final advice from Marco is directed to every florist and consumer:
"Just try these Begonia Sweeties and you will see how much joy they bring. There is a color for everyone, and they are perfect to decorate your homes or every occasion."

Fill your homes, offices, or whatever space you have, with Begonia Sweeties. Yes, 'smaller is smarter', but for these cuties, we can add 'the more the merrier'. Start Googling 'Begonia Sweeeties'now.
Five colors of Begonia Sweeties will be available again from week 6 to week 20.