What would a bouquet be without greenery? Foliage has always been an important part of any wholesaler's business. Although it is often overlooked, it will be missed when it's not there. Greens are a must-have because they enlarge any floral design and give it a fresh appearance.
Heemskerk Flowers has created the art of finding the right varieties and qualities for the right customer. And the Orca Green brand plays an important role in this. Here's an insight with sales manager Dennis Kromhout.
Heemskerk Flowers
For over sixty years Dutch family business Heemskerk Flowers has been active in supplying a whole range of customers big and small with quality flowers and products. This started in Rijnsburg - home of the 3rd largest Dutch flower auction - with Bert Heemskerk sr. He was a real entrepreneur who always sought niches in the market. For instance, when no people were dyeing flowers yet, Bert was experimenting with clothing paint long before it became fashionable.
Heemskerk Flowers has always been a forward company, and that continued after Bert's daughter Roos and son Bert jr. took over the management. Did you know that Heemskerk Flowers was the first business to start selling its flowers and plants online, for which it installed its own photo booth? When computerized order picking was still in its infancy, this company was already walking around with barcode scanners. Today, vision picking is the latest thing at Heemskerk.
Tailor-Made Offer
The secret of Heemskerk Flowers' success is knowing the customers so well that the offer can be tailor-made, whether you are a fellow wholesaler, a cash & carry, or if you are one of their 4,500 European florist customers. Although there are some direct lines with the virtual stock of growers (VMP), the vast majority on offer is available instantly from their own conditioned large warehouse.
Dennis Kromhout has many roles in Heemskerk Flowers. All responsibilities that he built up by working 23 years - which is more than half his life already - at this company. Dennis started in the warehouse, and gradually grew from greens buyer to a position where sales management is his main task.
Dennis explains how Heemskerk Flowers keeps its customers happy:
"The market for Rijnsburg-based Heemskerk Flowers is Europe by road. We offer a very fast delivery, simply because we still hold our own one-stop-stock with fresh flowers, plants, greens, and even ready bouquets. Last-minute orders are, therefore, no problem. We consider this an important service for our customers."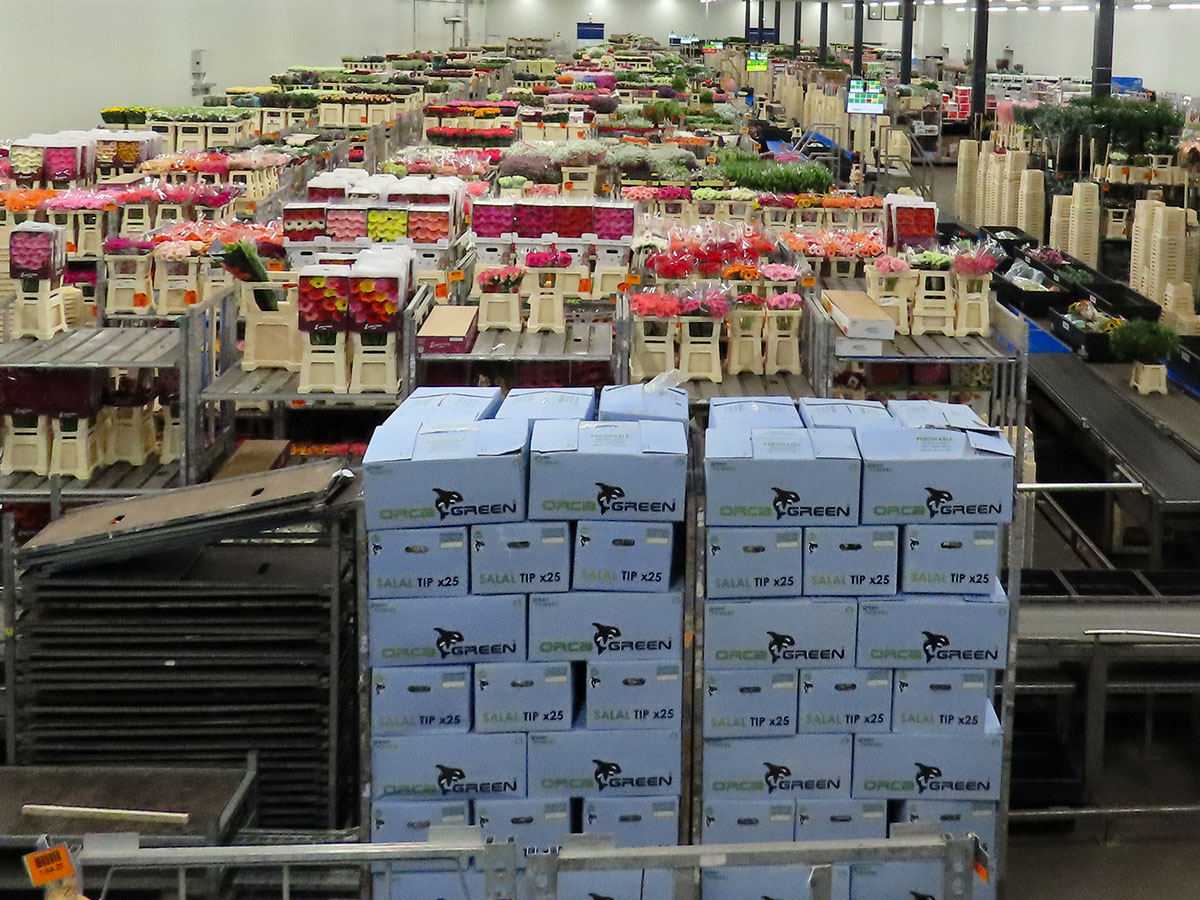 Foliage
Decorative greens are an important piece of the product mix. They are more than an obligatory addition to the assortment. Without foliage, a bouquet would have less body and less sparkle. Greens make the bouquet fresh and more natural instantly.
With all his experience in buying and sales, Dennis knows that there are quite some differences in quality and price, including the seasonal hazard for some products.
"We do not take risks with the quality of our greens, so we buy from several growers and importers. Still, there are seasonal influences for some greens that are difficult to control, like the gap in the salal season. It is something to be aware of that during a period in spring, there is only long-stocked salal available until the young crop is ready for harvesting. This can cause quality issues for a brand that is very reliable throughout the rest of the year. We explain that to our customers."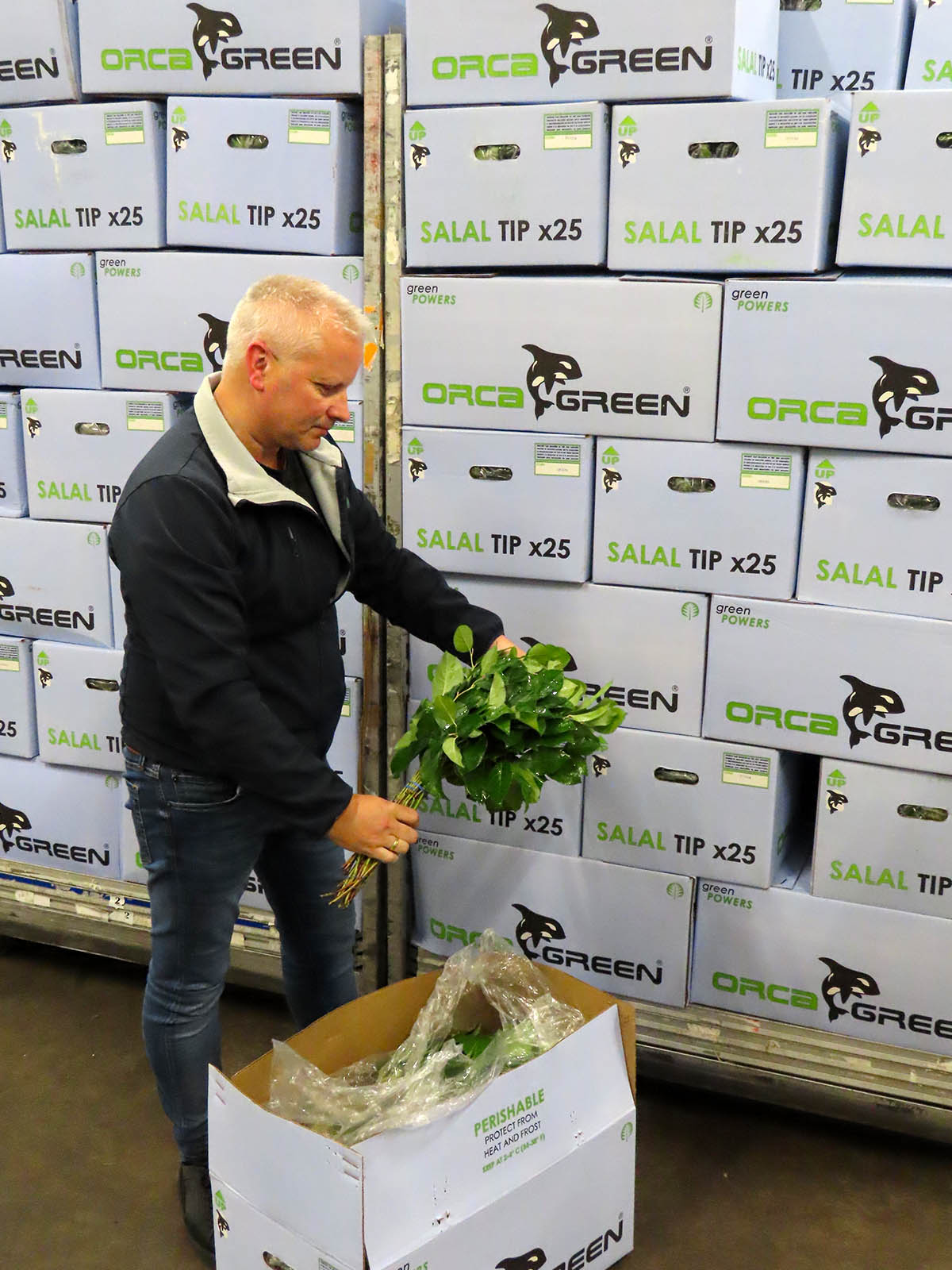 Orca Green
One of the favorite brands in cut greens is, without a doubt, Orca Green by Adomex. Peeking into the huge cold warehouse of Heemskerk Flowers, the striking blue boxes with the killer whale printed on them are hard to miss. Dennis is very happy with the relationship with Adomex and to have this brand for his customers:
"Orca Green is mostly bought by the middle and high segments of our customers. It is not the cheapest green, but it is top-notch, reliable in quality, and stable in availability. Especially for the baby salal and salal tips, we have customers who specifically demand the Orca Green boxes. The price-quality ratio is excellent, so I am glad to have this brand in my stock.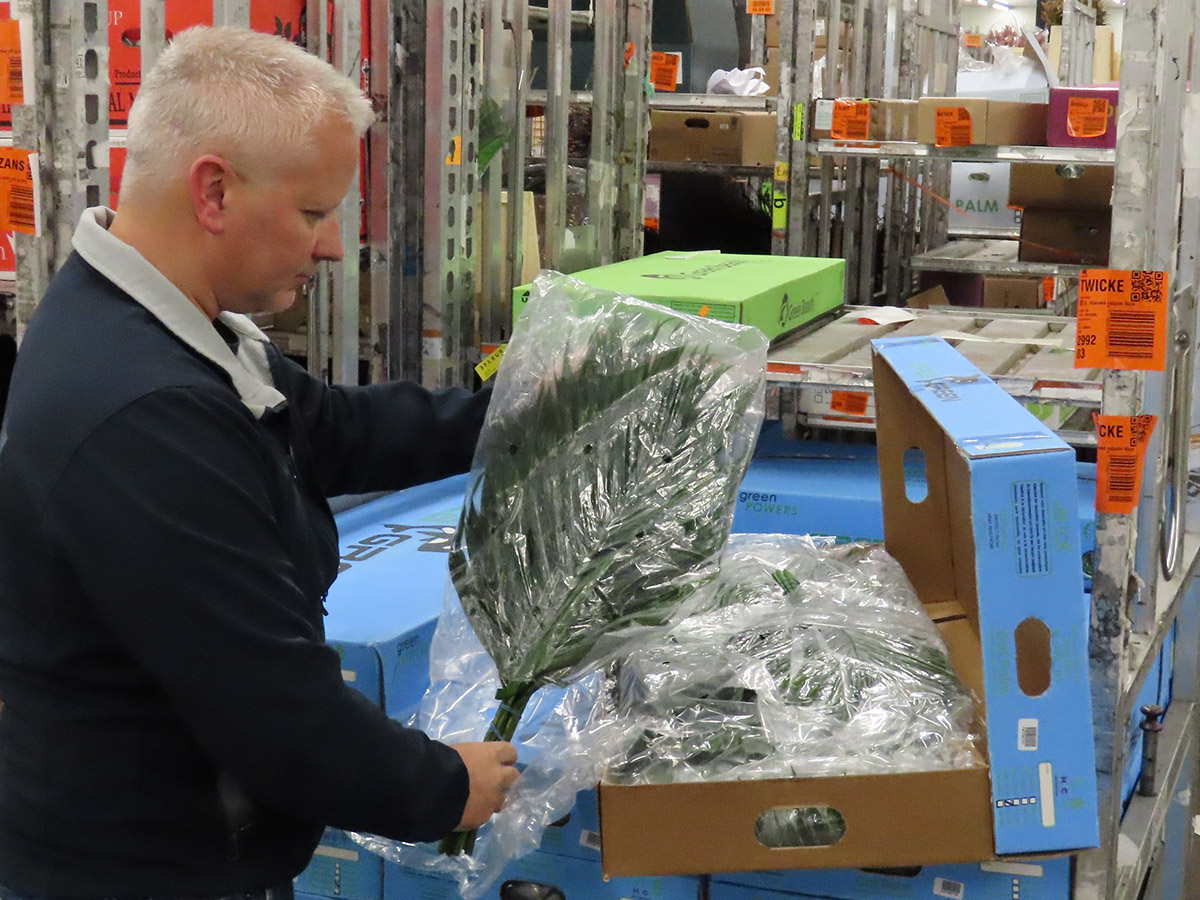 Dennis continues:
"The popularity of the brand is also due to the reliability of supplier Adomex itself. The brand visibility is just the box, and with so many different Orca Green products from so many growers and pickers around the world, the risk is always there that one bad crop or shipment reflects on the quality of the entire brand itself. Adomex manages this very well, making Orca Green a trustworthy label as a whole.

We offer all the greens in our webshop with the specific brand of the supplier, so customers know that they buy Orca Green. Especially with salal - one of the most popular cut greens - we are convinced that our customers pick this brand for its quality and reliability."
Orca Green is a brand by Adomex.