The Orca is a mighty animal, one of the most intelligent creatures on this planet, and often considered even more socialized than men. They can be found in the wild in all oceans and most seas, making them one of the few really global wild animals.
One of the areas where these impressive black-white beauties can be spotted, is Puget Sound, near Seattle on the US west coast. This region is where Adomex's first OrcaGreen product came from, the hand-picked wild Salal that grows in the forests of Washington State.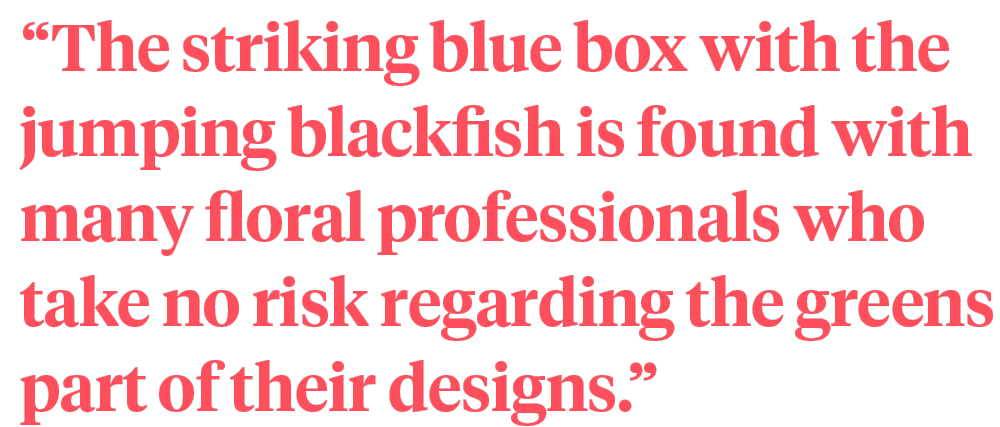 OrcaGreen has become much more than only salal. The well-known box with the blackfish has developed to become an icon, a mighty brand of many additional varieties of top greens from all over the world, a strong name for both wild and cultivated decoration cut greens exclusively available at Adomex. A must-have for floral professionals seeking reliability and quality.
OrcaGreen
OrcaGreen has become a widely recognized brand with wholesalers and florists over the years. Adomex has built strong relationships with its carefully selected producers and suppliers, resulting in a reliable and steady offer of top-notch quality. The striking blue box with the jumping blackfish is found with many floral professionals who take no risk regarding the greens part of their designs.
World Wide Assortment
The range of OrcaGreen products is wild-grown and cultivated in many regions worldwide, from the capes of South Africa to the east and west coasts of the US, the high and low lands of Latin America to the green belts of Southern Europe. Adomex makes sure that top quality is available throughout all seasons in various sizes and packaging, even vacuum-packed! Here is an overview of what is available.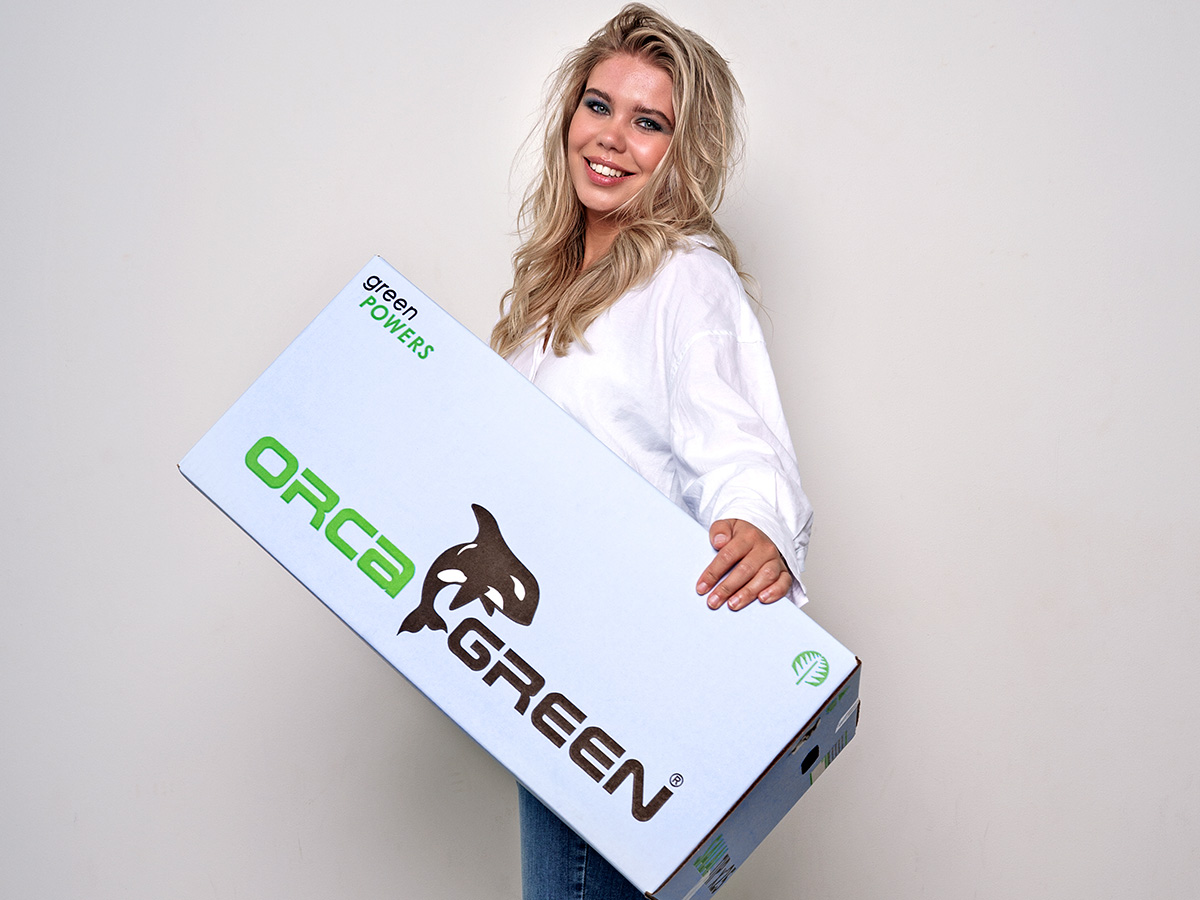 Beargrass
Xerophyllum tenax - or Beargrass - is a grass-like perennial that actually belongs to the lily family. Other common names are squaw grass, soap grass, quip-quip, and Indian basket grass.
The starting point is green, look at the shape of the leaf, it says so much about the final appearance. The grass provides movement, for the swinging note in your bouquet. Folded beargrass is also a creative use for any arrangement.
Aspidistra
Aspidistra Eliator grows in many places all over the world, like Guatemala, Florida, Italy, and Israel. Adomex imports this foliage mainly from Florida, Guatemala, and also from Italy. The name originates from ancient Greek, aspidion means 'shield'.
Aspidistra is gratefully used by creative people with green fingers. These leaves can be strengthened on wire and they are easy to fold, paste, turn, or staple to create a beautiful bouquet or arrangement.
Aralia
Fatsia japonica, also called Aralia, originates in Japan and was later cultivated in Italy and Israel. In recent years, the foliage has largely come from Central America, with Costa Rica and Guatemala as important countries. The product is imported weekly, making it available all year round.
Due to their exotic shape, the Aralia leaves can be used in various ways, like in a bouquet, a corsage, or a decorative round. The leaves have calming shapes that can be used as the collar of a bouquet. The possibilities are endless. You can let your creativity run wild!
Chico Leaf & Teepee
Chico Jumbo and Chico Doro (Chamaedorea elegans) originate in Mexico and Guatemala and are also called the Mexican Dwarf Palm. Adomex imports this foliage mainly from Mexico, just like the next of kin Teepee.
Supported by naturally tropical foliage, a lace-like, romantic atmosphere is created. Chico Jumbo creates an airy effect, resulting in a refined, fragile bouquet. Unlike other palms, the leaf is quite pliable, which is why it is often used around the edge of the bouquet. Surprise your customers by creating a series of feminine, delicate bouquets and make a difference. Dare to be different!
Phoenix Roebellinii
Phoenix Roebelinii, originally from Southeast Asia, is a popular ornamental plant that grows in tropical and subtropical climate areas. It is a small to medium-sized, slowly growing, slender tree that can reach a height of 2-3 meters. The leaves are 60 to 120 cm long with up to 100 leaves on a single stem. The plant itself is also very popular and can often be seen in living rooms. This palm is also called Dwarf Date Palm.
Adomex supplies Roebelinii in different sizes: 50, 60, and 80 cm are the common sizes. Longer leaves from 90 cm to 120 cm are also available but in limited quantities. The palm leaves are very sturdy, yet bendable. It is nice to bring 'movement' into a bouquet. This fan-shaped leaf moves the moment you give the bouquet away. How beautiful is that?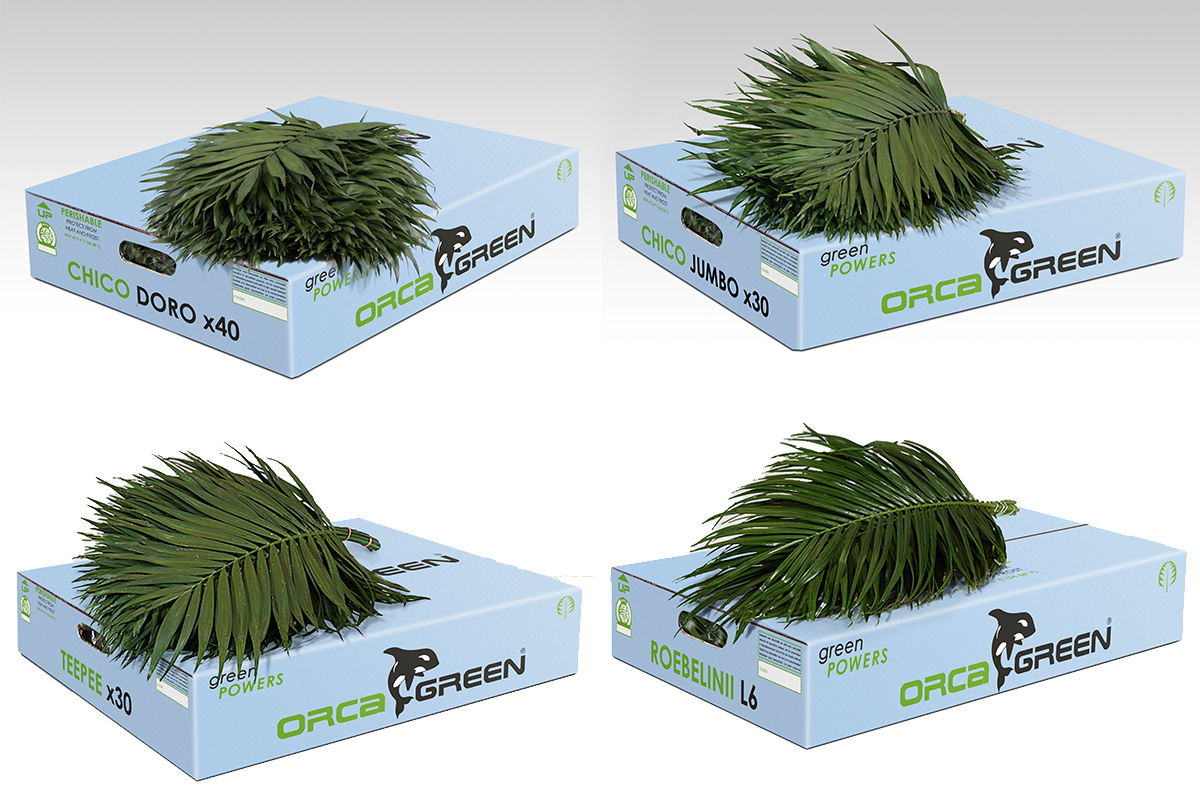 Leatherleaf
Leatherleaf Fern (Arachniodes Adiantiformis) grows in large parts of Central America and Mexico, but also in Southern Europe. For florists worldwide, these leaves have been a basic ingredient in bouquets for many years. Leatherleaf is also partly vacuum-packed. Adomex let it ship by sea container and by air.
Leatherleaf is often used as the outer edge of bouquets and is a very strong green variety that is often used in combination with roses. However, are you looking for a more refreshing combination? Then try Leatherleaf with callas, for instance!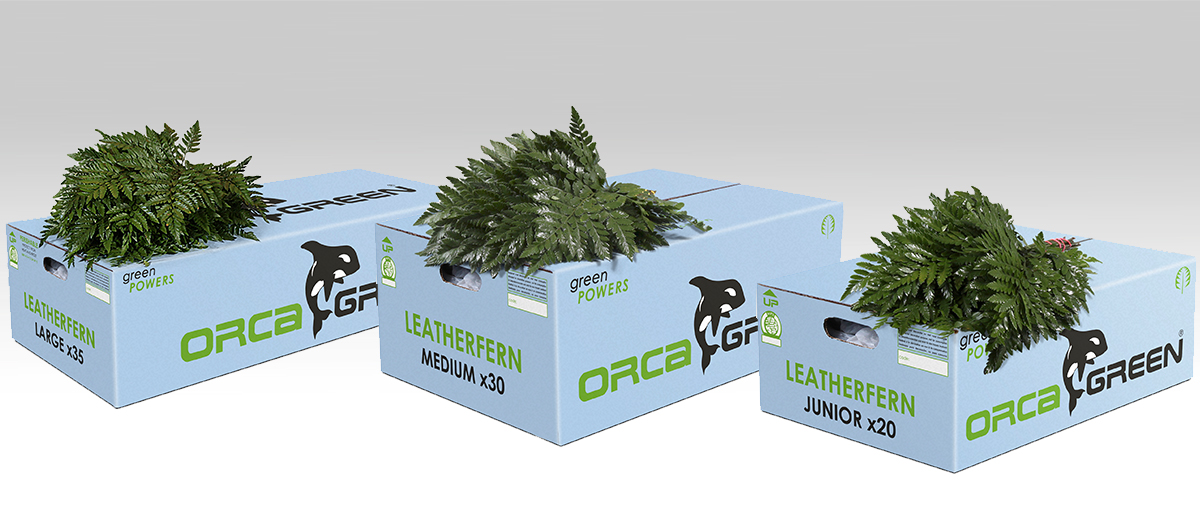 Cocos Leaf
Cocos or Fishtail, the leaf that looks just like a mermaid's tail, is transported by truck from the forest and the farms in Mexico or Guatemala to the processing shed where all leaves are washed, sorted, cut, and checked for good quality. After they have been packed, they are ready to be sent to florists all over the world, who will again produce beautiful bouquets.
The grouped characteristic leaf of the coconut palm forms a beautiful 'collar' around each bouquet. As a rolled-up leaf, it is reminiscent of extravagant plumage. Folded, and rolled up, this decorative green is very versatile.
Galax
Galax (or Urceolata) is also called the wall plant, or beetle herb. The leaf forms a rosette and has a serrated edge and is matt-gloss dark green in color. In winter, near Christmas, it turns reddish-brown. The plant retains its leaves in winter and is therefore hardy. The stems grow to about 5 to 10 cm and in some cases 15 cm. From spring until summer the plant produces long white flowers.
The leathery dark green and reddish brown leaves have a round (heart) shape, and are ideal for small arrangements and corsages, partly due to the serrated edges and short stems. Putting these leaves together creates the most beautiful creations! The shape of the leaf provides a calming feeling in your arrangement. A lot of florists use these leaves to make corsages for weddings.
Cordyline
Cordyline is a tie-shaped leaf that comes in two colors, Green Tie, and Black Tie. This leaf is sturdy and stays upright. This, plus the long shelf life, makes the leaf very popular among florists and floral designers.

The tropical leaf is soft, yet strong and makes every floral arrangement give that exotic look. Both Cordyline varieties are available year-round at Adomex.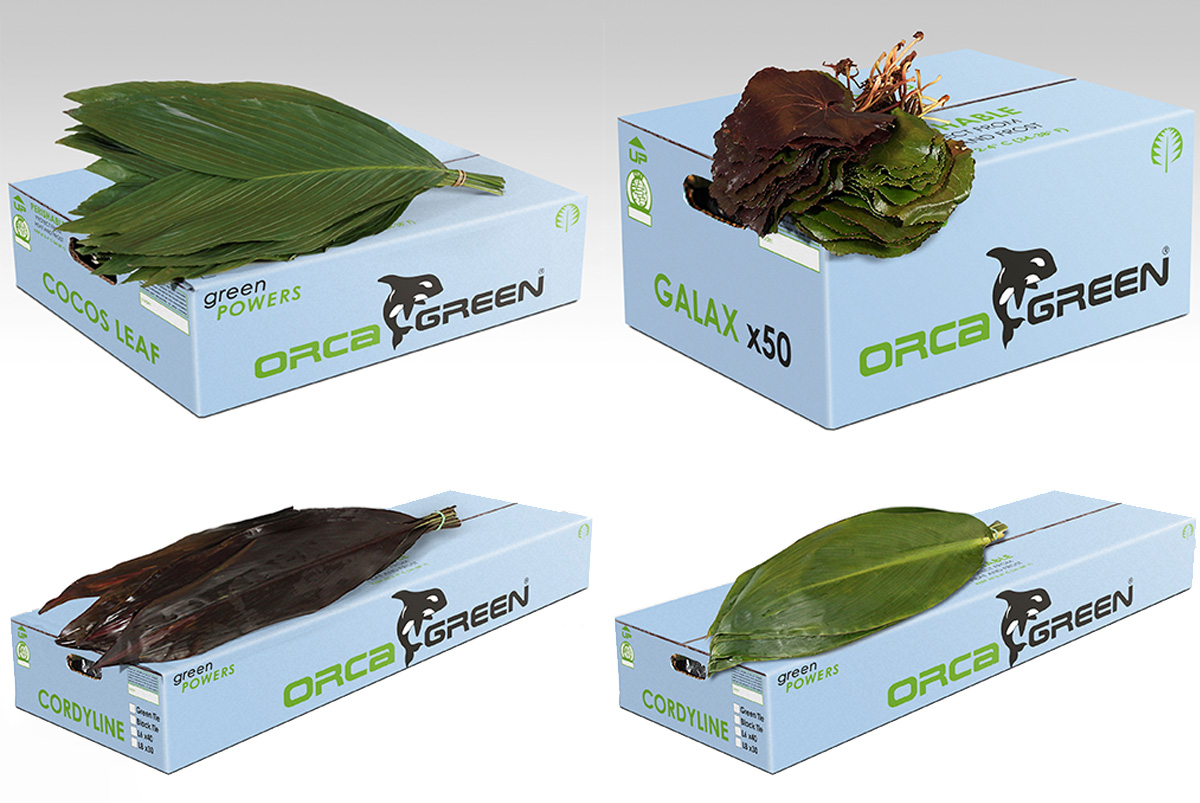 Coral Fern
Coral Fern originates at the bottom of the pine forests in the Southern Cape of South Africa. It grows in a rocky landscape where it rains a lot, especially along the coast. The ferns often form a dense and impenetrable thicket. Pickers have to search carefully for the best quality. Harvesting of Coral Fern is done by hand and the selected stems are bundled in the forest.
This very elegant ornamental green is very suitable for floral arrangements. On the border of fall and winter, coral foliage is just what we need. The fragile, repeating leaf looks like a small tree. Place a lot of them together and you create an elegant forest. Painted, sprayed with snow, or
in its natural simplicity, this is always an eye-catcher! A nice side effect is that the long-lasting Coral Fern dries naturally and therefore retains its shape.
Palm (Chamaerops)
Palm foliage, also known as Palmetto, is a ray of strong and hard spear-shaped leaves on a sturdy stem that belongs to the Chamaerops family. This long-lasting leaf is imported from Florida and is year-round available.
Use these large leaves in your lush floral arrangements and big designs. They will stand out everywhere.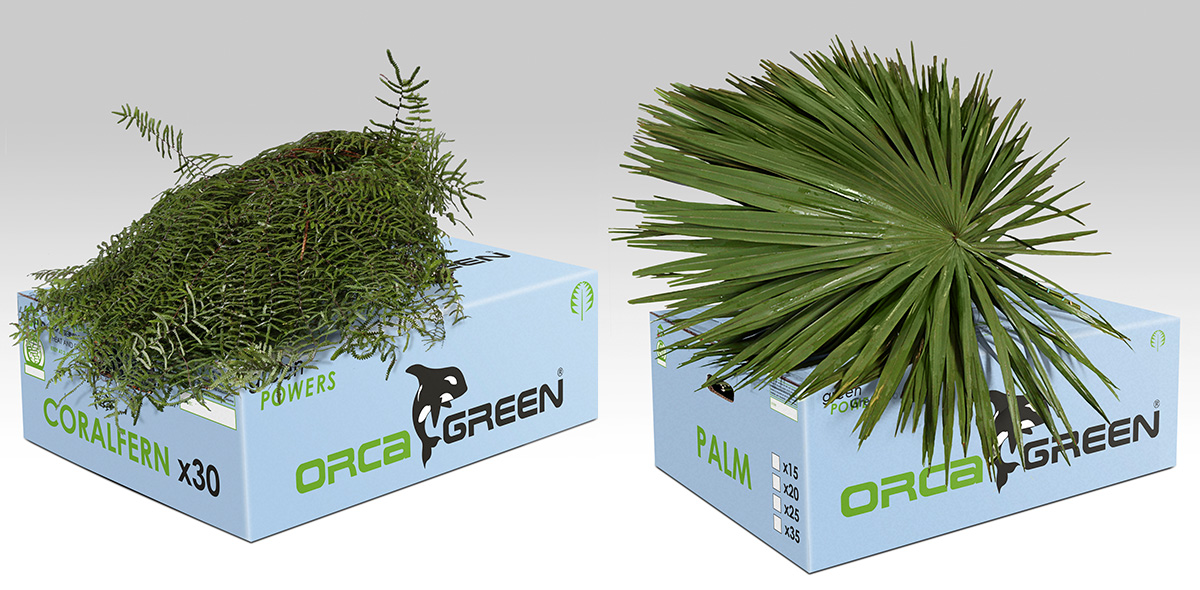 Salal
Salal, popularly called Apple Leaf or by the Latin name Gaultheria shallon, can be recognized by its egg-shaped green leaves with a serrated side. The branches of Salal are very popular for flower arranging because of their beautiful, matte, and dark green color and firmness!
Processing tip: check with your floral design what strengthens each other. Exactly that is what you can create contrasts in a bouquet: thin/thick, elongated/round, everything that is opposite. There are so many different varieties possible with these greens that will always work for you!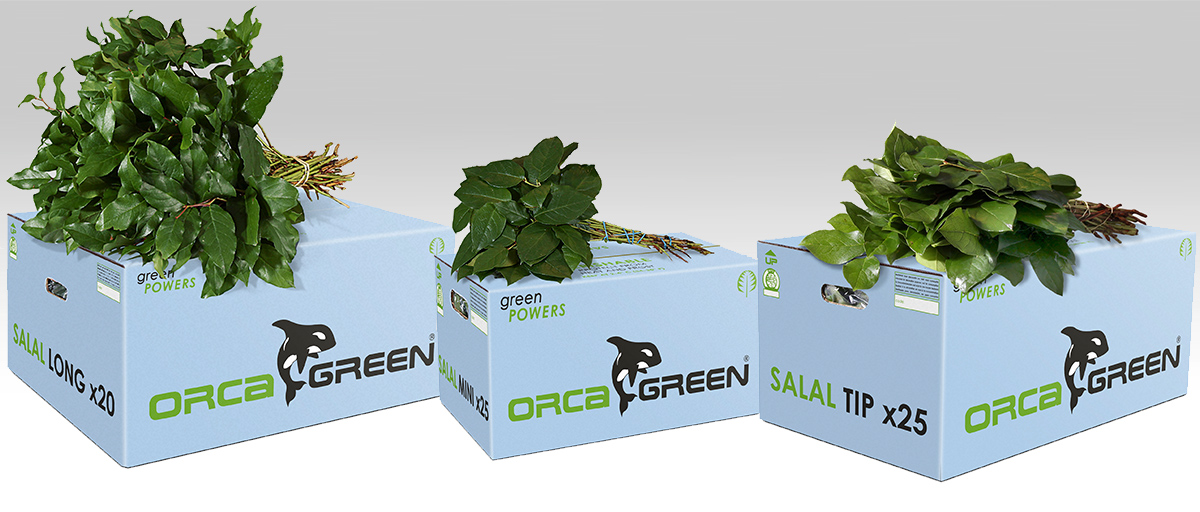 Exclusively at Adomex
Worldwide importer of all types of cut and decoration greens Adomex is your exclusive supplier of OrcaGreen. Discover these quality greens here.