You can probably recognize a cactus without a second glance. Even snake plants are becoming more and more common. But what about red oxalis? Or the pilea peperomioides? (try saying that five times fast). If you already have a home filled with plant babies that all look the same, you might want to make one of these varieties your next addition.
Strange, Weird, Cool Houseplants With Unique Leaves
Obviously, we would all like an indoor jungle, but if you only have space (or budget) for a few houseplants, you might as well make sure they are true eye-catchers. One of these 6 houseplants with some of the most unique leaves we've seen could be your next plant baby. Read on for some striking varieties that will capture anyone's attention and raise the question: what is that?
String of Pearls
String of pearls is a beautiful, cascading succulent that will add that little quirk to any house. The plant grows fast and propagates easily and can grow both indoors and outdoors. The leaves grow on trailing stems that gracefully spill over the sides of planters and hanging baskets. You can use these stems to propagate the plant, which is a very robust and quick grower but does not live long without propagation. If you are looking for a beautiful succulent to grow, Senecio Rowleyanus Strings of pearls is a great choice.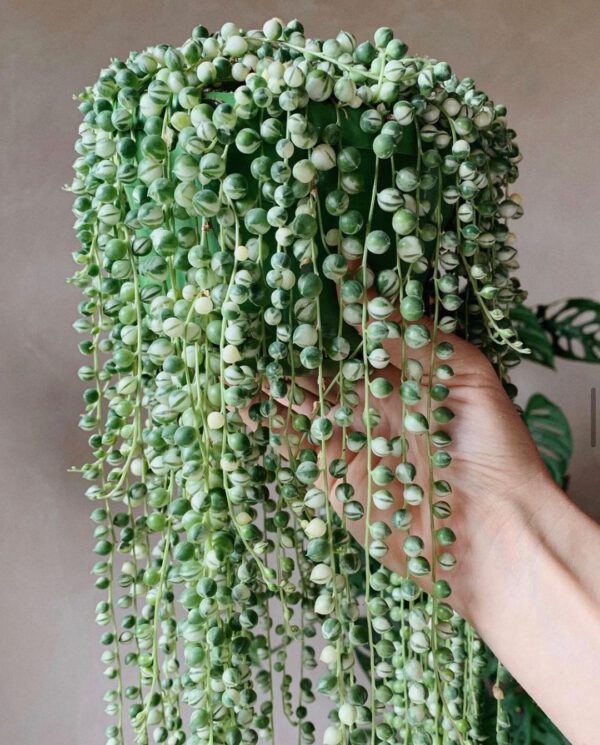 Prayer Plant
The prayer plant is one of the most distinguishable tropicals, thanks to its beautiful decorative leaves. The popular tricolor variety has deep green, velvety leaves with yellow splotches down the midrib and arching red veins traveling to the leaf margins. A slow-grower, the prayer plant can eventually reach up to a foot in height indoors. They are fairly common as houseplants and can be planted and cared for indoors at any time of the year. Prayer Plants get their name from the way the leaves fold in the evening, resembling hands folded in prayer.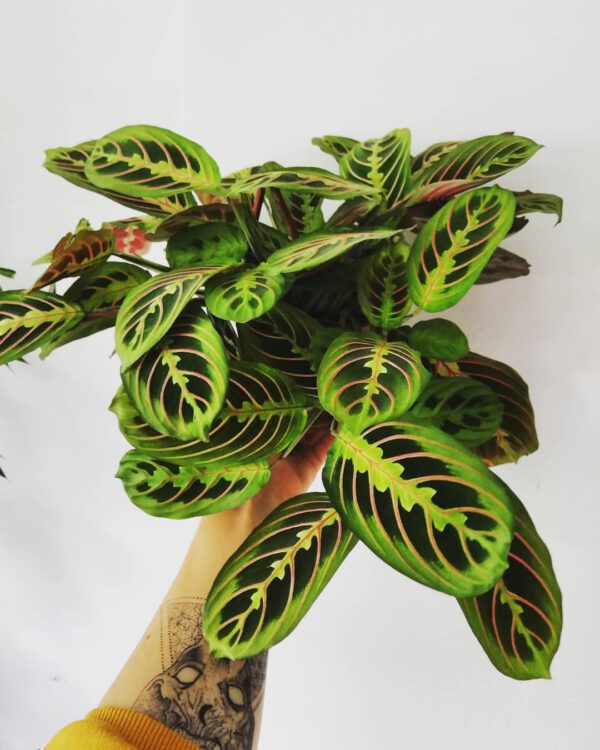 Chinese Money Plant
Pilea peperomioides is an easy-to-grow, modern-looking houseplant. Also called the Chinese money plant or pancake plant, it's straightforward to care for and simple to propagate. Whether you're a newbie to houseplants or a seasoned expert, a Pilea peperomioides plant is sure to be a welcome addition to any indoor plant collection. They are frequently featured in Scandinavian interiors, where their bright green pancake-shaped leaves provide an adorable and welcoming burst of color against white walls. It originally came from China and has flat round coin-shaped leaves. Together, these things gave rise to its common name, the 'Chinese Money Plant'.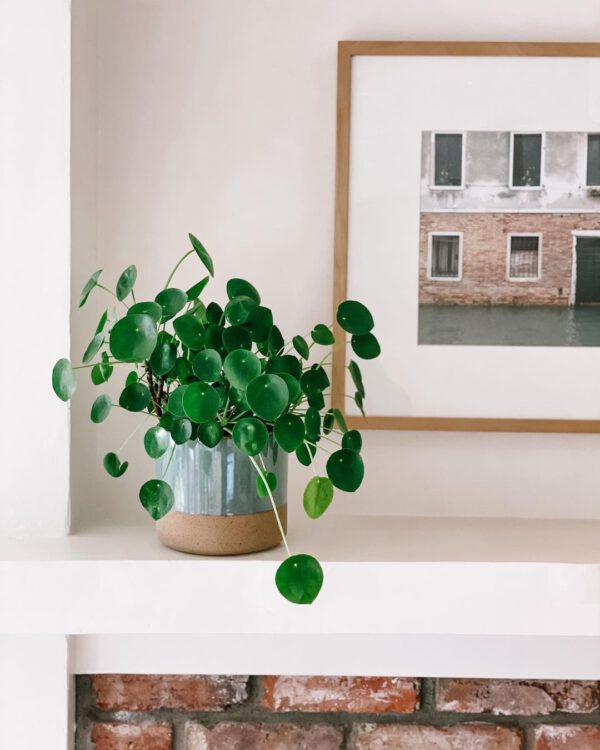 Oxalis
Often referred to as Wood Sorrels, oxalis is also known as False Shamrocks and a plethora of other common names. Of the oxalis species in cultivation, oxalis triangularis is the one most commonly cultivated as a houseplant. It has three (normally) purple heart-shaped leaves, which each have three sides, that sit symmetrically to one another, resulting in a sort of butterfly clusters effect.
Oxalis is also a little bit magic because it can revive itself from the dead. Rather than being intrinsically linked with the soil like many other plants, oxalis is linked to the soil by its tiny bulbs. If you forget to water it, the temperature drops too low, or its living conditions are generally poor, everything above the surface will wilt and die back to take refuge in the bulbs below. As soon as good conditions are restored the plant comes back to life incredibly quickly. A great newer variety is the Oxalis Ikigai, of which you can read all about here: 'New on the Markets: Ikigai Oxalis'.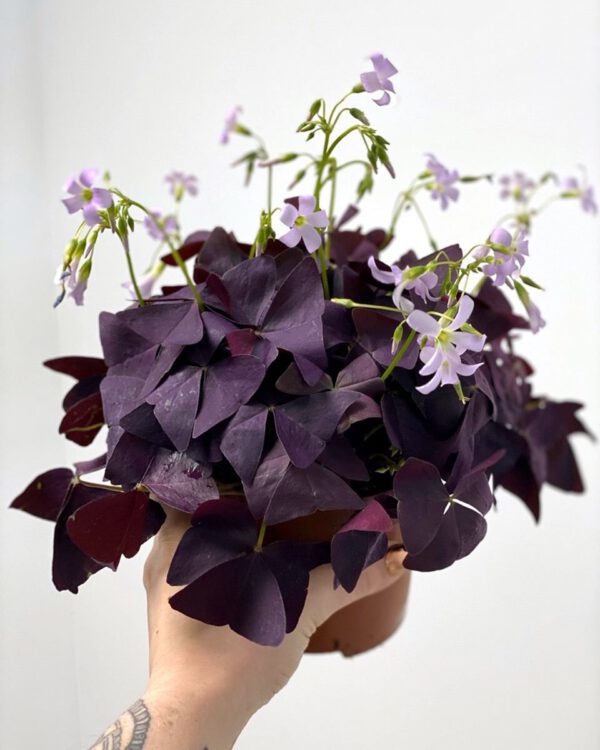 Begonia Maculata
Definitely not your grandmother's begonia, the maculata is a real eye-catcher with its large angel wing-shaped leaves patterned with polka dots on top and a deep purple-red on the bottom side. It is undoubtedly one of the most strikingly gorgeous species of indoor plants. This exotic plant derives its name from its unique silver spotted leaves and red undersides. And do you want to know something great? The Polkadot begonia maculata is a houseplant that is pretty easy to care for. No need for a green thumb to impress with this houseplant.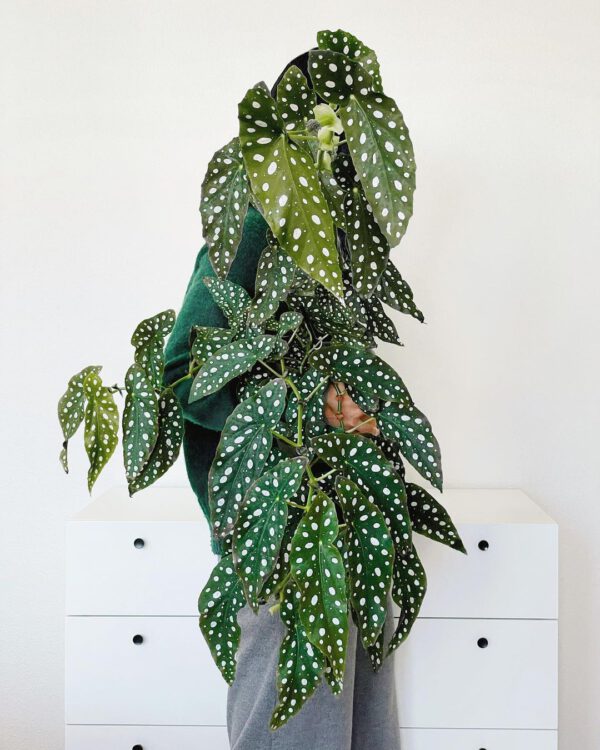 Watermelon Peperomia
With its watermelon-esque leaves and purple stems, watermelon peperomia is the next plant you need to add to your indoor plant collection. Before you make an excuse about how you already have enough indoor plants, you can never have enough. Watermelon peperomia (Peperomia argyreia) is appreciated for its rounded, fleshy leaves marked with silver and dark green stripes that resemble the markings of a watermelon. This plant falls into the easy-grow category and it actually is great for new green thumbs.