Tropical plantations punctuated with gold sunflower fields, modern highways flanked by marigold fields as far as the eye can see, neon green paddy fields surrounded by palm trees – a summer road trip in Karnataka showcases makes for a memorable getaway with friends and family
Itinerary for a road trip in Karnataka
Day 1: Arrive at Bengaluru Airport and pick up your car, drive to Mysore Day 2: Hunt for fields full of flowers in Gundlupet (June-September) and drive to Gopalaswamy Hills Day 3: Enjoy Mysore and all it has to offer Day 4: Drive to Coorg Days 4-7: Explore Coorg Day 7: Drive to Bengaluru and drop your car at the airport.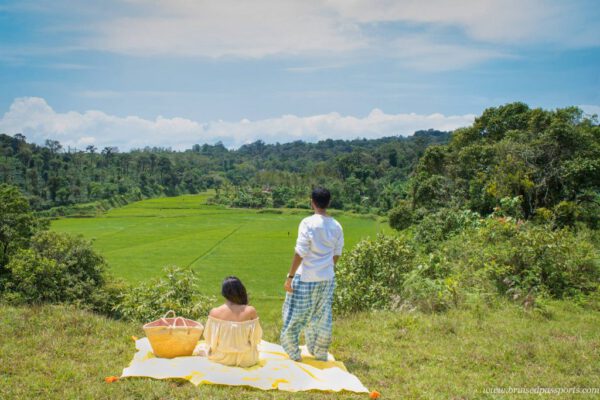 This route is ideal if you enjoy meeting nature and the idea of finding a hidden waterfall or flower field excites you. If you're a beach bum try combining this itinerary with a couple of days at the beaches of Gokarna. And if you're a history buff, then try coupling this itinerary with a pit stop at Hampi's glorious temples.
Best Time To Visit Karnataka
If you want to catch the flowers in full bloom, there try planning this road trip between 1 June and 15 September. Other than that, there truly is no wrong time to go this road trip. Winter months (November-February) are ideal as the weather has cooled down a bit – this makes exploring easier. Monsoon months (July-August) work best if you enjoy chasing waterfalls- they are at their best during these months.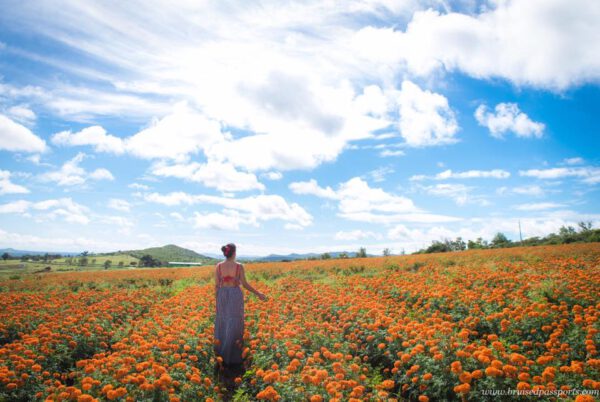 Expect to find endless fields of sunflowers and marigold flowers around Mysore during the summer months
Tips and a breakdown of our road trip in Karnataka
Day 1 – Fly to Bengaluru Airport, pick up your rental car, and drive to Mysore
Our trip to Karnataka was a spur-of-the-minute decision. We took a short flight from Delhi to Bengaluru and landed around 11 am. We had already booked our rental car with Myles Cars, so it took us little time to collect our luggage and car, and get going. We've rented with Myles Cars several times in the past including Ladakh and Kerala and enjoyed their service, so we opted for them on this trip as well. We would strongly recommend renting with an Indian car rental company while you are in India. This is because driving in India is a whole different ballgame to driving in most other parts of the world, especially Australia, Europe, or US. For instance – it's easy to get minor scratches on the car however careful you are! Indian car rental companies understand these little nuances well and have rules and regulations that fit the Indian market well. We booked a with Creta with Myles Cars – the roads around Bengaluru are in decent shape, so you won't need a 4X4.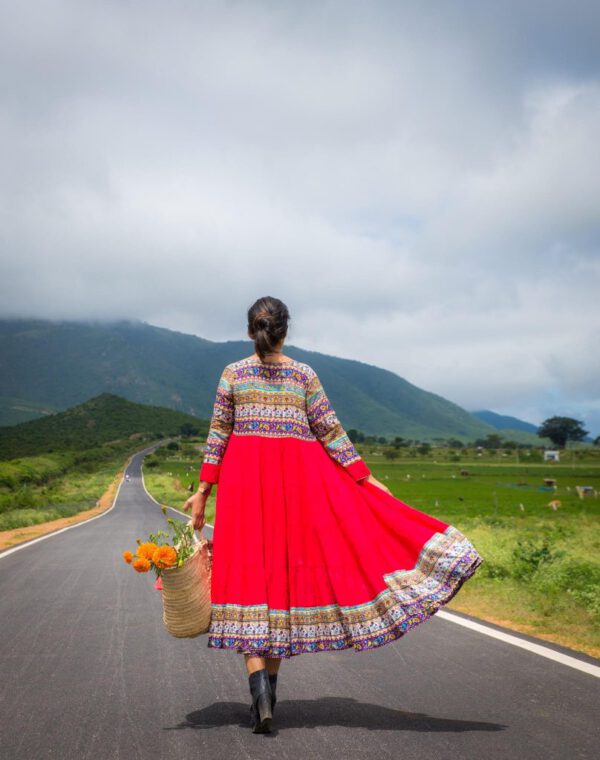 We drove straight to Mysore on Day 1 – it's a 4-hour drive but it took us almost 5 hours because we got stuck in a massive traffic jam while leaving Bengaluru. Accommodation: We were unable to find the accommodation of our choice as we booked at the last minute so we ended up staying at Ni Ambari Suites for 1 night. This is an affordable hotel with great service and extremely spacious rooms that are done up well. But our washroom was quite manky, so I'm not sure I would recommend this hotel wholeheartedly. If you can stretch your budget a bit, Radisson Blu is a great mid-range hotel to stay in Mysore. It offers clean and spacious rooms and is located in close proximity to most sites.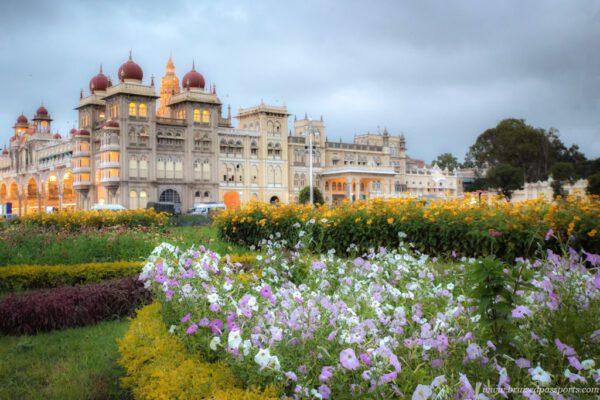 Hello Mysore 🙂
Day 2 – Explore Gundlupet and Gopalaswamy Hills
This day was a definite highlight of our trip to Karnataka. The little village of Gundlupet is home to dozens of sunflower and marigold fields during summer months (1 June – 15 September approximately). You will see them lining both sides of the road as you drive from Mysore to Gundlupet. We visited the area towards the end of September, so we missed seeing the sunflowers.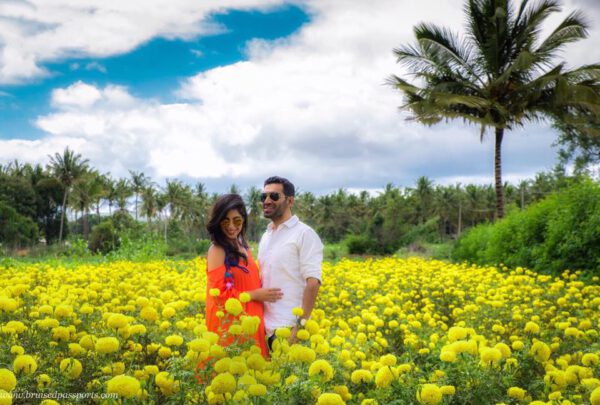 However, we did chance upon some enchanting marigold fields – I first spied an ochre patch hidden by swaying palm trees and we tip-toed into it only to find a vast expanse covered with hundreds of thousands of flowers. Needless to say, we spent the next few hours hopping from one field to another – it's hard to get enough of them. But we would recommend a drive to the area even if you visit at some other time of the year. That's because the area is home to some scenic drives, some of the best in Karnataka. We loved the drive to Gopalaswamy Hills and would recommend it wholeheartedly. What's more, the temple at the end of this road offers a panoramic view of the area (FYI – You have to leave your car in a parking lot and take a public bus to visit the temple. If you don't want to do that, skip the temple and just enjoy the rest of the drive).