Jeannette Philippo's floral life started at an early age. As a girl from several generations of breeders and growers, she grew up working with flowers, plants, and bulbs. A life that has made her the floral arranger that she is today; an arranger with a taste for both cutflowers and plants, which makes her the perfect designer to bring the Floricultura assortment to a higher level.
Jeannette Philippo
Jeannette is someone who always works in the background. She does not want to be in the spotlight, so she rarely does public performances and never gives an interview. Well, one exception perhaps when she can talk about her work for breeder Floricultura that she loves so much.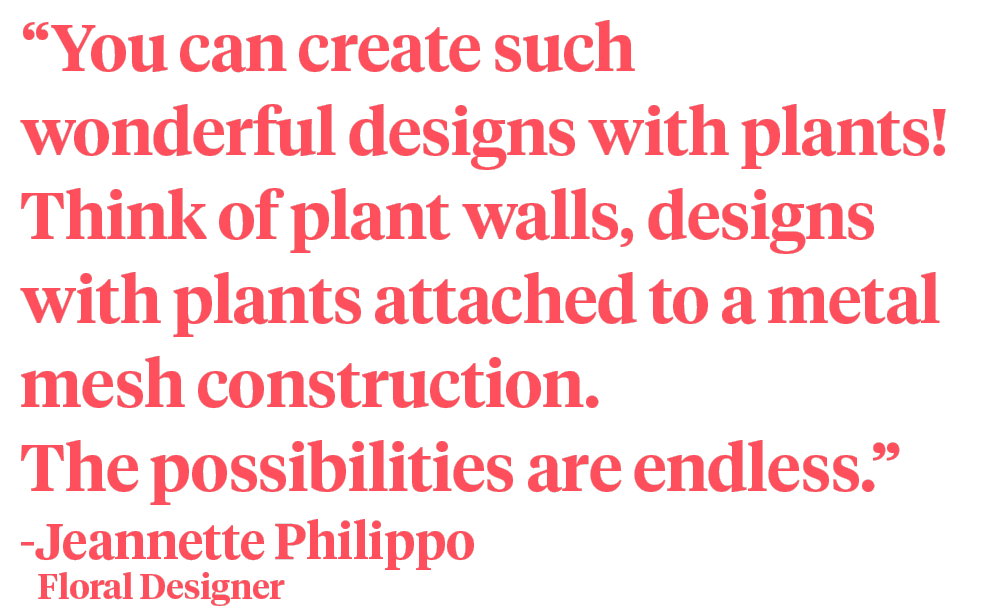 Jeannette:
"I am not the type of person that can stand in front of crowds and perform. When there are a lot of people watching me I get anxious. Nonetheless, I have done it on some special occasions, like during the corona crisis, really to help my customers to do at least something chic in lockdown. I performed in an online presentation at Floricultura as an alternative for the canceled Flower Trials of that corona year. This has broadened my perspective and given me new assignments in return. For instance, I do now more work for florists, who seek a designer for bridal arrangements."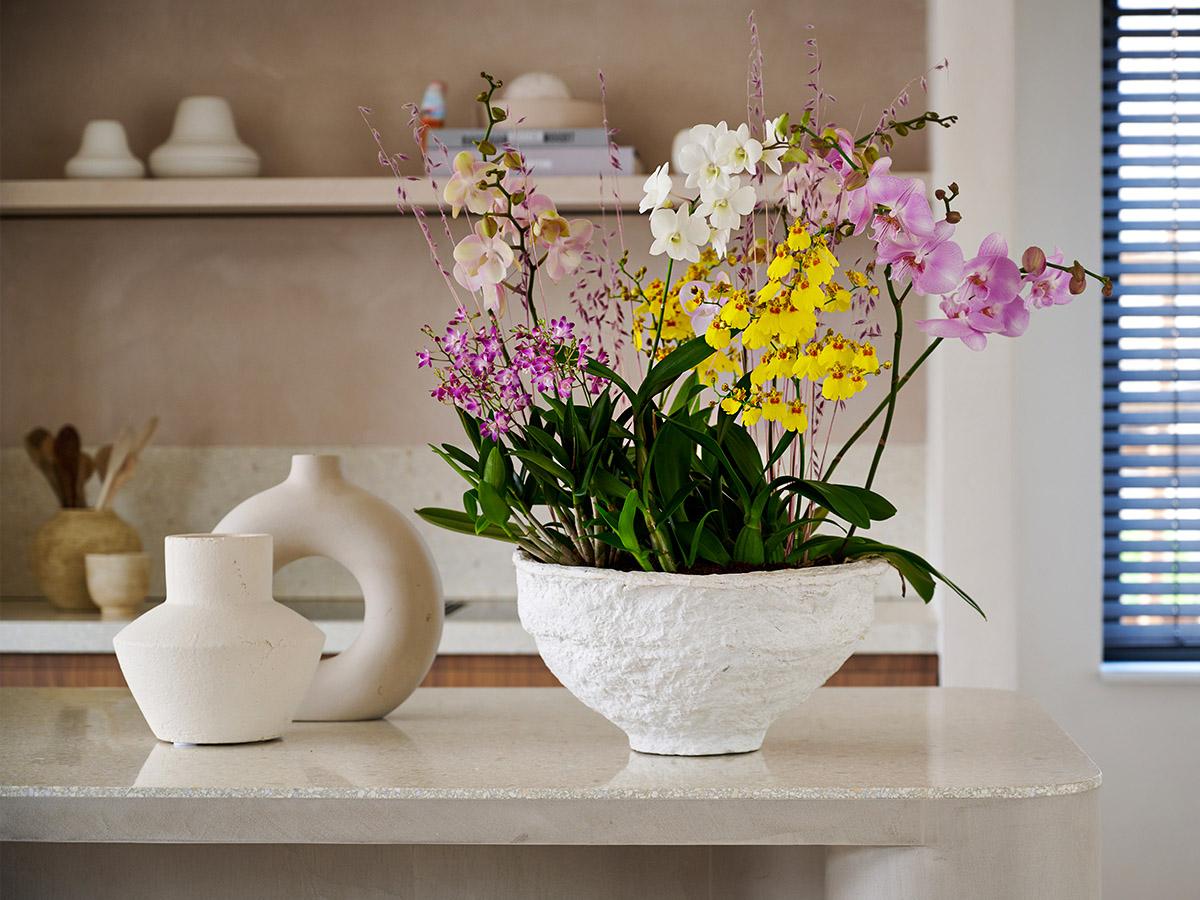 Once a Florist...
Being a florist is something that always comes back to Jeannette. This is not just her passion, but also this is where she can put her feelers out, learning from the customers. That's why, besides her work as a floral designer, Jeannette still works in a flower shop, Bloemsierkunst Stokman in Aalsmeer.
Jeannette:
"I listen to the customers and watch what they say about the flowers and plants in the shop. You get so much information and you can give so much in return to the customer.

Sometimes, I try to convince a customer to pick something different when I feel that it would fit better for the purpose or to dare try something different. Not the standard big white phalaenopsis, but a crazy speckled variant instead. Why not? Or if a customer says an orchid is no good because it dies easily, I can give the right care tips on how to truly enjoy this plant for a really long time.


Younger people are easier, in this perspective. However, we as florists have to show them how beautiful plants can be. They do pick this up quickly then, because this generation is very adaptive, open to new experiences, and can still be astounded by the crazy features or surprising fragrance of the more unusual plants. And the young people have the future.

Floricultura is one breeder that understands this when they create all these special varieties. Keeping on inventing those rarities is a lifeline for that future."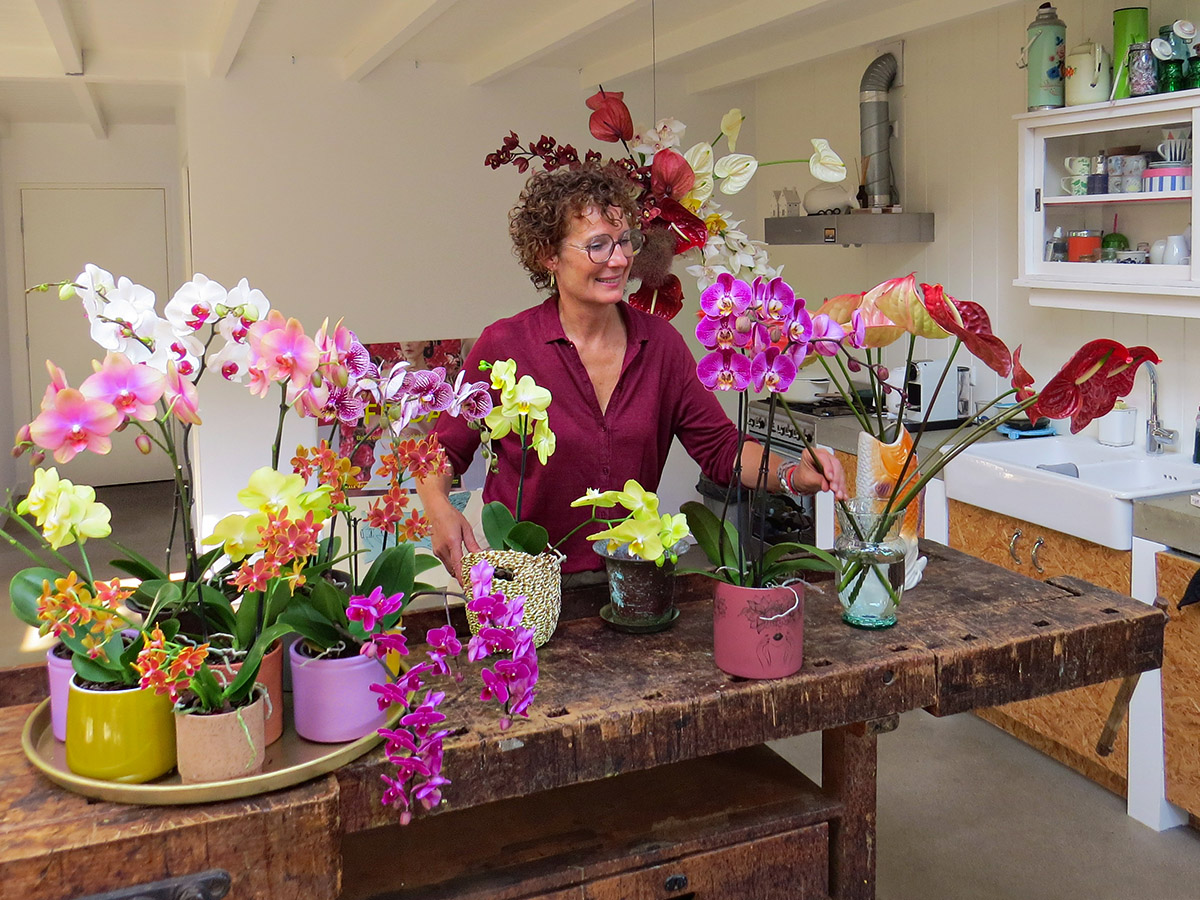 Flower Council of Holland
You may have seen Jeannette's work already on many occasions without realizing who was the artist. Over the years she has been involved as a co-creator with Klimproducties for projects of the Flower Council of Holland. New trends must get a look, and here is where Klimproducties and Jeannette come in.
Jeannette is always looking for materials and ways to express these trends into stylish designs. They must be simple because any consumer or florist must recognize them and be able to reproduce them at home or in the shop.
Jeannette:

"I love creating designs with the current and future trends. For this, I am always looking around me. What's happening in the world? How are people reacting to this? How do I translate this to designs with flowers and plants? This has to be different all the time, which is quite an intensive task.

Take for instance the Flower Council trend guide for 2023, which starts with the 'Layered Spaces' trend. I am focusing on this when I get my inspiration from everywhere, and then combine this to create the design that fits this Layered Space trend.

And besides the Flower Council, there is so much to do here in Aalsmeer. Until a few years ago we had the flower parade here, we still have the annual Trade Fair Aalsmeer, and there are many more projects that involve flowers. So, plenty of work for a flower arranger."
Inspiration
There are so many things that can inspire a person, you just have to open up to new experiences, and never stop looking around you. Jeannette has a specific focus on shapes. She gets her inspiration from everywhere, watching the shape of a forest, or the shape of hills, and other landscapes. And she gets her inspiration from other designers, like Belgian design artist Thierry Boutemy.
Jeannette:
"I have learned a lot from Thierry Boutemy, a true artist. On occasions, I work for Thierry. It is incredible how he combines plants, flowers, colors, and shapes. Really insane. I remember doing a show with him in Paris for the fashion label Hermès, where we uses tons of orchids that were presented as jewels. Absolutely stunning.

I use a lot of plants in my designs for weddings. Either I use the plant as a whole, or I might take a phalaenopsis from the pot, clean the roots, and use it like that. I even cut the flowers from plants sometimes, because they are often stronger than regular cut flowers that have been harvested some time ago.

You can create such wonderful designs with plants! Think of plant walls, designs with plants attached to a metal mesh construction. The possibilities are endless."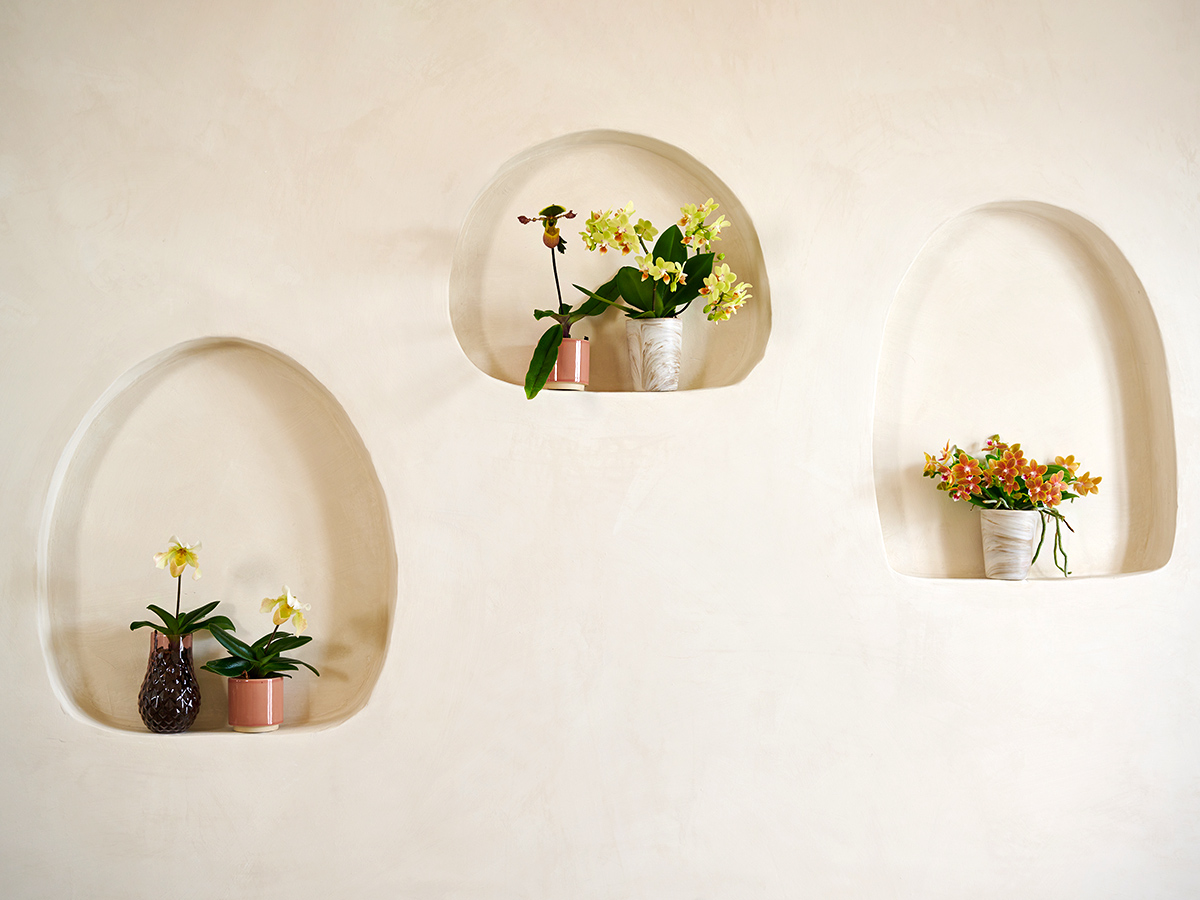 Enjoying Plants
When she speaks about her work and about plants specifically, Jeannette starts to shine. It is clear to see the love and passion she has for her work and for the products she works with:
"Plants move towards people. If you take good care of your plant, the plant will be better for you. I have a bond with my plants. They will grow longer, better, and more beautifully. Also orchids. Did you know that an orchid has more than one life? Cut it back after blooming and it will grow and bloom again multiple times, often even stronger than before.

Imagine how much effort, time, and dedication breeders and growers have put into your plants. These deserve our full attention too, instead of throwing them away after just a few weeks. I cannot throw away a plant."
The Floricultura Assortment
One of the great things about the Floricultura assortment, according to Jeannette Philippo, is the enormous variation from regular to spectacular plants, weird colors, and scenting orchids. This must be one of the reasons she loves to do designs for this breeder, like creating the showpiece of Floricultura's exhibition booths:
"Floricultura gives me the space and freedom to pick the plants in order to create the eyecatcher for their participation in a fair or for their Flower Trials. This is easy for me because there are so many plants to choose from, so many colors and shapes.

The nursery of Floricultura is one big candy store. All these varieties, all these colors, shapes, and patterns on the leaves. Simply brilliant. And what I like most: they look so 'botanically', very natural, smelling wonderful. That is truly the power of this breeder, looking beyond your average white orchid that the majority of customers would accept. Floricultura does not play safe with these exuberant species. And if I use these for fashion or bridal designs, people really go crazy.


The same goes for their anthuriums. Floricultura looks for not only the standard varieties, but also for those 'stranger things' like anthuriums with an unusually bent spadix, or weird drawings. More the exclusive varieties."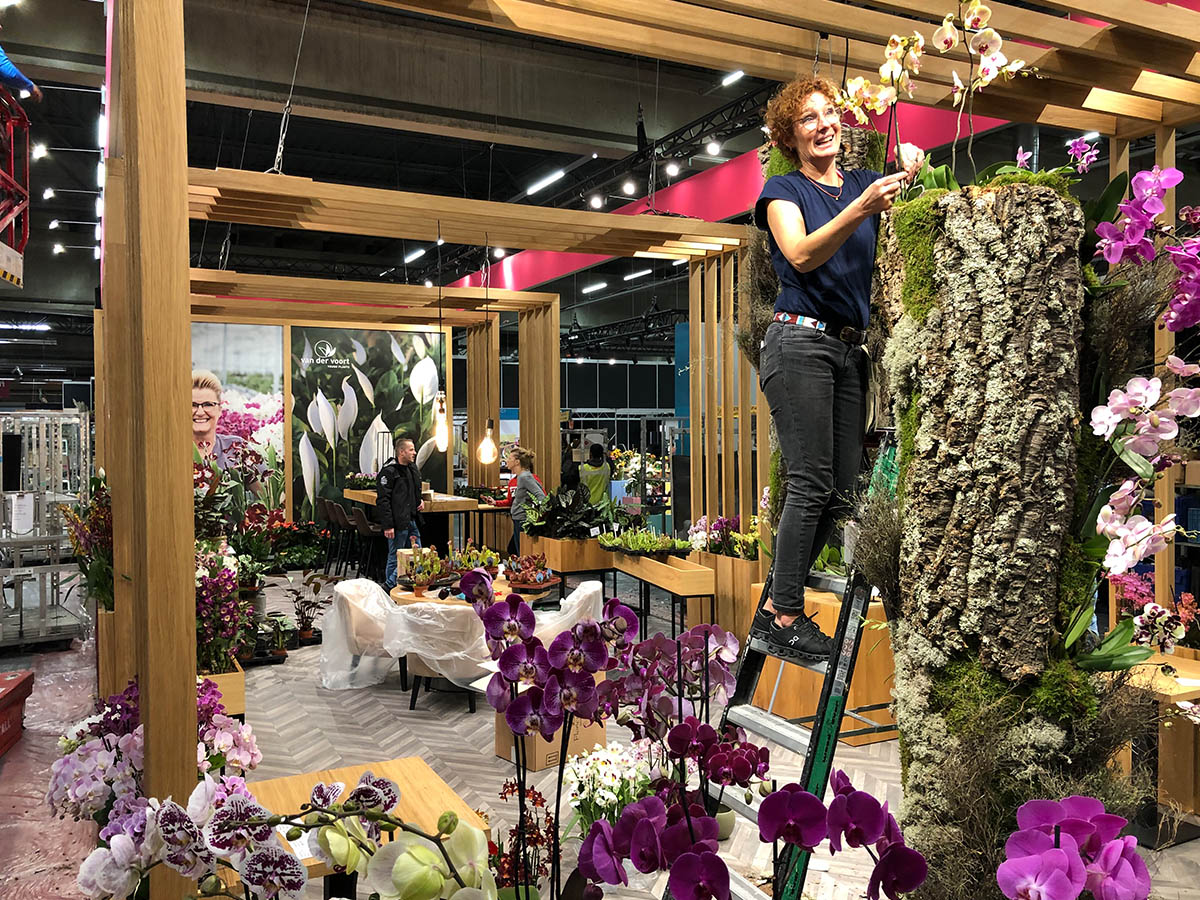 Planty Tips From Jeannette Philippo
Plants have the image of being a ready product: you buy a plant, put it in a pot, place it on a table, and for the rest, you look at it, and regularly give it some water. Jeannette does not agree with this perception. This interview would be incomplete without getting first-hand tips that everyone can benefit from. Jeannette has a few useful tips for all consumers and florists:
"First, if you buy more than one plant, do not buy all of the same variety. Plants combine so easily, so pick all different ones. If you want to buy only phalaenopsis plants, then realize how many varieties there are and pick all different ones.


Another tip is about the pot. A plant looks at its best when the pot color matches the color of the plant's blooms. It brings a kind of tranquility to the way it looks all together.

Not all plants are the same. Just immerse yourself a little bit in what a plant needs. The most common mistake is to give too much water. You might better give too little water than too much. A phalaenopsis, for instance, is so easy to maintain. Just put one ice cube on the bark per week, the plant will have more than enough from that. Everyone can do that!

Another phalaenopsis tip: remove the stick from the pot, and let the flowers stand on their own stems. They may hang somewhat, but this makes the plant less stiff, and come to life.

Finally, pick one fixed weekday for yourself to water your plants. When you go on a holiday, it is better to leave the plant without water for two weeks than to have your friendly overactive neighbor give them water three times per week. Overall, your plants will definitely stay longer and be stronger."