Classic Elegance
Leonora, previously known as 'Ella', is one of
David Austin
's newest varieties and is already proving to be a wedding favorite with brides. She is the epitome of classic elegance and understated style, befitting of a small intimate occasion or a regal celebration.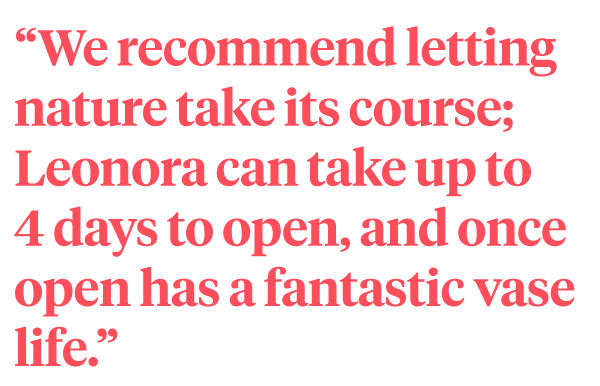 Leonora's formation is truly outstanding and can we boldly say, pretty perfect! Large white buds unfurl to creamy, ivory relaxed blooms – her petals creating a multitude of white tones as they open and catch the light.
Light and Compassion
Leonora (Auswagsy), a name meaning 'light' and 'compassion'. You can dress and style Leonora in so many ways. She is incredibly versatile and is set to become the Queen of white roses.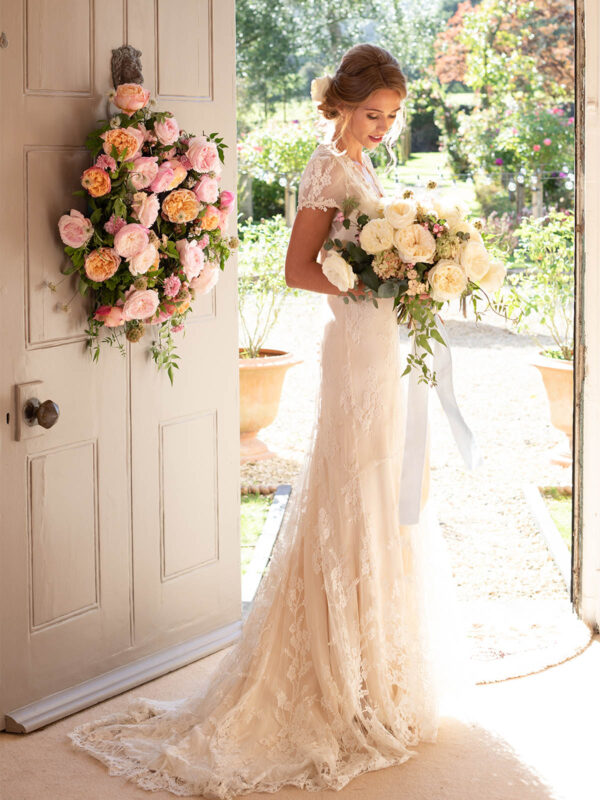 Elegantly perfumed, she has a medium fresh scent to add the finishing touch. This is a rose that any bride will be proud to hold on her special day.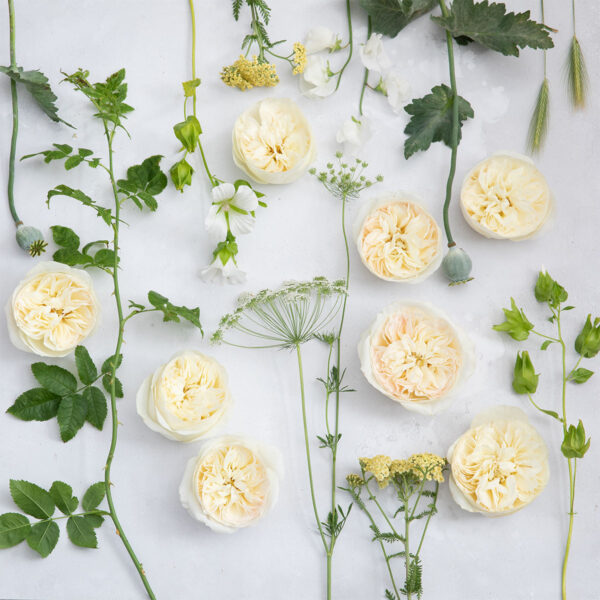 What Are Floral Designers Saying?
Steph from
fairy nuff flowers
got creative designing a beautiful wedding wreath, bouquet, and centerpiece to complement. Simple, stylish but so well curated.
"I absolutely love to use Leonora roses in wedding bouquets. The combination of incredible scent and the most beautiful, ruffly blooms makes them absolutely perfect for my brides (and for me as I always order extra). The beautiful shape makes Leonora incredibly versatile too, ideal for both formal, structured bouquets, and for more relaxed hand-tied arrangements."
Flirty Fleurs
in Washington State. The classic green and white story continued but with a different take – the feathery, lime green fern leaves add a formal, sophisticated vibe. Add an inky, midnight blue backdrop and wow, Leonora suddenly has attitude!
"Leonora (Auswagsy) is a phenomenal rose as it opens into a perfectly shaped round bloom filled with blowsy petals. I'm always in search of a great white garden rose to design within wedding work and Leonora is an excellent rose to fill this need – a splendid hue of pristine white, large bloom size, a beautiful cupped shape and long-lasting."
Give Her a Go
If you have not used Leonora before then give her a go and share your styling with us by tagging your image #leonorarose. We guarantee you will enjoy using her and will fall in love with her as much as we have. Also, take a look at their
Leonora Pinterest board
for more inspiration. Part of the beauty in a David Austin Rose is to see how they naturally open from a closed bud to an open bloom. So we recommend letting nature take its course and allow your blooms to open. Leonora can take up to 4 days to open and once open has a fantastic vase life.

David Austin Wedding & Event Roses love to talk to florists from around the world through their floral inspiration but maybe you have a question you would like to ask; would like help in sourcing their roses or an idea you would like to discuss. They would love to hear from you! Get in touch through
David Austin's profile page on Thursd
.