Do you like Agaves for their symmetry and graphic appearance but fear of getting poked by the sharp spines? Then the Mangave is just for you! The Mangave is a hybrid created by crossing a Manfreda with an Agave. How cool is that?
Mangave, a Once in a Lifetime Novelty?
Sometimes you just know you have gold in your hands. That is what you can imagine happened with plant-loving people within the industry. How did they look when they saw the first Mangave varieties? And learned of their specs? How fast they grow, and how easy they are to look after. They must have been bedazzled.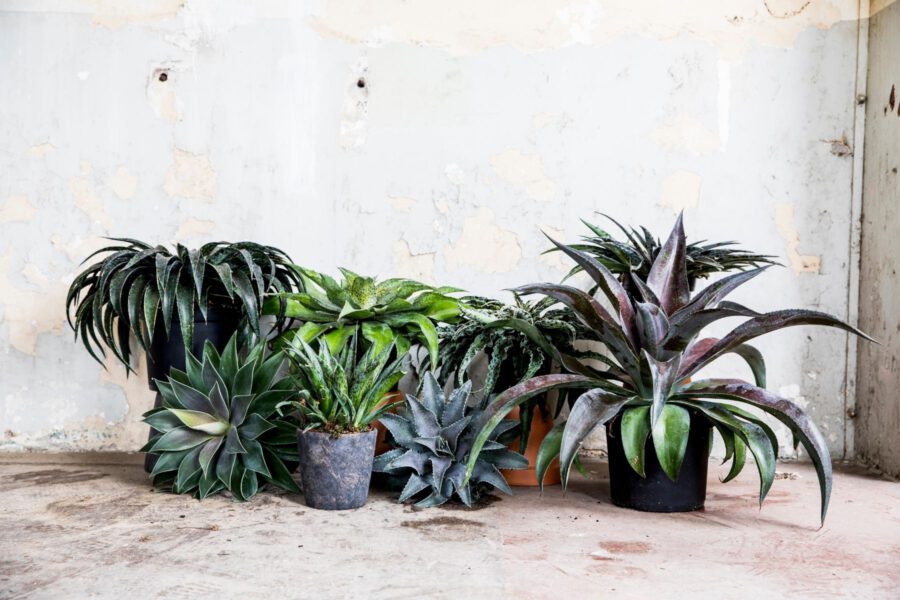 Mangaves look as if they are very old plants, but on the other hand look so fresh you can see they aren't that A novelty like the Mangave varieties doesn't come by so very often.
A Bit of History
It all started in the '90s when plant expert Tony Avent visited the Yucca-Do Nursery in Texas. They'd collected seeds from a Manfreda in Mexico, and two of the seedlings were five times as big as they should be. They had spots like Manfreda but were enormous, and their structure was Agave-like. The blooms were just not right. The species Agave Celsii had been growing in the next valley, and they realized, they must have pollinated one another. OMG, we have a Mangave!
Tony Avent started breeding them at Plant Delights, and after five years of crossing, they could definitely see the potential. But taking on the Mangaves was just too much for them. They gave all their breeding stock to Hans Hansen, an incredible plantsman and hybridizer at Walters Gardens in Michigan. The Mangaves at first sat unnoticed in the back of a greenhouse until the cover came off the building. When exposed to ultraviolet light, they turned into all these incredible colors. Tony Avent:
"Once people see and grow Mangaves, they realize how fantastic they are."
An Easy Plant
Mangaves do really well in a container and are very easy to look after. Not only outdoors, but indoors as well. As long as you give them enough light. Because it's the UV light that gives the Mangaves beautiful colors. And you know what? You don't even have to water them if you don't want to! If you do, they grow fast, if you don't, they stay kind of dormant. Of course, everyone would suggest actually giving them water, because who doesn't want to have bigger plants? Compared to the slow-growing Agaves, these Mangaves grow really fast! A Mangave plug grown from tissue culture takes 12 to 16 weeks to fill out a quart container, then another two weeks to fill a gallon. Agaves, in comparison, take 63 weeks.
Available in Europe Too
After developing many different varieties, and successfully introducing these new Mangaves in the US, now it is time for Europe as well. For the European market the first varieties have been set out at two growers; F.N Kempen and Van Son & Koot. And now, they are becoming available in the trade. Under the brand 'Mad about Mangave' the first plants have been introduced. Below you can find the first varieties up for sale now!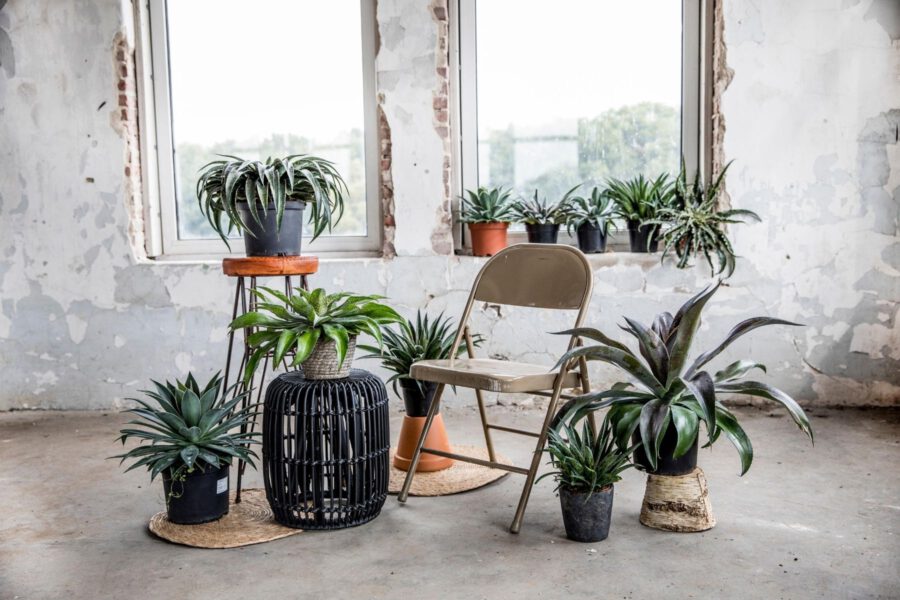 These are the varieties available for the European Market:
Mangave Inkblot
This Sun-loving Mangave Inkblot is a versatile, easy to maintain Mangave succulent. The first thing you notice about Mangave plants is their striking colors and patterns. The coloring of Mangaves is amazing. With more sun exposure comes deeper, more intense spotting foliage.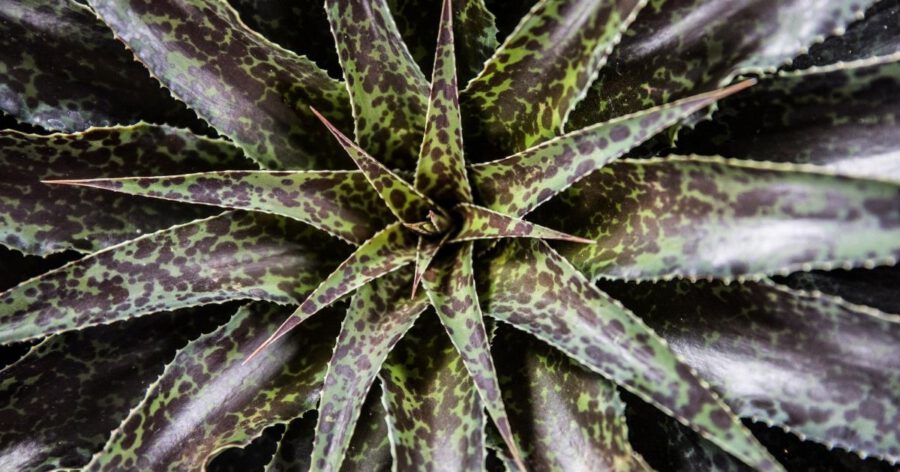 Mangave Inkblot
Mangave Lavender Lady
Mangave Lavender Lady is a unique, feminine beauty whose solitary rosette habit and smoky purple coloration make it look very similar to an Echeveria. Indirect sunlight, smoky purple leaves are formed at the top of the rosette and have subdued burgundy-purple dots. As the rosette ages, the ovate leaves lighten to green, forming a two-tone effect.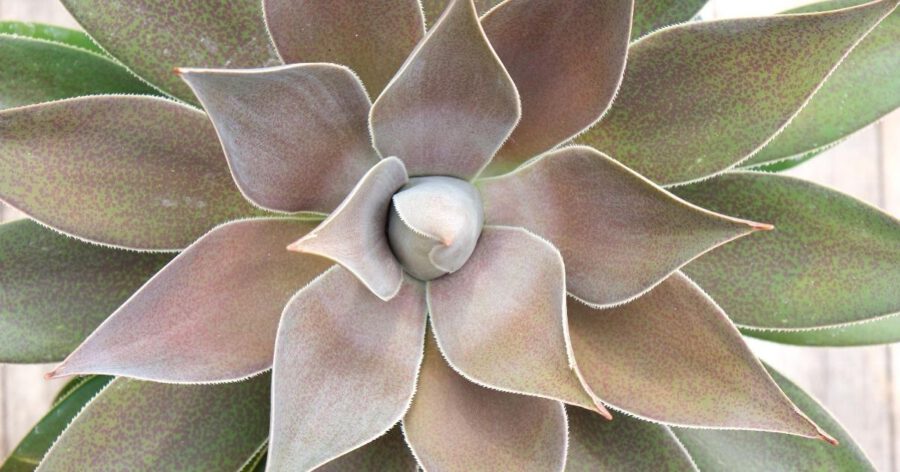 Mangave Lavender Lady
Mangave Mint Chocolate Chip
Enjoy this Mangave Mint Chocolate Chip, a unique-looking succulent for its incredibly wavy leaves and intense spotting. Long, silvery blue-green leaves are succulent, but not as rigid as Agave. Near-black spotting is present on both fronts and backsides of the leaves and contrasts beautifully with the lighter colored leaves. A very fine white margin lines the edges of the leaves with a serrated edge.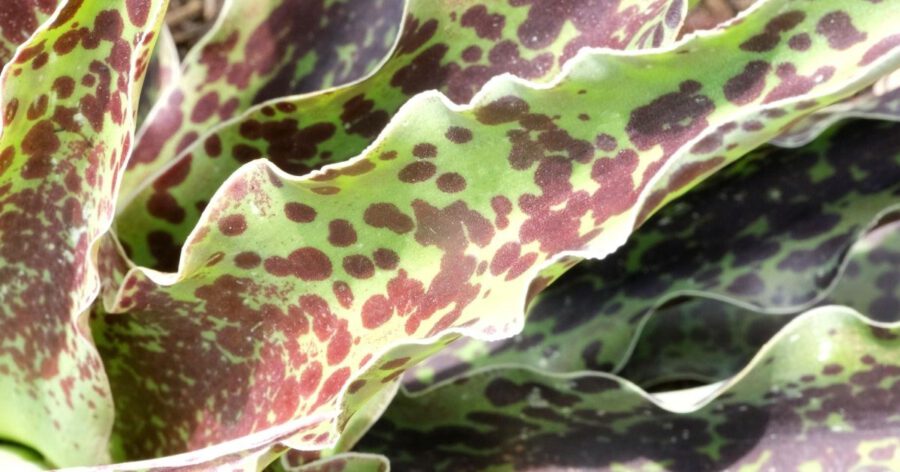 Mangave Mint Chocolate Chip
Mangave Mission to Mars
Mangave Mission to Mars is an amazingly bright red Mangave. A common nickname for Mars is the Red Planet, and this Mangave gets its moniker due to the unique, intense red coloration from the leaves. Thick green leaves that are heavily speckled with burgundy red, with spots that bleed into each other for an overall red appearance. The red coloration is brought out best in direct sunlight.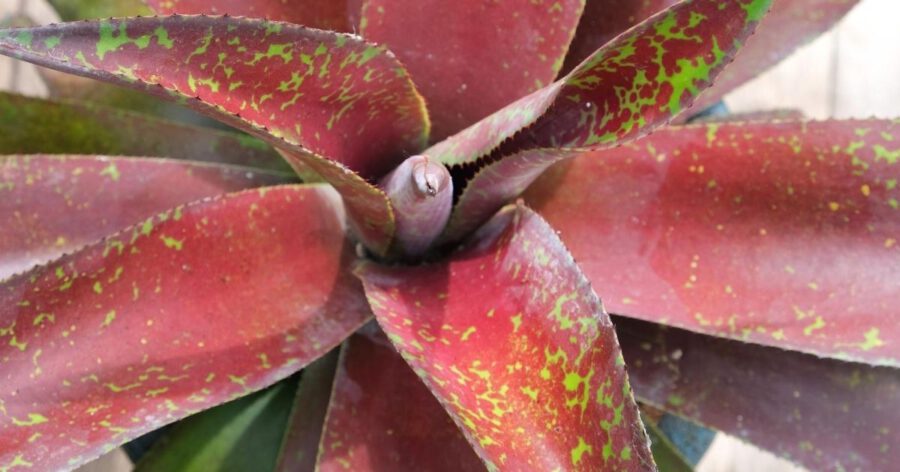 Mangave Mission to Mars
Mangave Moonglow
The Mangave Moonglow is a relatively new and exciting cross between the genus Manfreda and Agave. Characterized by a low but wide symmetrical rosette of long flat leaves which have dramatic coloration, being silvery-blue, mottled with large purple spots becoming even more pronounced in full sun. Although the leave has tiny marginal spines together with a terminal spine, they are relatively soft to touch compared to the Agave.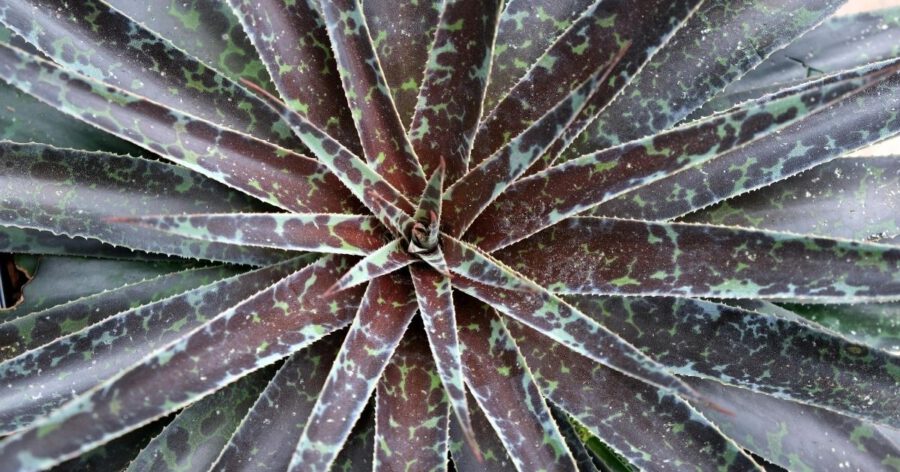 Mangave Moonglow
Mangave Pineapple Express
The refined, spiky habit of this Mangave called Pineapple Express, will remind you of the top of a pineapple. Her dark green leaves are long and slender, with pronounced burgundy spotting. The spots will be more pronounced when in full sun and exposed to UV light. A waxy coating gives the leaves a minty-green finish. Leaves are packed in tightly to form a spiky rosette. Tiny spines line the margins, and a very sharp, cinnamon terminal spine complete the spiky look.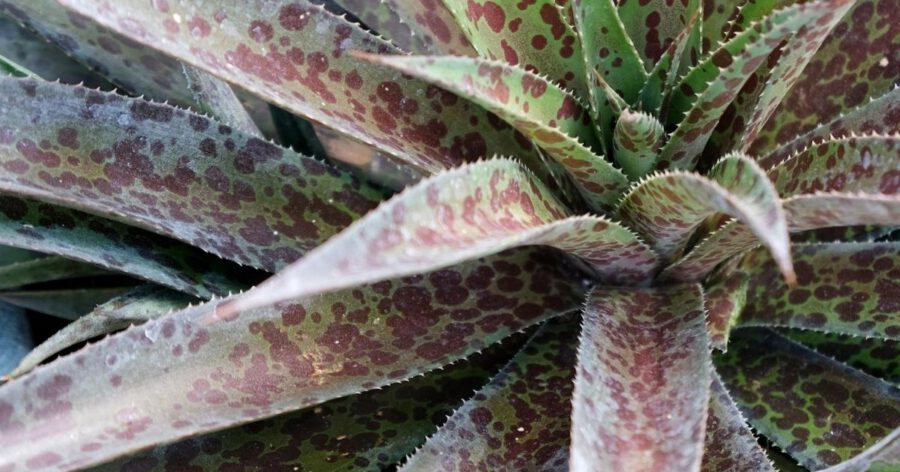 Mangave Pineapple Express
Mangave Silver Fox
A stunning and exceptional variety in a color that you wouldn't expect to see in a Mangave! Just like the white fur of a silver fox, this succulent glows nearly white when you first glance at it. In reality, it's more of a light green covered with a thick waxy coating to give it that glowing color. Light blue-purple spotting appears underneath the coating but is mostly unnoticeable from a distance. In addition to its wonderful color, Mangave Silver Fox has a magnificent habit, with thick, arching leaves and defined marginal teeth.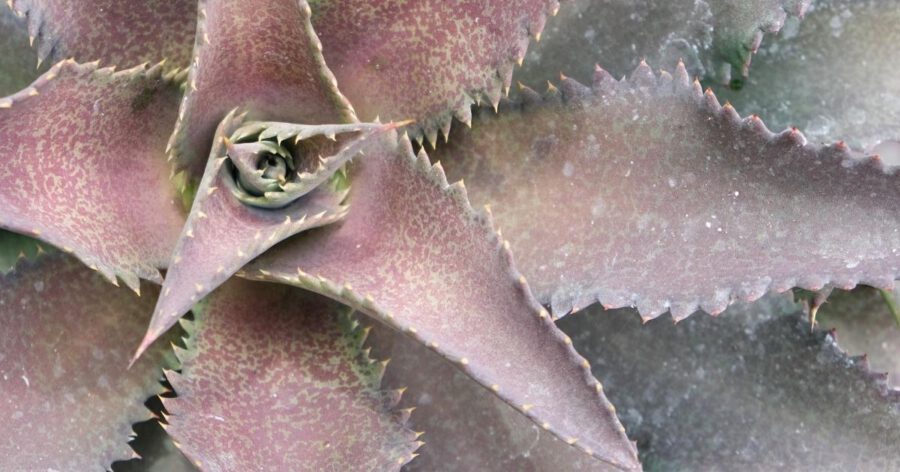 Mangave Silver Fox
Mangave Spotty Dotty
The Mangave Spotty Dotty gets its beautiful spots from its Manfreda blood, and its thick, wide leaves from its Agave parentage. Beautiful medium green leaves are covered with small, dark burgundy-purple spots. Very wide leaves fold up at the margins, displaying its sienna orange marginal teeth and long terminal spines. Leaves completely overlap each other, leaving little to no gaps, creating a full looking plant that's perfect for containers. Its leaves are softly wavy, creating a unique texture.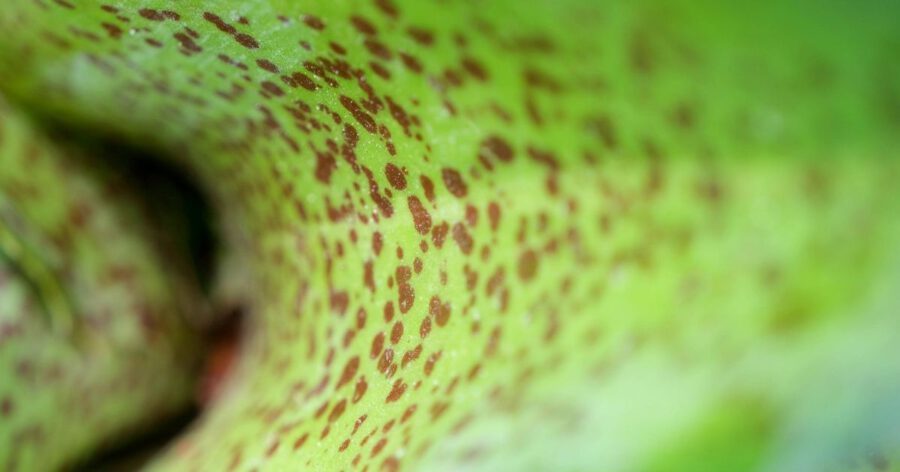 Mangave Spotty Dotty
For European floral designers, landscapers, and other professional plant lovers, know that plant wholesaler Waterdrinker has got a special 'Mad about Mangave' offer this coming week. So now you know how to get your hands on these beauties!