Of course, when you go to Dümmen Orange you expect to learn everything you always wanted to know about roses. They are the specialists, they own the Avalanche+ brand. But, besides a lot of 'need-to-knows' for traders, florists, and consumers, we learned to our surprise that a rose in itself is by far more complicated than people. No wonder why they never seize to bedazzle us. So, take your time to read the interview with Rokus Hassefras and Roy van Kester of Avalanche+. We promise that you'll become inspired and informed to tell the story of Avalanche+ to your own customers. And you'll get an answer to the question "Why would I choose an Avalanche+?"
Rose Avalanche+ Since 1999
Avalanche+ is one of the oldest still commercialized roses in the business. Roy van Kester, Marketing Specialist Cut Flowers, explains why:
"In the rose world, we say that a rose has a product life cycle of about five or six years. By that time either we or a competitor has invented a better rose with that color. Avalanche+ has been on the market since 1999 and so far there hasn't arrived a better one."
This is still beneficial for the Avalanche+ cooperation, but it does not mean that the people at Dümmen Orange can sit still. There is a constant quest for improvements to the Avalanche+ as well as for a whole new white top segment rose.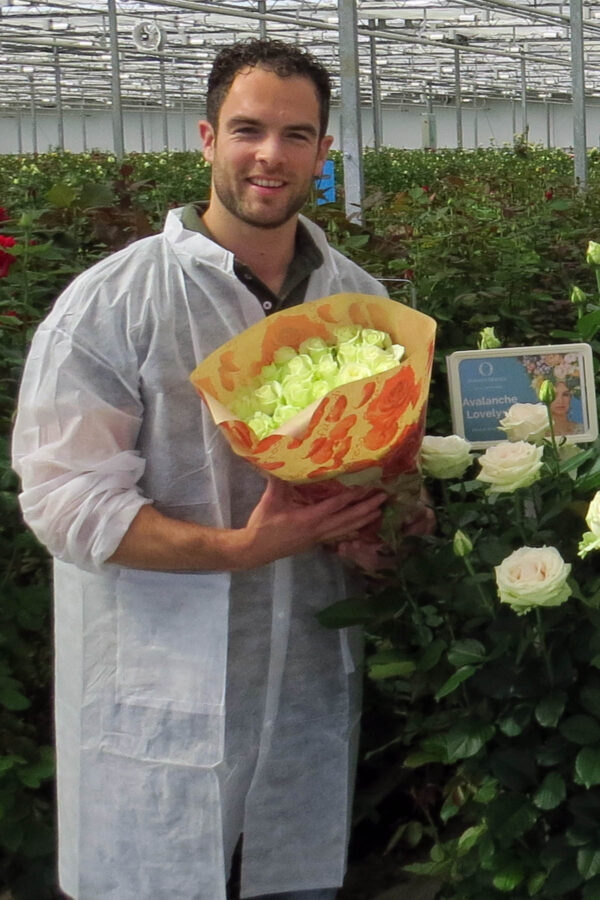 The Name and Iconic Logo
The name Avalanche+ was derived from the purity of white snow, combined with the overwhelming impression of a white mass of flowers. The + stands for the guarantee of a plus-quality product. The original breeder's name was Lex+, so the plus sign was very recognizable at the time. The logo is quite iconic. Floral professionals all over the world will recognize the stylish face of the Avalanche+ woman. This logo is uniquely used by the eight growers that are represented by the Avalanche+ cooperation.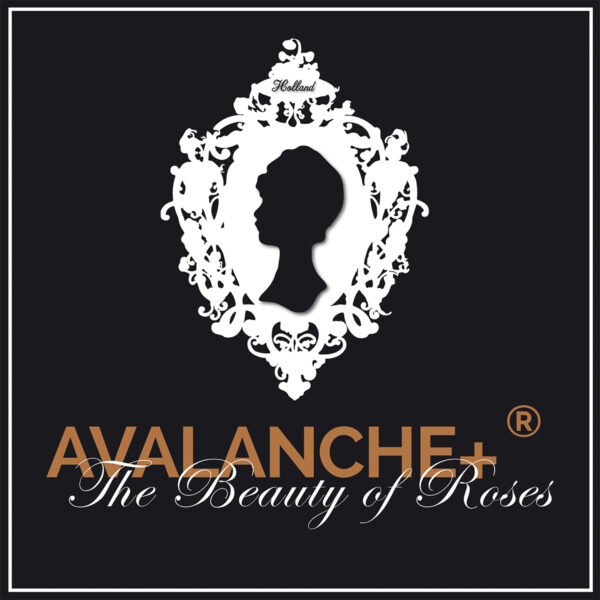 The Avalanche+ Cooperation
Avalanche+ is grown in many countries worldwide. In almost every one of them, the grower is limited to selling the flowers only in their home country. There is a group of eight Dutch growers, represented by the Avalanche+ organization, that are allowed to produce their flowers for export. That is how the uniqueness and quality of the products are guaranteed. Competition from Africa made these Dutch growers understand that the benefits of their product and the story of Avalanche+ had to be told to the market. That is the job of Rokus Hassefras and Roy van Kester.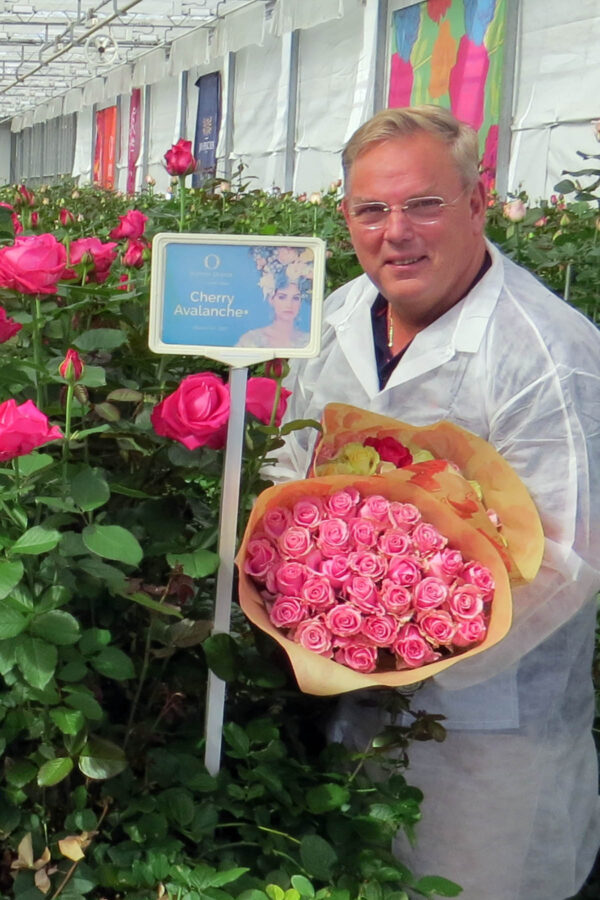 Why Would You Pick an Avalanche+?
There are many benefits to Avalanche+ for growers, traders, florists, designers, event planners, designers, and consumers. This has all been tested thoroughly within the Avalanche+ cooperation. Marketing Manager Rokus Hassefras is very specific when he sums up these benefits:
The yield per m² is high in comparison to the cost and to competitive roses.
In comparison to most roses, this one is rather easy to grow.
Avalanche+ has very few thorns, which is easy for cutting and handling.
The shape of the head is round, which simplifies transport.
Avalanche+ is white. This is one of the two main colors for roses. Fifty percent of all roses sold are either red or white.
The shelf life at the florist is superb.
For florists, Avalanche+ is a real mono-bunch item. It is hardly put into a bouquet. That is the power of the rose.
Consumers will love the big head of Avalanche+.
Avalanche+ is a 'living flower', so consumers will see them bloom. An already open rose is less exciting to watch.
The vase life with a consumer is excellent.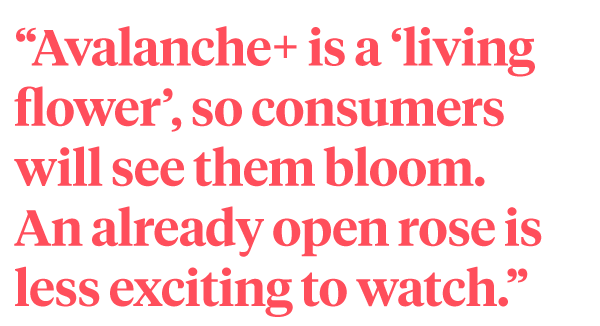 Various Growers, Various Avalanches?
It is up to the grower how many roses they want to grow per m². This makes a difference in the final quality of the cut flower.
"Some growers choose to get more yield, while others go for lower production, but a higher value per stem. It is good that this happens, because this way all growers can serve their chosen segment", Rokus explains.
Different Avalanche Varieties
Since the introduction of the original white variety, Avalanche+ has widened its assortment through the crossing process. We have seen the birth of wonderful new colors. Rokus and Roy explain that there have been quite a lot of potential sisters of the Avalanche+ that did not make it to the consumer. Rokus:
"It is usually either a development process of four, five, six years or a coincidental mutant with a grower. The recent variety, Lovely Avalanche+ is a mutant that was discovered at a grower."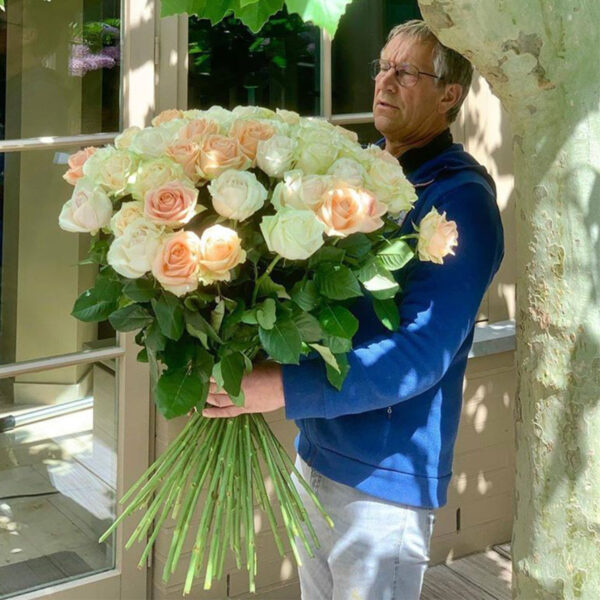 So, What Comes Next?
Wouldn't you want to know what will be the successor of Avalanche+? The people at Dümmen Orange work very hard to enchant you again with an even better white rose. But this is not an easy task.
Rokus explains:
"We are trying to find a successor. The licenses expire in 2026, so we are busy right now. So far we have not found a better one than the current Avalanche+."
This month Dümmen Orange opened its new laboratory in De Lier, Netherlands. This is the biggest lab for developing floriculture in the world.
Roy van Kester:
"Breeding nowadays has past the era of trial and error, of lucky shots. We now look at data."
Rokus adds:
"You would be surprised to know that the DNA of roses is far more complicated than that of humans. We use the markers on the DNA strings of various flower species to create new flowers. This is still the good-old 'crossing', but more focussed towards success."
What does this mean for Avalanche+?
Rokus:
"It means we will improve Avalanche+ further with what we learn from roses and other flower species. For instance, we can use the way one flower is resistant to mildew to improve the resistance of another flower. So, with the help of other species, Dümmen Orange is able to improve Avalanche+ as well and vice versa."
Final Note for Florists
Rokus Hassefras and Roy van Kester know their products and are passionate when speaking about their Avalanche+. And that is also what makes florists stand out from supermarkets. Florists are artists and connoisseurs who still listen to their customers and pick the perfect flowers for every occasion. That is the added value that every florist in the world should have and should show in order to stay relevant. Be the expert and tell the stories of the Avalanche+ and, of course, of all other flowers too.