Zuluflora is rooted in South African floriculture in every positive way thinkable. Top-notch flowers, a sustainable view of business, and working for the welfare of the community. Its nurseries are more than a business, they are a collaboration of family farms that share to grow together.
Home Base - the Zulu Kingdom
Zuluflora's name is derived from its home base, the area of KwaZulu-Natal. This is the Zulu Kingdom, a land with soil as rich as its history and stretched along the tropical eastern coastline of South Africa. And it's the home of the finest proteas and nutans.
Another part of the assortment, like wax flower and Blushing Bride, is grown in the Western Cape area since they're better suited there.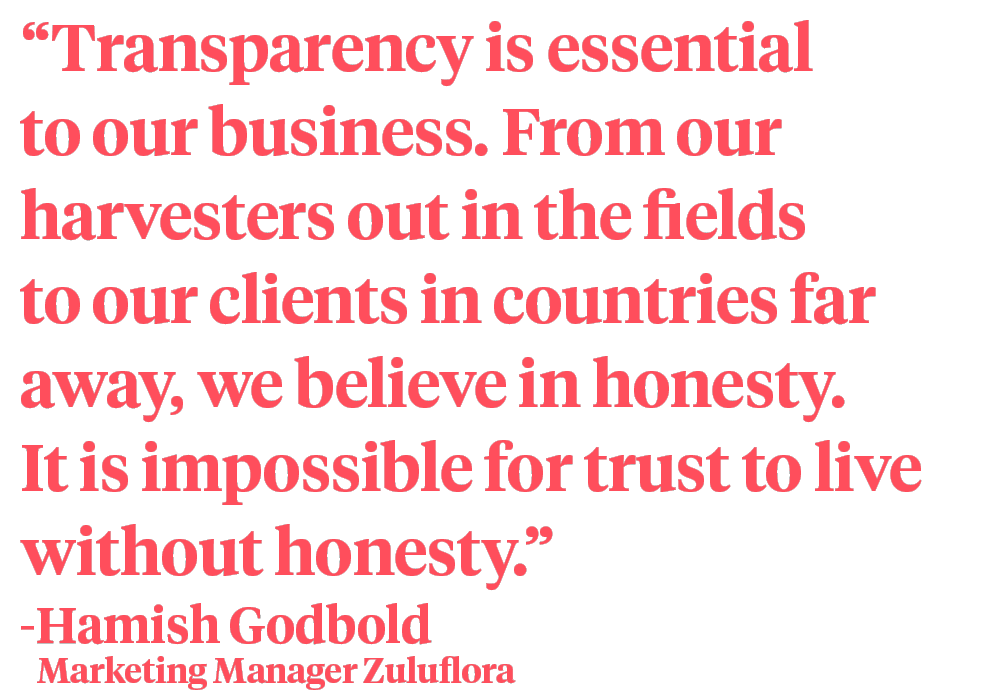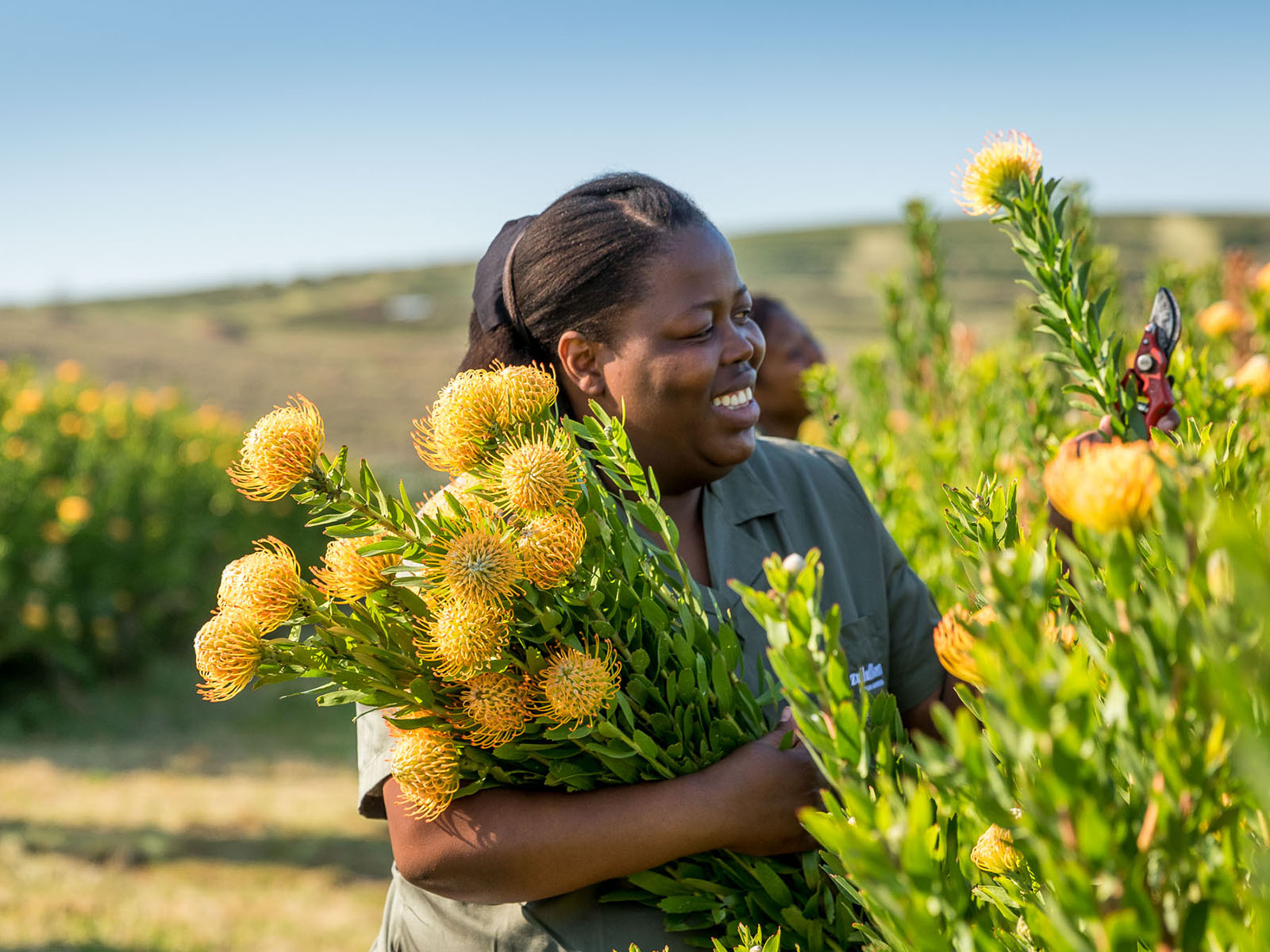 Meet the Growers
Let's take a tour around the Western Cape and KwaZulu-Natal, meeting Zuluflora's farms with their expert growers Neil Hall and James Christopher. Inhale the magic of Africa, the passion for people, and the quality flowers Neil, James, and Andrew grow.
Zuluflora uses its experience to perfectly identify the best areas to grow certain varieties. For example, the wax flowers and Blushing Brides are better suited to the dry arid Western Cape, where leucospermums and larger proteas do well in KwaZulu-Natal.
Neil Hall
Grower of Protea Blushing Bride, leucospermums, and wax flowers.
Neil:
"I always knew from a young age I wanted to work outdoor. And being on a farm is most definitely something I treasure. The people who work and live on our farm have become part of our family and of our daily life. When I think back on the beginnings of Zuluflora, one of the things that stood out to me was the unity. I realized that when I could get together with some like-minded growers, this unity is really a strength. That has been proven for me over these last three or four years."
Neil has a sharp look at the perception of quality:
"As a farmer your whole twelve months, your whole season's work is assessed in the five or ten seconds that someone opens a box and has a look at what you produce. And that moment someone looks at your flowers and puts them in a vase at home. Therefore, quality is absolutely critical. It's your pride, it's your showcase."
Image left: Neil Hall
James Christopher
Grower of proteas and leucospermums.
James:
"Farming, in general, is knowing you have to adapt all the time. You can have a plan, but there's always going to be a surprise and a change that demands adjusting the plan. I suppose the biggest lesson from the corona pandemic is probably that you cannot control a whole lot, but the things you can control and implement you have to be on top of that, and do your best to have an influence."
James' comment on the quality of the Zuluflora assortment:
"Quality is a major factor in making our business successful. It is key for growing flowers in particular. Our people make that quality, giving us advantages and making us different."
Image left: James Christopher
Andrew Robey
Grower of proteas and leucospermums.
Andrew:
"I love farming flowers, my favorite part of this is the early morning drives through the fields of flowers, all the different shades of green in the summer and then all the bright colors from the pincushions (leucospermums) in the winter. There's never a dull moment, and always something that needs your love and attention. All my flowers are my favorite flowers. Some need more attention than others but I enjoy looking after all of them."
Image left: Andrew Robey
Real Quality, Real Growers, Real Traders
Quality is everything to Zuluflora, understanding that its reputation is reliant on this. That is why the growers spend so much effort nurturing and growing each stem. Zuluflora understands that the supply chain is just as important as the flowers and that partnering with logistics that can deliver high-quality solutions is the most advantageous for everyone. It's all connected. This means better monitoring of quality further up in the chain, better understanding of clients' needs, and faster adaptation to changing markets
Hamish Godbold, Marketing Manager at Zuluflora:
"Transparency is essential to our business. From our harvesters out in the fields to our clients in countries far away, we believe in honesty. It is impossible for trust to live without honesty."
Zuluflora is in fact one of the biggest producers of protea flowers. This scale enables the organization to consistently supply the biggest retailers and wholesalers, even at peak demand.
One of the big challenges for Zuluflora is to continue the high quality level that's been offered for many years now. There are ways to do this, and the best has proven to give nature time to recuperate.
Hamish:
"Each season we tend to the fields, resting the soil, giving back to the earth that which we have used, and restoring balance to the system. We then nurture and grow each flower adapting to a changing climate and soil requirements to bring you exceptional quality in every bloom."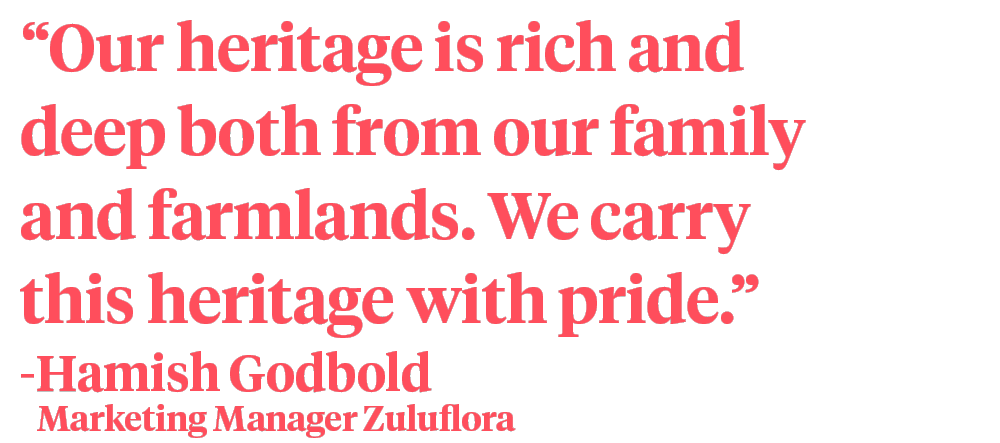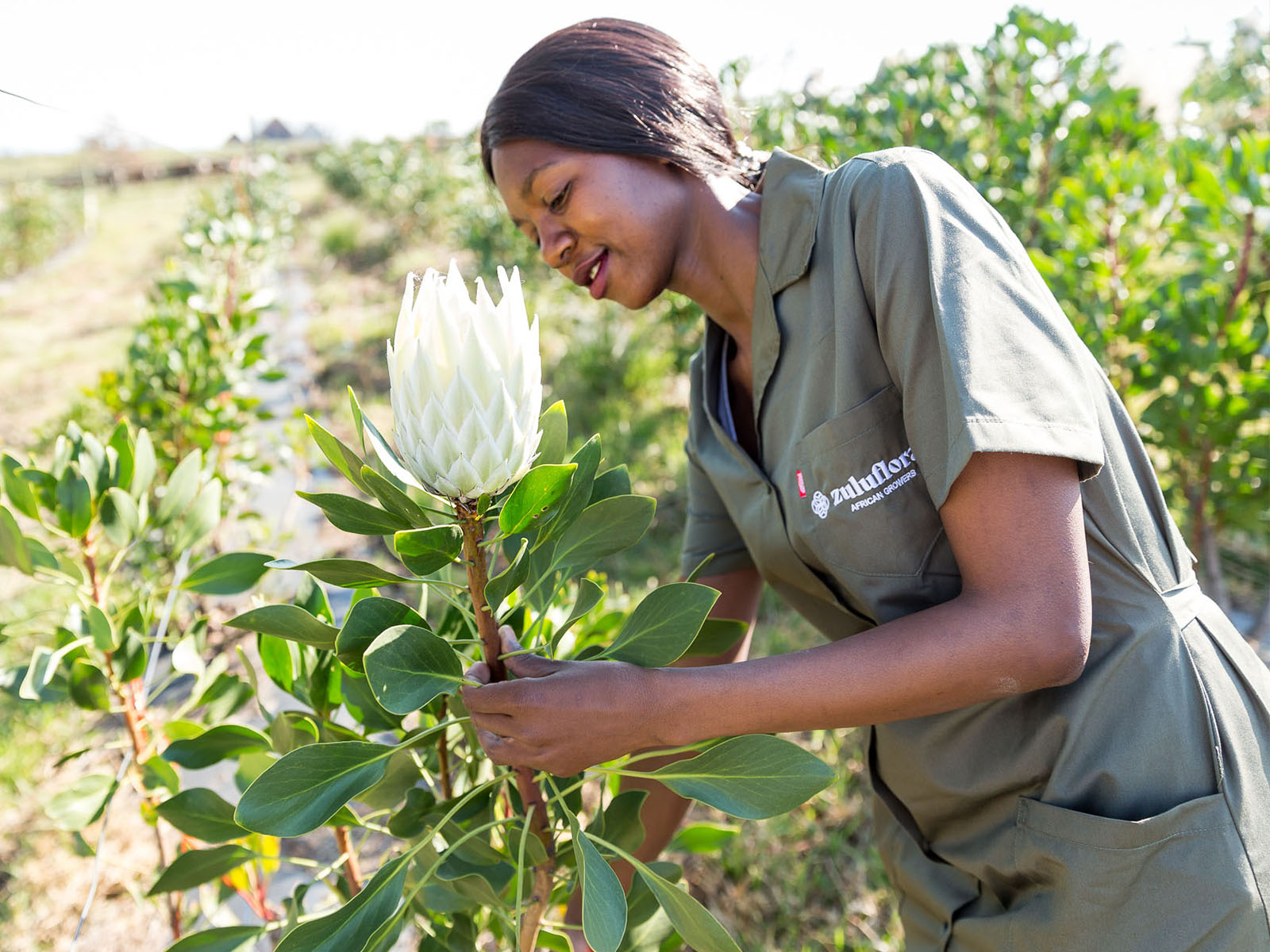 African Growers
Zuluflora takes pride in its roots as African growers, at the same time being very much conscious of the environment it is located in. Fostering the community is emphatically anchored in its mission.
Hamish:
"Our heritage is rich and deep both from our family and farmlands. We carry this heritage with pride. Our community is important to us and that is what drives us to actively find new ways of linking together to uplift and improve the lives of those around us."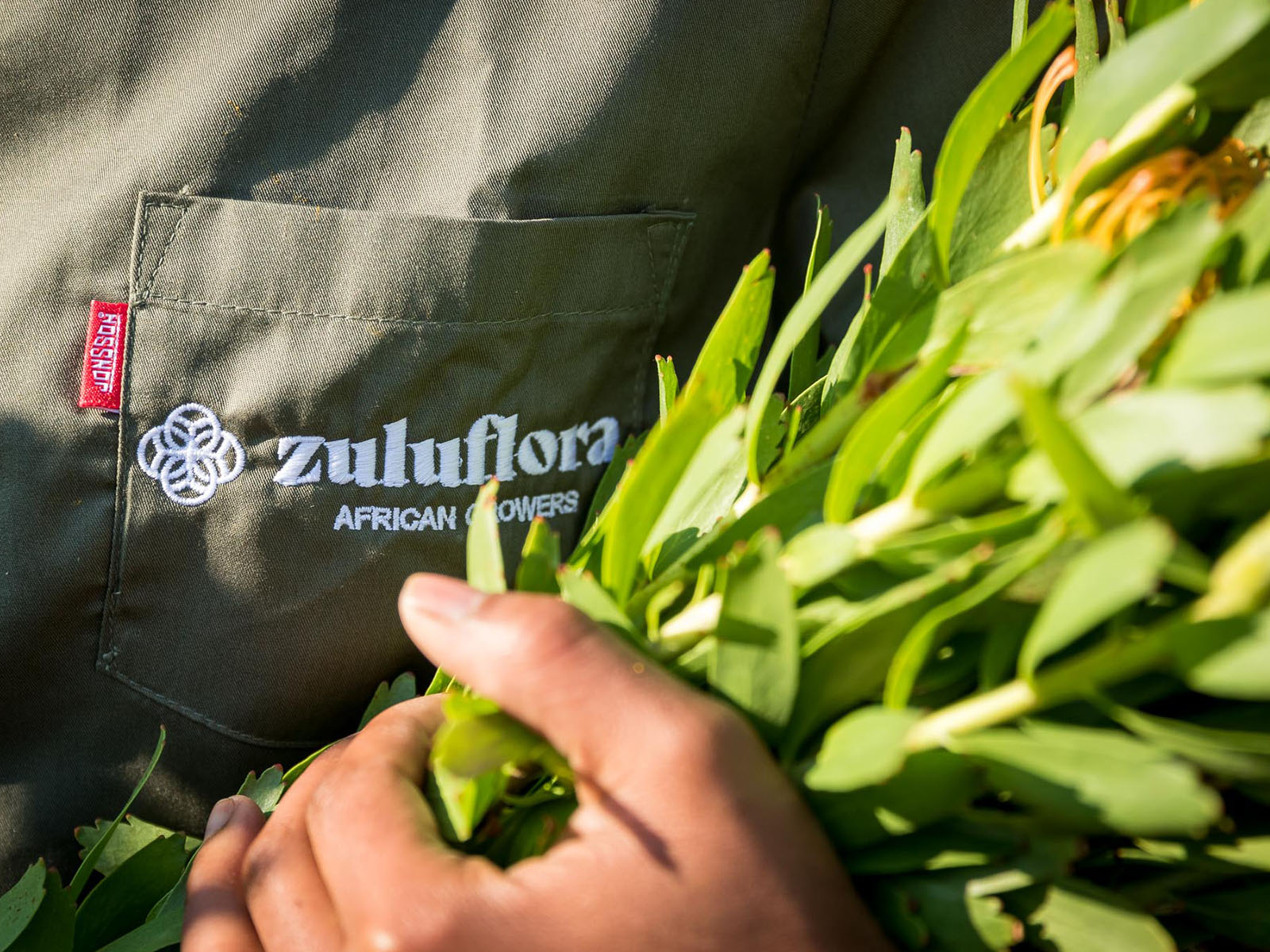 The Heritage Story by Founder Miles Goldbold
Find out more about Zuluflora's roots in this inspiring 2-minute video. Founder Miles Godbold explains how he transformed a dairy farm into a protea nursery: "I think they thought we were mad." and how his son Hamish made the next step towards market development.
Hamish Godbold's Vision
Where is Zuluflora right now and where is it heading? A 3-minute video featuring Hamish Godbold about the collective ideas behind Zuluflora: "If you want to go fast, go alone. If you want to go far, go together."