Mona Caron is a Swiss-born, San Francisco-based artist, who uses muralism, illustration, and photography in both her art and 'artivism'. Her focus is on community-informed and site-specific murals in public spaces. She has created large-scale murals in the US, Europe, South America, and Asia has delved into stop-motion animation as part of her "WEEDS" project, and co-creates visuals for street actions and outreach with social and environmental movements.
Mona Caron's Incredible Floral Murals
Murals in public spaces are Mona's primary focus. Her goal is to activate public space by creating artwork and interactive street happenings, using the painting's narratives to spark conversations and critical awareness of our shared space.
Caron's first decade in muralism was defined by highly site-specific, detailed, and community-immersive narrative murals, reflecting the past, present, and future imaginaries of their neighborhoods through a uniquely permeable participatory process, considered part of the artwork. This process has been featured in an Emmy-winning documentary film, "A Brush With the Tenderloin", and has been the underlying praxis for most of Mona's work in her hometown of San Francisco.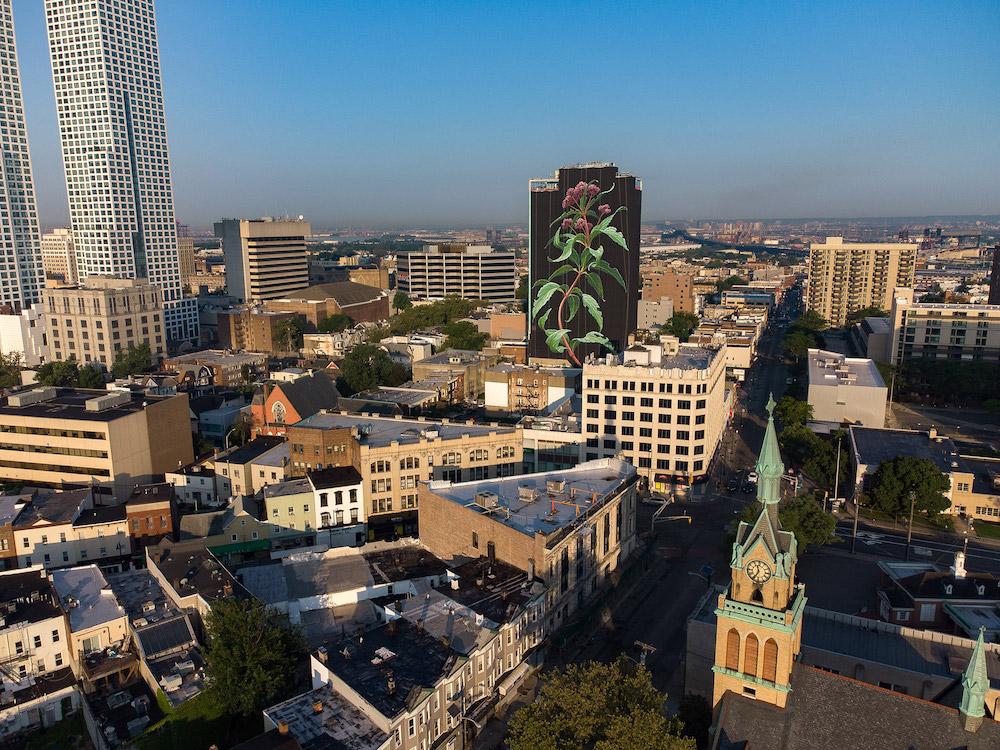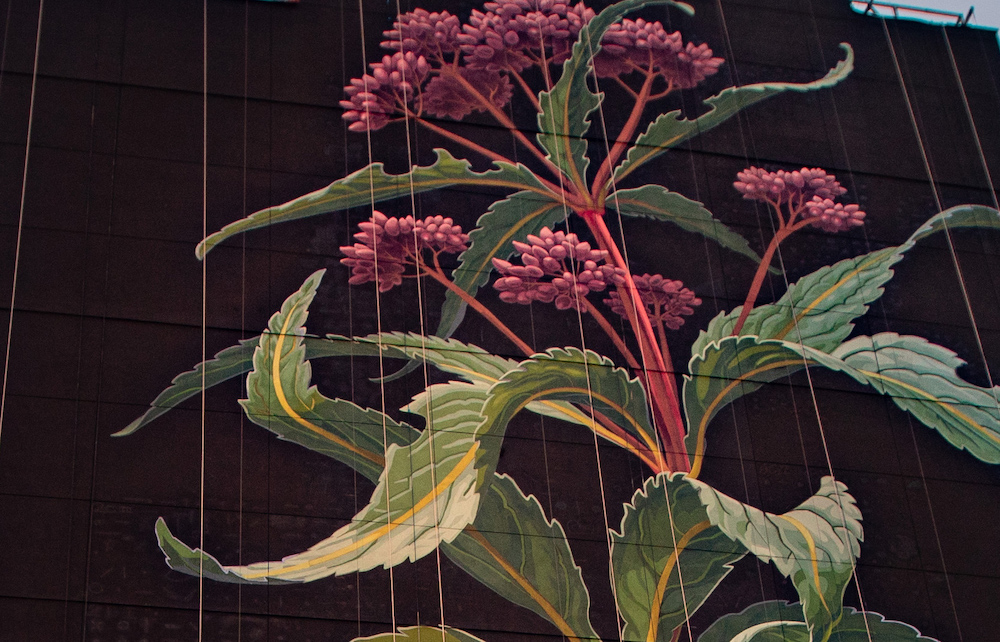 Resilience and Resistance
In recent years, Mona's stop-motion animation and botanical mural series titled "WEEDS", a metaphor about resilience and resistance, has been growing in numbers and geographic reach, as well as in the scale of the pieces. This series communicates on a poetic level, through the contrast of scale of each painted weed seedling with its environment, and has found reception across cultures and languages.
Her art has been used in climate justice movements, water rights, and labor rights groups with organizations including 350.org, the Coalition of Immokalee Workers, Zero-Waste Detroit, US Social Forum, La Coordinadora por el Agua y la Vida and Fundación Abril of Cochabamba Bolivia, Acción Ecologica(Ecuador), Land is Life, among others.
Love of Botany and the Natural Form
Born and raised in the wild and verdant Centovalli region of Ticino, Switzerland, Mona Caron owes her love of botany and the natural form to her childhood's natural surroundings, and to her mother and grandmother's teachings. She mysteriously inherited her style of depicting plants from her grandfather, a botanical illustrator, even though they were never close.
Mona Caron's Latest Project in Jersey
A single Joe Pye weed with barbed leaves is now blossoming on a building that looms over the Jersey Metropolis. Set towards a black backdrop, the wildflower from the Eutrochium genus that is native to this area is the newest mural by Mona Carson. This project was commissioned as a part of the Jersey City Mural Arts Program and is a celebration of resilience because it "rises with the solar, going through off the skyline throughout the Hudson," Caron writes on Instagram. "An imaginative and prescient of nature successful, of crops being those towering over us for a change, placing us again in our place. Might we be taught. Might they arrive again."
Images by Mona Caron. Check also this behind-the-scenes video on Mona's Insta.