Street art has always been a form of expression that reflects society's various moods and emotions. It comes in all shapes and sizes, and one of the most popular themes is nature, specifically flowers, and plants. Take a look at some of the best street art pieces that showcase flowers and plants and explore why this theme is so popular among artists.
12 of the Best Street Art With Flowers and Plants
The use of flowers and plants in street art is not new. From graffiti to murals, artists have used these natural elements to create works of art that are both beautiful and thought-provoking. The use of flowers and plants can represent a range of ideas, from growth and renewal to fragility and resilience. Here are some of the most stunning examples of flower and plant artists that make amazing street art:
1. Flower Power by Fábio Gomes Trindade
Fábio Gomes Trindade, a Brazilian artist, strategically paints his murals under the leaves of trees or flowering vines and turns the flowers and foliage into spectacular hairdos, giving the impression that they are a natural part of his street paintings.
On his Instagram, the artist said that he was overtaken by inspiration the moment he saw an acerola tree planted twenty years ago in the backyard of a humble house in the city, and now, the said tree also is part of the artist's best-known work.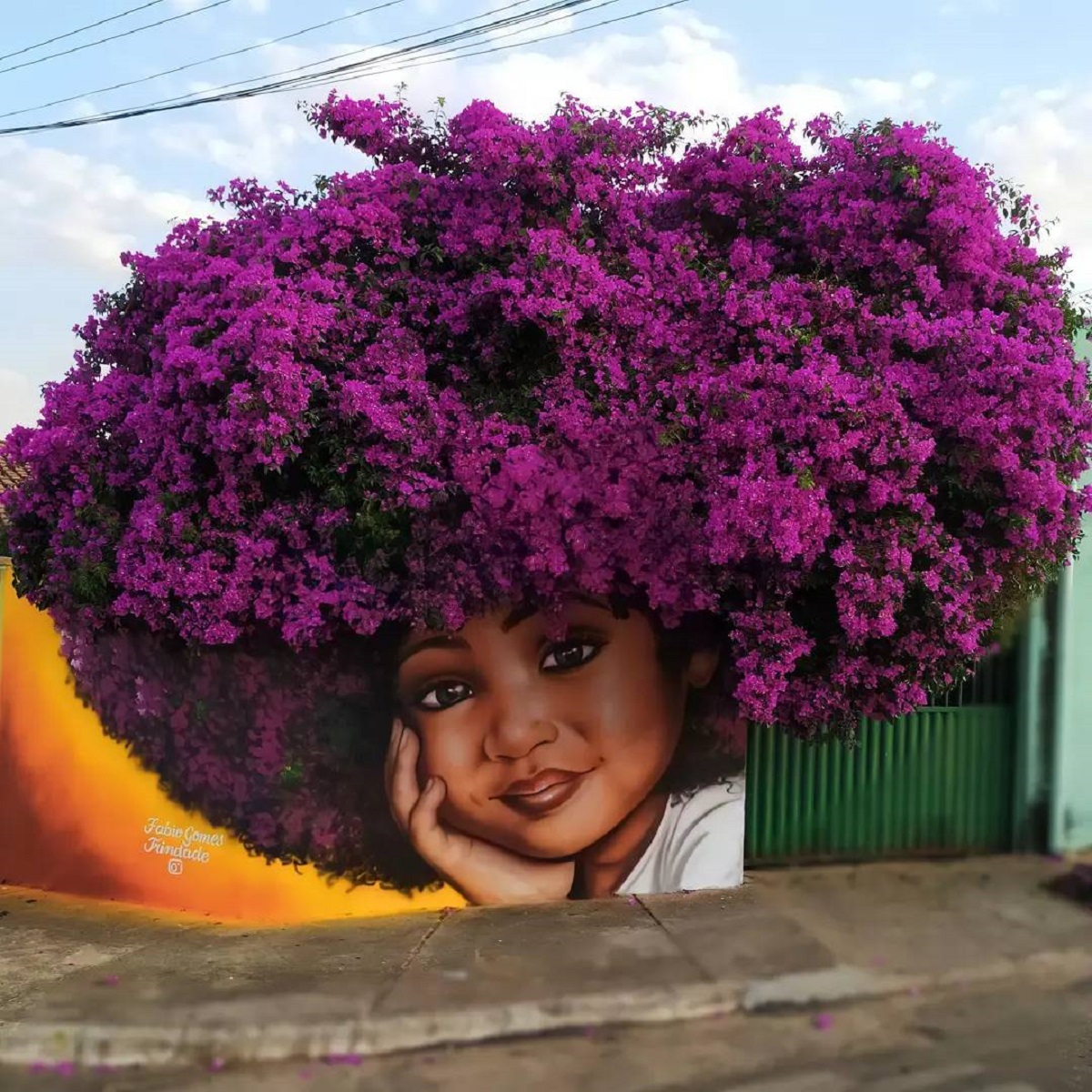 The artist is well known for his murals that depict amazingly detailed portraits of women and children wearing branches of trees and bushes as 'hair'. His work took the internet by storm in Brazil rather quickly and is now spreading all over the globe. Images of his work were even shared by famous Hollywood actress Viola Davis and Beyoncé's mother Tina Knowles.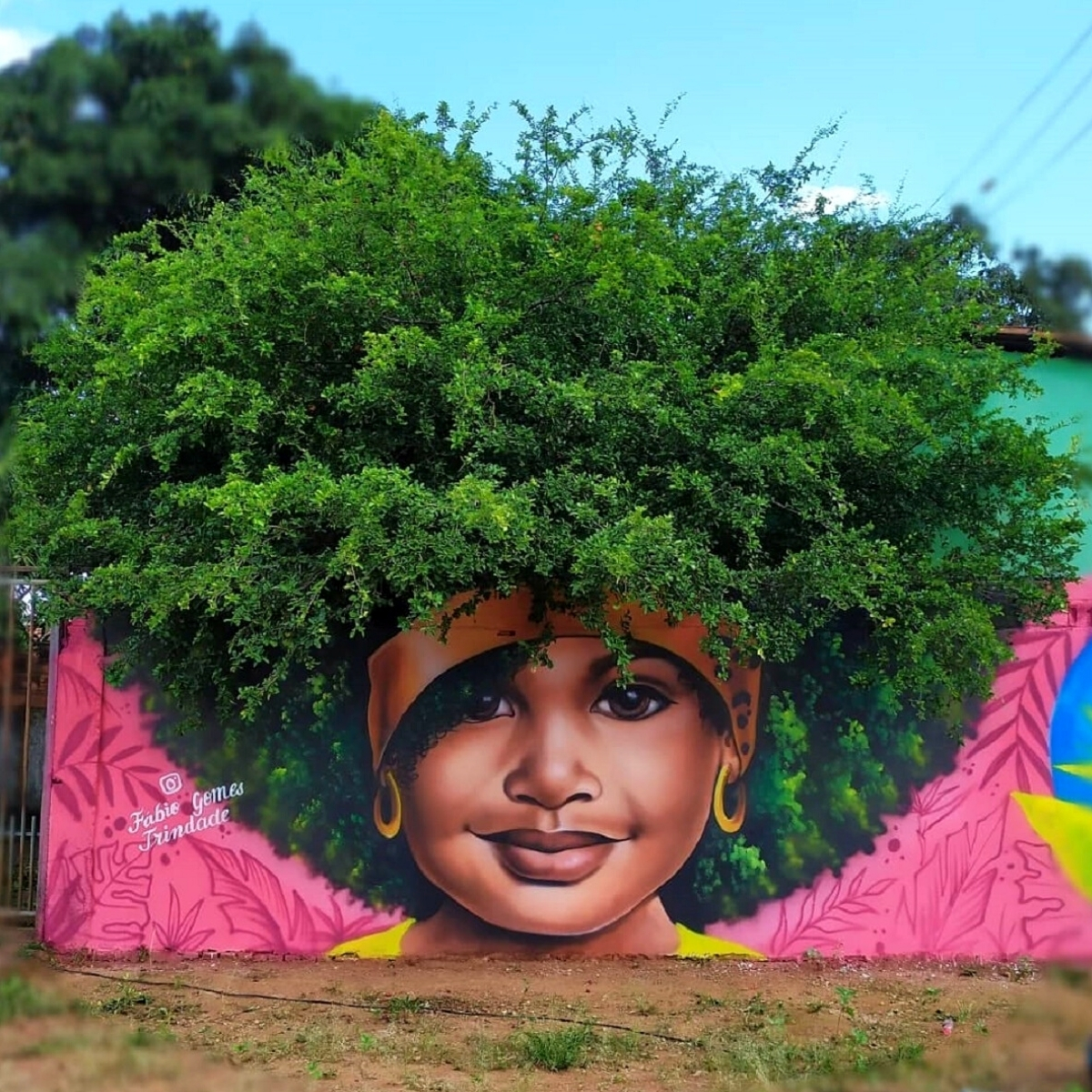 To know more about his style and how he achieves his flower and plant mural art, read the article 'Fábio Gomes Trindade Incorporates Existing Nature Into Spectacular Murals'.
2. Street Floral Art by SFHIR in Málaga, Spain
SFHIR is a Spanish street artist based in Madrid, known for his large-scale murals and public art installations. One of his most impressive works can be found in the city of Málaga, in the southern region of Andalucia, Spain.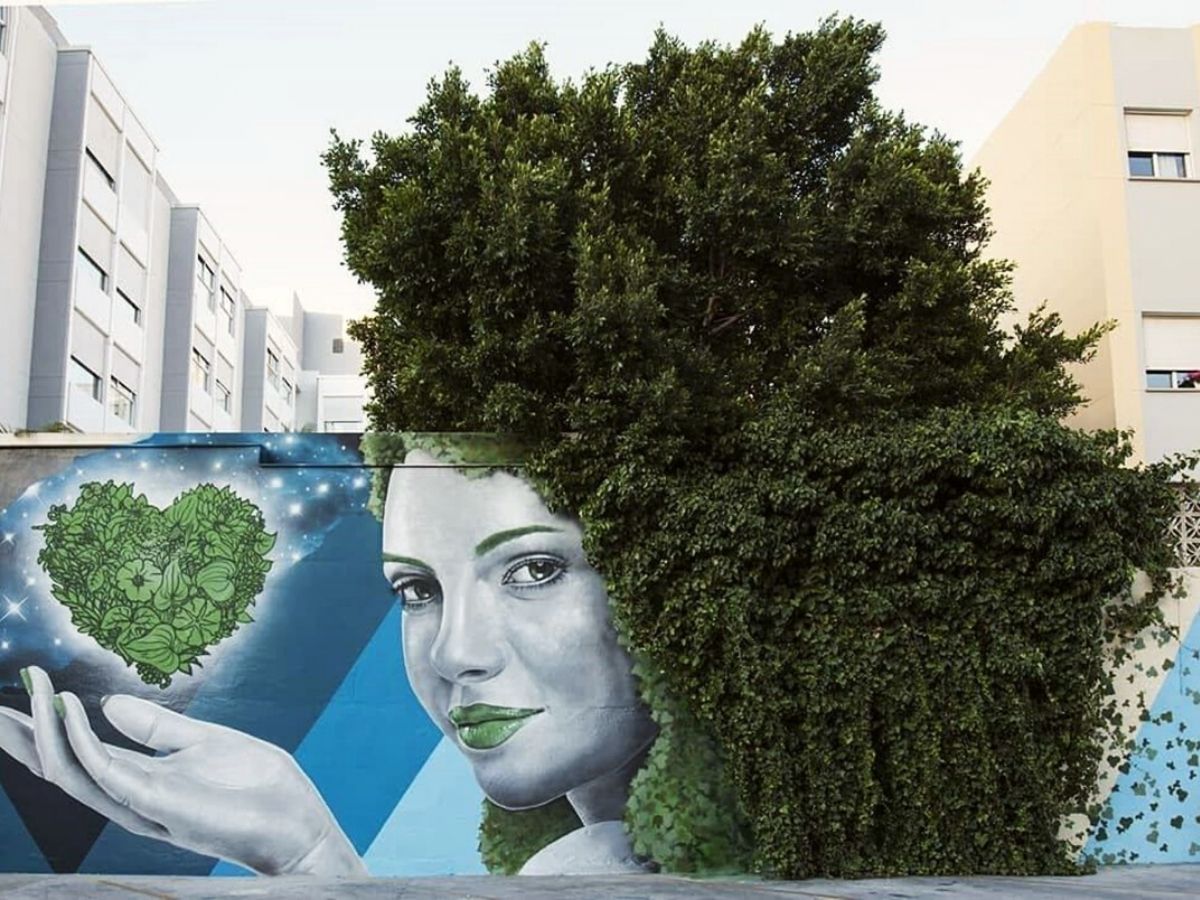 One of the most striking elements of the mural is the sense of movement and energy that it conveys. The plants that make an 'afro' start on the wall and make their way up into the sky. The leaves and stems appear to be twisting and turning in an organic and dynamic way.
Overall, SFHIR's street art murals are a beautiful and inspiring example of how street art can be used to transform public spaces and create moments of unexpected beauty and delight. The mural serves as a reminder of the power of art to connect us with the natural world and with one another and is a testament to the artist's unique vision and creative talent.
3. El Decertor Street Art With Plants
'El Decertor' is a street artist based in Quito, Ecuador, who is known for his politically charged and socially conscious murals. His artwork often tackles issues such as poverty, inequality, environmental degradation, and political corruption, and is intended to provoke discussion and raise awareness.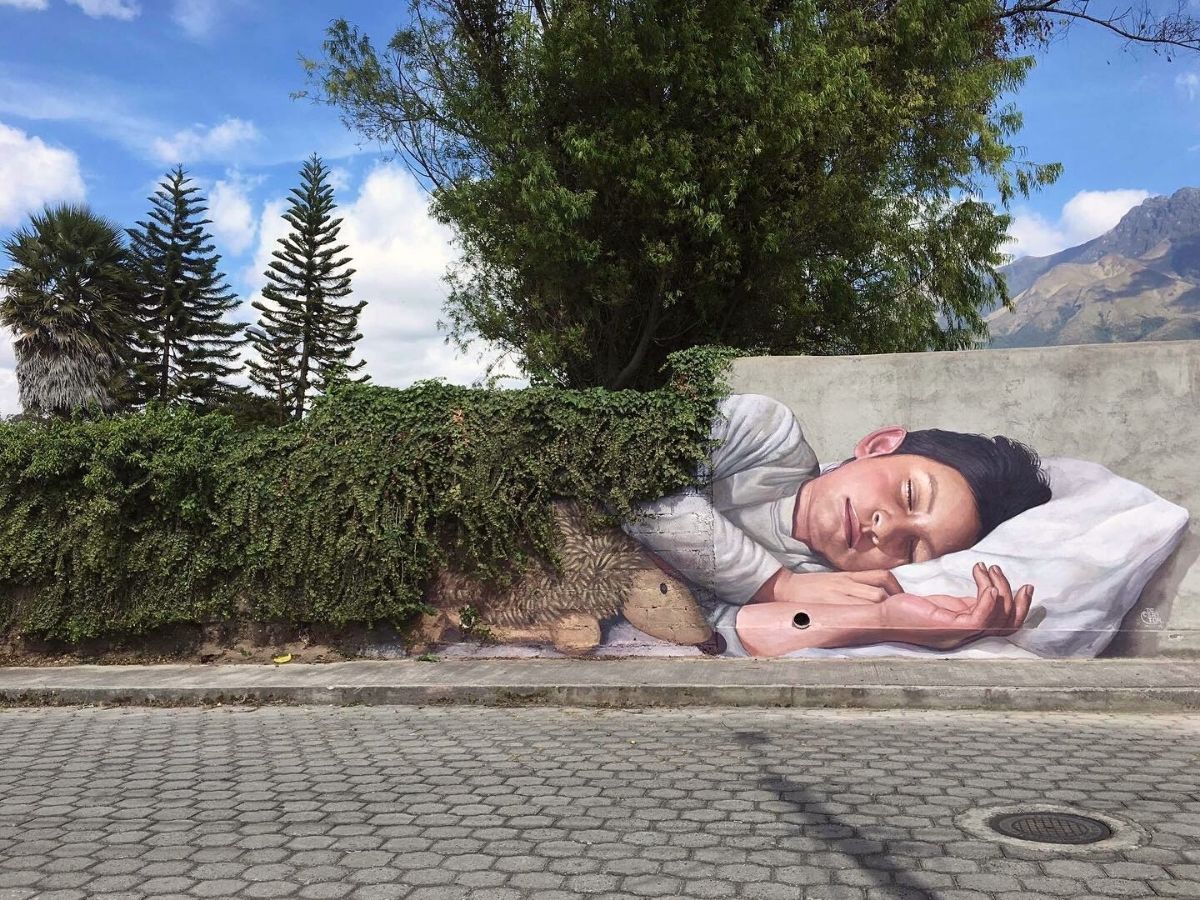 El Decertor's style is characterized by bold, vivid colors and striking imagery, and his murals can be found throughout Quito and other cities in Ecuador. Some of his most well-known works include a mural in Quito's La Mariscal neighborhood that depicts a giant hand holding a protest sign and a mural in the city of Cuenca that features a group of indigenous women and a message of solidarity with their struggle for land rights.
Overall, El Decertor's work is seen as an important contribution to Ecuador's street art scene, as well as a powerful expression of the country's social and political realities.
4. Limonium by Mona Caron
Flowers per se already make a statement in everyone's lives, but nothing makes such a huge statement as painted murals that involve flowers. Flower lovers, get ready for your eyes to be completely and downright impressed with Mona Caron's latest Limonium flower overtaking the San Jose cultural affairs building.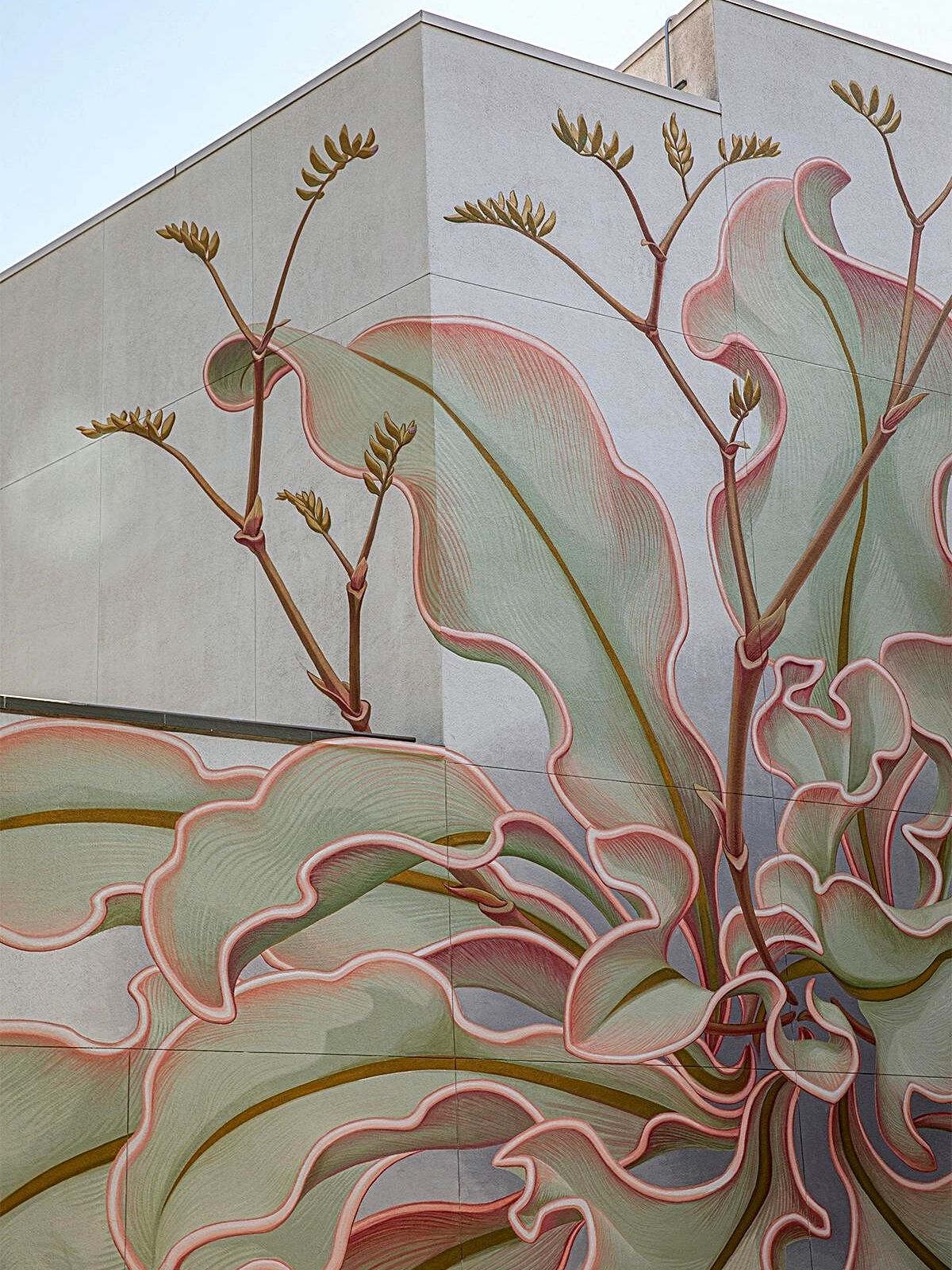 Titled 'Limonium', the exquisite and graceful light pink petals and green leaves splay and spread out across the building's facade, covering up an entire side. That's how big this incredible street art with a giant Limonium flower is.
The Limonium flower is wrapped and painted around six walls and across four planes. Yes, it's literally gigantic and the best treat a flower fan can give their eyes. With the idea of painting an innovative, yet creative flower in public spaces, this time, Mona Caron wanted this mural to be a little different. She gave the Limonium work of art a 3D sense that makes it appear to be growing continuously from multiple angles.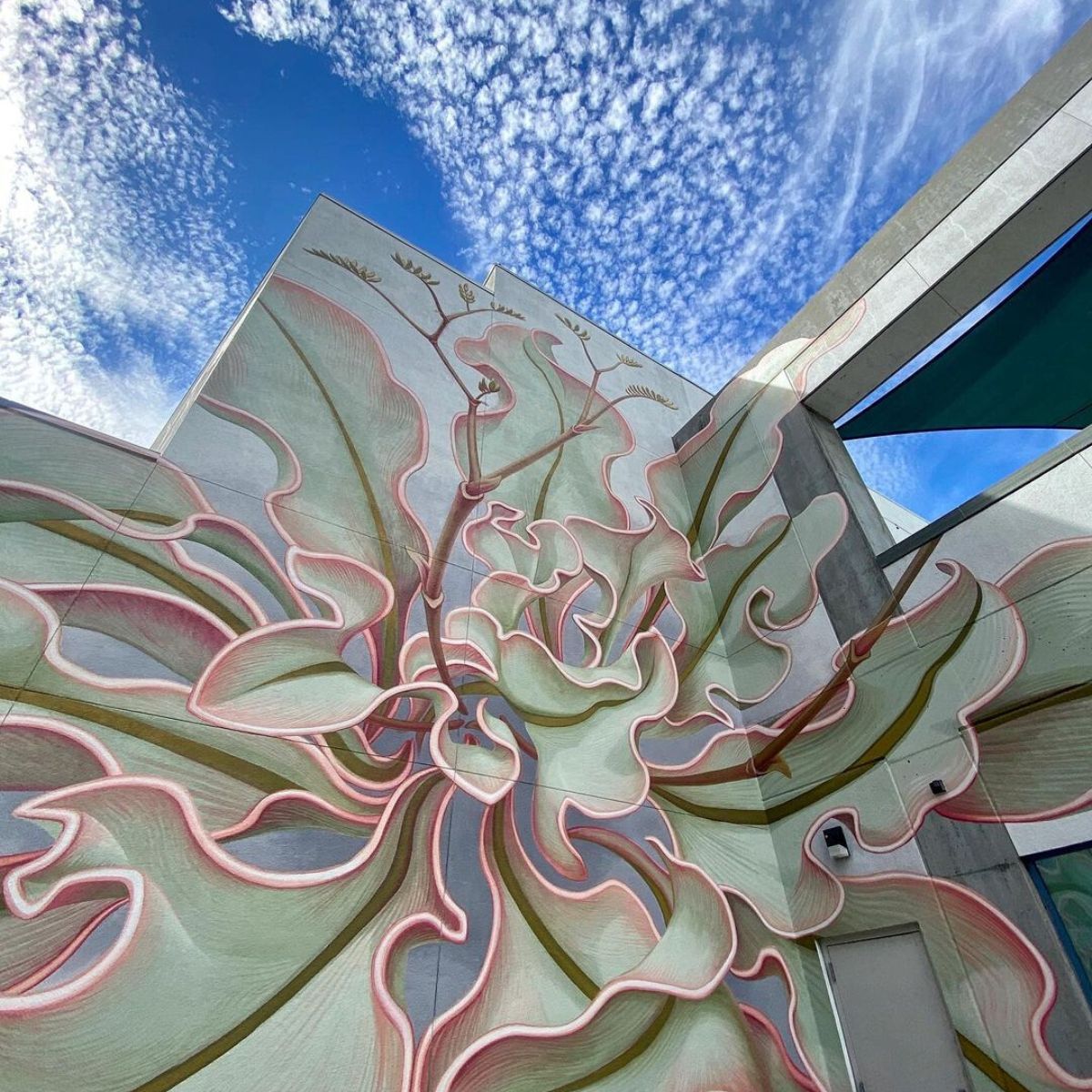 To know more about Mona Caron's street art with flowers, read the article 'Mona Caron's 'Weeds' Floral Mural Series Will Blow Your Mind'.
5. Daisy by David Zinn
David Zinn is a street artist based in Ann Arbor, Michigan, who is known for his whimsical and playful sidewalk chalk art. His art features a range of fantastical creatures, including animals, monsters, and anthropomorphic objects, and often incorporates elements of the surrounding environment into his designs.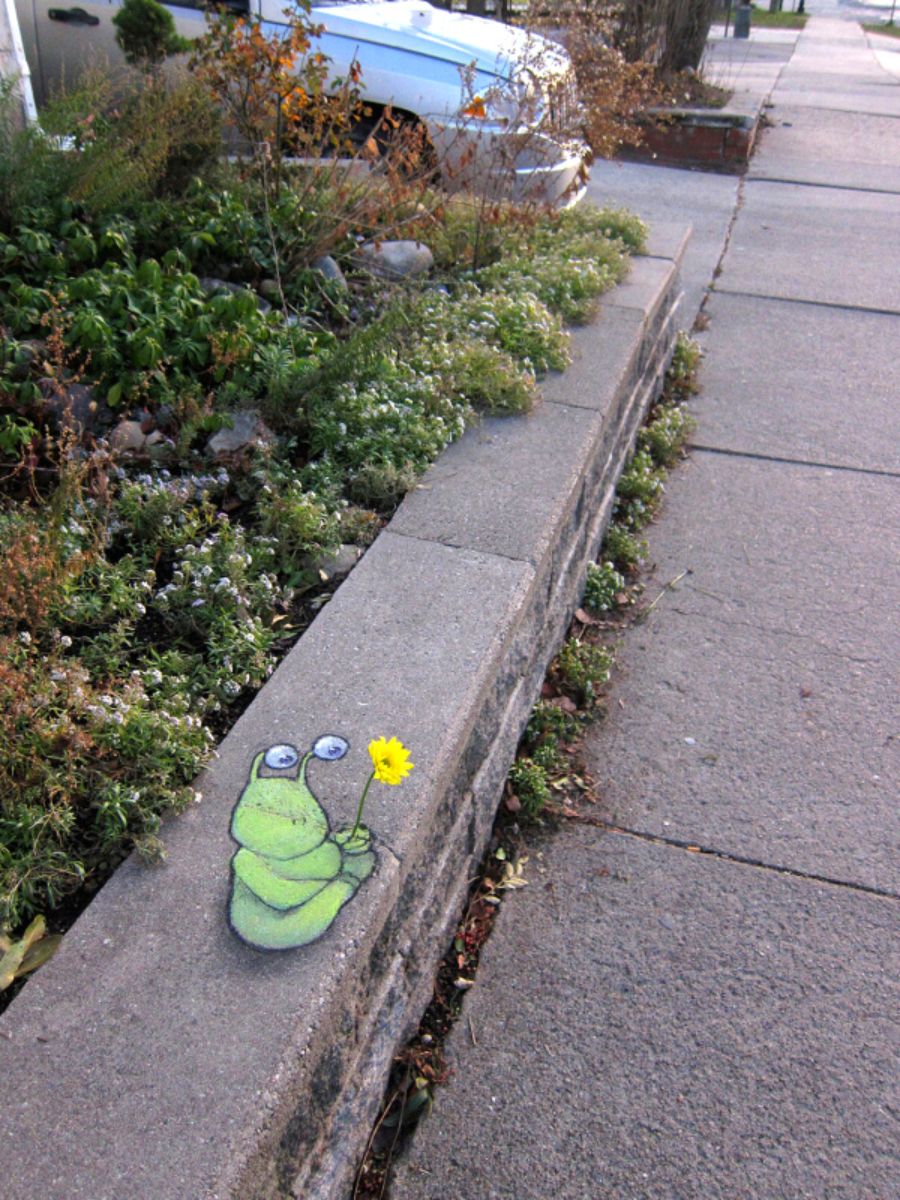 'Daisy' is a whimsical piece of street art that was created by American artist David Zinn. This playful piece features a daisy that seems to be growing out of the sidewalk, complete with a ladybug crawling on one of its petals. The use of chalk and the temporary nature of the art make it a reminder to stop and appreciate the beauty around us. Not only is Daisy a very well-known piece of street art, but also 'The Bouquet' by David Zinn.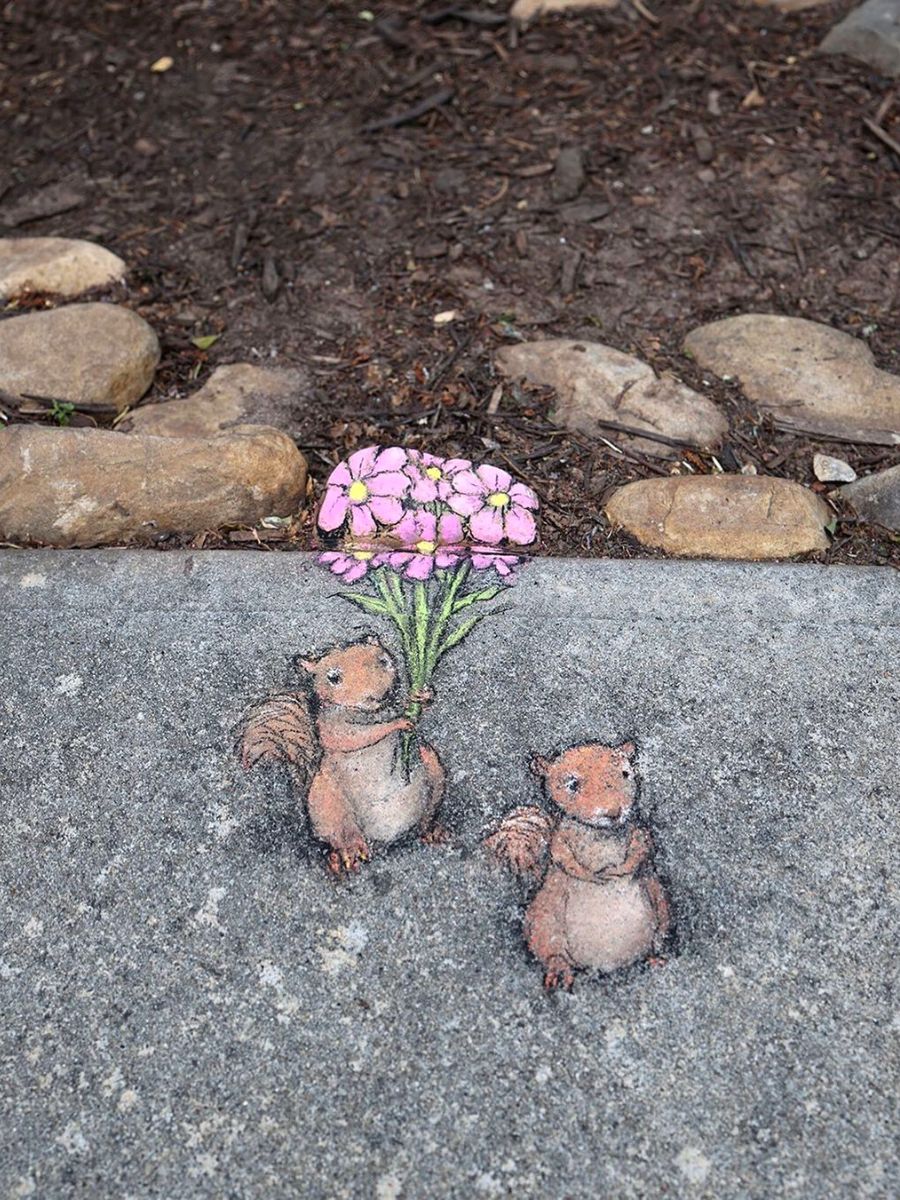 This design features a delightful arrangement of flowers and leaves, which seems to be growing up from the sidewalk itself. The flowers are depicted in a range of bright colors and intricate patterns and seem to bring a sense of joy and playfulness to the surrounding environment.
6. OG Millie and Floratorium Collaboration
OG Millie is a street artist based in Los Angeles who is known for her unique style of street floral art. Her work features colorful and vibrant floral patterns, which are created using a technique known as wheat pasting. Wheatpasting involves using a mixture of flour and water to create a paste, which is then used to affix paper or other materials to walls or other surfaces.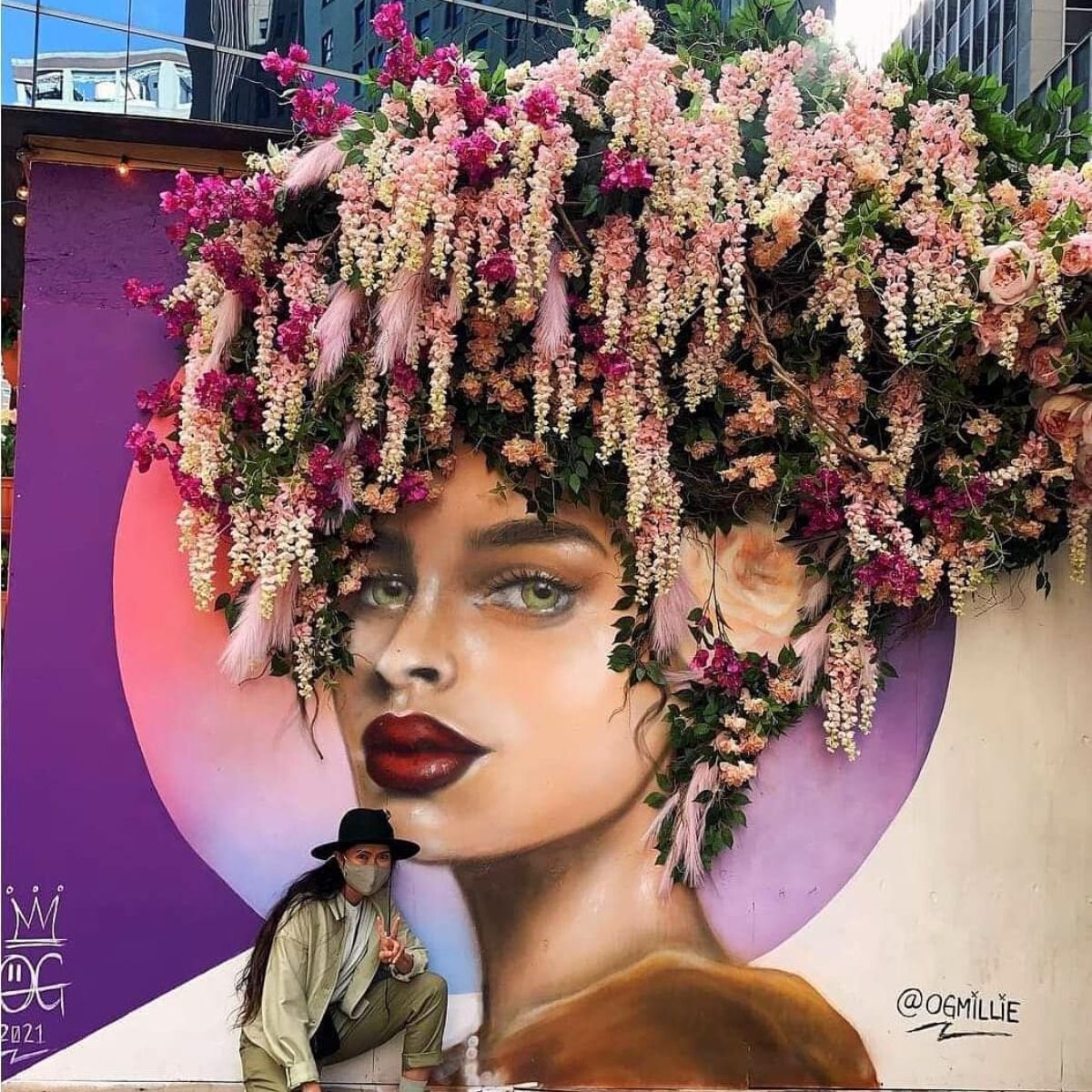 OG Millie's art is often inspired by the natural world and features a range of flowers, leaves, and other botanical elements. Her use of bold colors and intricate patterns gives her pieces a striking and eye-catching appearance, and her work is designed to bring a sense of beauty and joy to the urban environment. This is one of her most renowned street floral art pieces up to this day!
8. The Fern Flower by Natalia Rak
This street art by artist Natalia Rak has a special story behind it. The wall is based on a tale by nineteenth-century Polish writer J. I. Kraszewski, about a boy called Jack who ventures into the forest on the St John's night of the summer solstice, in search of a fabled magic flower. After three years of trying, the boy steals the fern flower, which much like Aladdin's Lamp, grants him his every wish.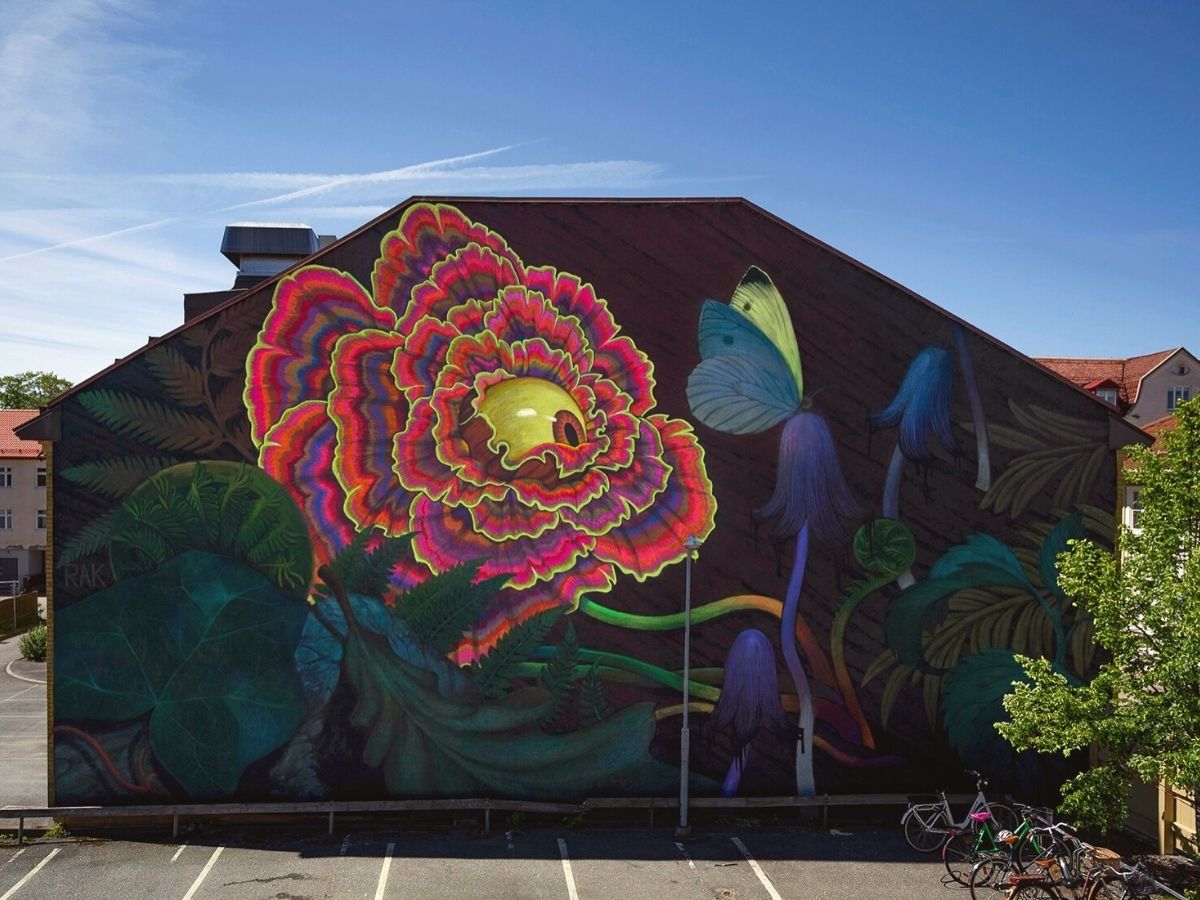 As he put the flower inside his jacket, he hears a quiet voice say to him: "Now you can have anything in the world you have ever wanted, but you may never share your happiness with another soul." Jack was too excited to hear the words of warning as he felt the flower laying down its delicate roots into his young heart. Yet something that in the beginning was his biggest dream became a curse. After a few years, tormented with remorse he said his last wish and got swallowed by the ground.
Overall, 'The Fern Flower' is considered to be a stunning example of Natalia Rak's talent and creativity, and a beautiful addition to the world of street art.
9. NUXUNO XÄN Urban Street Art
NUXUNO XÄN is a French street artist and graphic designer known for his colorful and abstract geometric designs. He was born in 1987 in Toulouse, France. His style is characterized by bold lines and shapes, vibrant colors, and intricate patterns. His work often incorporates references to nature and ancient cultures, as well as elements of street art and graffiti. He has created large-scale murals, installations, and sculptures in public spaces around the world, including in France, Spain, Germany, Brazil, and the United States.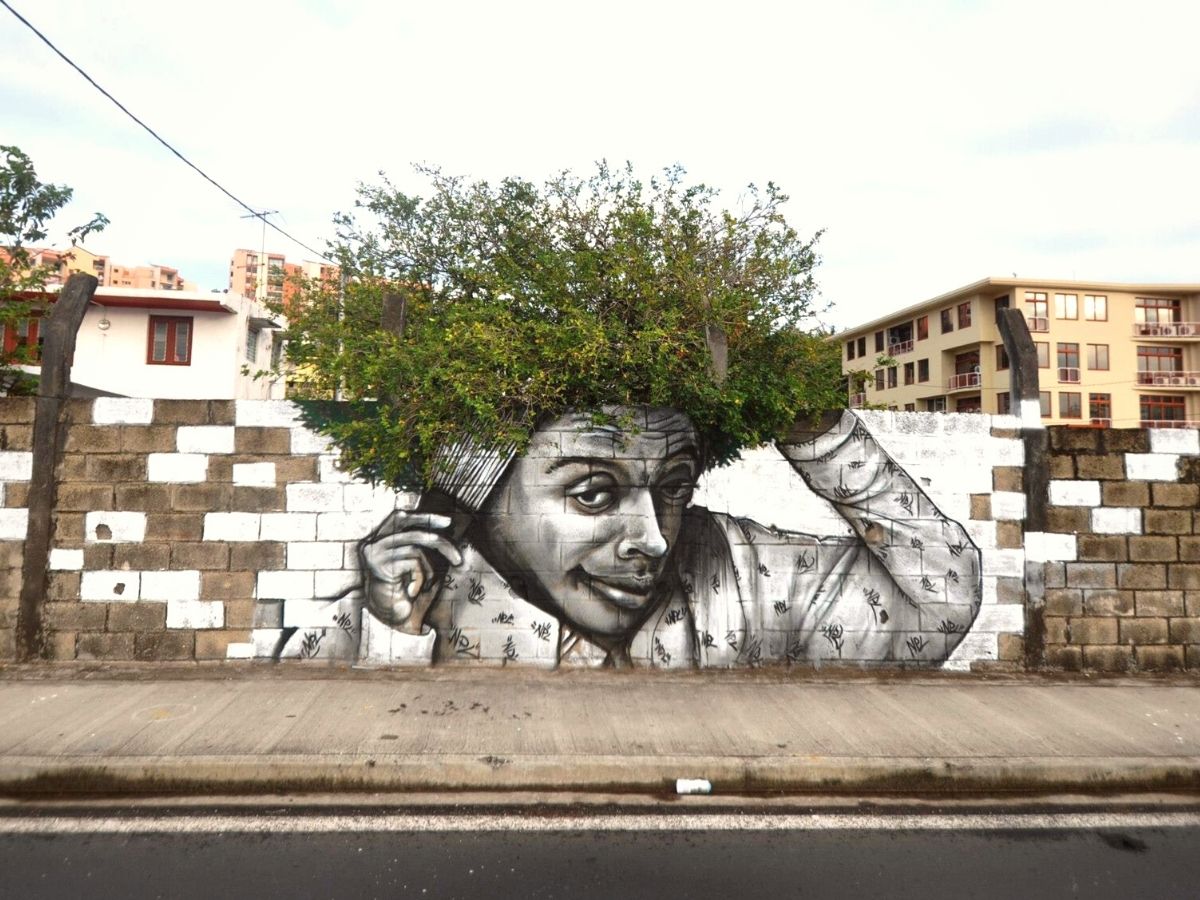 NUXUNO XÄN has also collaborated with brands such as Adidas, Converse, and Mini Cooper to create limited-edition designs and installations. In addition to his work as a street artist, he is also a graphic designer and has created album covers and visuals for musicians and music festivals.
Overall, NUXUNO XÄN is a highly talented and innovative artist who has made a significant impact in the world of street art and design. His work is recognized for its unique style and ability to transform public spaces into vibrant and dynamic works of art. Here is one of his most popular street art with plants!
10. Girl With a Watering Can by Natalia Rak
Natalia Rak's artwork titled 'Girl with a Can' is a large-scale mural depicting a young girl holding a spray can. The mural is located in Białystok, Poland, and was created in 2013 as part of the Urban Forms Festival.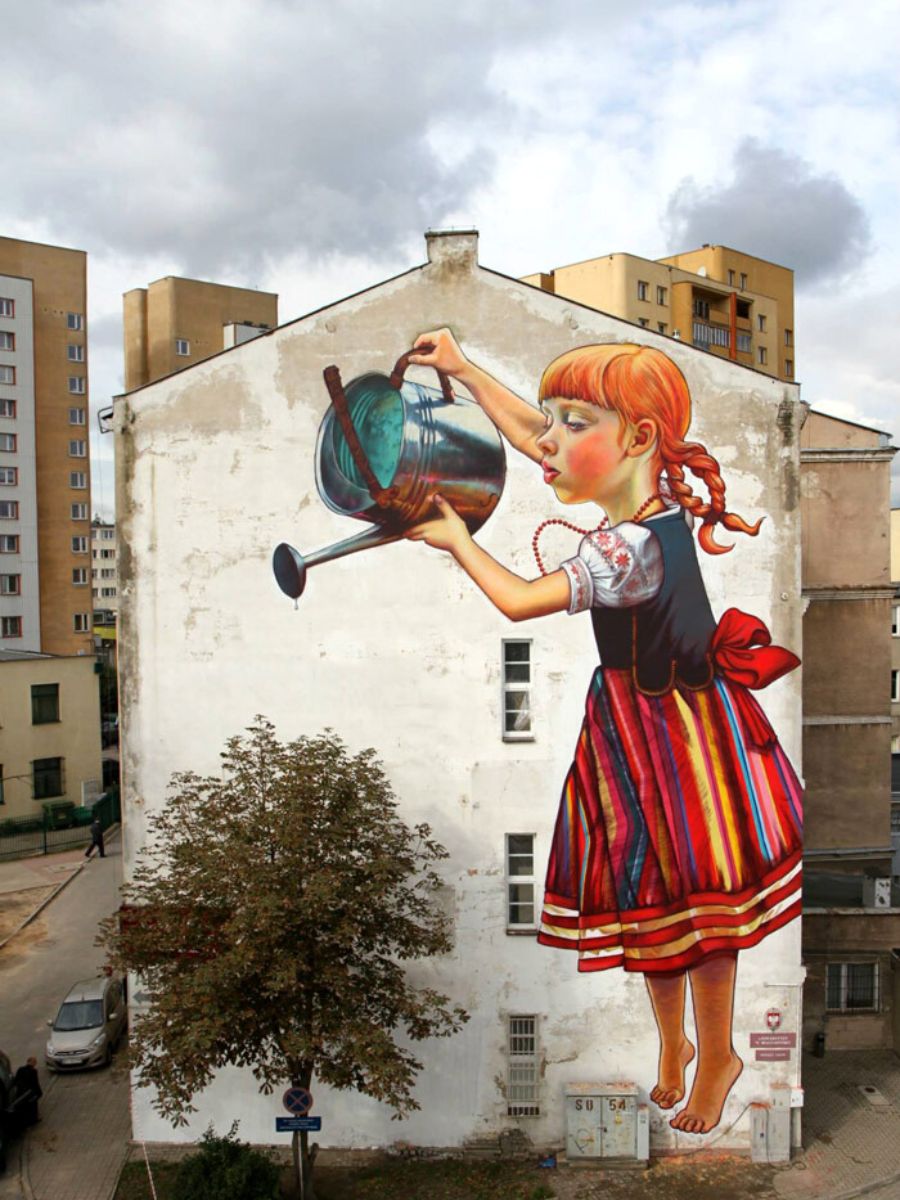 The artwork is believed to be a commentary on gender stereotypes and the power of female empowerment. The girl in the mural is depicted as strong and confident, holding a spray can as if she is ready to make her mark on the world. The fact that the girl is young and innocent-looking adds to the message that anyone, regardless of their background or appearance, can have a powerful voice and make a difference in the world.
11. Fauxreel
Fauxreel is a street artist based in Toronto, Canada. He is known for his large-scale wheatpaste murals that often incorporate photographs of real people and places, as well as found objects and other materials.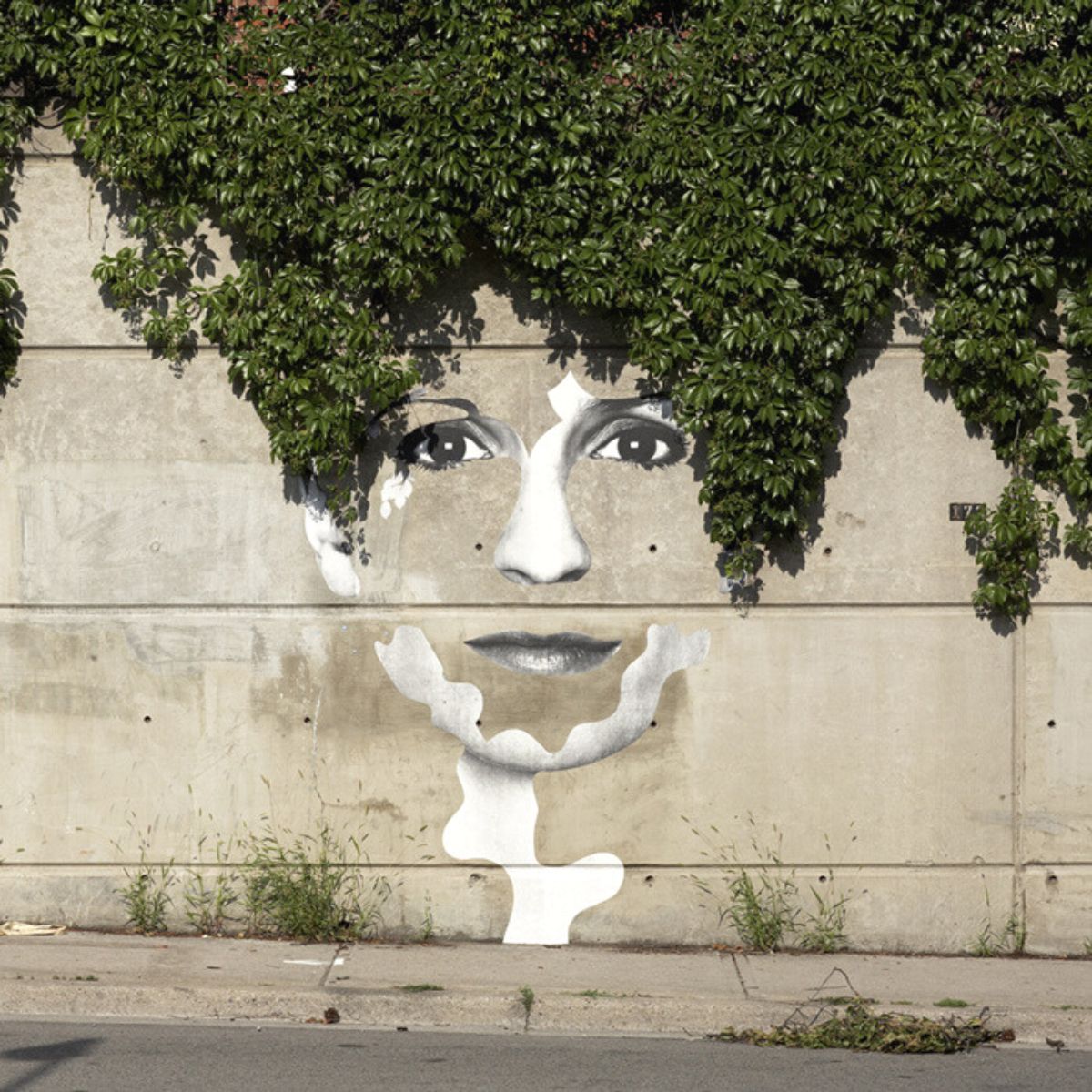 Fauxreel's work explores themes such as urban decay, gentrification, and the impact of consumer culture on society. He often chooses to install his wheatpaste murals on abandoned or neglected buildings, using the existing environment as a backdrop for his art.
12. WD Street Art
WD (Wild Draw­ing) was born and raised in Bali, Indone­sia, and has degrees in both Fine Arts and Applied Arts. He started off as an urban artist in 2000 and since that time he spends most of his time working in the streets.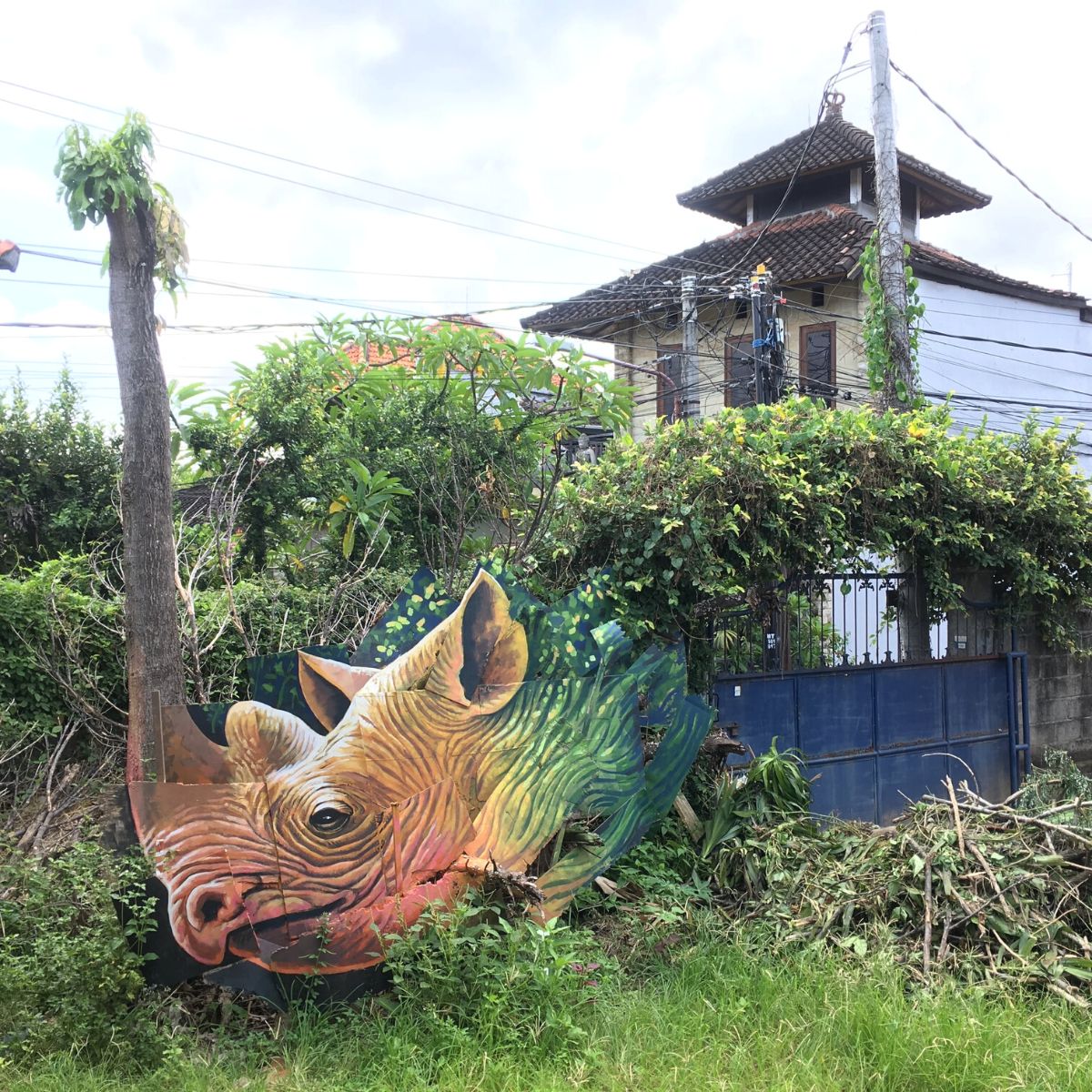 His artistic murals can be found in Asia, Europe, and Amer­ica — although the artist never stopped work­ing in his stu­dio. WD is based in Athens, Greece.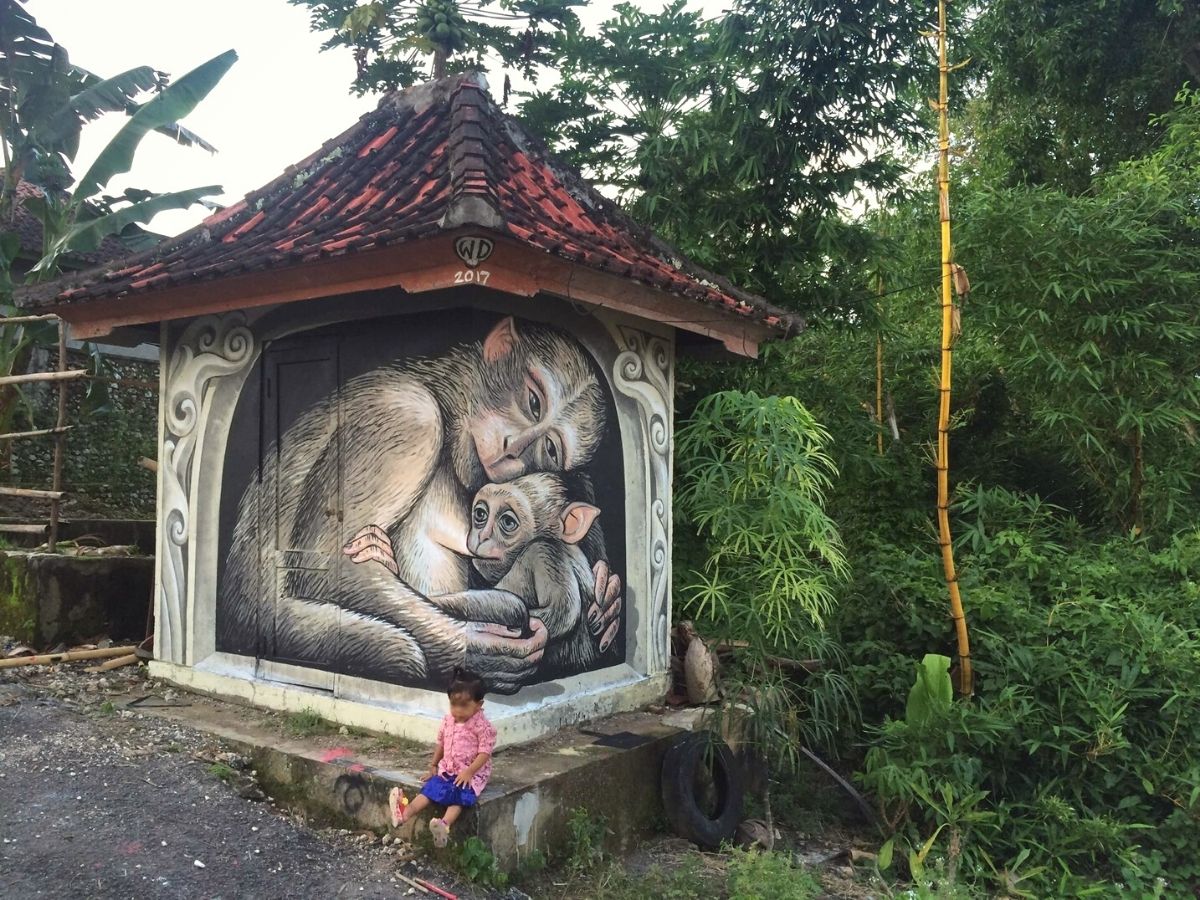 Incredibly Skillful Floral Street Art
To say the truth, there are stunning examples of street art with flowers and plants around the world. All of these artists are incredibly skillful and their works of art will always have a special place in every city they've created in.