Have you spotted nerine yet? As soon as summer turns into late summer, you can add the first nerines to your bouquets once more. From September onwards, more beautiful varieties are added, making autumn a colorful floral spectacle.
Like a Fairy Tale
Nerine is a bulbous flower that blooms naturally in autumn. And it does it with gusto! The color palette varies from bright white to pink – in many shades – and deep dark red. The curly petals are striking. They give off a subtle shine like they are dusted with glitter powder. Just like a fairy tale!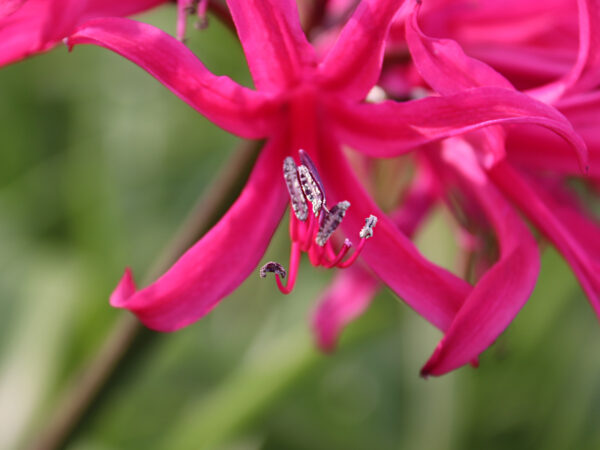 Nerines Everywhere
Nerine is a must-have for colorful bouquets of cut flowers, combined with other late summer and autumn flowers and berry branches. Nerine also steals the show on its own: a single beautiful big flower stands out in a glass vase. Or arrange several nerines together in a collection of glass vases and add half-sister amarine for even more variety. Tip #1: Nerine's romantic, feminine appearance also makes it beautiful in bridal bouquets. If you have wedding plans for late summer or autumn, be sure to put this flower on your list! Tip#2: Do you want to have Nerines in your autumn garden? Then plant bulbs in a sunny spot in the garden in April. They also thrive in pots and containers.
Hanneke Frankema and Nerine
Hanneke Frankema is shaking up the floral world with her eye-catching, avant-garde designs. As an influential designer and teacher, in an interview on the My Peony Society website, she claims that she is into all kinds of flowers, and is not interested in trends. She picks out the flowers she thinks are best for her designs, and she definitely likes to work with nerine!
The World's Greatest Nerines
The nerine growers from All I Am are obsessed with their flowers. They bring you the world's best and fresh premium flowers. Their mission is to let you know all about these fantastic, out-of-this-world-beautiful flowers.
View the complete collection of Nerine and Amarine by All I Am.
Nerine Varia
The dazzling pink nerine Varia has everything to stand out from the crowd. Varia's leaves have a fantastic shine, making the bright pink sparkle like a jewel. Varia is a great, expressive nerine that goes well with any style.
Nerine Favoriet
Favoriet is a wildly beautiful pink nerine, ready to become your all-time favorite flower. Nerine Favoriet (Favorite in Dutch) has a beautiful pink color and beautiful large flowers; sometimes up to 10 flowers on a single stem. Favoriet works well as a single, decorative flower, but is equally stunning as part of an eye-catching bouquet. With a name like this, this variety is just waiting to be your next favorite flower!
Nerine Elegance Amor
Nerine Elegance Amor is known for its striking, deep red color and shiny flowers. Cut at the right time, and with the right care, she can last up to 10 to 12 days in the vase.
Nerine Pink Wonder
Nerine Pink Wonder is a bright pink eye-catcher and steals the show in every bouquet. Pink Wonder is a typical nerine bowdenii. She combines frivolous beauty with a fantastic bright pink color. Pink Wonder fans are happiest in September and October when they are harvested.
Nerine Lipstick
Choose Lipstick if you are looking for a seductive tastemaker for a beautiful bouquet. Nerine bowdenii Lipstick is a white nerine with a seductive dark pink edge. No wonder where she got her name. Lipstick's strong stem and compact height make it an attractive tastemaker in any bouquet.
Nerine Katjana
Meet Katjana, a beauty of a Nerine bowdenii. Her deep dark pink color makes Katjana stand out in any bouquet. Nerine Katjana is part of the bowdenii family, a nerine type well known for its frivolous and colorful beauties. Katjana has a deep dark pink color. Fans should be aware: the flower has limited availability and is harvested in September and October.
Nerine Bionce
Would it be possible that Nerine Bionce was named after the influential pop icon? At least she has the same dose of charisma! Nerine bowdenii Bionce has a magnificent white color with a light pink edge. Of course, the Nerine also does extremely well in the spotlights: it is a popular flower in bridal bouquets.
Nerine Berenice
Nerine bowdenii Berenice is a special appearance, her soft pink flowers with a light edge make the Nerine a feast for the eyes. Berenice is two-tone, white with a beautiful pink edge. Her flowers start very light pink and end in a fantastic pink color. It is a Nerine with a special story. Nerines are a popular subject in the botanical drawings by Janneke Brinkman, illustrator for the Dutch women's magazine Margriet. She gave her name to nerine Berenice as an hommage to her granddaughter Berenice, who died prematurely.
Nerine Vesta K
Vesta K is a beautiful variety with pale pink flowers. Elegant, recurved tips on the delicate petals make this variety stand out.