Many in the flower industry have already seen this heart-shaped design with stunning Red Naomi roses. But did you know, you can actually get this installation at your event? The biggest dream of Porta Nova is to have this stunning Porta Nova Red Naomi Heart at a world-famous celebrity's party. So, do you have that celebrity among your clients? Then read on and perhaps you get this beautiful Porta Nova Red Naomi Heart at your location.
What/Who is Porta Nova?
Porta Nova is a rose grower based in the Netherlands, known for their high-quality roses that are sold around the world. They specialize in growing Red Naomi roses, a stunning deep red variety that is beloved by florists and consumers alike. What sets Porta Nova apart is their commitment to quality and sustainability. They use a variety of innovative techniques to ensure that their roses are grown in a way that is environmentally friendly and that maximizes the beauty and longevity of the roses.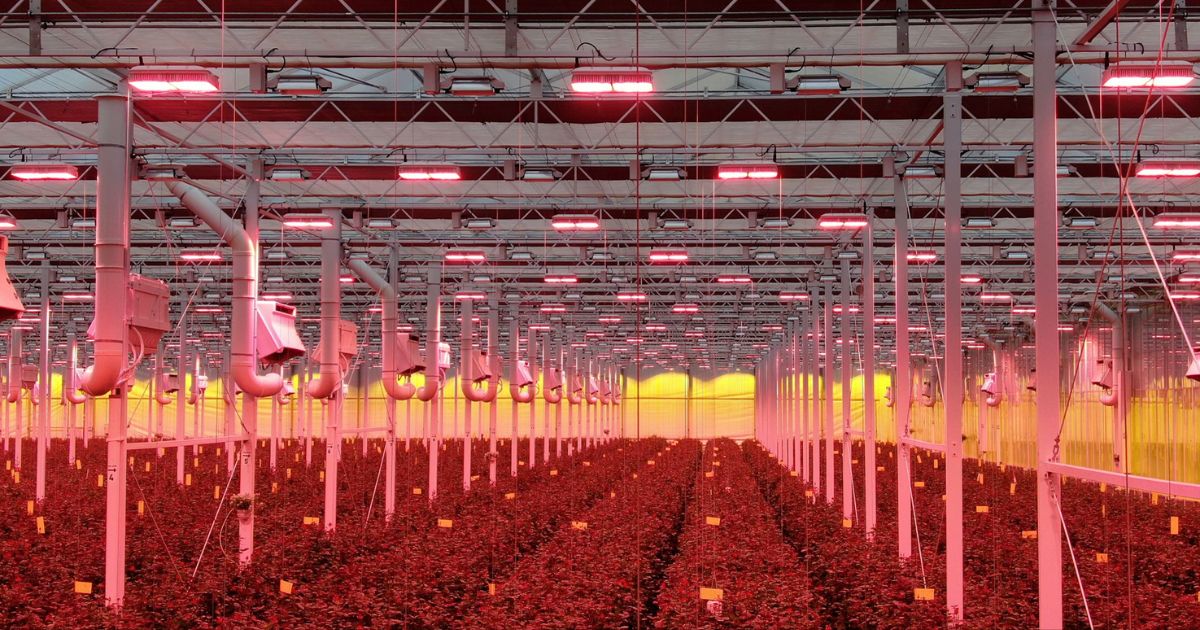 One aspect of which the people of Porta Nova are particularly proud is their dedication toward their customers. They understand that their roses are often used for important occasions such as weddings and other special events, and they go to great lengths to ensure that each and every rose is perfect. This includes hand-selecting each rose to ensure that it meets their high standards, as well as carefully packaging and shipping the roses to ensure that they arrive in pristine condition. The quality and long vase life of these roses were one of the main reasons to develop the Porta Nova Red Naomi Heart.
Everything About the Porta Nova Red Naomi Heart
Porta Nova's marketing manager, Paul Poelstra, has been responsible for the marketing strategy for Porta Nova's flagship Red Naomi and White Naomi roses. And it turned out to be incredibly successful. The brand Porta Nova has become synonymous with luxury, quality, and sustainability, and it is highly sought after by florists and consumers around the world. His commitment to creating a strong visual identity for the brand has helped to ensure that Porta Nova remains a leading player in the global floriculture industry.
Paul Poelstra also brought a big heart to Porta Nova. Literally and figuratively.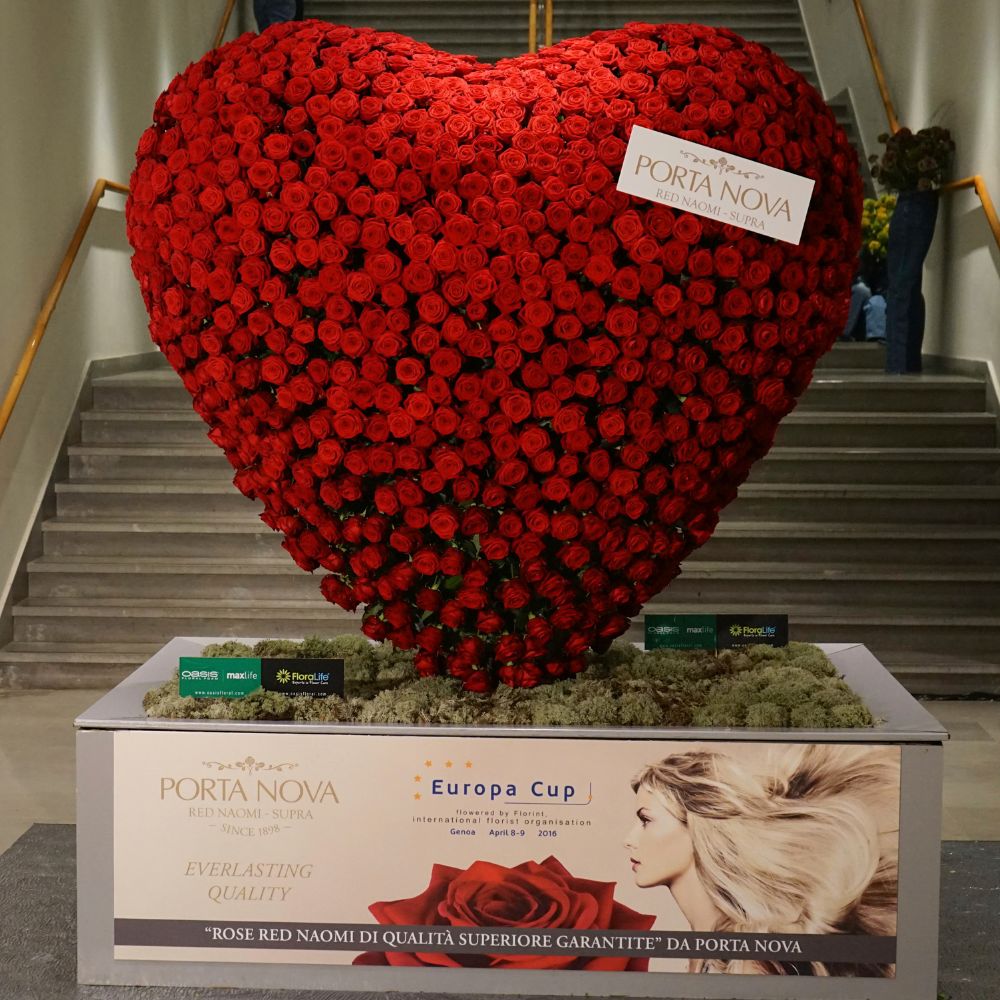 "We Needed Something With a WOW-Effect"
This stunning installation of a heart made of Red Naomi roses is already very well-known within the floral industry. The people of Porta Nova showcase it at trade shows and other events. The big heart is a massive structure and is over 6 feet tall and 5 feet wide. The heart was originally introduced when Paul still worked for Scheurs, the breeder of the Red Naomi rose. With these Roses, he wanted to create a brand to reach the consumer. Via the florist. But how to do that? You need something very special, and eye-catching, something with a wow effect; a giant rose heart!
Paul Poelstra:
"It was the beginning of a big success, mainly through social media. The Red Naomis had very long stems and were very strong. They were superior performing roses, now how could we make them stand out? How could we reach that wow-effect? And show them you could use these long roses in an arrangement and they would still be ok for several days. So we came up with the ultimate symbol of love: a 3D heart shape."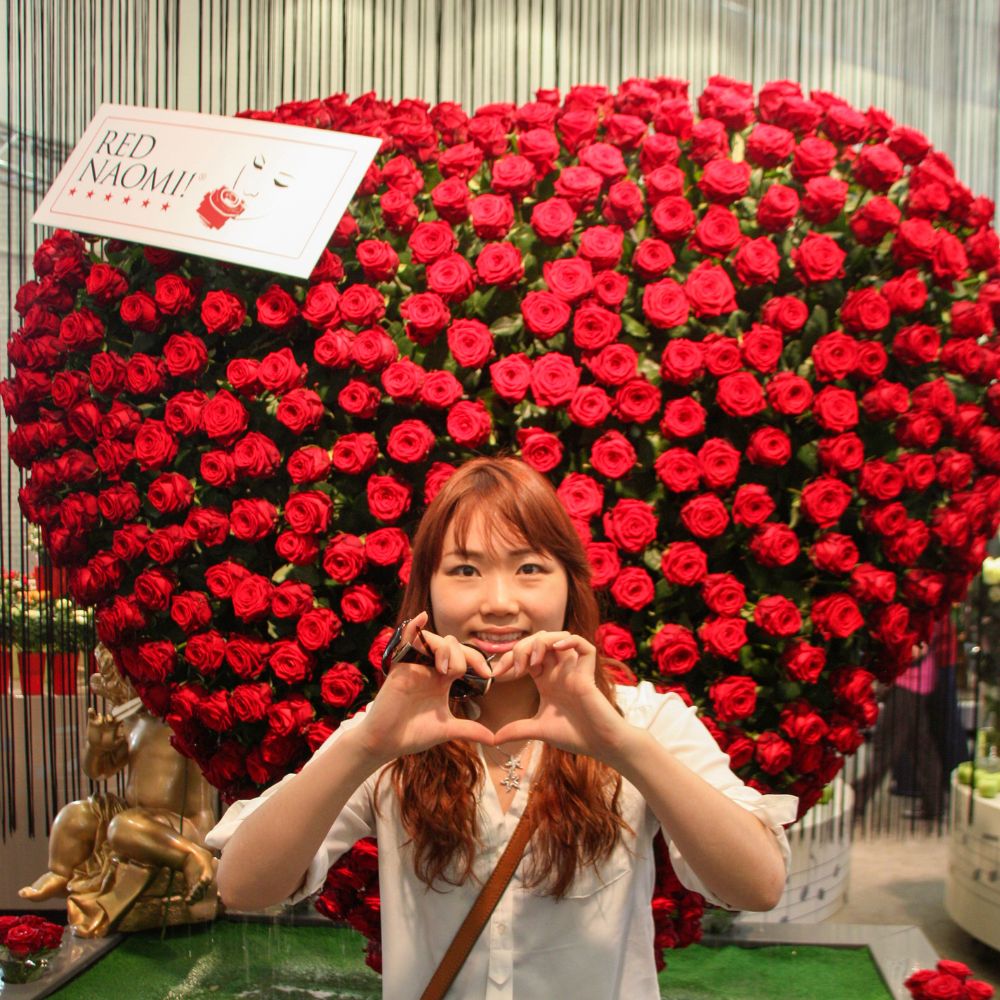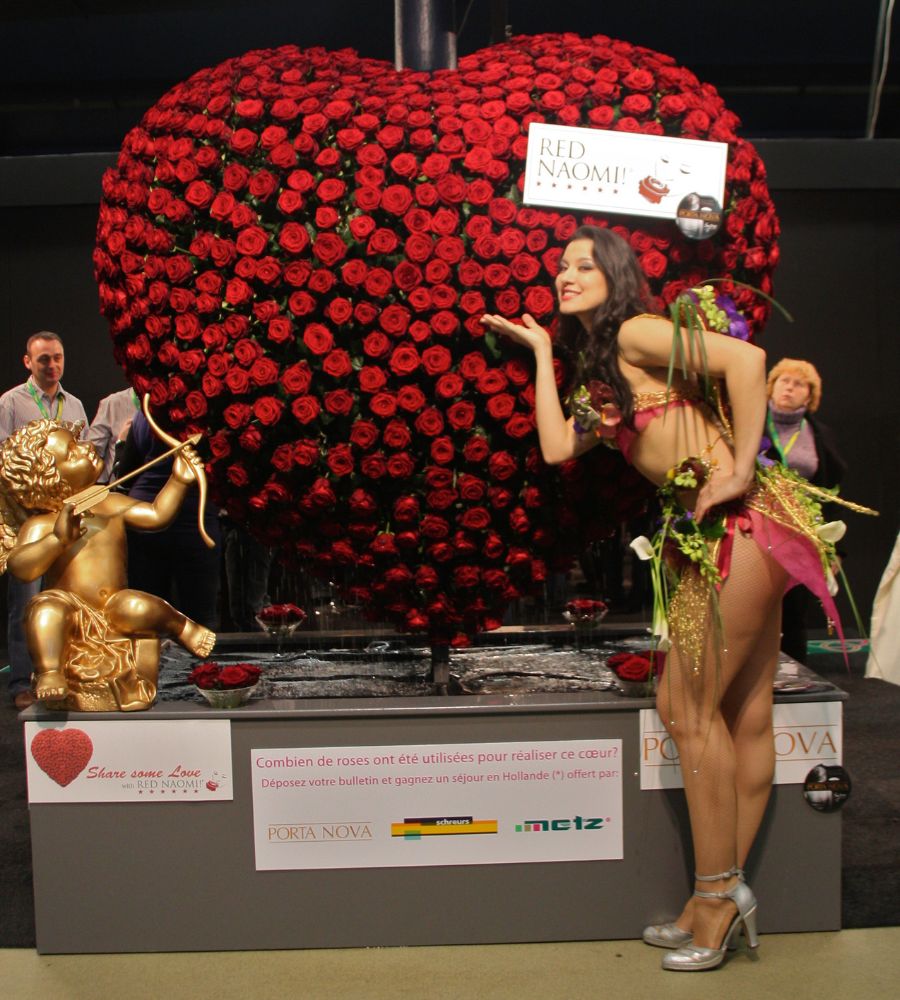 The Crowds Love The Red Naomi Heart
Scheurs always worked with Johan van Leeuwen to design their booths for every fair and exhibition. Paul reached out to him with this 'heart of red roses' idea. Could his idea work? And would it be something they could use for shows and exhibitions?
Paul Poelstra continues:
"Johan developed an iron structure that could hold floral foam and a water system to make sure the water would run through the floral foam constantly. The water is pumped up again from a reservoir and this way the foam stays wet and the roses stay hydrated. The first time we placed the heart was during a concert at the Concert Hall in Amsterdam. There, we handed out Porta Nova Red Naomi Roses to all the guests . Also at Keukenhof for the Rose Week the Rose Heart was showcased. There were 80,000 visitors for the rose show during Easter and people were lining up to have their picture taken. These first hearts were placed by Scheurs, designed with the most beautiful Porta Nova Roses."
And the crowds loved it!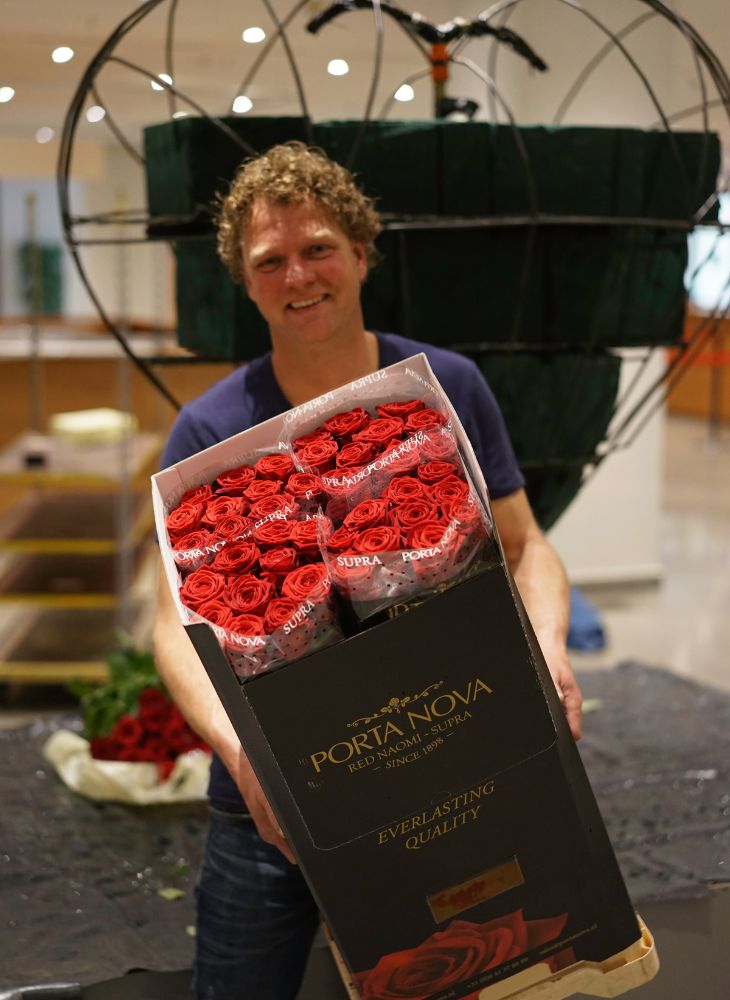 The Porta Nova Red Naomi Heart Contains Over 1500 Roses
Schreurs still uses the heart shape at shows and events and always uses Porta Nova Red Naomi roses to build it up. But when Paul started to work with Porta Nova as marketing manager, he took the heart with him and it became the Porta Nova Red Naomi Heart.
The big heart is a testament to Porta Nova's commitment to excellence and its passion for its roses. It takes up to 1500 Quality Red Naomi Roses to create the structure, and each rose is carefully selected for its beauty and quality.
When you see the big heart, you can't help but feel uplifted and inspired. It is a true work of art, and it serves as a reminder of the beauty and power of nature. But the big heart is more than just a stunning installation. It is also a symbol of love and connection. Roses have long been associated with love and romance, and the big heart is a way for Porta Nova to share that message with the world.
The rose heart has been traveling around the world since its introduction in the Netherlands in 2010. Paul would like to have seen it underneath the Eiffel Tower in Paris during Valentine's, and maybe that will come in the future.
Paul Poelstra:
"The presence of the heart on the different social media channels is really important. Socially, that's the way it can travel around the world now: in the pictures, all these people share online. I remember the many insta moments from visitors and competitors at Europa Cup Floral Design in Genua City in 2016 where our Porta Nova Heart was setup in the central lobby. And a few wholesalers like Fleurametz and Heyl had the heart for their customer days, and of course, many florists will know it from exhibitions, like the IPM where it usually was placed right at the end of the rolling stairs where you entered the floral florist area of FDF (Fachverband Deutsche Floristen)."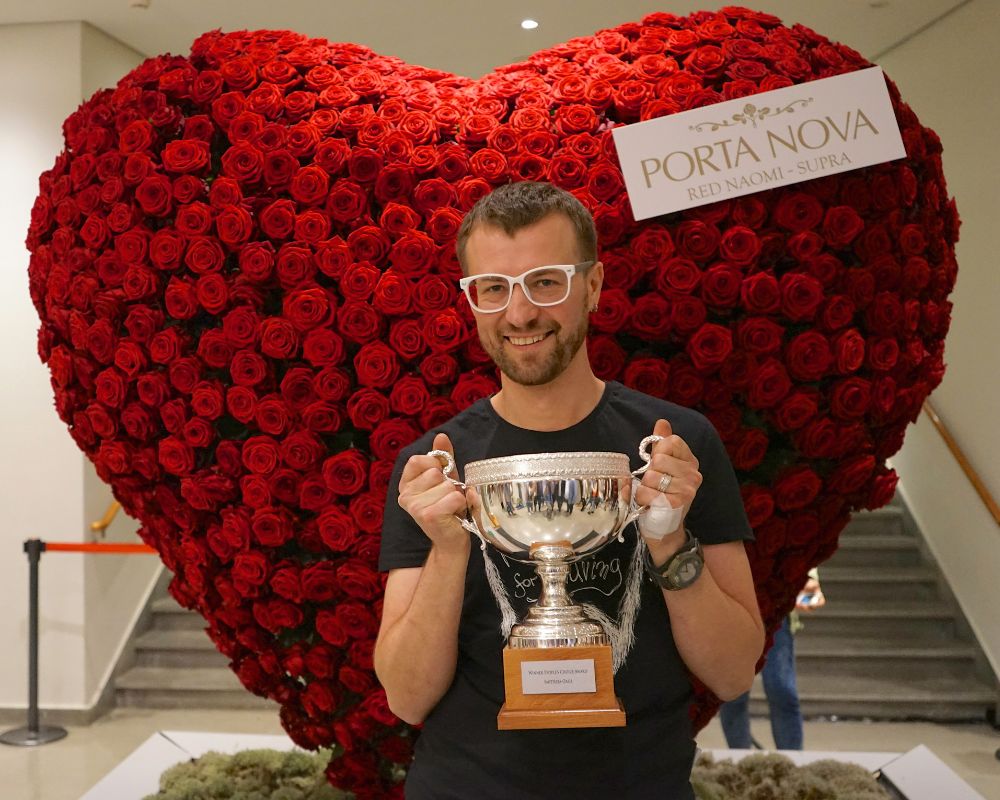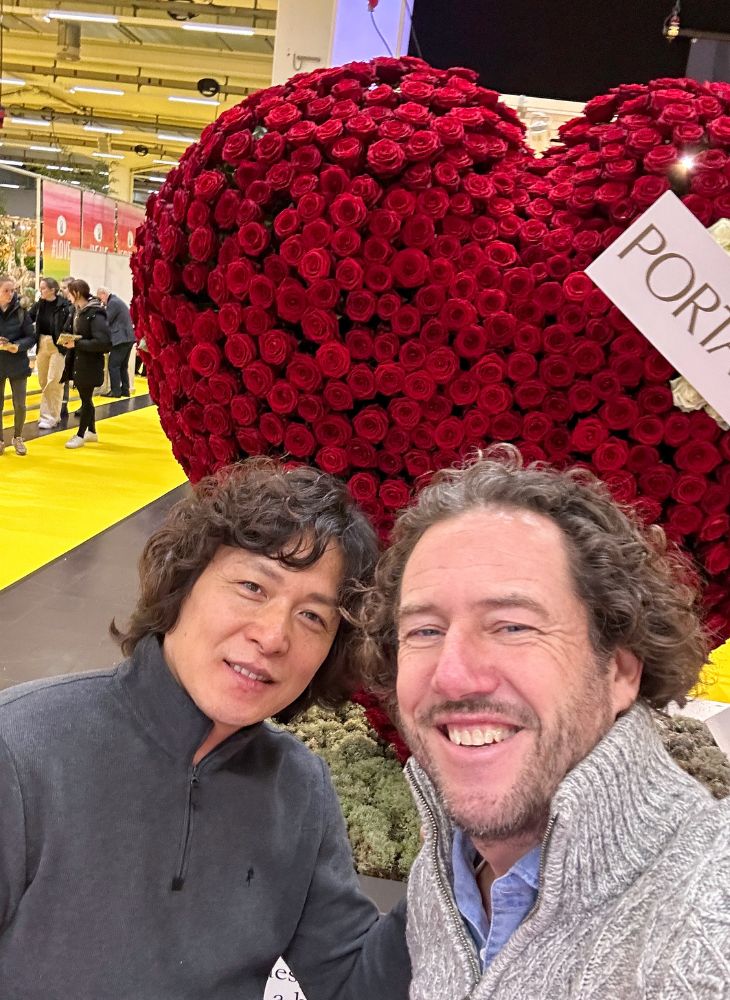 The Magic of the Red Naomi Roses
In a time when the world can sometimes feel dark and divided, the big heart serves as a beacon of hope and unity. It reminds us that no matter where we come from or what our differences may be, we all share a common love for beauty and for the things that make life worth living.
One of Paul's beliefs about flowers is that profit can be made where there is magic happening, that is where the extra value is.
"I really believe the value of a flower, in our case, the Porta Nova Red Naomi Rose is not determined by costprice.... the value and the magic are in the rose itself, and in the moment of giving the rose, in receiving the rose. For example when you give a single stem of Porta Nova to the love of your live. Or to your mum or anyone else for a special occasion. It is the magic of that one stem that can say so much. And thus be worth so much also that it has nothing to do with costprice and markups by trade. So we do everything we can to grow roses that do magic! I feel blessed to be able to work for such a high-standard company with high-quality roses and high-end clients. And I'm convinced that with the 70M stems of top Quality roses, we do a whole lot of magic."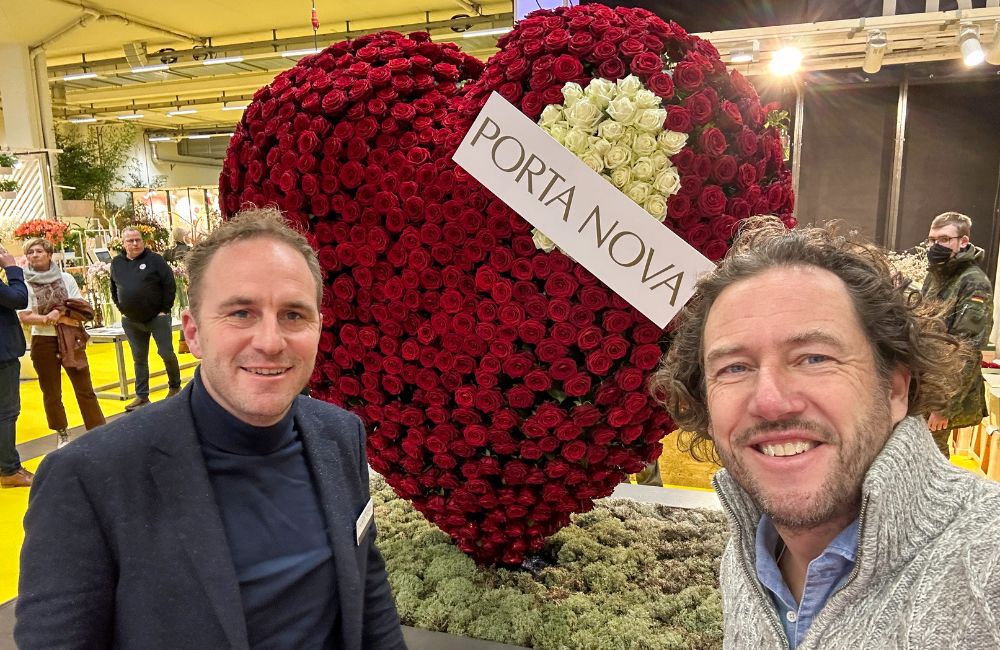 Get the Porta Nova Red Naomi Heart for Free
At Porta Nova, they love to cooperate with famous event planners and talented florists. It's always good to have nice collaborations with floral designers from all over the world. But at Porta Nova, they also have a big dream, to have their heart placed at the party of one of the world's celebrities.
Paul Poelstra:
"We like to sponsor roses for unique concepts or events in return for good pictures and joint communications with Thursd. So do contact us.
And it is our dream to also do consumer marketing with this heart as it draws so much positive attention. So if any of you florists or event planners have a big international celebrity as a client who would like to use our heart for their marriage/anniversary party etc. Do let me know. We may fly the heart and 1500 Porta Nova Supra roses over for free!"
If you ever have the chance as a florist to have that big celebrity satisfied with the Porta Nova Red Naomi Heart, this is your chance. It will be an experience you will never forget, and it will leave you feeling inspired and uplifted. And if you ever need a reminder of the power of love and beauty, just think of the big heart and the incredible roses that it represents.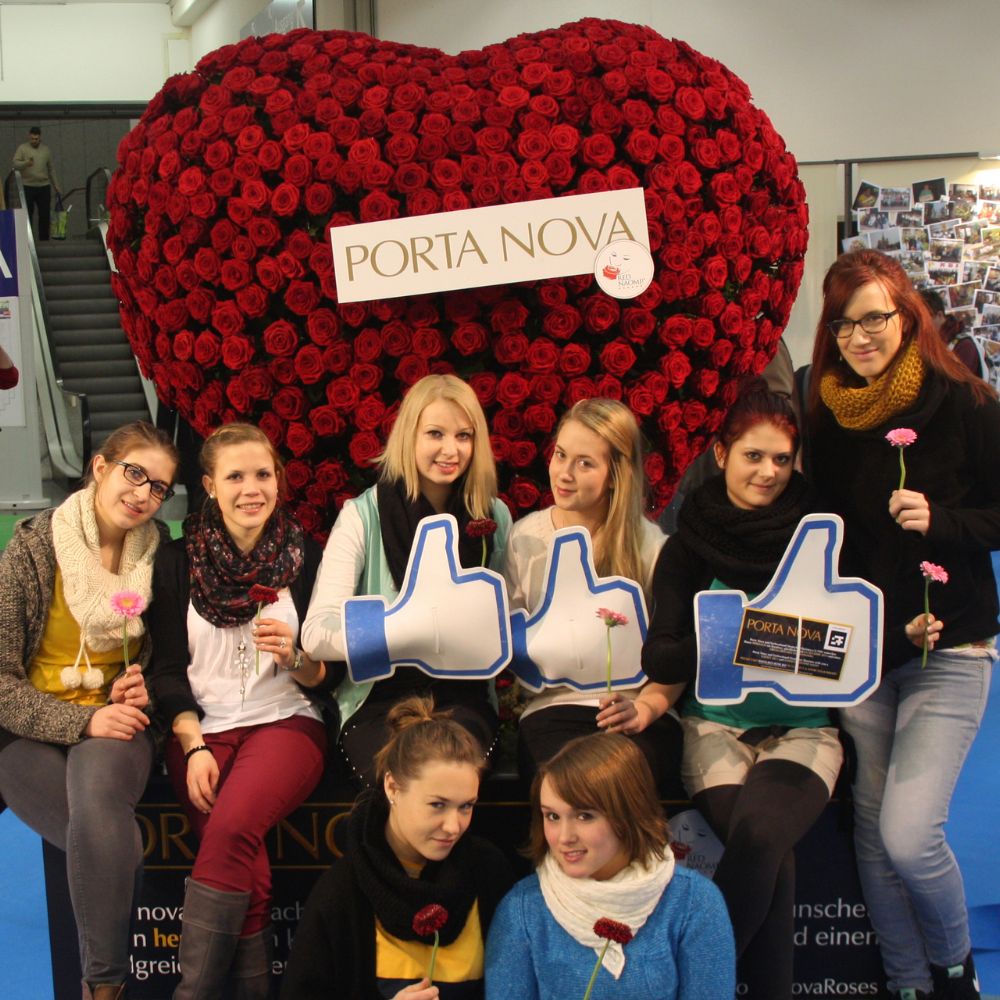 Inspiration by the Porta Nova Red Naomi Heart
Johan & Paul always work with the floral foam of Smithers-Oasis for its high quality to build the structure of the Porta Nova Red Naomi Heart. The heart was an inspiration for Smithers-Oasis. They developed a table-heart shape, especially for floral designers. This new piece of floral foam is a wonderful example of how inspiration and creativity can come together to create something new. It has helped to make it easier for florists and designers to create stunning arrangements that are sure to impress and delight their clients. You could say it is the heart behind the heart.