The announcement of a new rose peeking through in the industry is always very exciting news, especially for floral designers who love making roses part of their flower art. Decofresh has introduced their newest rose love at first sight: Rose Country Secret. The secret of why floral designers adore her is finally being revealed, as well as a few of her most interesting characteristics.
Introducing Rose Country Secret
In the enchanting realm of flowers, where colors and fragrances dance in perfect harmony, the newest Rose Country Secret has made quite an entrance into the rose world, not to mention it has also made quite a statement among rose lovers. With its captivating beauty and alluring charm, this exquisite rose variety has captured the hearts of both enthusiasts and professionals alike. Rose Country Secret is a sought-after gem in the floral industry, to say the least!
At first glance, Rose Country Secret unveils a delicate palette of captivating hues that tantalize the senses. Its petals boast a gradient of velvety crimson that gracefully transitions to shades of a very light blushing whitish-pink. Each petal appears as if it were hand-painted, showcasing a remarkable attention to detail that only nature can bestow. The petals, velvety to the touch, exude a subtle fragrance, hinting at the secrets they hold within.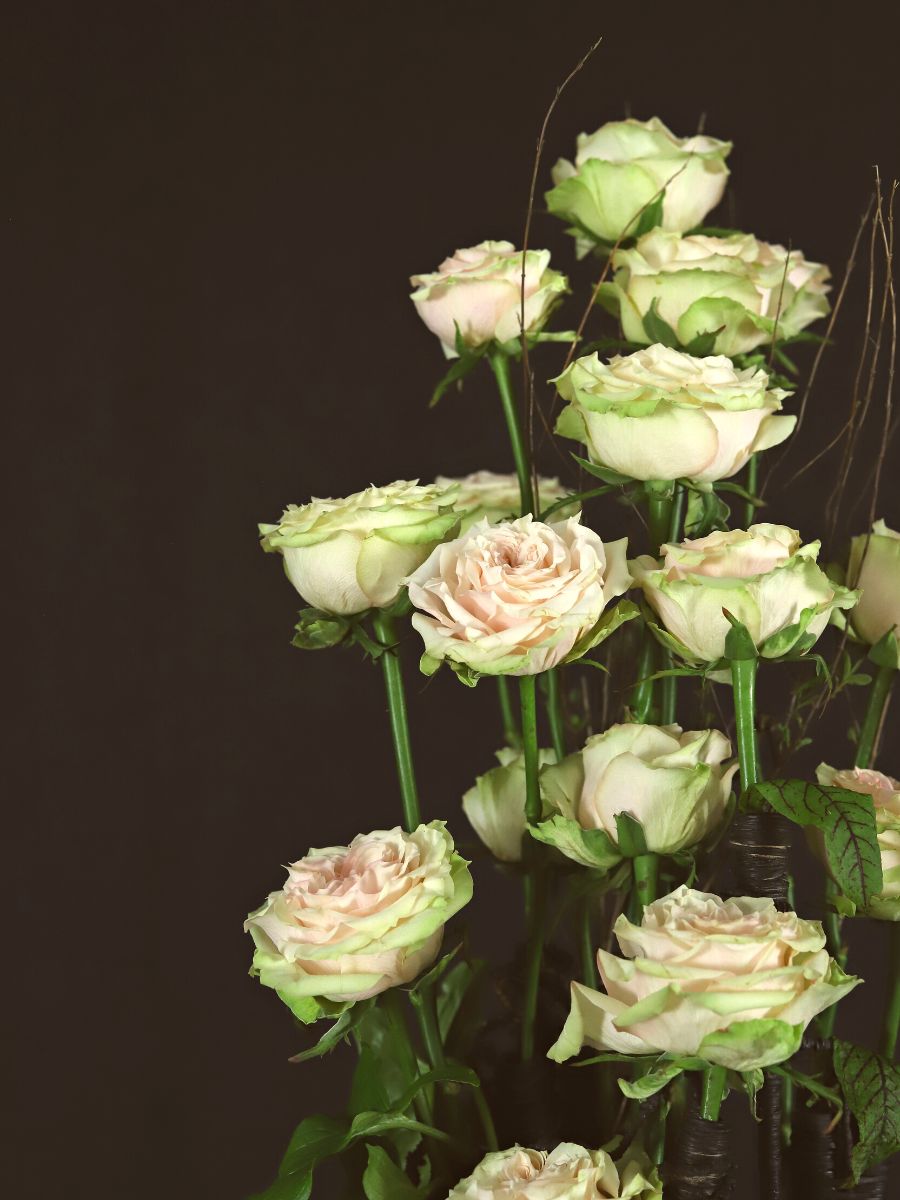 Here's what a few renowned floral designers such as Claudia Tararache, Petri Rijsdijk from Fiori Bloemen, Kat Bass from Passionate Flowers, Sari Van Weije, and Stephan Winzer have to say about their experience with such a rose.
What Floral Designers Have to Say About Rose Country Secret
Floral designers hold Rose Country Secret in high regard for its versatility and ease of use. Here are their reviews on how this rose beautified their designs!
Claudia Tararache Creates Beautiful Floral Art With This Rose
Claudia Tararache has an endless love for roses and creating with them. This is what she said about Rose Country Secret and how it changed her design.
"Light green pairs with dusty pink accents for a stunning color combination. I love its vintage look and fabulous blooms. The Country Secret rose is a must in flower shops."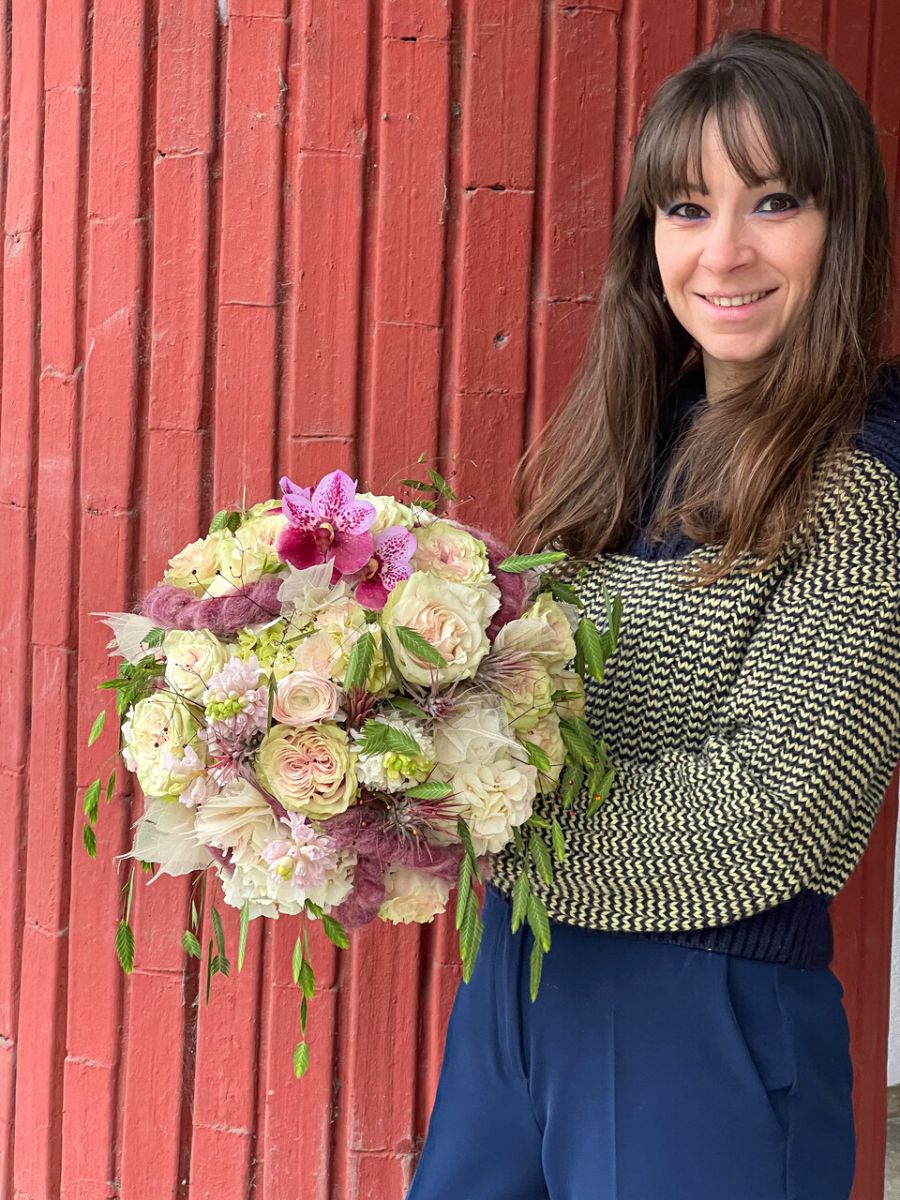 Petri Rijsdijk From Fiori Bloemen Shares Her Insights
Petri from Fiori Bloemen has only good things to say about this gorgeous rose, especially now that wedding season has started!
"Rose Country Secret has an appropriate name because the literal translation is a beautiful name for this mysterious, romantic rose. It is a rose that is brilliant for bridal work, especially now that the wedding season is approaching. It is a must-have for the vintage brides".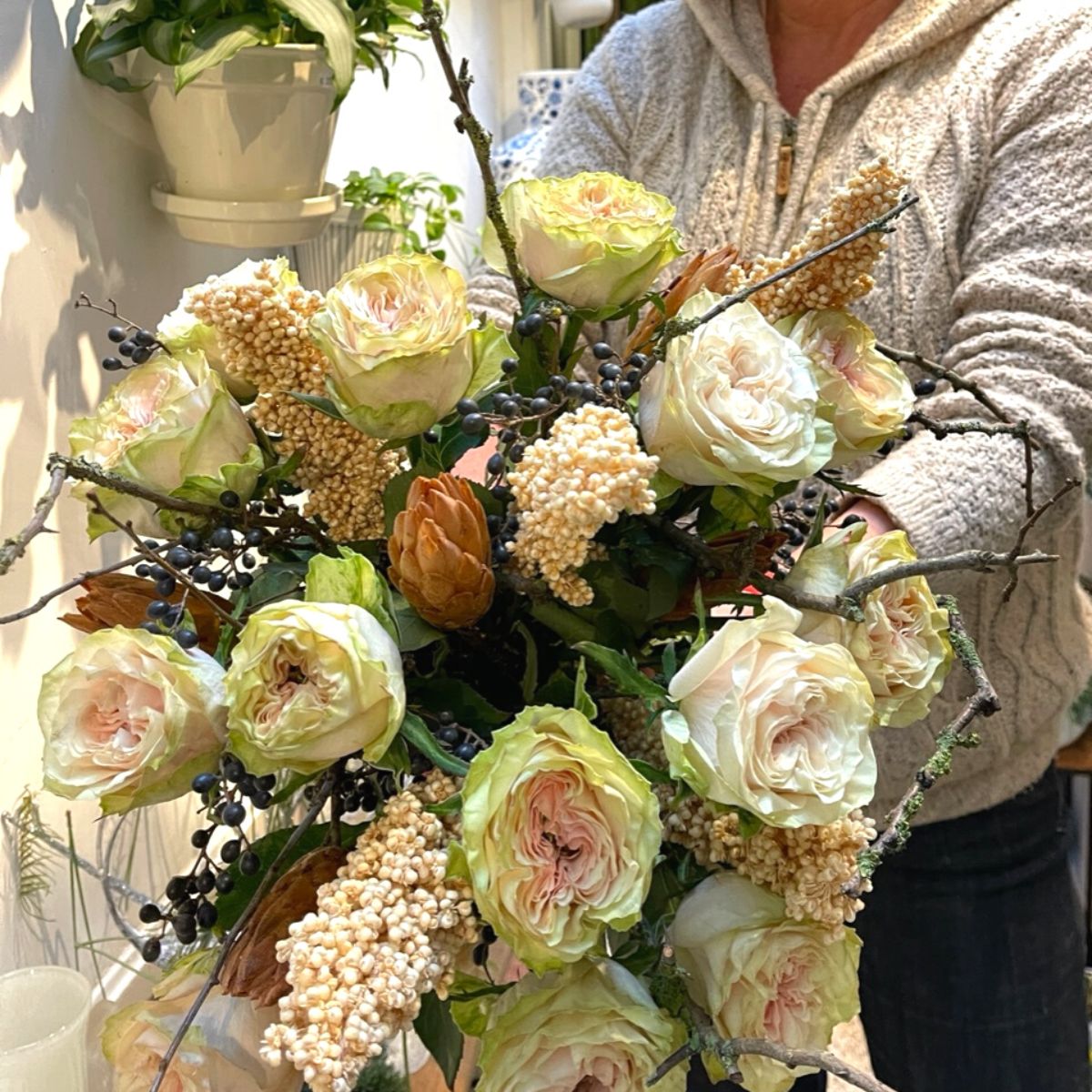 Kat Bass From Passionate Flowers
Passionate Flowers owner Kat Bass also shares her thoughts about this majestic new rose:
"What an absolutely delightful new rose. The head is strong and large the shape is absolutely adorable, how the petals are arranged inside it's truly beautiful, the amount of petals is just jaw-dropping. The stunning color a very very light rose with a touch of green makes this rose certainly a must-have for weddings. I absolutely fell in love with her."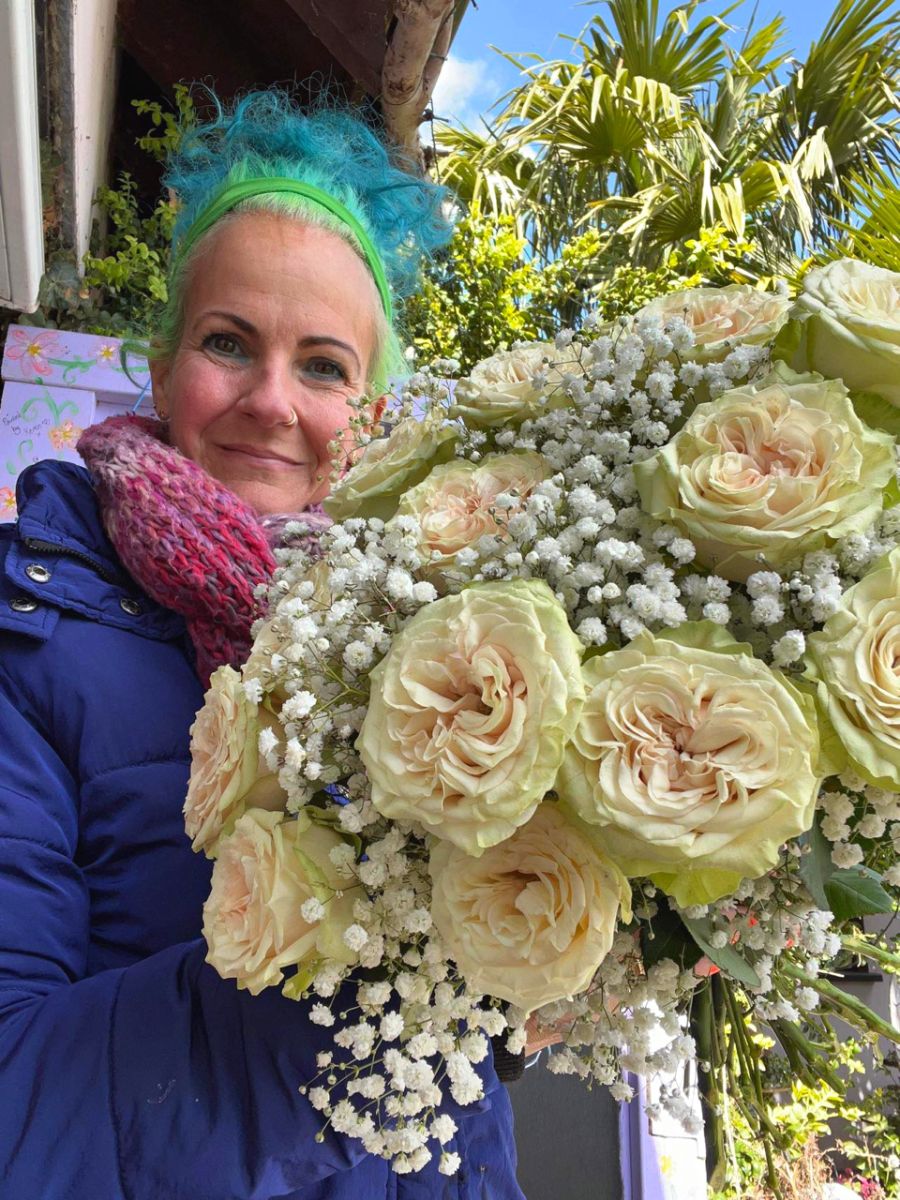 Sari Van Weije of Puur Pluck Feels Enchanted by Rose Country Secret
Just like the other floral designers, Sari of Puur Pluck is also in love with this spectacular rose. Why? Keep reading to know what she thought about using this rose in her design.
"I am in love with this new variety. This curled-up beauty doesn't need anything more than itself in an arrangement. It is ready to use upon arrival and will last at least 10 days! The color is a mix of fresh green which turns into a soft pink on the inside and is super versatile in a romantic color palette. I will definitely use this rose again and would recommend it to all rose lovers!"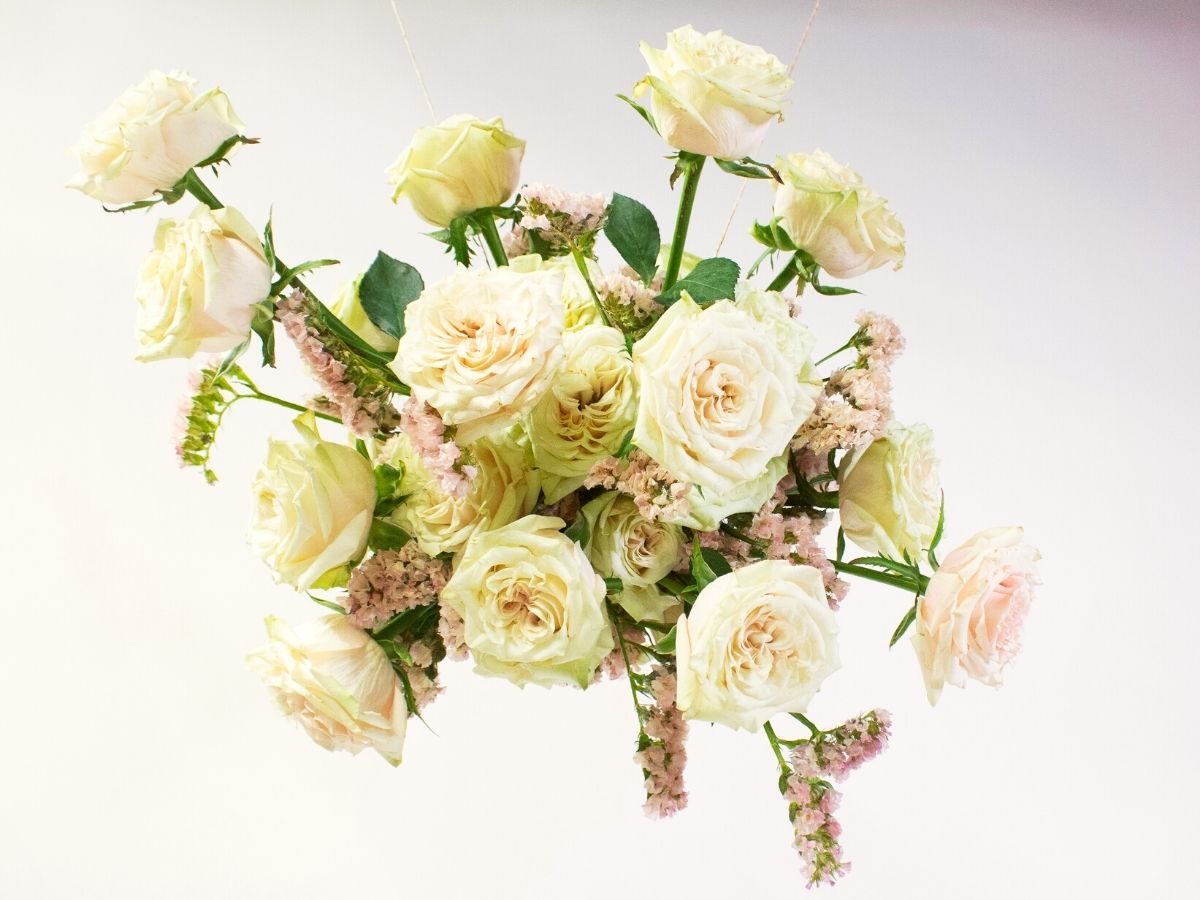 German Floral Influencer Stephan Winzer Shares His Experience
Talented floral artist and influencer Stephan Winzer based in Leipzig shares his thoughts on Decofresh's newest addition to their rose family and here's what he has to say:
"Rose Country Secret is a very pretty color and it lasted so long! I was totally thrilled about using it, and the result of my floral arrangement was fantastic."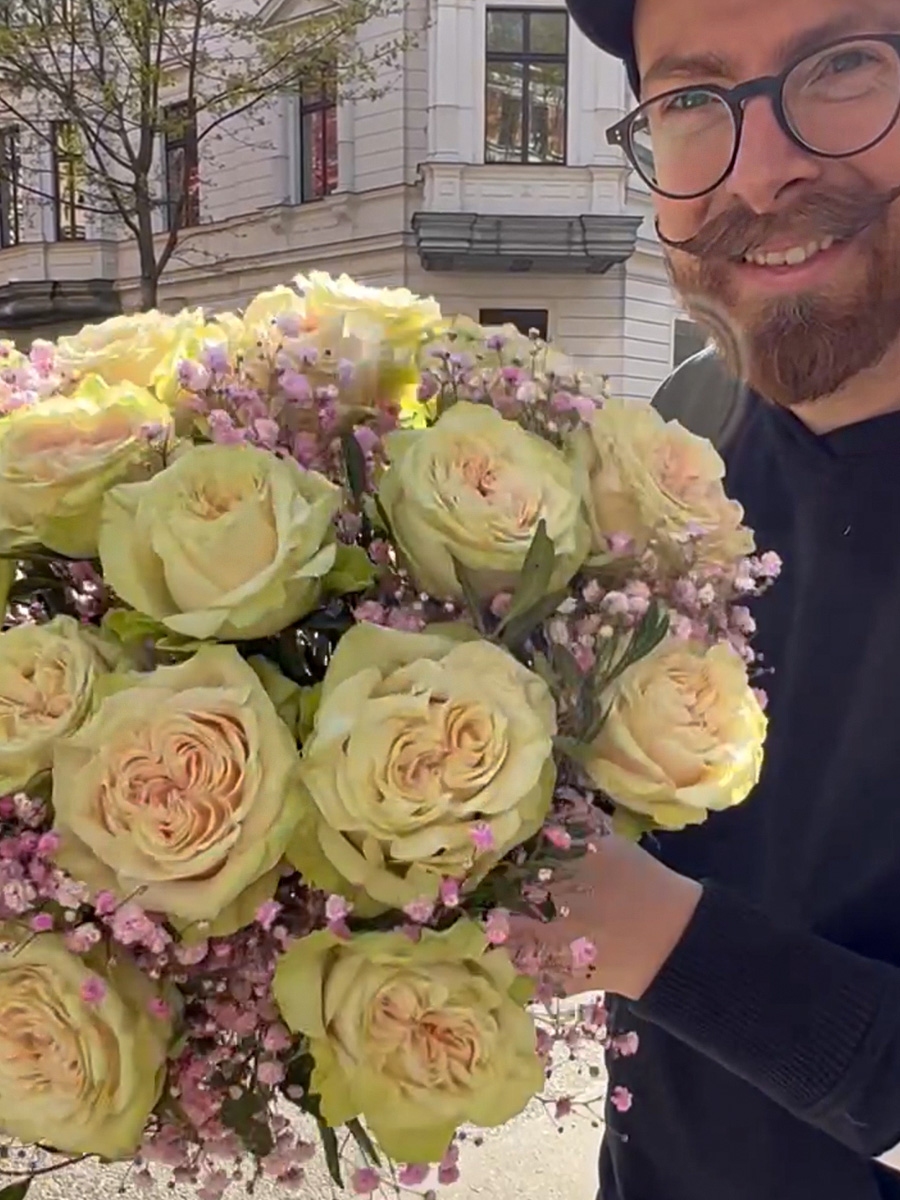 Furthermore, Rose Country Secret by Decofresh has gained immense popularity among floral designers not only due to its aesthetic appeal but also its remarkable resilience. It withstands the rigors of transportation and handling with grace, ensuring that its radiant bloom remains unscathed. This reliability makes it a trusted companion for designers seeking to create remarkable floral displays that leave a lasting impression.
Rose Country Secret is bred by Rosen Tantau and grown by Ayana in Kenya.