Taking the leap to start your own floristry business can be an exciting yet challenging venture. This guide will walk you through six essential steps, from choosing a perfect location and setting up your website to marketing strategies and customer retention, ensuring your floral dream flourishes successfully.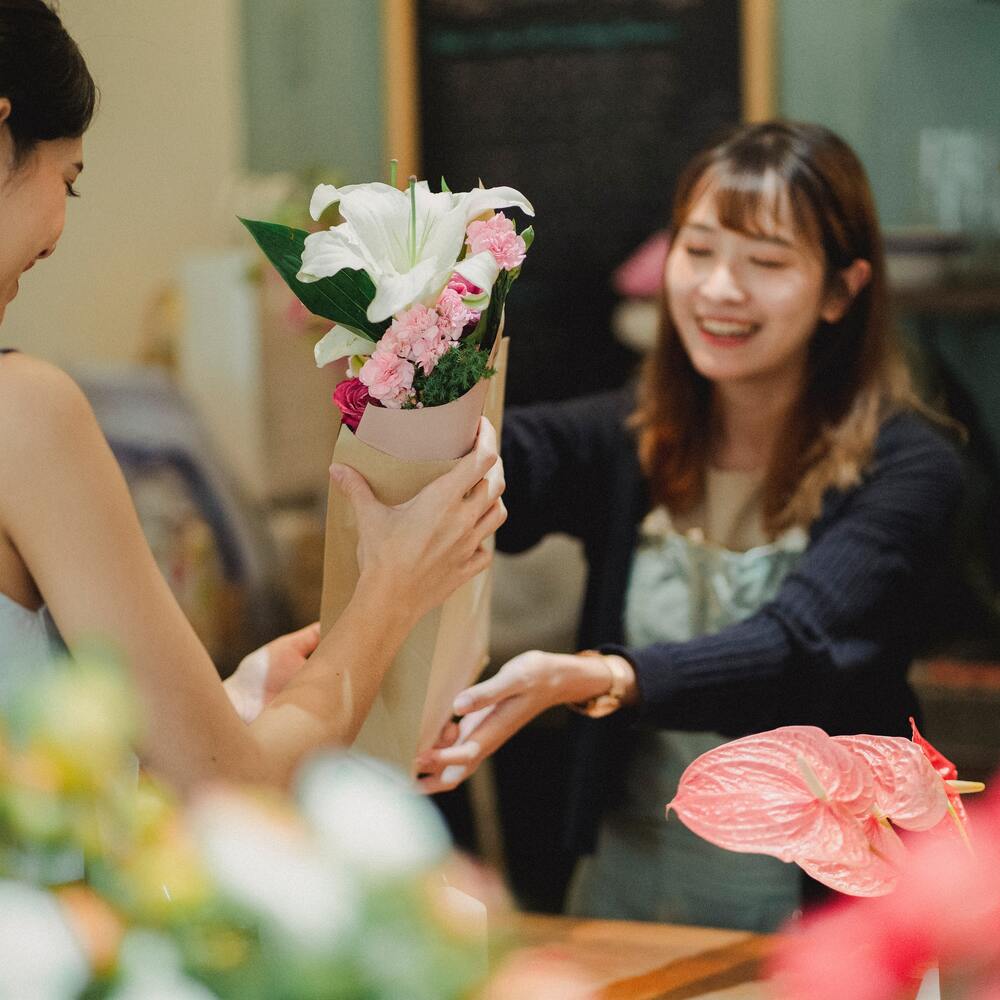 Choosing the Perfect Location
Identifying the perfect spot to set up your florist business is paramount. Firstly, consider areas where foot traffic is high, perhaps near other complementary businesses, like wedding boutiques or upscale grocers. When embarking on the journey to establish your floristry venture, selecting the ideal location becomes a critical first step. The location you choose can significantly impact the success and visibility of your business.
Second, ensure easy accessibility and ample parking for customers who may need to pick up larger orders personally.
Finally, don't forget about workspace functionality. After all, you'll require ample room for storage and flower arrangement tasks in addition to the customer-facing shop area.
Getting a Website
You already know that having an effective online presence is essential. For this reason, setting up your florist business website should be one of your top priorities. Select reliable VPS hosting to ensure fast load times and minimal downtime for visitors browsing through your offerings.
Meanwhile, a user-friendly interface will allow customers to effortlessly place their orders online or reserve special arrangements for pick-up in-store. From showcasing new floral designs to offering delivery services, the possibilities are endless with a well-curated website.
Sourcing Quality Supplies
Supply procurement is one crucial aspect of running a successful florist business. To ensure the freshness and quality of your products, establish relations with reliable suppliers who can deliver fresh flowers and materials on time. Arrange for regular deliveries to keep inventory rotation smooth while minimizing waste.
Also, do not overlook the importance of having an array of vases, ribbons, wrappings, foam, and other floral arrangement accessories in stock all times. This will greatly enhance customer satisfaction by providing a wide array of customization options.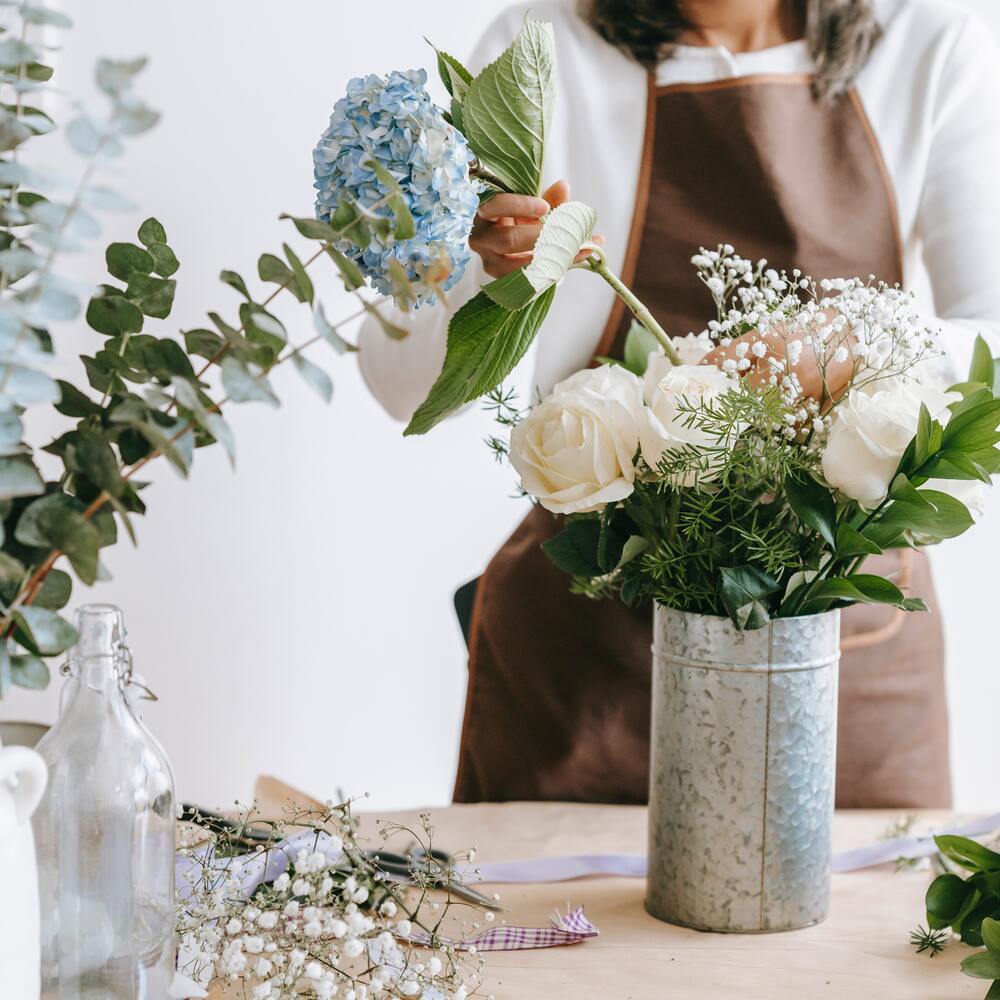 Hiring Staff and Training Them in Floral Design
To run a thriving florist business, you'll need a dedicated team. Hire staff who not only have an eye for beauty but also possess a genuine passion for flowers.
Once hired, ensure they receive proper training in floral design. This includes learning about different types of flowers, their care requirements, and techniques to craft stunning arrangements.
Remember that well-trained employees can provide excellent customer service whilst preserving the high standards your business sets out to achieve.
Advertising Your Floristry Business Effectively
Increasing your business visibility is essential. To spread the word about your floral store, consider investing in both digital and traditional advertising methods.
Digital options might include targeted social media ads and search engine optimization for your website. For traditional methods, local paper adverts or partnerships with nearby businesses can also work well.
Be sure to tailor each message clearly to highlight your unique selling points such as fresh flowers, beautiful arrangements, personalized service or speedy delivery.
Leveraging Social Media for Brand Awareness
Social media is your avenue to reach a broader audience, and not just through the aforementioned use of paid ads.
Take advantage of platforms like Instagram and Pinterest, favored for their visual appeal, which aligns perfectly with floristry. Regularly posting beautiful arrangements and behind-the-scenes content can display your creativity and dedication, engaging potential customers.
Additionally, social media gives you the opportunity to interact directly with followers through comments or direct messages, allowing you to foster stronger relationships while enhancing brand visibility.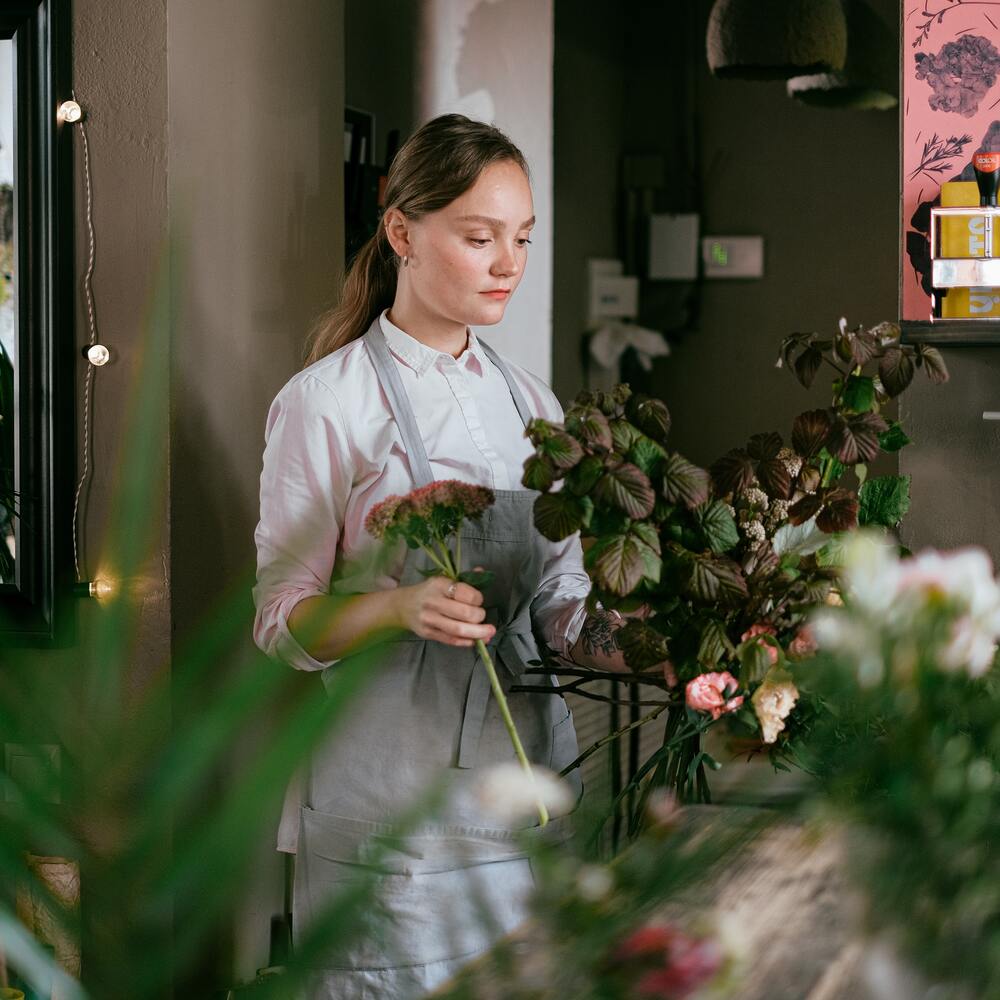 Meeting Necessary Legal and Financial Requirements
Before you can fully operate your florist business, ensure all legal and financial obligations are met. This includes obtaining necessary permits or licenses specific to selling flowers in your region.
Also, project possible expenses such as rent, utilities, employee wages, supplies and marketing costs to manage a reasonable budget. It may be prudent to speak with an accountant for advice on tax considerations specifically related to running a retail business like a flower shop.
Maintaining Freshness & Customer Relationships
Success in the floristry industry not only requires fresh flowers but also fresh relationships. Establish and maintain high-quality standards for your products; ensuring that every floral arrangement leaves your store at its freshest will win customer trust and loyalty.
Additionally, fostering meaningful relationships with customers can be just as vital as a well-crafted bouquet. Engaging consumers personally, remembering their preferences, and recognizing important dates or life events can go a long way in creating repeat business and positive word-of-mouth.
Building Strategic Partnerships in the Floristry Industry
It's not just customers that you need to court when creating a floristry. Fostering partnerships with related businesses can also elevate your business to new levels. To do this, consider collaborating with nearby event planners, wedding venues, or photographers who may recommend your services to their clients.
These alliances not only provide potential customer leads but also serve as an exchange of resources and mutual support within the industry. It's another example of how building strong relationships is key to a thriving business.
Implementing Sustainability Practices
Going green can benefit your florist business in scoring points with eco-conscious customers. You can introduce sustainability through various practices like composting organic waste, using locally sourced flowers to reduce carbon footprint, or opting for biodegradable packaging and wrappings.
Alongside these environmental benefits, promoting your brand's commitment towards sustainable measures could help set you apart from competitors.
Offering Specialized Services and Unique Products
In an industry that teems with competition, it's advantageous to provide something uniquely yours. Develop and offer specialized services like custom-tailored bouquets or themed floral arrangement classes.
You could even expand your product line to include bespoke items such as hand-painted pots or botanically scented candles. In cultivating a distinct identity for your florist business, you're not just selling flowers, but you're also providing customers with a unique experience they can't find elsewhere.
Wrapping Up
Budding into the floristry industry isn't a bed of roses, but with these six steps covered, you're well on your way to setting up a flourishing business. While it requires hard work and dedication, the reward of growing your own successful floral brand is worth the effort.