We Want to See Your Scorched Earth Floral Designs
With the launch of the Thursd floral trend color 2021, Scorched Earth, Thursd aims to increase awareness of sustainability in floriculture. Scorched Earth unites and makes floral designers, and other industry professionals, work towards a positive impact, together. From today onwards, floral designers from all over the world are challenged to post their Scorched Earth floral designs in the corresponding color palette on their social channels, to be highlighted on Thursd.com. When you share your Scorched Earth floral design, make sure to include one or more of the following hashtags: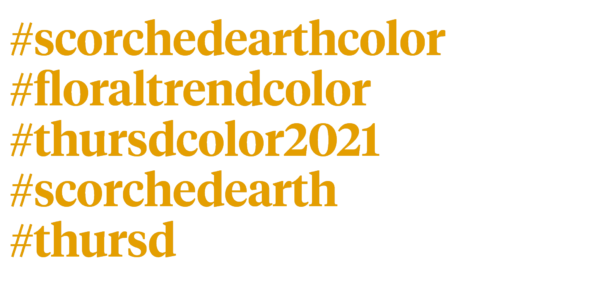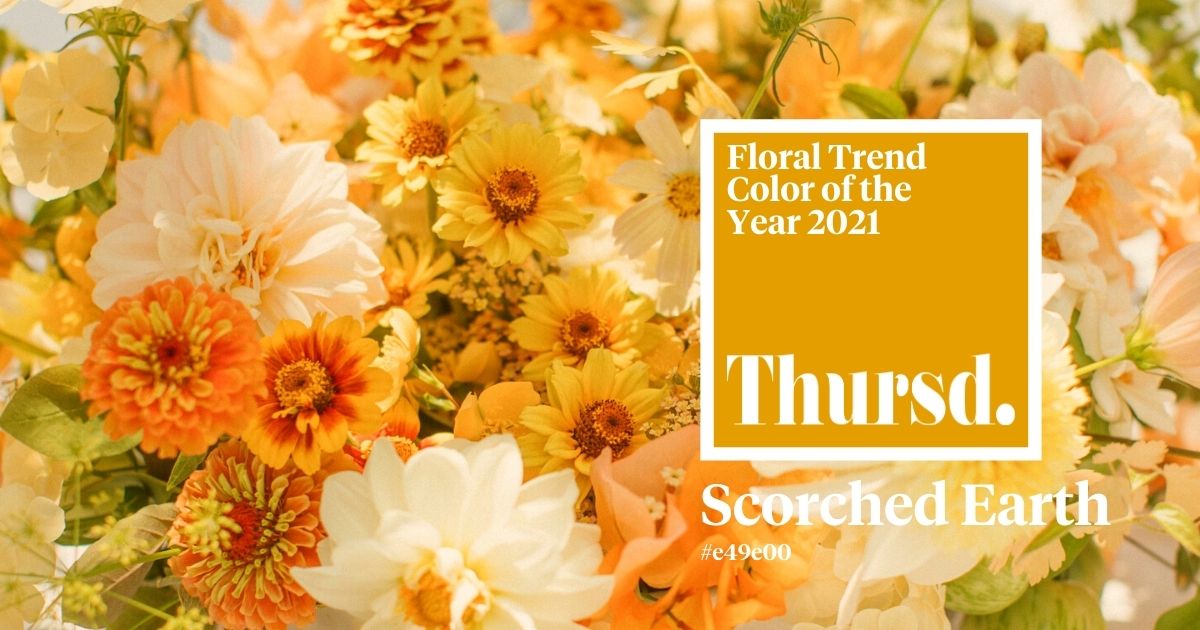 The Color Palette
Starting at a sunlit hue, the color palette moves from a bright orange towards a slightly broken yellow where it lingers hopefully and results in a gloomy yellow-beige symbolizing the destroyed earth. The trend color emphasizes the need to immerse ourselves in a world that is characterized by colors that reflect sustainable thoughts. Combining a touch of strength and boldness by adding colors in the range of orange, crimson, beige, and green; a diverse color palette is created.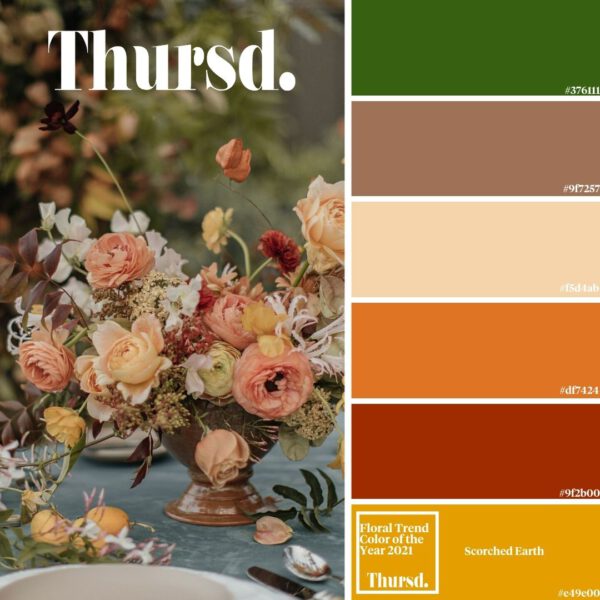 Other Florists and Their Designs
Timo Bolte: "Scorched Earth as the name suggests is bright, perfect for those who appreciate color, yet has a touch of sophistication by the delightful dose of respectable yellow-brown. A dark yellow, that is softer on the eye than vivid yellow. If scorched earth is your favorite color it may suggest you have a desire for creativity and uniqueness."
Dmitry Turcan: "'Blood of the Earth' - that's how I decided to name my work for the Scorched Earth floral color 2021. Imagine that our planet has its own venous system. Everything inside her is interconnected. If something happens to the main arteries, it can destroy the whole system. The earth will turn into a desert."
Want to Get Featured on Thursd?
If you want to get featured on Thursd, make sure you include one of the hashtags (#scorchedearthcolor #floraltrendcolor #thursdcolor2021 #scorchedearth) when sharing your Scorched Earth floral designs on your favorite social channels. We're also always looking for new bloggers. Do you like to write about designs and trends in the flower and plant world? Do you have an eye for new developments? Read more about how to become a designer blogger on Thursd.