It's the romance of the century: the houseplant has wrapped its tendrils around humanity's heart, and it won't let go. By analyzing Google search data for the 230 most-Instagrammed houseplants, HouseFresh uncovered the most popular houseplant in every country around the world.
Enter any modern-day home and you'd be forgiven for thinking you've accidentally wandered into a greenhouse or botanical garden. Such is the houseplant boom, homes are being transformed into urban oases, with small, tall, and sprawling houseplants at the forefront.
As well as being aesthetically pleasing, introducing houseplants to homes can improve air quality, overall wellbeing and productivity. Making them both pretty and practical.
But Are Some Houseplants More Popular Than Others?
The HouseFresh team set out to find out. By heading to the digital plant-life shrine of Instagram, they were able to discover a seed-list of the 230 most-Instagrammed houseplants across the globe. They then gathered the monthly Google search volumes for each botanical name in each country, using Ahrefs Keyword Explorer.
With data in hand, the HouseFresh designers created a series of global and continental maps, displaying each country's favorite houseplant in all of its glory. Here's a preview of the 3D rendered world map, featuring each country's favorite houseplant: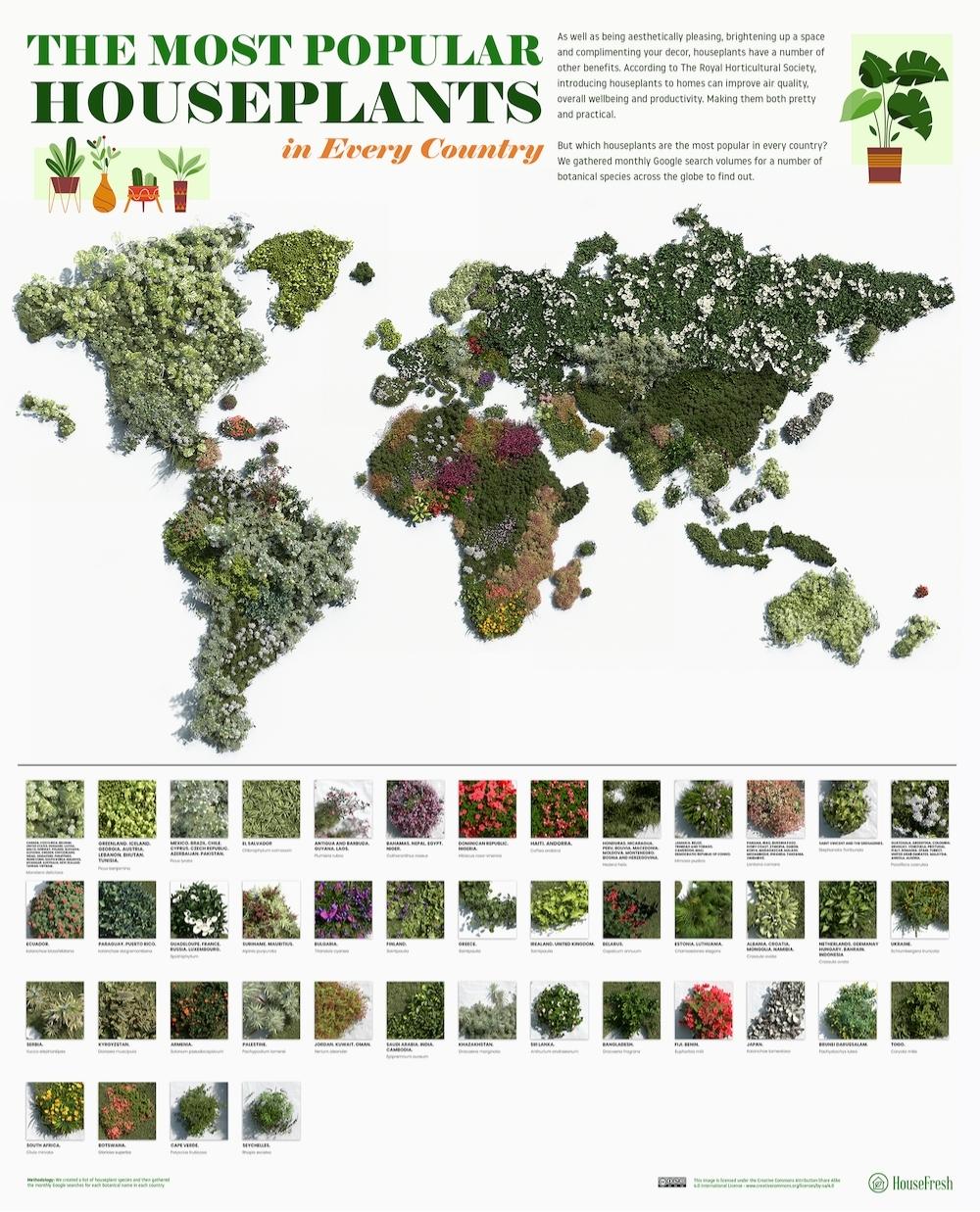 Key Findings
The Monstera deliciosa (Swiss Cheese Plant) is the number one plant in Europe, Asia & Oceania, and a joint favorite in North America.
The colorful Passiflora caerulea (Blue Passion Flower) is most popular in South America. This semi-evergreen climber is the national flower of Paraguay.
Africa's favorite houseplant is the Lantana camara, an evergreen flowering shrub within the verbena family.
In the Middle East and the rest of Asia, they favor the Nerium oleander, an evergreen ornamental shrub that has been cultivated since ancient times and features in many of the Roman wall paintings in Pompeii.
Most Popular Houseplant by Continent
North America
North America are lovers of the Monstera deliciosa too, however, there is another houseplant which ties as the most searched for - the Mimosa pudica. Its name, deriving from Latin, means "shy, bashful or shrinking". It is a perennial flowering plant that is part of the pea/legume family, is often grown for its curiosity value as it has a unique response to contact - the leaves fold inward when shaken or touched. This made the Mimosa an ideal candidate for experiments regarding plant habituation and memory.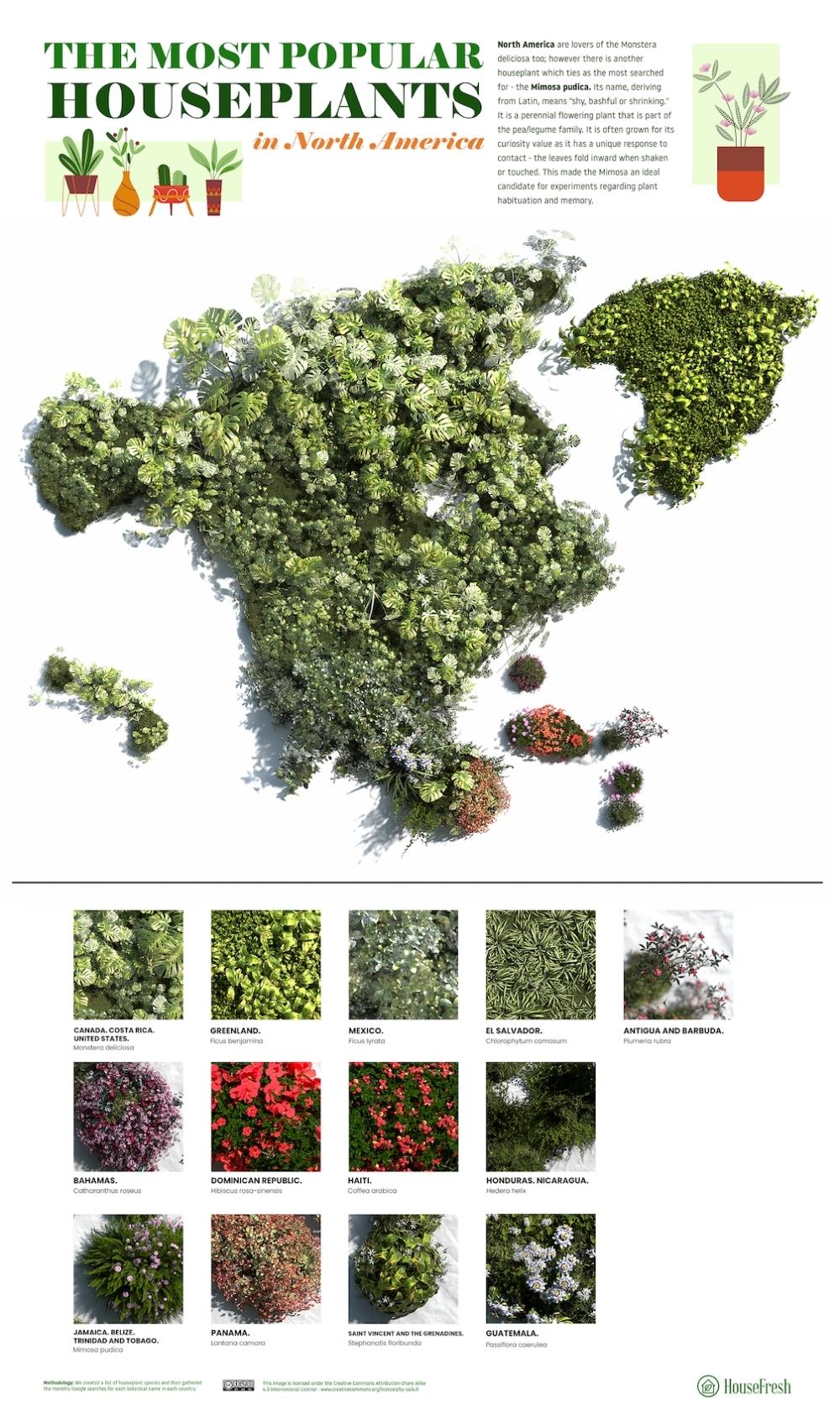 South America
South America's most-searched-for houseplant is the Passiflora caerulea, a perennial vine that thrives both indoors and in the garden. Bearing dark green glossy leaves this exotic bloom offers snow-white petals adorned with an explosion of purple, blue and white filaments during summer, followed by edible egg-shaped orange passionate fruits. Easy to grow, even as a houseplant, this passionflower may need frequent pruning to stay well-behaved. Check out the article 'Passiflora Caerulea- The Complete Care Guide and Religious Meaning Behind It', to know all about this marvelous plant.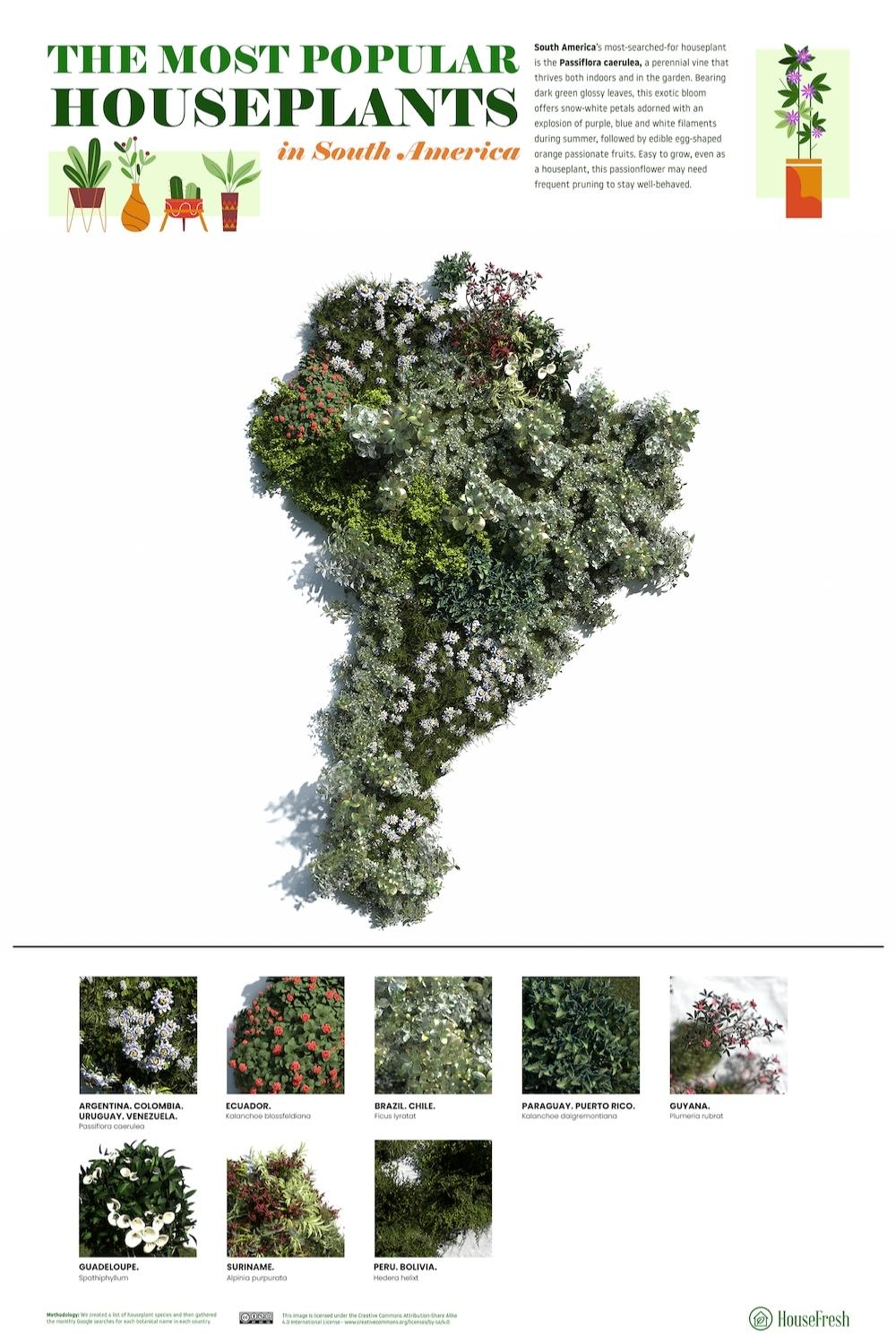 Europe
Known for their lush, glossy, dark green leaves, the Monstera deliciosa is the most popular houseplant in Europe. Although native to South America, the "Swiss cheese plant" earns its nickname thanks to its leaves, which become perforated and Swiss cheese-like when they mature. This super Instagrammable plant adds a pop of color and a contemporary, jungle feel to any room. They're good air purifiers too!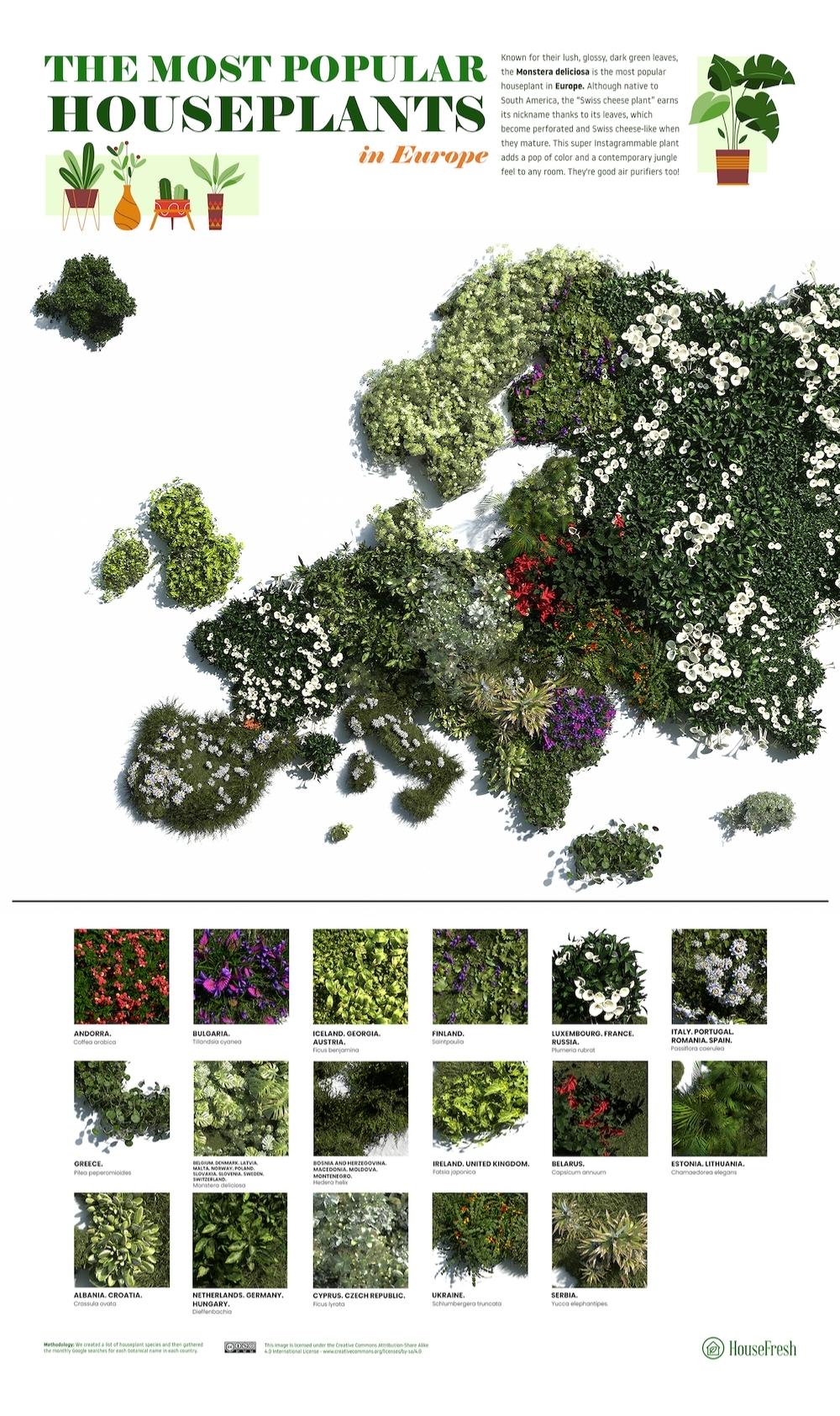 The Middle East & Central Asia
Nerium oleander is the most searched for houseplant in the Middle East & Central Asia. This easy-care rounded shrub (or little tree) is actually one of the most poisonous plants, so caution is advised for homes with children and pets. Despite its toxicity, the Nerium oleander is a treat for the eyes - its leaves are smooth, thick, and leathery and its flowering hues range from pure white through pale-yellow, salmon pink to deep burgundy red.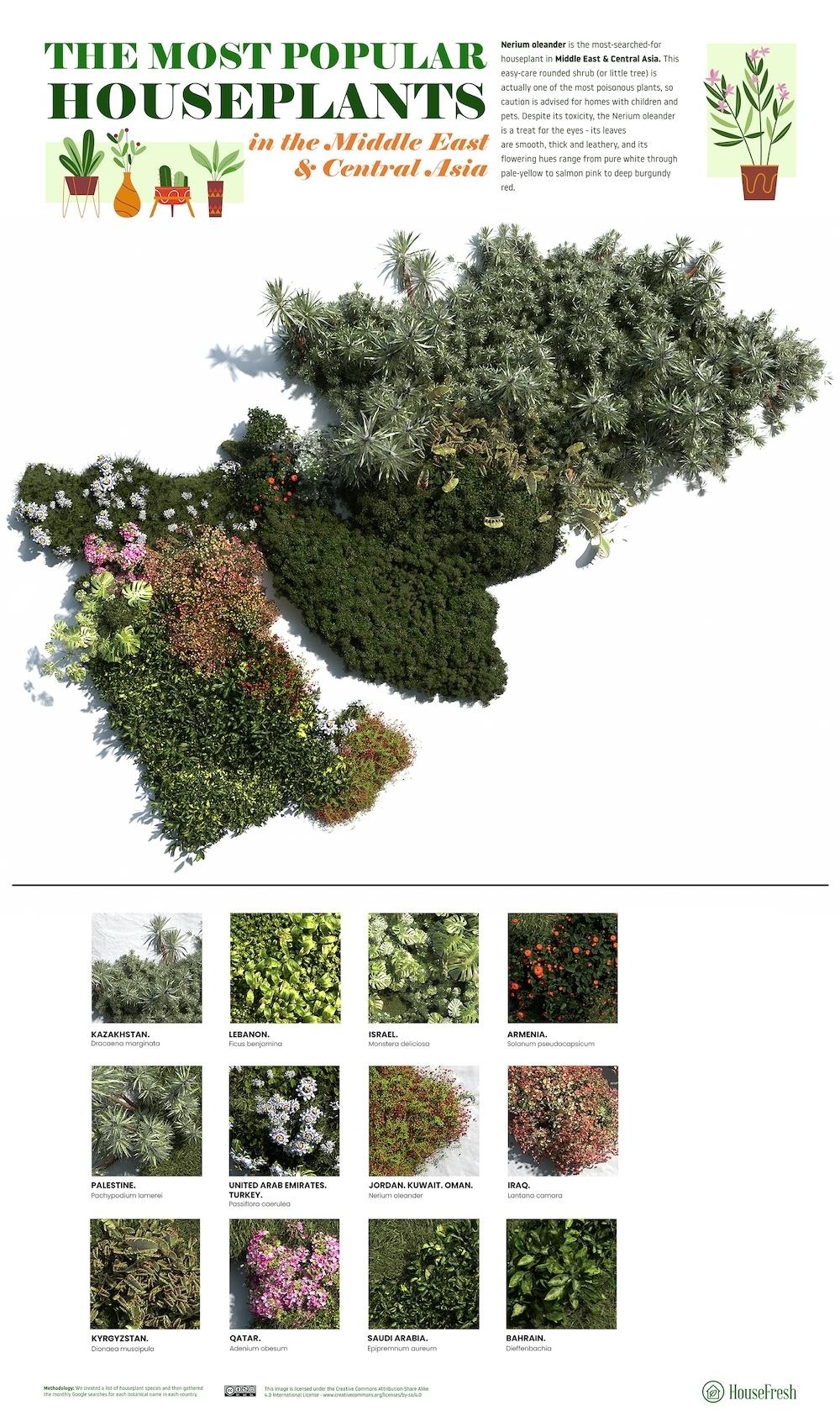 Rest of Asia & Oceania
The most popular houseplant across the Rest of Asia & Oceania is the Monstera deliciosa - which literally translates to "delicious monster". This is likely due to the plant's growth rate as, even in the average home, they can grow up to at least 2m tall and 2.5m wide. Despite this, the cheese plant is a very low-maintenance plant. They require room to grow, a bright spot out of direct sunlight, and occasional watering - but not too much! This monster prefers its soil to be a little on the dry side.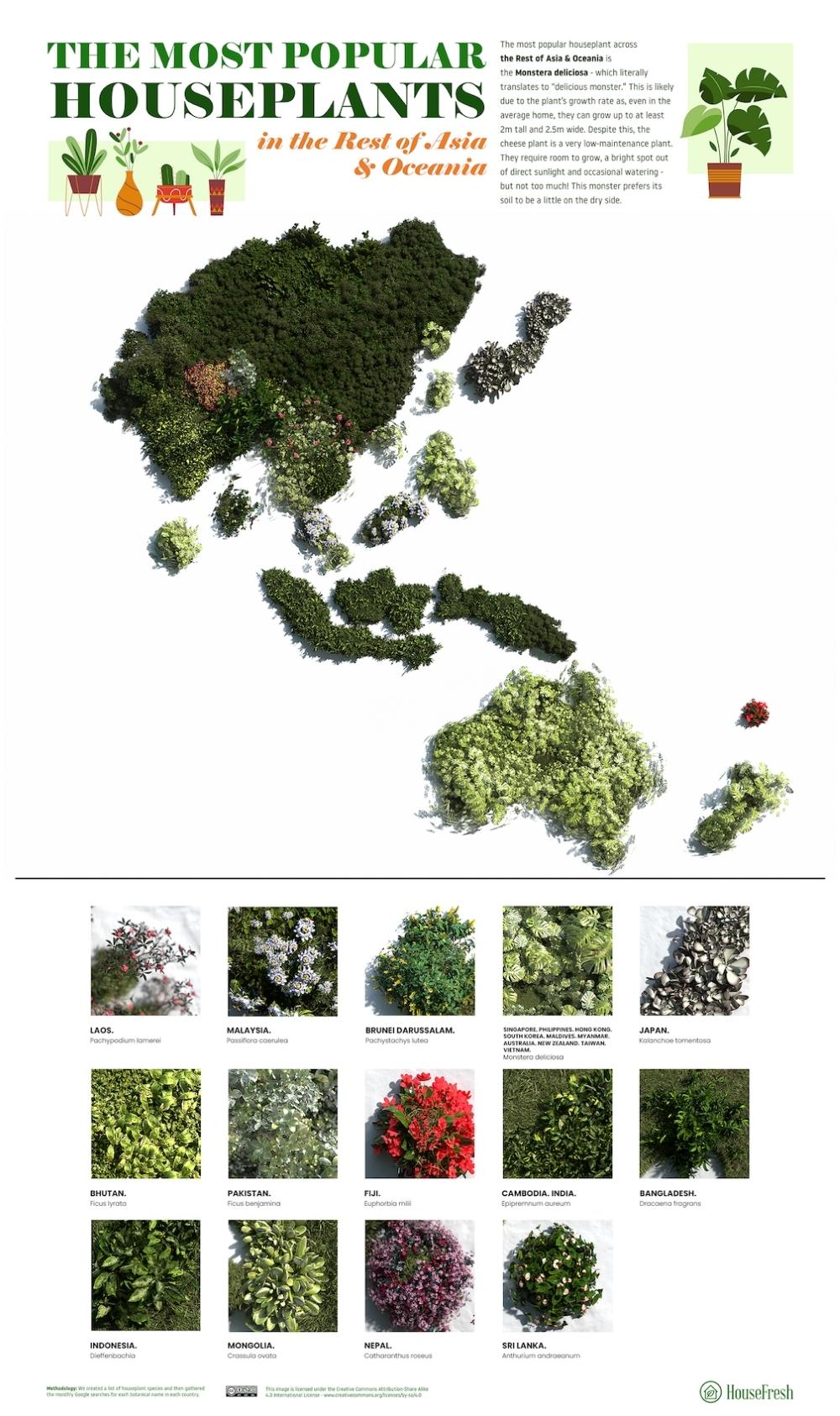 Africa
The Lantana camara plant is native to Central and South America but it is most popular in Africa. Once fully bloomed, the Lantana plant produces multicolored flowers, with hues varying from yellows and oranges, pinks and reds, to lavender and white. A plant of the broadleaf variety, its gorgeous emerald leaves are coarse to the touch. Lantana plants are generally non-fussy, resilient, and low maintenance, making them the perfect houseplant.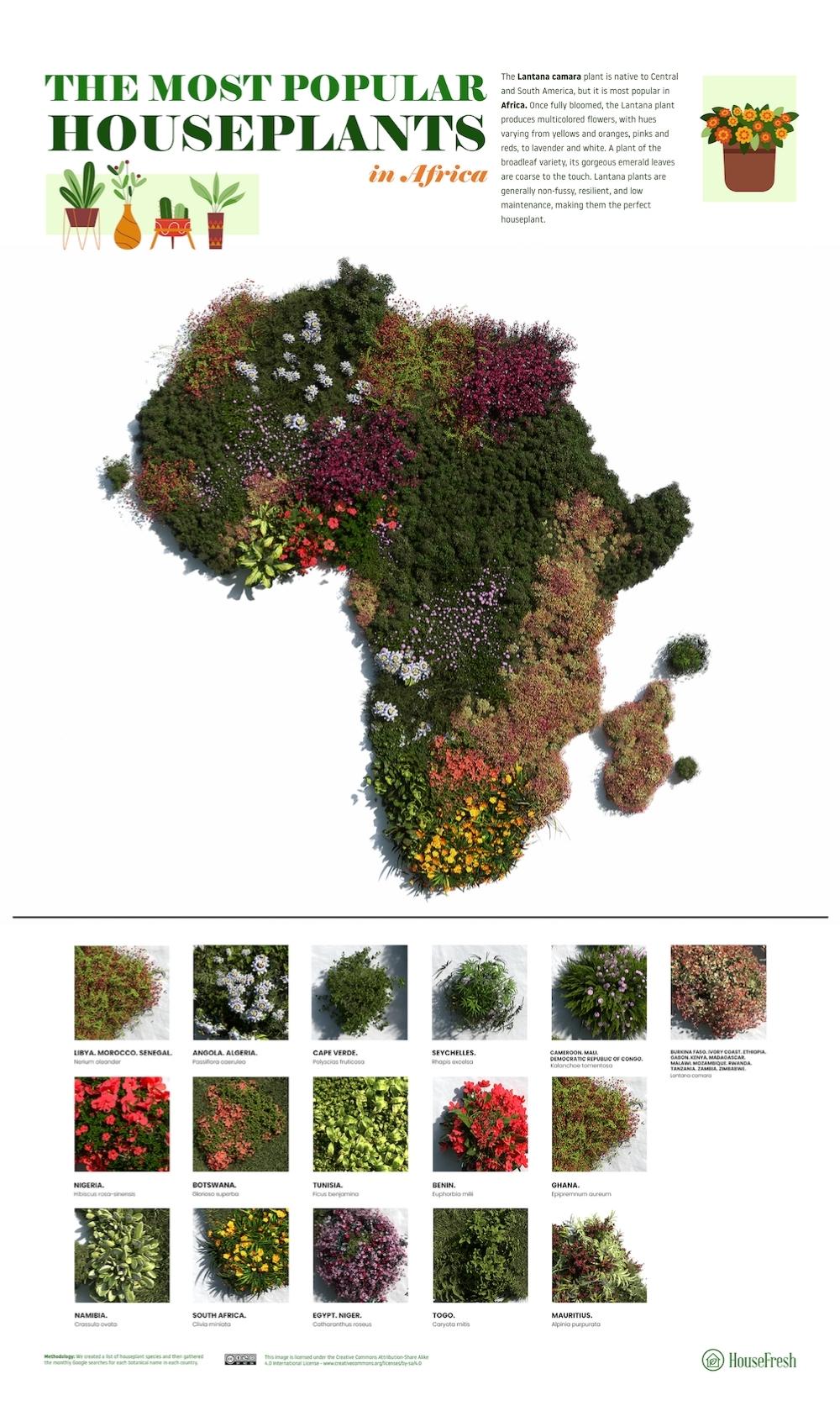 About HouseFresh
HouseFresh is a team of experts in keeping your house clean and fresh. Whether they are rounding up the best advice for cleaning your kitchen or shortlisting the best air purifiers on the market, HouseFresh's goal remains the same: making your house a little "fresher" without breaking the bank.