Who doesn't know and love Surfinia®? Twirling and swirling from lampposts, facades, and bridges, she colors the streets of many European cities. Moreover, the dark purple, bright pink, and snow white flowers of these famous petunias are the showstoppers of many gardens and balconies.
Surfinia® or Petunia?
Did someone say "petunia?" You are totally right! Surfinia® was the first trailing (hanging) petunia brand on the market. Surfinia® petunias are grown from cuttings and are perfectly trailing and rain resistant. A real breakthrough!


1989 - "No, no, no, a Petunia that's trailing would never work. Raised from cuttings? We have to change the system, and it is too difficult; nobody will do it, all floricultural experts said."

1990 - "Maybe, but we will do it anyway because we believe in it. We will set up a new network of distribution thru partners around Europe. And we will brand it, label it and call it Surfinia®, the plant pioneers from MNP / Suntory replied."

1991 - "Ok, but it will still never work! It will be too expensive, and nobody will buy it anyway, the experts commented."

Voila! The rest is floricultural history, as we say! With now over 1.500.000.000 Surfinia®'s from cuttings sold in Europe only.


Some of the best-selling varieties are:
Introduced in the nineties by the breeding company MNP / Suntory, and is still the top of the bill. But Surfinia® is much more nowadays. The spectacular trailing habit of Surfinia® petunia is unique and much bigger than the regular size of trailing plants. This is what makes Surfinia® still the best and most widely sold Petunia in the world.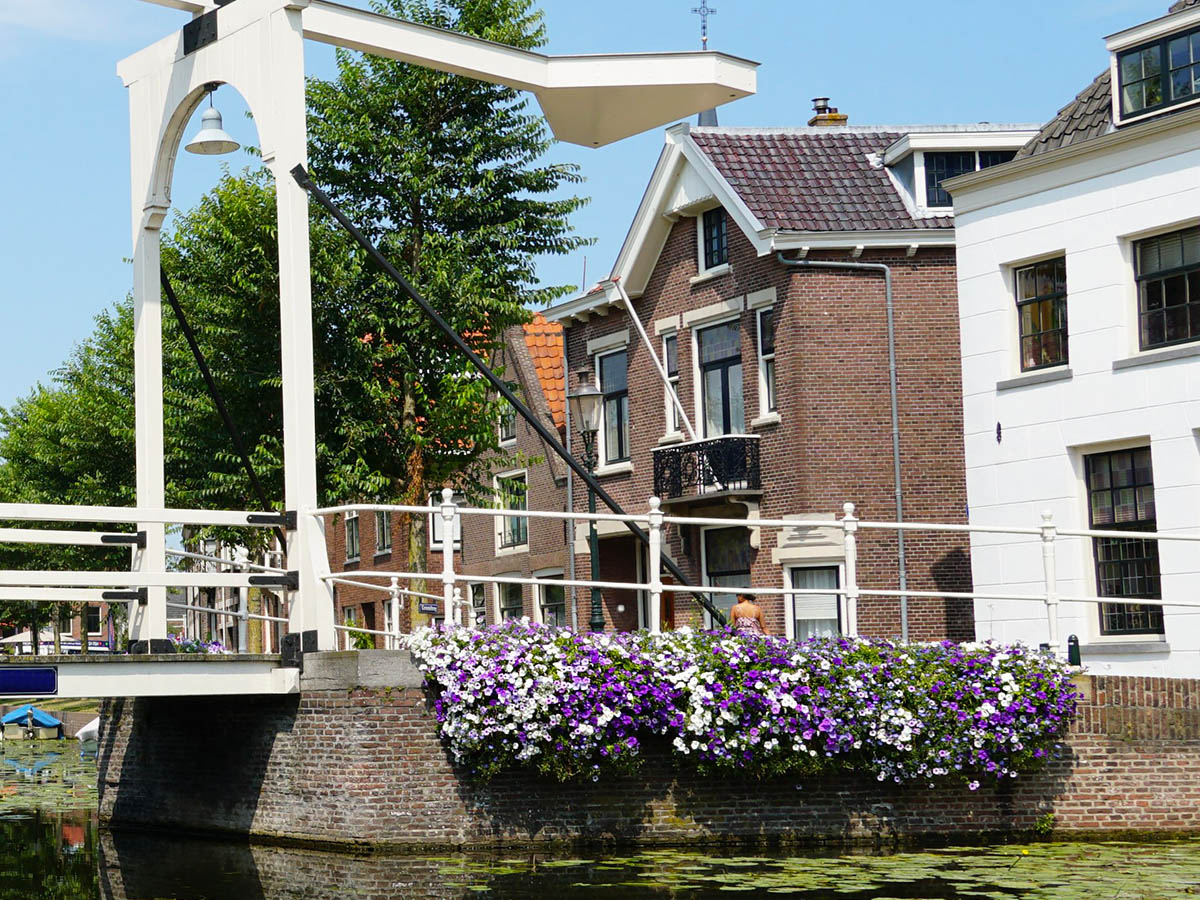 A Journey Through Time: The Surfinia® History
Surfinia® was founded over 30 years ago by the Dutch company MNP, which is nowadays MNP / Suntory. They built the petunia brand Surfinia® and introduced the ground-breaking plant onto the European market. With her strong garden performance, spectacular free flowering habit, and superior weather tolerance, Surfinia® was an instant success. Soon, the 'very first petunia from cuttings' took over the flower industry and became an all-time favorite.
Since its introduction, Surfinia® has captured the hearts of garden enthusiasts. Its adaptability, resilience, and endless sea of blooms make it a must-have for any garden lover. Today, Surfinia® is seen adorning gardens, patios, and public spaces. In the brightest colors ever thanks to the collection's vastness.
A lot of the varieties are true best-sellers, like the Surfinia® Purple, the Surfinia® White, and the Surfinia® Lime.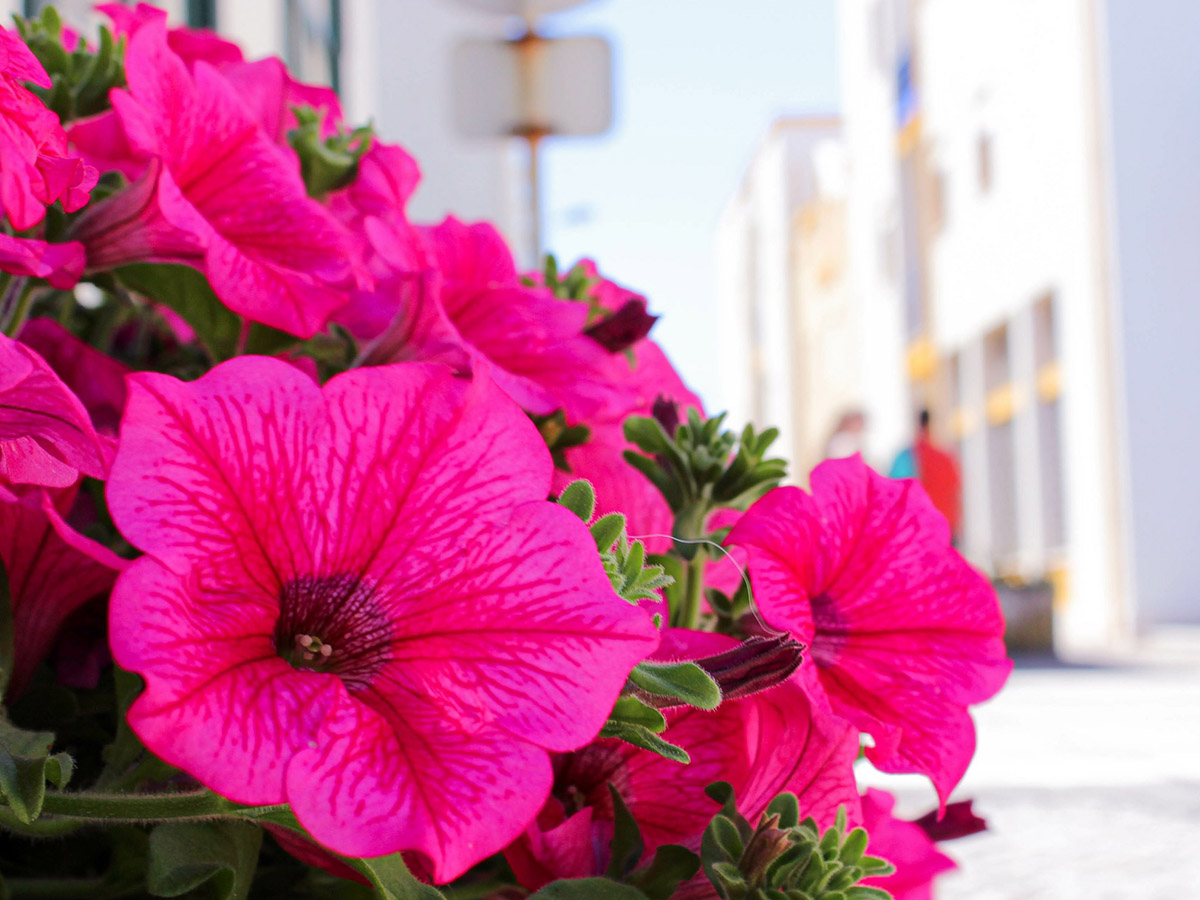 Why the World Fell in Love With the Surfinia®
The Surfinia® unrivaled beauty is a feast for the eyes. Its cascading blooms create a waterfall of color, turning ordinary spaces into extraordinary vistas. It's available in a plethora of colors, from deep purples to bright pinks and pure whites, giving gardeners endless opportunities for creative expression.
Part of the Surfinia® charm is its resilience and versatility. It's a strong, vigorous plant that can withstand varying weather conditions and still bloom prolifically. Furthermore, its trailing habit makes it perfect for an array of planting styles, be it hanging baskets, window boxes, or ground cover.
What Plant Professionals Say About Surfinia®
Some of the most famous plant connoisseurs of this world have worked with Surfinia® and commented on these wonderful plants. An anthology:

Peter Seabrook, former British gardening writer, and television broadcaster, gardening editor with The Sun:
"The arrival of cuttings raised Surfinia® 30 years ago was greeted with some skepticism by traditional growers, but the public loved their vigorous, pendulous habit and massed free flowering performance. It took a little time for people to realize stronger growing plants needed more space to grow (so needed fewer plants in any given size of container), more watering, and feeding.

Given this more generous style of cultivation, the performance proved and continues to give outstanding garden decoration, flowering non-stop right through the summer and autumn."
Michael Perry, alias Mr. Plant Geek:
"For me, Surfinia® defines a whole generation of patio and basket plants. It really set the blueprint for how a branded plant could be launched, and it deserves every success! The prospects for such a plant are steered by a combination of factors- marketing and a recognizable name, good point of sale (whether in a retail store or on a paper catalog page), timing, and most importantly, excellent performance in a consumer's garden. Surfinia® ticks all the boxes with a big fat inky pen!

Surfinia® made such a strong brand for itself that it became hard to convince consumers about any other trailing petunia, however beautiful they may have been."
Romeo Sommers, Trendwatcher & Green Stylist at ByRomeo:
"My experiences with Surfinia® are only positive. Surfinia® flowers beautifully and long in hanging pots and hanging baskets, hanging beautifully over the edge of the pot.

Once a week I take a rest moment and remove the faded flowers, so I have time for myself. What I find so special about Surfinia® is that the plant also does well in full sun, so you can use it on your patio in flower boxes.

My favorite petunias are the veined varieties, but also beautiful trios in a pot with beautiful tone-in-tone tones. A popular trend is a vertically planted pallet in beautiful neutral colors combined with evergreen plants, or in a high-gloss black pot with white or lilac Surfinias. In this way, Surfinia® gets a more modern look for a younger audience."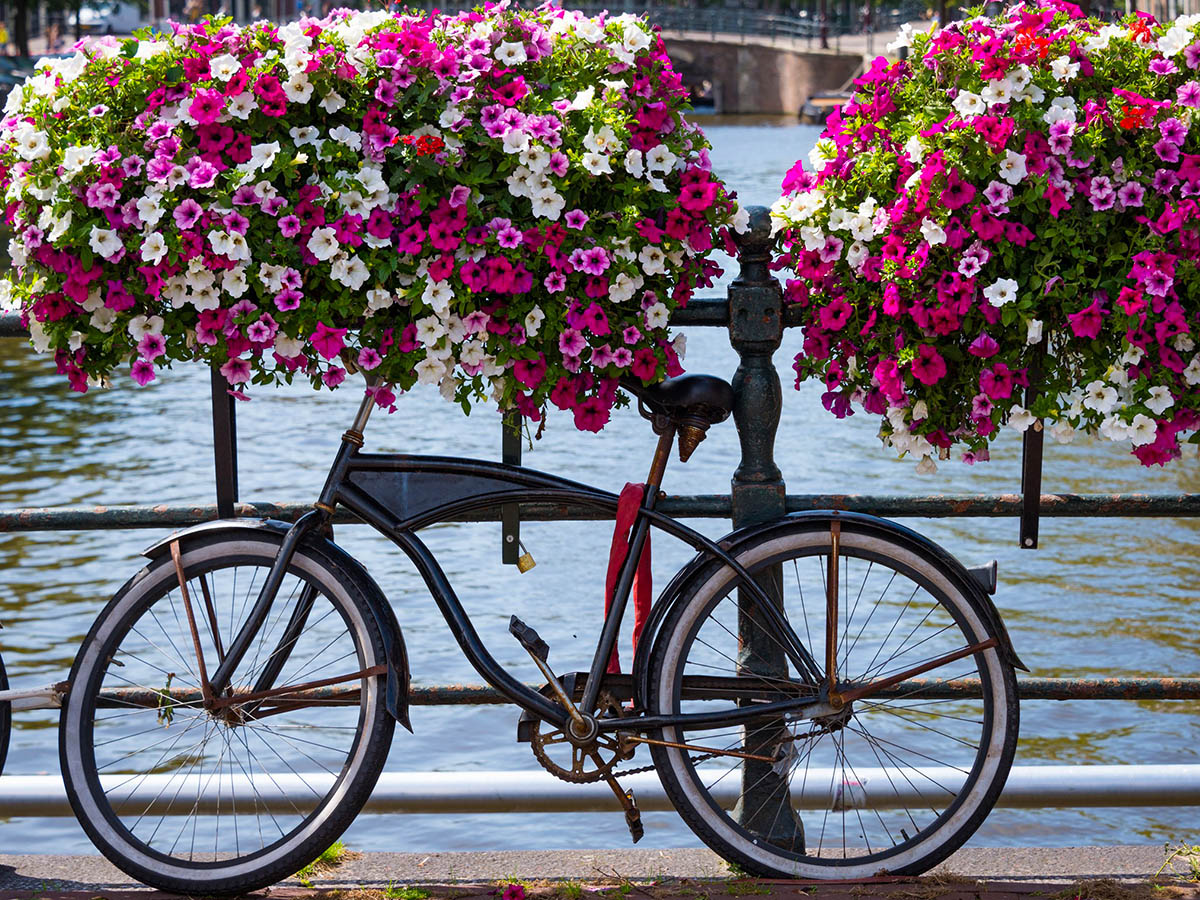 Surfinia® Care - Color Your Garden
Discover the wonders of the Surfinia®, the gem of MNP Suntory, and transform your garden into a paradise. Dive into its rich history, understand its charm, and learn how to care for this blooming marvel.
Especially the Surfinia® Blue Vein, the Surfinia® Blue, and Surfinia® Hot Pink are true marvels. Not to forget newer varieties such as Surfinia® Lagoon Blue Star are just awesome.
Imagine walking into your garden and being greeted by cascades of vibrant, blooming flowers spilling from hanging baskets, pots, and borders. Picture these blooms swaying in the breeze, their charming hues painting your garden with unparalleled beauty. This is the magic of the Surfinia®, a variety of trailing petunia that has transformed gardens around the world.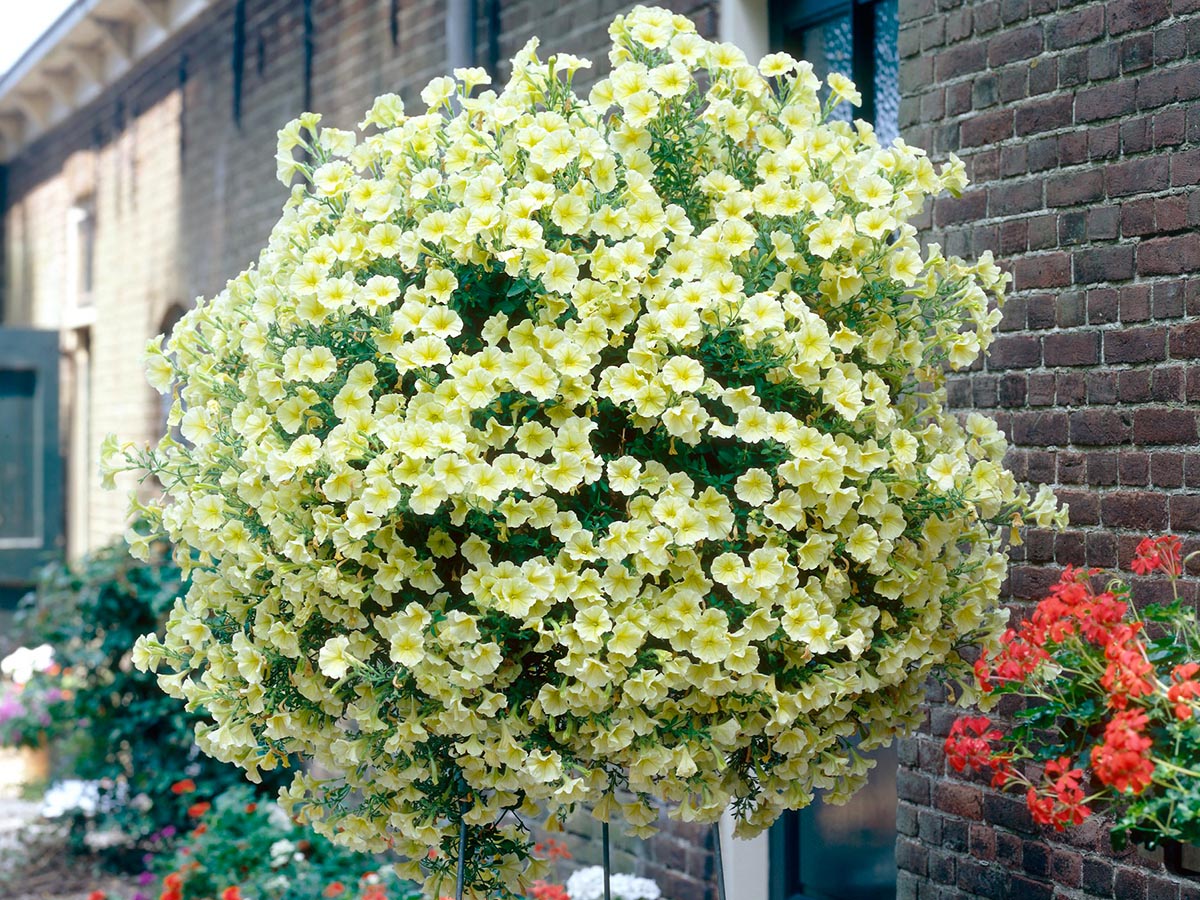 Light and Watering of Surfinia®
The Surfinia® thrives in full sun and requires regular watering. It's essential to let the soil dry out between watering sessions to prevent overwatering. It's a thirsty plant during hot weather, so don't be shy about watering it generously during these times.
Fertilizing and Pruning of Surfinia®
To ensure your Surfinia® stays healthy and produces an abundance of flowers, feed it with a balanced liquid fertilizer every two weeks during the growing season. Pruning, although not essential, can help maintain its shape and encourage more blooms.
Now that you're well-acquainted with the enchanting Surfinia®, isn't it time to add this flowering marvel to your own garden? Transform your space into a cascade of vibrant colors and let the Surfinia® bring joy to your life.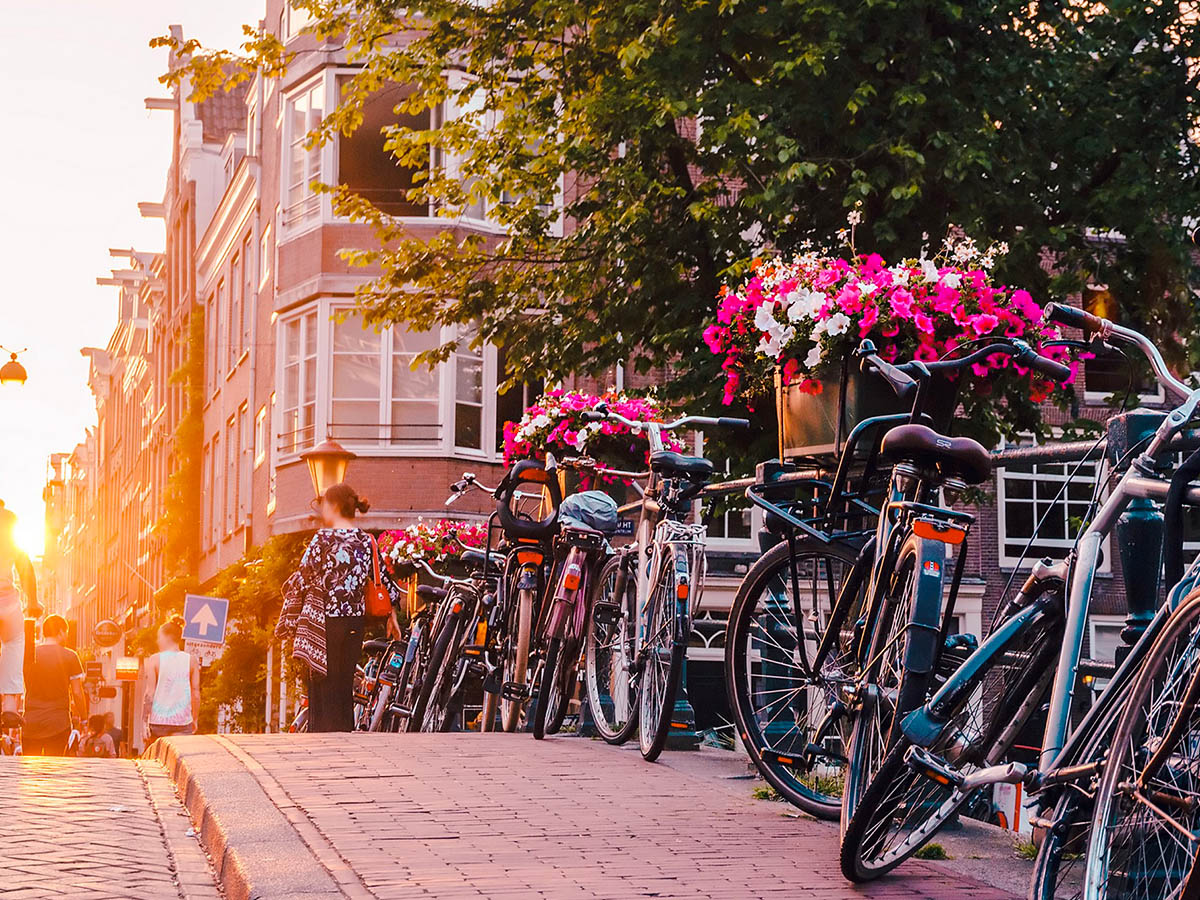 Join the Surfinia® Revolution Today!
What are you waiting for? Bring the Surfinia® into your life and experience the transformation of your garden into a blooming paradise. Whether you're a seasoned gardener or a beginner, the Surfinia® will surely delight with its dazzling display of blooms and easy care routine.
As the people from MNP / Suntory are always introducing new varieties with the best specs, it's always a good idea to check their website once in a while: https://surfinia-official.com/.
Some great new trailing varieties are from the Surfinia® Trailing Series: Light Yellow, Blue Ocean, Violet, and Blue Vein. (see below).

If you're ready to let the Surfinia® sprinkle a touch of magic in your garden, why not start today? Visit your local garden center or contact MNP / Suntory for more information. Discover the charm of the Surfinia® and let it brighten your garden—and your life!
All photos courtesy of MNP / Suntory.