Fred van Paassen
is a master grower with the VannoVa collective of chrysant growers. Fred and his family have always done the rooting themselves. The added value of doing this is that the quality of the flowers is higher when cut. Learn more about Fred van Paassen in this passionate story behind a family-driven business.
Family Business Guarantees Future
Fred and Anita Van Paassen took over the company from Fred's father Henk in the early '90s. Her support for almost 35 years is very important to the company. And already for a few years now, their oldest son Jan joined the company. Although Jan studied engineering, he puts all of his passion and effort into their family business to bring out the best of it. As an engineer, Jan has taken a development-role for the company but in the end, what he loves the most about his involvement in the company, is that he contributes to growing the best flowers. Fred and Jan continue to learn every day, and with that knowledge, they passionately grow their Pina Coladas.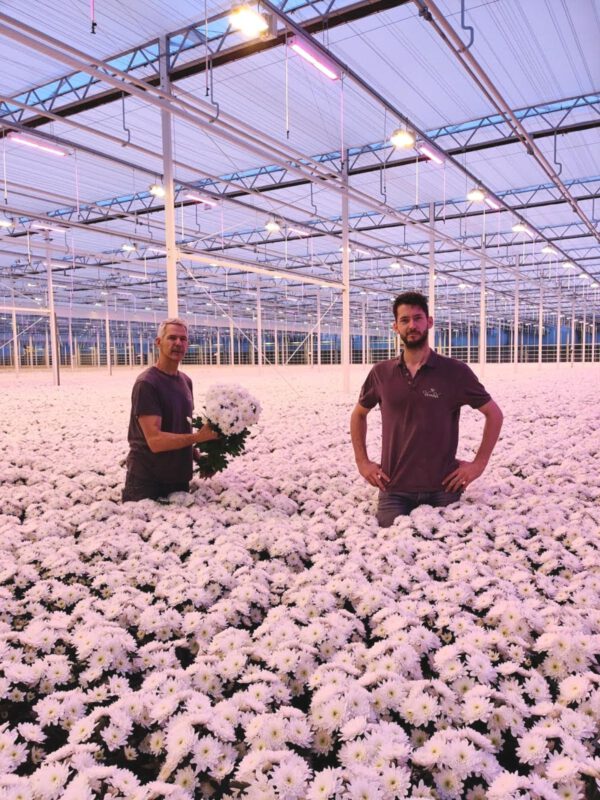 When talking to Fred you cannot help to notice that he is proud of his three children that all have a career in this green industry:
"My other son Wessel studied horticulture in the city Den Bosch. In his final exam he developed a project with led lightning and following this, he started his profession in that same field of expertise. He now regulates building climate with its own sourced light and water. Together with his brother Jan, Wessel developed a system for the rooting process."
Flore, Fred's daughter is more the creative soul of the family. She runs her own branding and marketing company which is mostly focused on the floral industry. With a background in floral design combined with graphics and branding skills, her companies' portfolio surely does not limit to this industry though.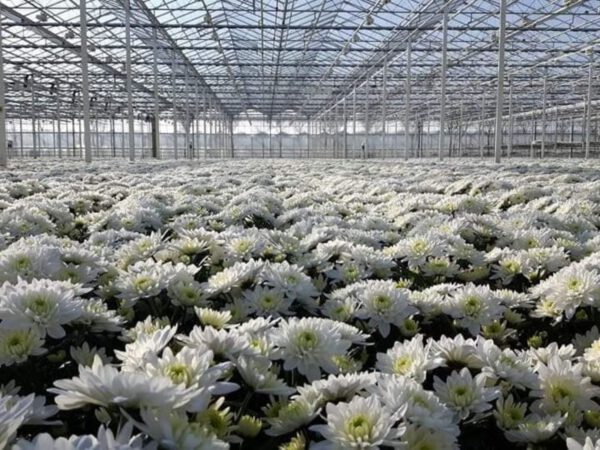 Fred Van Paassen
"As VannoVa Master Grower, we are in control of every step of the growing process. This includes everything from planting to finalizing the end product, a beautiful chrysanthemum. A special part in this process is that the rooting takes place in our own cutting department. Dümmen Orange supplies the material, we put it in the ground. It will take 13 days for the cuttings to be ready. Then they can be planted. From that moment on, it takes about 9.5 weeks for the flowers to grow. Harvesting takes one day and the whole process can start all over again. All of this has one goal: grow flowers of the best possible quality. That is the cornerstone of our business. "
More About VannoVa
VannoVa
is an alliance of leading chrysanthemum growers. By working together on production, marketing, and promotion, VannoVa's master growers have acquired a prominent international position. The master growers' collective years of experience have made VannoVa an inviting, global partner for the production and supply of chrysanthemums in the high-quality segment.
White, Yellow, and Cream
Fred Van Paassen grows three colors of Pina Colada:
white
- which is according to Fred still the most popular -
yellow
, and
cream
. He considers it a strong chrysanthemum that is rather easy to grow, not easily sick, and with lots of flowers on one stem. The cream variety is harvested only twice a week in a limited amount of stems. According to Fred Van Paassen, that's around 30.000 stems total a week, a quite exclusive offer to the market. Fred Van Paassen:
"We are very happy with initiatives from Dümmen Orange to promote our flowers as a grower. They give us great support in which they connect with us every week. We are very happy with our breeder."