Yet again, Florensis has impressed flower lovers around the world with its newest debut: Gaillardia Guapa. The exclusive series features three stunning charmers that'll conquer any outdoor spaces that surround you. Stay tuned to this article if you want to be the first to get a sneak peek of Gaillardia Guapa by Florensis.
Gaillardia Guapa by Florensis Will Have You Stopping and Staring
You know when you see something so beautiful that you can't help but stop and actually stare for a while? This is the exact effect the Gaillardia Guapa by Florensis will have on you, your garden, or terrace, of course. It'll instantly beautify any space they touch because of their uniqueness and mesmerizing colors, so fascinating you won't be able to look away. Why? Keep reading to know more!

¡Hola Guapa!
If you're wondering what the Spanish word 'guapa' means, it utterly refers to as beautiful. Quite the perfect name and meaning for this stunning series. The Gaillardia Guapa series by Florensis consists of a red and two outstanding bi-colored plants ready to beautify your patio or terrace. Saying they are all 'guapas' would be an understatement. All three plants included in this series will indeed get the best of your eyes at first, and plain sight.
Three 'Guapas' Included in the Series
Daring, dashing, and conspicuous colors adorn the inside and outside of these beautiful blooms. Starting with the bicolored Gaillardia Guapa Flamenco Bicolour that features a clear parting between the intense yellow on the edges and intense red colors on the inside.
There are also two more varieties comprised in the series in which one also embodies yellow and more reddish tones, the bicolored Gaillardia Guapa Tango Bicolour, and the single-colored Gaillardia Guapa Red.
It is important to remember that Gaillardia Guapa by Florensis often blooms from early summer (June) to early fall (October) since they prefer warmer weather conditions.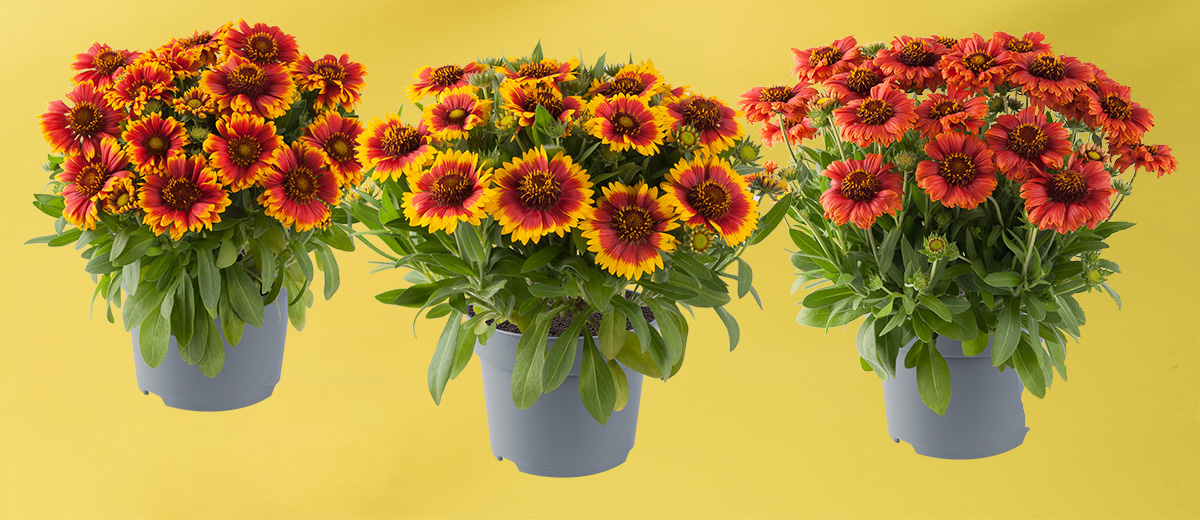 Gaillardia Guapa by Florensis' Characteristics and Sales Opportunities
The Gaillardia Guapa series by Florensis is suitable for 13 to 19-cm pots, which makes them the perfect type of plant to place outdoors. They are all ready to embellish your gardens from June to October when you can enjoy their beautiful flowers blooming the most. Best of all, Gaillardia Guapa by Florensis is great for terrace pot and bedding planting as well. It's like getting the full combo: beauty, perfect blooms, attractive color, and excellent shelf life.
3 Instant Benefits You'll Obtain With Gaillardia Guapa
-You'll obtain the most reliable product when it comes to production and supply.
-The series is multi-branched and semi-compact with many big blooming flowers​ to elevate your outdoor spaces.
-The three Guapa plants that make part of the beautiful series are early flowering and truly winter hardy.
How Should You Care for This Series to Make Them Even More 'Guapas'?
Gaillardia Guapa by Florensis does well and will thrive when exposed and placed in a spot that receives full sun. They all prefer poor soil, meaning they don't like to be overly fertilized, but they do need well-drained soil to thrive. After finding a spot to place it in your garden, make sure to water it deeply to encourage good root development. These beauties can live without watering unless there are extremely hot and dry conditions, then it's best to water the bed once or twice per week.
More About Florensis
Florensis is the world's leading breeder and young plant supplier. It offers the best genetics in the young plant market. With more than 4,000 different cut flower and plant varieties from seed and cuttings, Florensis offers you an unrivaled range of plants, with the best genetics and the highest quality level in young plants.
If You Want to Grow
As a breeder and supplier of starting material, Florensis is specialized in annuals, pot plants, primroses, pansies, perennials, and cut flowers. Add Gaillardia Guapa to your summer perennials program for a real Spanish party!