Red roses are one of the most widely cultivated flowers in the world. According to the fossil record, we can trace the history of the rose back 35 million years. Most species we know today originated in Asia, as roughly 5,000 years ago garden cultivation of roses began in China. The blooms and seeds were then traded all over the world. Throughout the centuries they have been part of mythology, medicine, and even war.
The History Behind the Flower
In Western culture, the significance of the red rose dates back to Greek mythology and the belief that the red rose was created by Aphrodite, the Goddess of Love. Legend has it that the flower grew from the ground watered with Aphrodite's tears and the blood of her ill-fated lover Adonis. Moving onto Roman mythology, the creation of red roses have been linked to Venus, the Goddess of Love. As Venus was running to warn her lover, Adonis, about a murder plot against him, she cut her ankles when she ran through a thorn bush. Her blood then turned into blooming red roses wherever it touched.
In Christianity, the red rose became the symbol of the Virgin Mary dating back to the third century AD. At that time, Saint Ambrose believed the Garden of Eden was full of thornless roses, which gained their thorns after the fall and symbolized Original Sin. Because of this, the Virgin Mary is often referred to as the "rose without thorns." Further down the line, during the Victorian Era, red roses were commonly used to send messages of love due to romantic gestures and shows of affection being basically banned. Then, when Shakespeare took to fame, this became a poetic standard and everyone knew the red rose as the symbol of love.
The Meaning of Red Roses
Red roses have captured the minds and hearts of lovers across the globe for generations. Giving a single stem or bunch of red roses on your anniversary, first date, Valentine's Day, or just because is the perfect way to say, "I love you" when words are not enough. They carry the meaning of passion, true love, romance, and desire. The red rose was and still is the most significant flower. Flower delivery companies such as MyGlobalFlowers report that red roses are the top seller flowers.
When used in a wedding bouquet, red roses are a token of appreciation and true respect. A dark red rose can convey the message that you are ready for commitment and represents passion. Red rosebuds can symbolize purity and loveliness along with romantic love. And presenting your love with a preserved red rose can symbolize your wish to preserve the love and passion you share. While the symbolism of flowers isn't always consistent because their meanings are subject to change over time, the red rose is one of the few with a lasting and universal meaning: Love.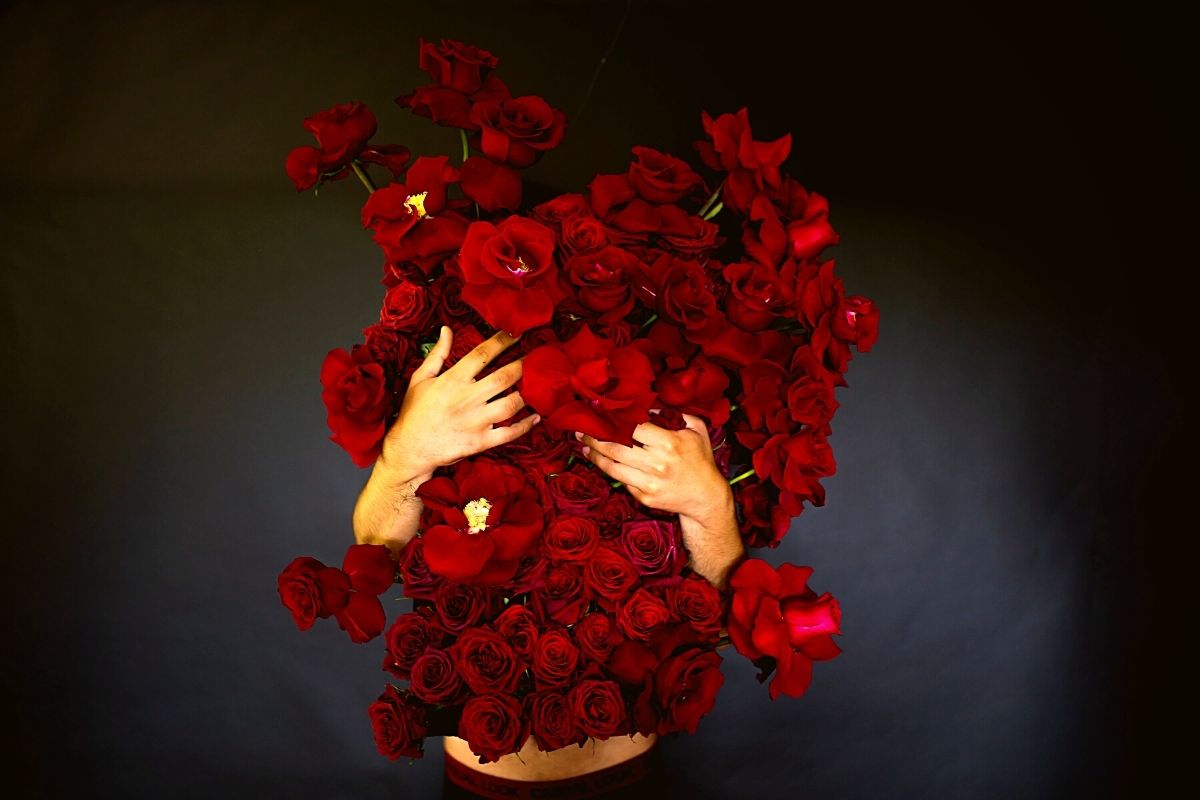 As well as the different colors of roses all have their own meaning (which you can read about in our article The Different Colors of Roses and Their Meaning), the different numbers of roses all represent a different facet of love. Here's a quick overview: One Rose – Love at first sight, or if in a long-term relationship 'you are still the only one' Two Roses – Mutual love and affection Six Roses – Infatuation and the need to be yours Ten Roses – Their love is perfection Eleven Roses – True and deep love that is treasured Twelve Roses – A classic gift that says 'be mine' Fifteen Roses – An apology for a loved one Twenty-Four Roses – Clearly state that 'I'm yours' Thirty-Six Roses – Head over heels in love Fifty Roses – A love that has no bounds Now that you know the history of red roses and the different kind of love it represents, why not gift some to someone you love?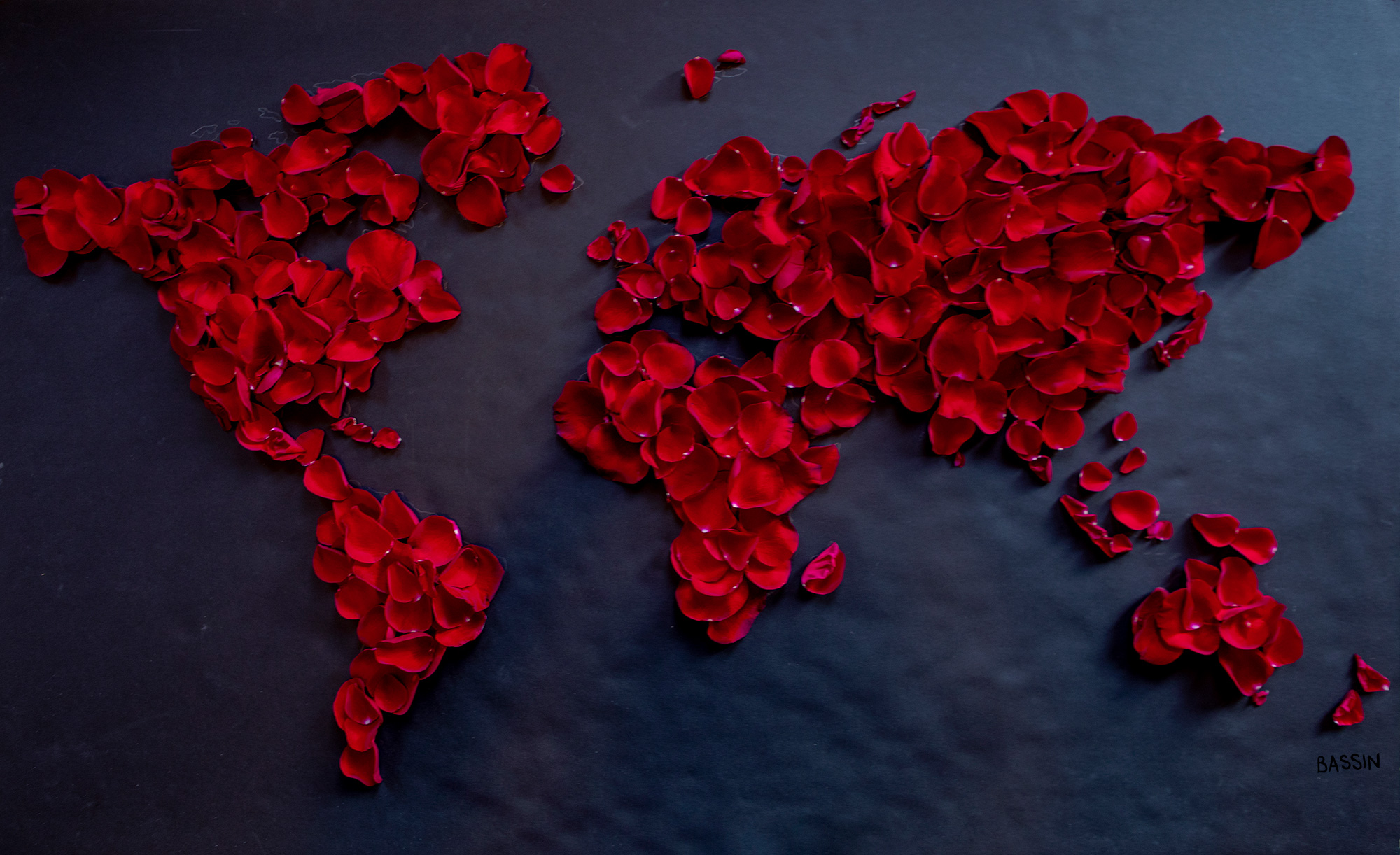 Worldmap by Charlotte Bassin - @wanderwonder.art - with Ever Red Rose Petals
Everyone knows that red roses are a symbol of love. Roses wilt easily, but custom metal pins with your loved one's name or a special element make your love never wilt. Each pin reflects your heart and mind. Wear a unique pin when you go out for dinner and she will see them in the soft light emitted. Your lover will be able to see these carefully prepared by you at every moment of the upcoming romantic evening. They are also lovely gifts you can give to your loved ones. No one can refuse an elaborate gift that only belongs to her.