Museum Slager in 's-Hertogenbosch, Netherlands, presents an exhibition by art photographer Frank van Driel. From 20 November 2021 to 3 April 2022 visitors witness 'The Art of Perception', a selection of contemporary still lifes and (nude) portraits. Many of his works show brilliant floral compositions.
At the same time, the artist is launching his first photo book 'to be frank', a personal deep dive into Frank's mind and motivation. Let's go and see the exhibition and talk to Frank.
The Art of Perception
In his photographic artworks displayed for The Art of Perception exhibition, Frank van Driel clearly makes use of light and symbolism as a reference to the Dutch and Flemish master painters of the 17th century. There is a clear resemblance between Frank's floral works and those of the masters of the Golden Age of Art that you could see in this December 2021 article In Full Bloom: A Unique Floral Exposition of Dutch Masters From the 17th Century.
Van Driel only shoots with natural light and connects past, present, and future: antique objects made of glass, silver, pottery, and tin enter into an intriguing interplay with people, game, fish, flowers, fruits, and contemporary objects.

Frank van Driel
Frank van Driel completed a Business Administration degree at Erasmus University Rotterdam, Netherlands. He eventually followed his heart and became a professional photographer in 2001. After a period of commissioned shooting portraits for CEOs and royals, Frank decided that his true passion was creating his own works. For this, he set up his studio in the historic city of 's-Hertogenbosch in the tranquil surroundings of a former monastery.
The autonomous work of the photographer has been presented at many high-profile Dutch art fairs and exhibitions in galleries in Amsterdam, Antwerp, Hong Kong, and London. His work has received international awards and is included in the collections of many private collectors and companies.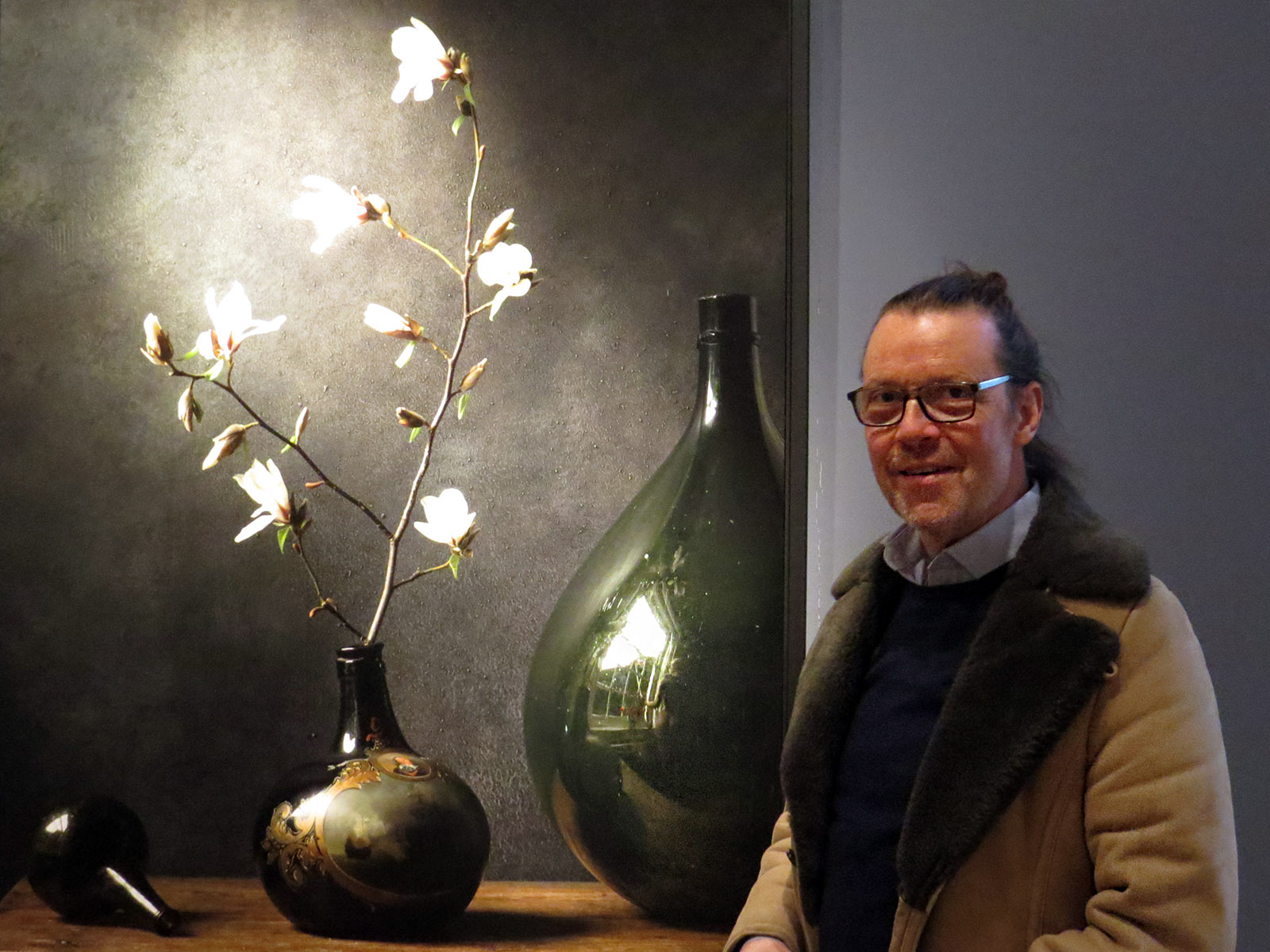 Frank van Driel in front of a piece from the Soul Scapes I series. Watch the reflection of his studio window in the large vase.
A Passion for Purity
Frank has a great passion for purity, history, and nature. Storytelling is central to his serene works. He subtly reflects on current topics such as nature conservation and sustainability. Behind every work, there is a story. Due to the layering, new elements can be discovered time and again.
Still, despite the fact that Frank has his own story ready with each of his artworks, he admits sneaking in sometimes during the opening hours of the exhibition to just walk around inconspicuously, listening from a distance to what people say when they look at his photos. He is very curious about what is the perception of the viewer.
Interviewing Frank
Frank is an artist who is very approachable and open, so his invitation to a private tour of his exhibition and studio and the possibility to ask him some questions was welcomed with open arms. Walking around in the atmospheric rooms of Museum Slager, Frank takes the time to show the 23 artworks on the walls, spanning a period of 14 years, from 2007 until 2021. He speaks uncurbed about his works, explaining his motives and motivations, and of course his new book.
Photos That Look Like Paintings
What are we looking at? That is the first big question to Frank when watching the artworks. Do we see paintings or photos?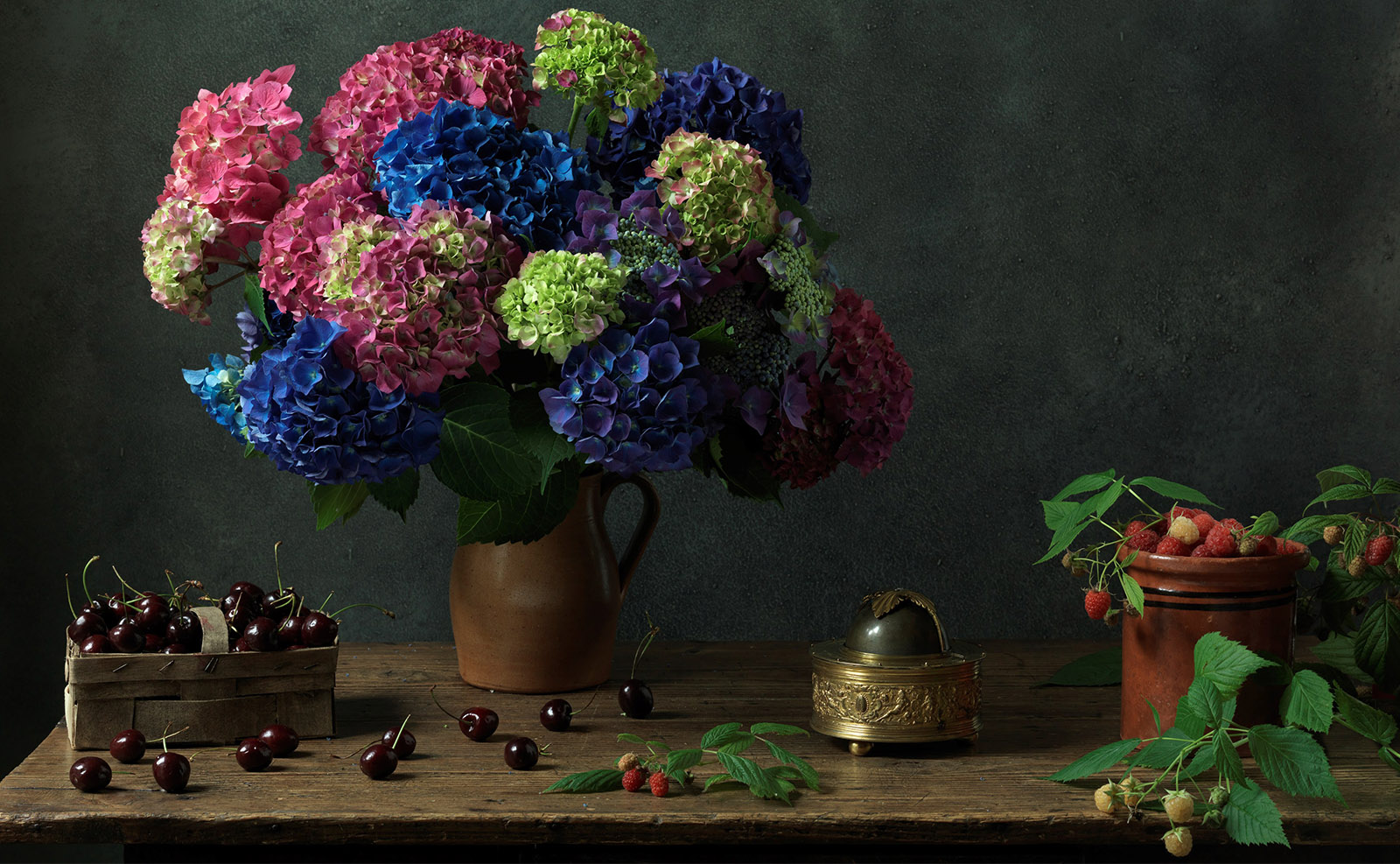 Title: The Naked Truth, from the series Calculated (2017)
Frank:
"You are looking at photos that get a kind of painting look. I use only natural light, in which the use of light and dark is essential for the result, just like the painters in the 17th century. The weather outside - I prefer overcast - and the time of day are both vital for giving me a good time frame to shoot a picture. I do not retouch the images with Photoshop. It's all one click of my Hasselblad camera."
Look and Look Again
Your work contains many layers. One is forced to look and look again. How do you go about creating this?
Frank:
"My works have many layers. I combine flowers and antique objects, for instance, in a still life with a nude model. Yet, there is always a kind of balance - a 'Feng Shui' if you will - bringing tranquility to the composition.

I get my inspiration from history, nature, and current themes. I'm not a type of brawler but want to express my opinion on these things. And I want to make people think. That's why I make a picture of what I think and feel.

I spend a lot of time in the preparation of a composition, collecting items, and waiting for the right light. Literally, every single item in the photo has a meaning and is placed in a way that gives meaning. Nothing in the pictures is there by accident. Therefore, some works may take a long time to prepare. I have this image in my mind and collect what I need until I have it all and the conditions are perfect. For example, I have a future photo in my head with many dried petals. Those petals are drying as we speak, and I wait until they're finally ready for the photo."
A Photographer or a Florist?
In many still life photos, we see wonderful floral arrangements. Do we see, besides the photographer, also a florist at work here?
Frank:
"To call me a florist may be overrated. I do quite a bit of research on all the objects in my photos, also the flowers. My brother-in-law is a tulip trader, he has the finest tulips in all sorts and sizes. Sometimes, the flowers in my still lifes are literally picked from my own or my neighbor's garden, and there's a beautiful magnolia tree just outside my garden. I first look at the beauty of a flower and see how I can use this. I do make all the bouquets myself, though. In that sense, I am a kind of florist, yes."
From the left. Title: Fragment 6, from the series Fragments (2021). Title: Abysmal, from the series Soul Scapes I (2019)
Do you get inspiration from the 17th century floral still life painters, who were - in a way - the first-ever floral designers?
Frank:
"Yes, I am influenced and inspired by these artists. I am using historic aspects a lot in my photography. And the variations in light and dark can also be derived from that era.

Furthermore, both in 17th-century floral paintings and in my works, you encounter a lot of symbolism. That's why the title of this exposition is The Art of Perception. You really have to look twice and more closely to discover the symbols."
The Moving Still Life
Tell us something about this still life with tulips. It seems to move, which is quite odd for a still life.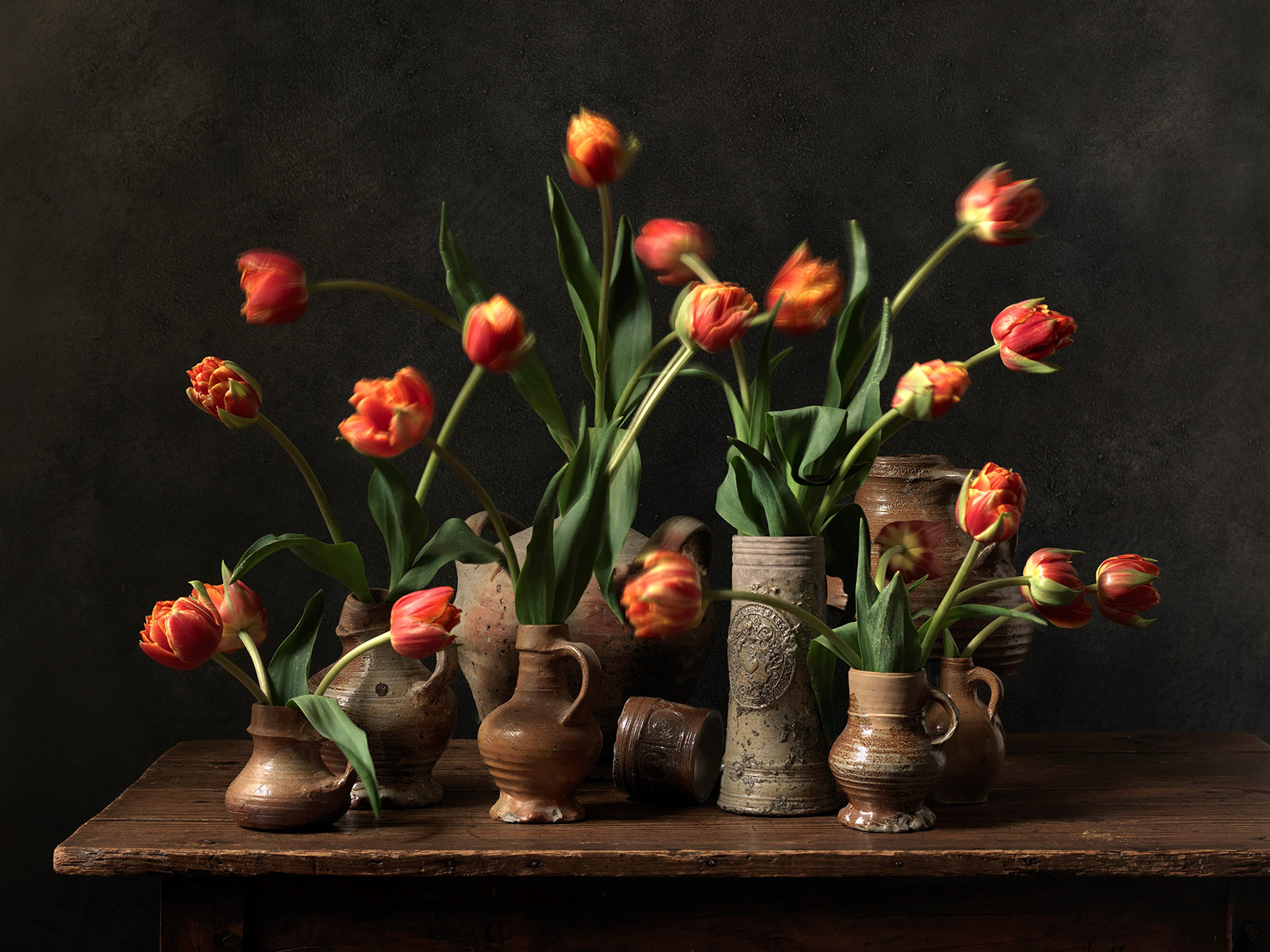 Title: Fragment 10, from the series Fragments (2021)
Frank:
"I like to use this movement in my still lifes. There are two ways to do this; either by playing with depth of field or shutter speed. In this photograph, I am standing on the side of the table waving air, making the tulips move, while the earthenware stays still."
My Book: 'to be frank'
Just now Frank announces the release of his first book, called 'to be frank'. The book is a collection of more than a hundred of his finest images. It invites you to join him on an inspiring journey that connects the past, the present, and the future. It sheds light on the hidden layers and thoughts to be found in his oeuvre.
Why this book?
Frank:
"The book is called 'to be frank, in lowercase. Yes, my name is Frank too, that's a striking coincidence. But the book is about being frank in who I am, in eleven theme chapters.


One of the reasons why I decided three and a half years ago to make this book is that I want to explain the meaning of the layers in my photos. There is so much to see, even in what appears to be the simplest of images. The details show the idea behind the photo, the hints to the past, present, and future, and how I look at life, death, and circularity. It's definitely an added value for readers to know what I mean by the image, although everyone's own perception is also true."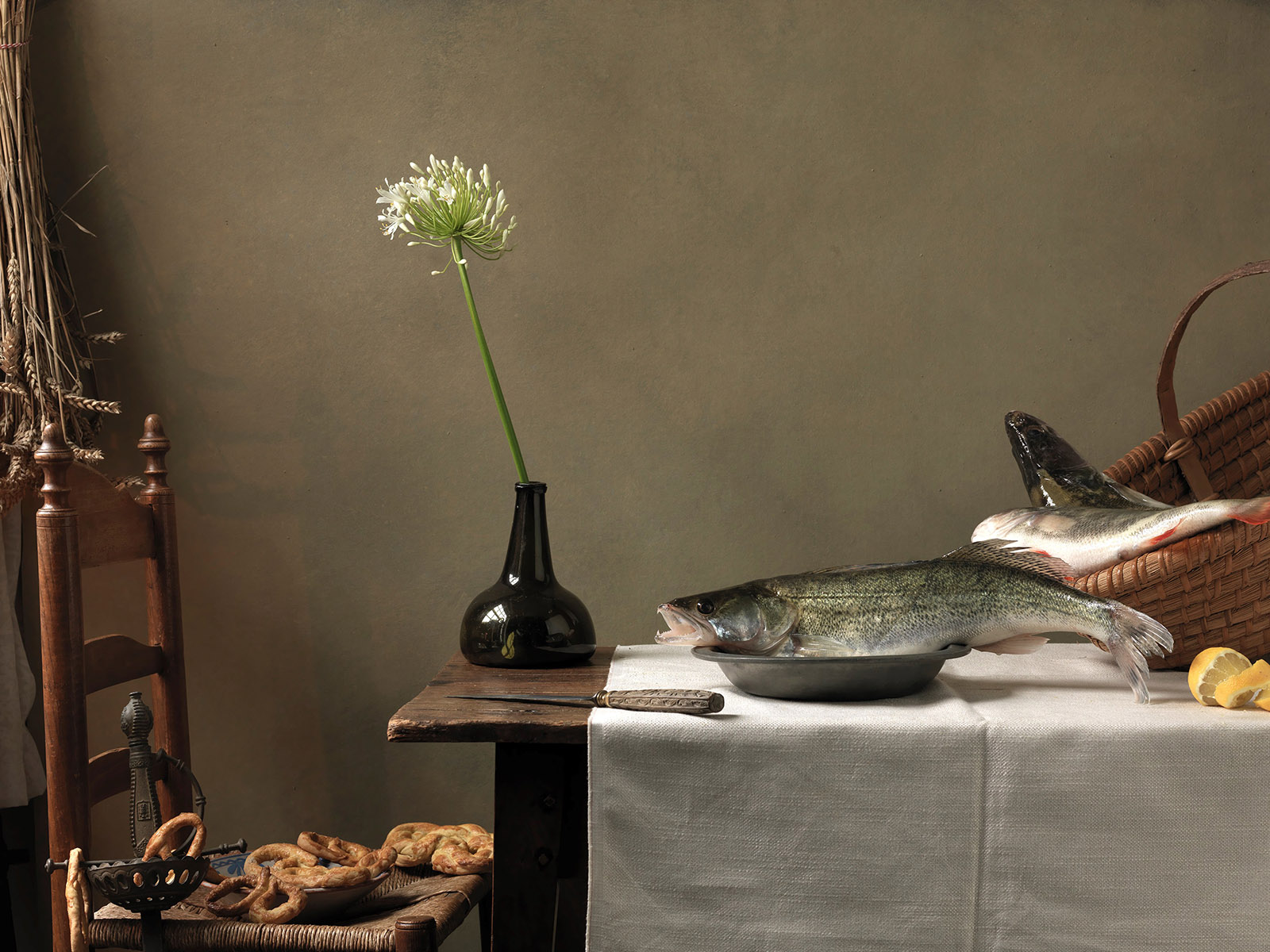 Title: Stilllife with Zander & Bass, from the series Legit (2020)
From Grandmother to Rock Chick
Perhaps the most iconic image of the exhibition is also the cover of Frank's book. What's the story behind this intriguing photo called 'Delighted'?
"In my book, I tell about the way I work, how I use light, and how I connect my art to history. On the cover you see this connection in 'Delighted' - from the Dutch Delight series - by means of a hip young Dutch girl of today, wearing her hair in a trendy style. In fact, this is an ode to my 90-year-old grandmother who rolled up her hair every morning under her Zeeland cap.

This is my first photograph as an artist. The girl in the picture points a gun at you, actually at everyone in the room. Walk to the left or to the right of the photo, she keeps pointing at you. This is an example of three layers I use a lot: history, today, and future. The clothes and rolled-up hair tuft make the girl look like a modern rock chick. Yet, these traditional clothes with red blood coral necklace from the Dutch province of Zeeland, and the hairdo are exactly what my own grandmother - even when she was already 90 years old - used to wear daily. This is modern history."

Frank leaves the interpretation of the future to us viewers. It's perhaps the expectation of what's next. Will the girl fire the gun? Will she lower it and smile at us, enjoying that she scared us a bit? She does not look unfriendly as all, more steadfast. We are left to our own perception, our own fantasy if you like..."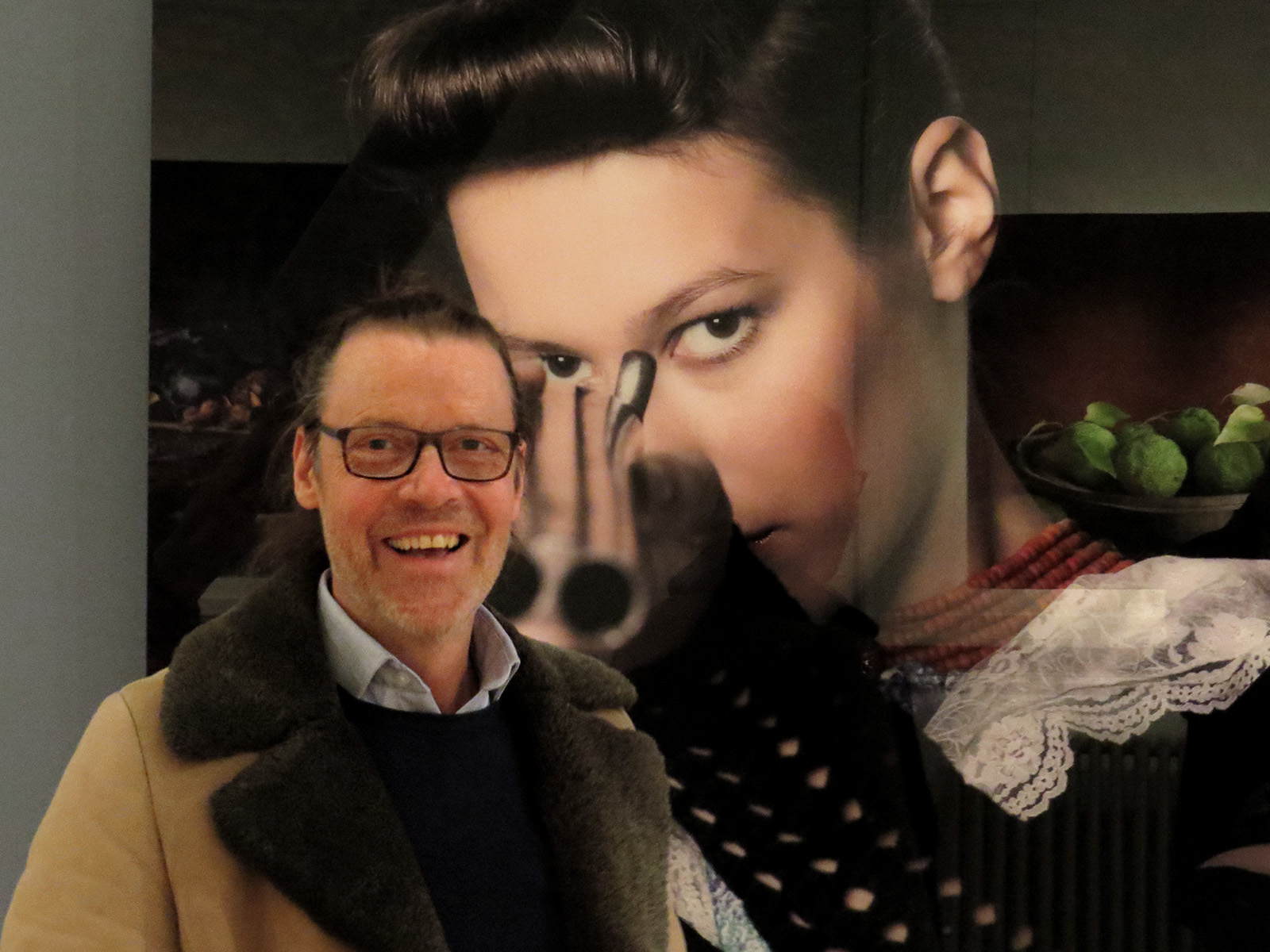 Frank van Driel at gunpoint from 'Delighted'
Inspiration for Florists
What inspiration do your artworks and this massive book offer to florists?
Frank:
"I am offering a different perspective on floristry that floral designers can use besides their day-to-day work. Flowers as art is very much about creating bouquets and abundant floral pieces. My works show that their floral designs can be immortalized by making a still life composition, creating the various dimensions or layers, and letting the viewers think about what it is they see.

For example, use a vase standing next to the bouquet that mirrors another bouquet or scenery in the background. It immediately mystifies your artwork. I have used the reflection of a large vase with magnolias to show a nude model lingering by the window of my studio. Two worlds came together here in a delicate way: still life and nude photography."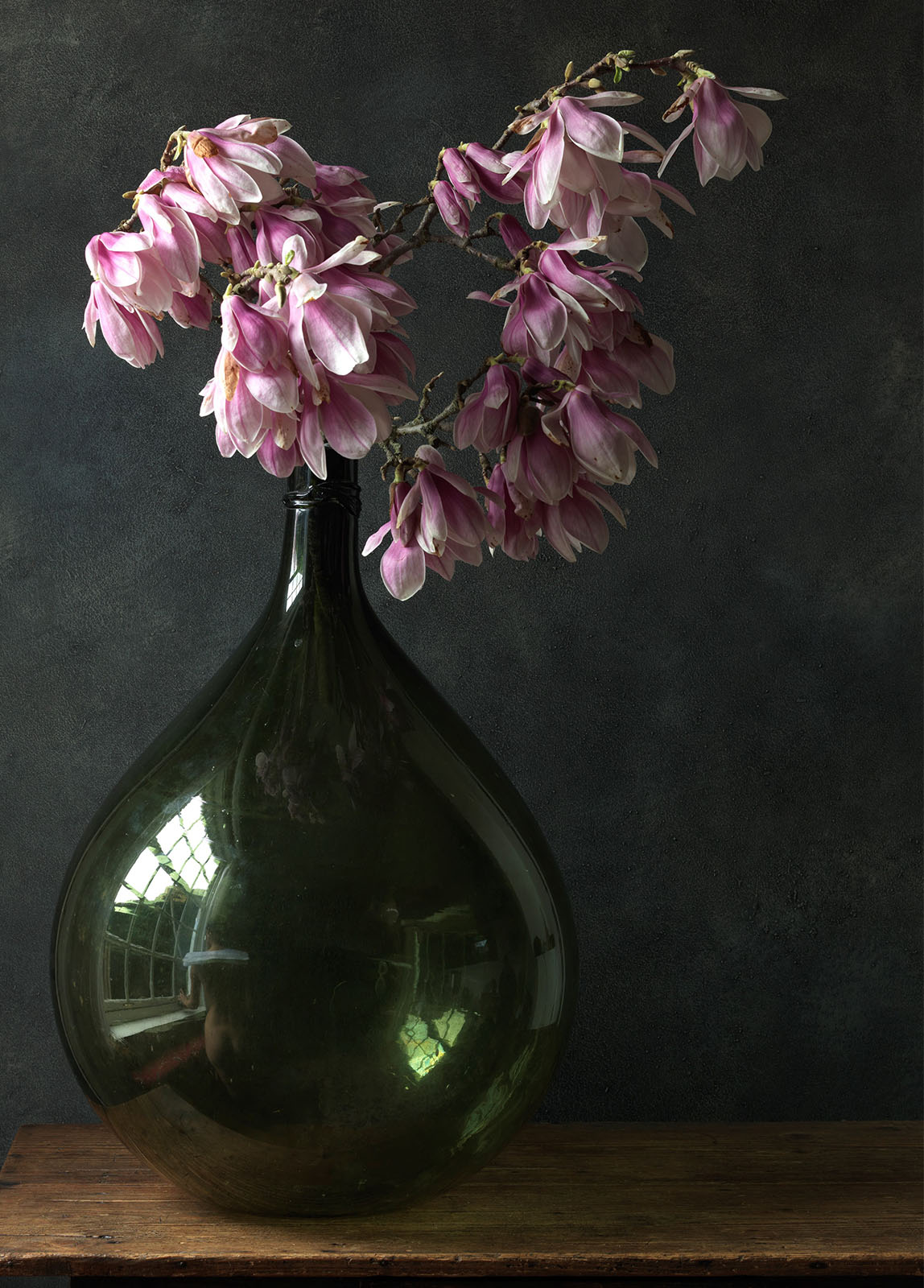 Title: Perpendicular, from the series Soul Scapes (2019)
How to Get the Book?
The book is more like a BOOK. It's huge! The 302 pages weigh 3.4 kilos. It's a book to look at the +100 fascinating highly detailed photographs and read the stories behind them. A must-have for adorers of figurative art. The exhibition in Museum Slager may be ending soon, but the book is for eternity. It's for sale and available worldwide. Check this link to order your copy: https://to-be-frank.com.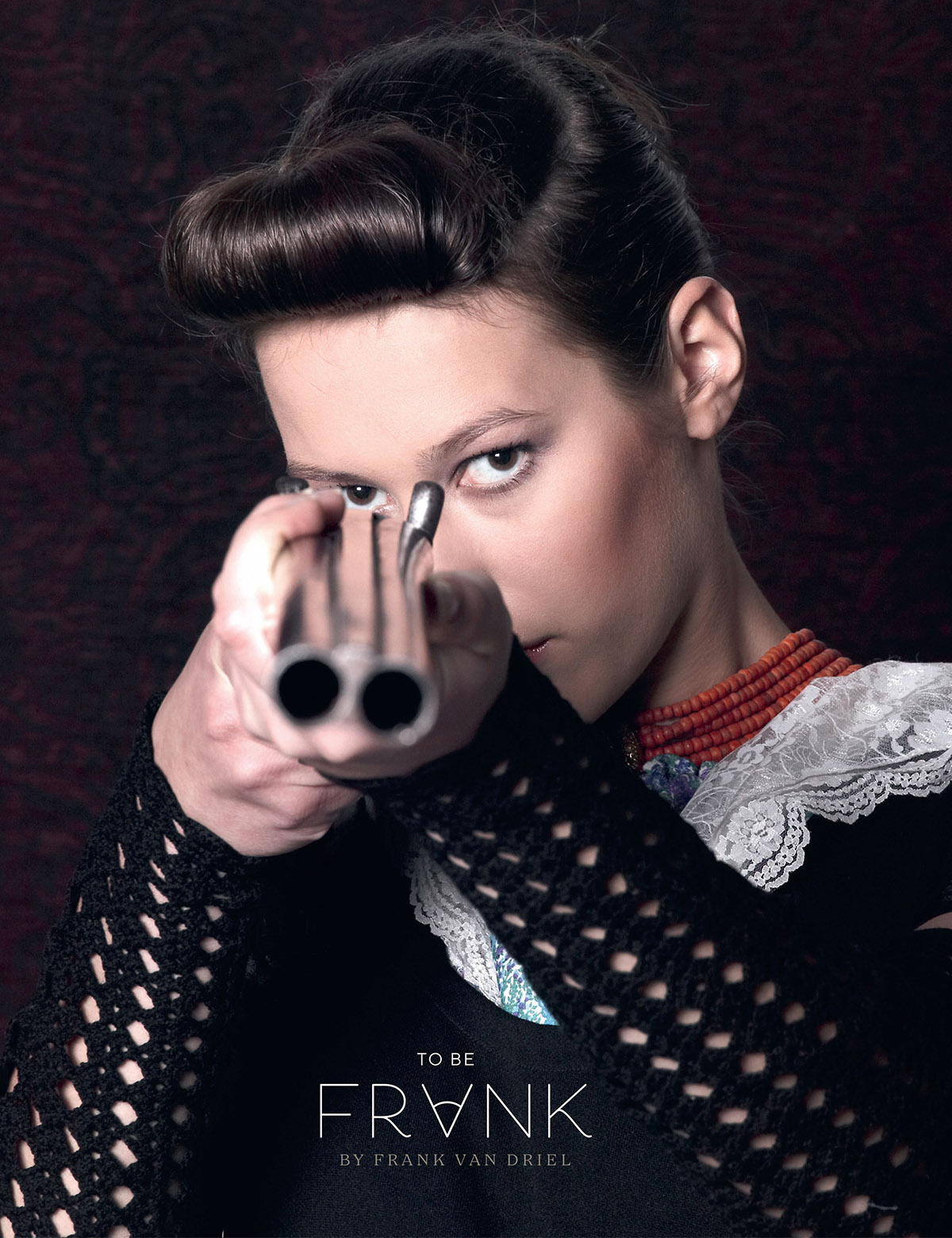 Images courtesy and copyright: Frank van Driel.