During the 2023 International Floriculture Trade Fair, floricultural magazine Thursd introduces its new platform myThursd. And you are invited to come and learn all about how it can elevate your business!
What is myThursd?
You already know Thursd, because you may have read the online magazine for several years already. You receive the newsletter frequently and you see that Thursd brings interesting stories about the floral industry and all that is interlinked with it, great articles and blogs from renowned designers that show how flowers and plants make people happy. But Thursd goes more than one step further with myThursd. The word 'my' is where you come in...
myThursd is designed to connect the whole chain of floriculture, including you. Whether you are a breeder or grower, a wholesale or retail trader, an event designer or a florist, a photographer, a marketeer, or any other creative (or anywhere else on the road from production to consumption); myThursd is your place to connect with people and businesses in an easy way.
myThursd is the floral meetup spot! An ultimate hub for businesses and people to connect, collaborate, and conquer the market together! Where you can unlock opportunities as you connect with diverse enterprises, exchange services, and join forces for powerful promotional campaigns.
Say What You Want, Show What You Can
When you are on myThursd, you will see that you can start, coordinate, and fine-tune floral projects, and campaigns. Whether you need product promotion as a grower or breeder, looking for an influencer to promote your offerings as a trader, or are looking for the right flowers when you have an event, and you are looking for a sponsor as a floral designer, myThursd is the place.
myThursd links breeders, growers, and other producers with floral designers, photographers, and other creatives to whatever collaboration you seek. For example:
I am a grower, and I am looking for high-quality pictures of floral designs with my flowers for my own social channels.
I am a breeder, and I want to introduce a new variety, so I want to get in touch with many floral influencers with a large audience to promote my new variety on a specific date.
I am a trader, and I am looking for floral designers to write about me on Thursd.
I am a wholesaler, and I am looking for a demonstration florist for my event at my cash & carry.
I am a producer, and I need videos of my flowers or any other video.
I am a collective, and I need a new website.
I am a florist, and I need flowers for this amazing event that gets a lot of attention on TV.
I am a florist, and I am looking for a freelancer.
etc, etc.
myThursd works both ways. From breeders, growers, and traders to floral designers and other creatives. And it also works the other way around: it connects flower designers to get the right flowers and plants for their projects. Or to find the right people to work with!
So, on myThursd you show what you can. In both cases, myThursd is aimed at getting the right persons to collaborate.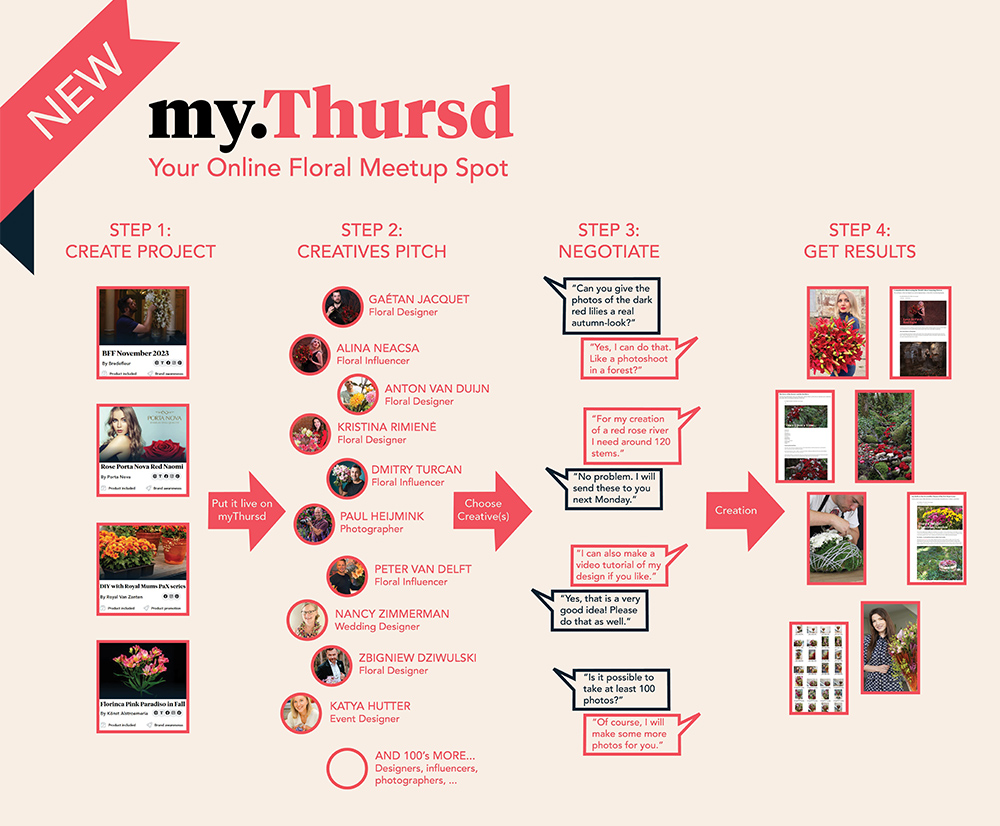 A Link to Thursd.com?
myThursd is a piece of software and platform on its own. In order to join, you have to become a paying member. Some advertisers can decide to ask the creative to write about it on Thursd as well. This is an option that would enlarge the advertiser's audience tremendously. And could include building dedicated product pages and your own business page on Thursd as well.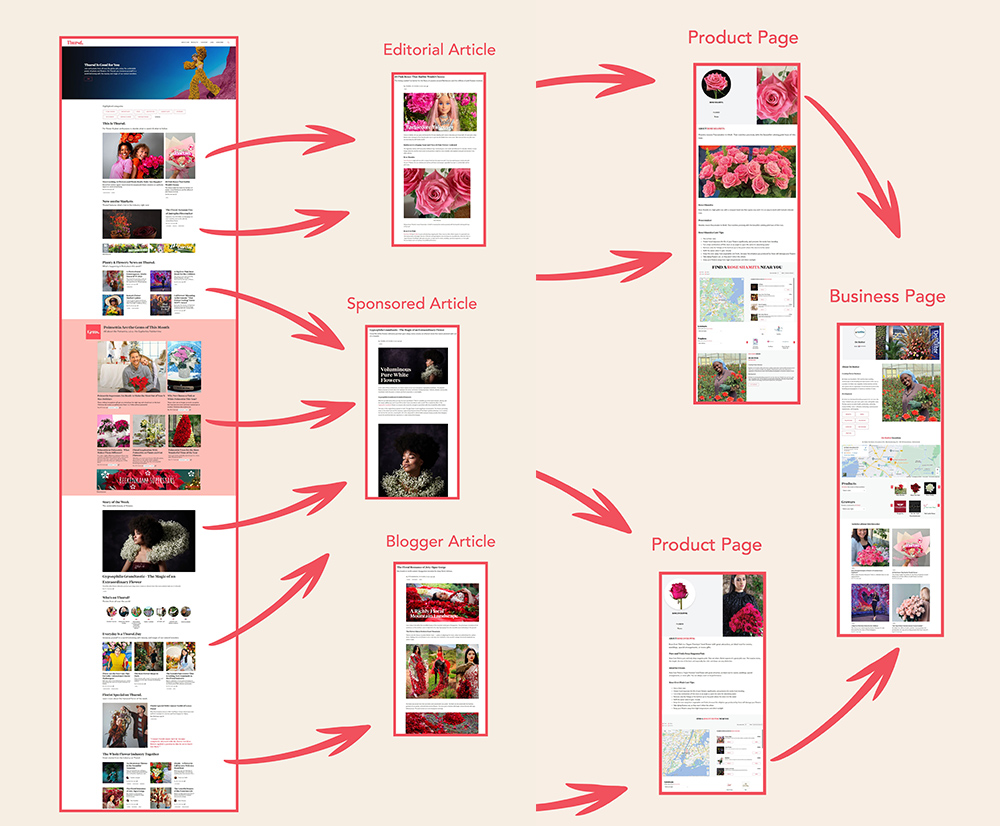 Pitch & Go
Are you ready to take the next step in floral marketing? Get ready to pitch & go on myThursd. Come to booth D5.36 at the IFTF to learn more, and join.
You can book a private meeting with a Thursd team member here: https://calendly.com/thursd/iftf2023
The venue address of IFTF is:
Greater Amsterdam Expo (formerly known as Expo Haarlemmermeer)
Stelling 1
2141 SB Vijfhuizen
Netherlands
Exhibition hours are:
Wednesday, Nov. 8, 2023, from 10:00 - 18:00 o'clock.
Thursday, Nov. 9, 2023, from 10:00 hrs. - 18:00 o'clock.
Friday, Nov. 10, 2023, from 10:00 hrs. - 17:00 o'clock.