Let it be Christmas already! We all look forward to that time of year, wanting to get together, and hold on to traditions! Candles, stars, fir, cones… without them, we would miss something during Advent. With
BLOOM's
Christmas trend 'Classic & Elegant' you'll be ready for the season of festivities.
BLOOM's Christmas Trend 'Classic & Elegant'
And yet we feel significant changes. So many things have become important, playing an increasingly important role in these fast-paced times. Yes, these changes can also be felt in Christmas floristry, too: the rediscovered appreciation of a "homing" picks up traditional and familiar things in the spirit of the beloved Christmas. You really notice that the environmental and ecology topics are getting more and more of a say in this.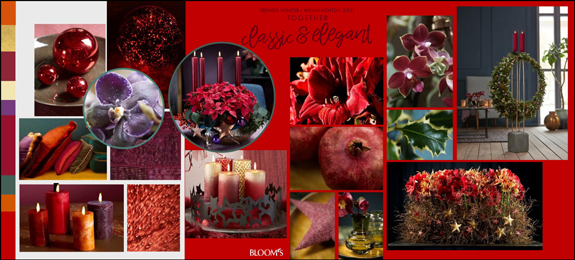 Natural and Durable Materials
Natural materials are in high demand, walks in the woods are an inspiration. Durable materials and handicrafts are advancing, and green is gaining in importance as the emblematic color of nature. Re- and upcycling are more in vogue than ever. Completely new and casual arrangements are in demand.
Get Ready With BLOOM's Christmas Trend 'Classic & Elegant'
After a time of crisis, however, the desire for luxury and extravagance is also noticeable. This is reflected in completely new, vibrant color palettes, exciting surfaces, and new shapes. It's time to prepare for the Christmas spirit and work towards the
BLOOM's trend weeks
starting 3 September 2021. Here's everything you need to know about BLOOM's Christmas Trend 'Classic & Elegant'.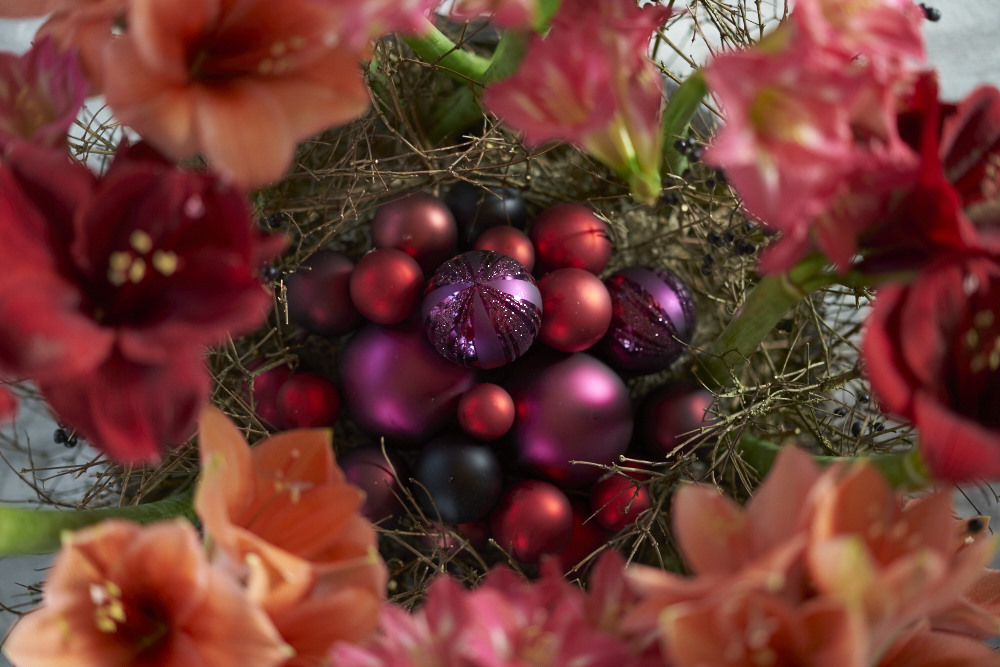 In uncertain times, the longing for classic elegance and solid values ​​grows. From a floristic point of view, magical poinsettias and deep red amaryllis are the epitome of traditional Christmas red. Different shades of red in connection with dark green, cream, and gold are the basis of classic shapes and timeless designs. The purple accent is vibrant and new.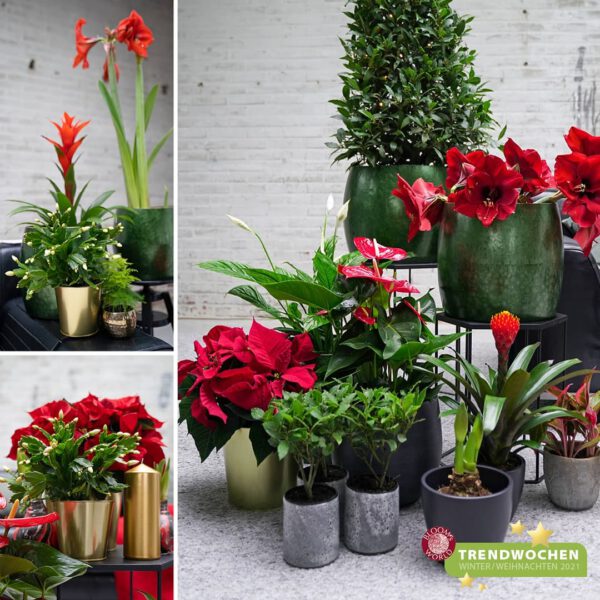 Amaryllis
Amaryllis usually have a dominant effect in floral arrangements, if only because of their stem length and the flowers, which can be up to eight inches in diameter. They symbolize a proud demeanor as well as elegant beauty and bring a Christmas atmosphere into the living room. The deep red varieties are particularly popular in the cold season. When placed on window sills in combination with candles, they make a grand entrance. But the color spectrum of the amaryllis has much more to offer and can also create a Christmas mood in lighter tones. With moving twigs and delicate branches as a companion, the impressive flower is presented in a classic yet modern way.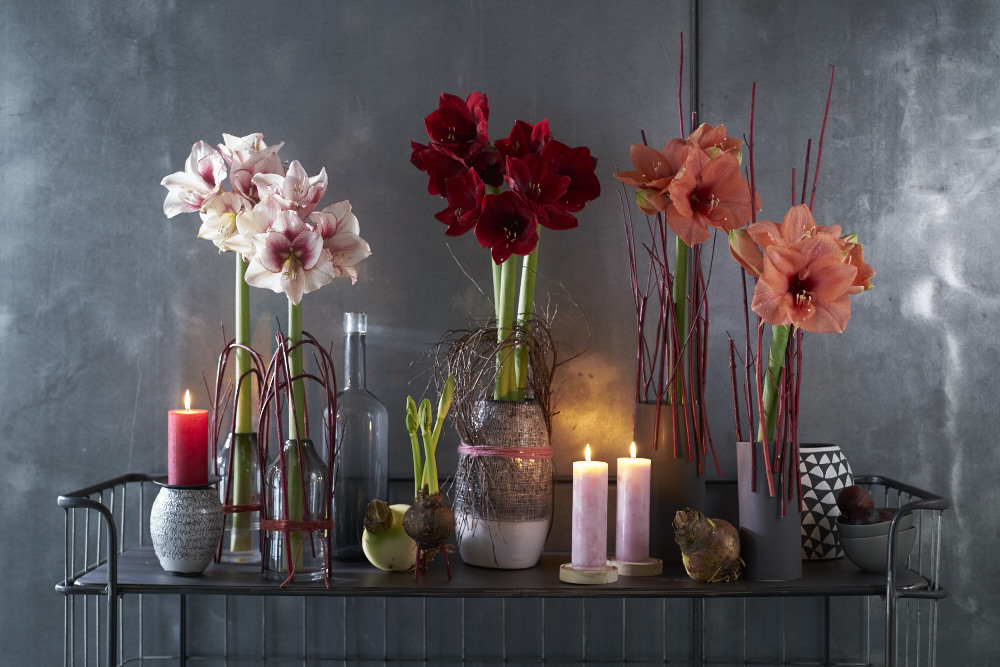 Poinsettia
It is the classic of the pre-Christmas season! We're talking about the poinsettia! The plant owes its popularity to the beauty of its bracts, the star-shaped arrangement of which makes it one of the most important symbols of Advent and Christmas. The majority of poinsettias sold are in the classic red but in different forms. But also exciting colors such as apricot or special shapes offer new incentives for design and sales. Especially in combination with shiny balls, shiny stars creates an exciting play of colors with purple, shades of pink and g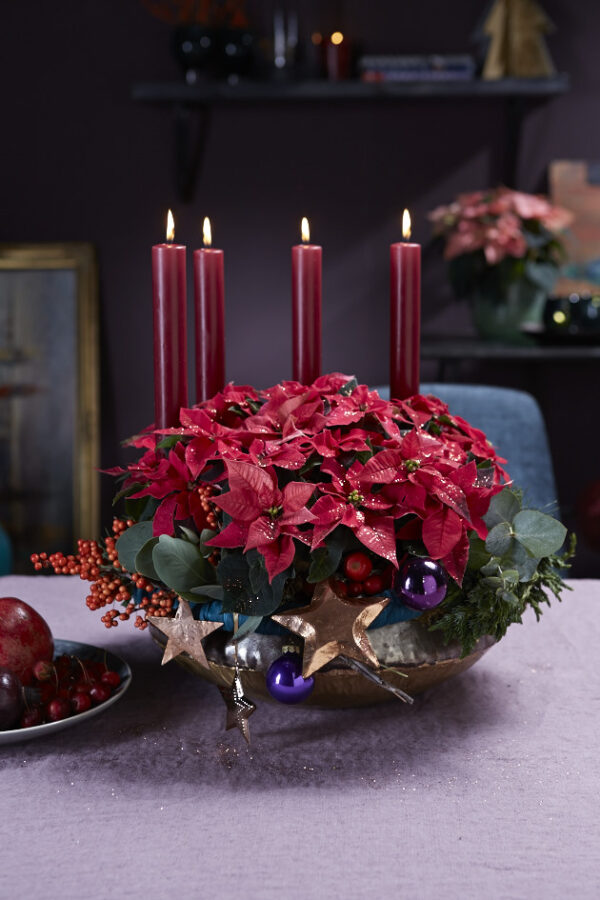 timeless • classic • festive • elegant • well-formed • silky • shimmering • velvet and silk • tweed • thick glass • rough textile accessories • fringes • gloss • shiny balls • compact shapes • amaryllis • poinsettia • ilex • pomegranate • many shades of red • matt gold • purple accents