About MPS - Driven by sustainability
The MPS Group supports horticultural entrepreneurs worldwide in their efforts to operate more sustainably. MPS offers them a complete package to make quality and sustainability transparent, measurable, and demonstrable. To this end, MPS develops innovative certification standards and on and offline tools.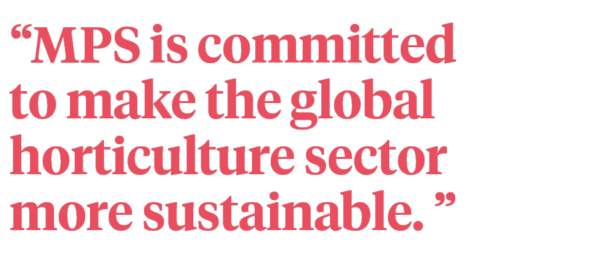 MPS-ABC is more than just a certificate
It is a monitoring tool that helps companies make the necessary adjustment to reduce their environmental impact. By recording usage, measurements can be made to determine how sustainable a company's production is. This leads to a more conscious use of resources, and growers can use the data to keep making their company even more sustainable.
Steps to Environmental Certification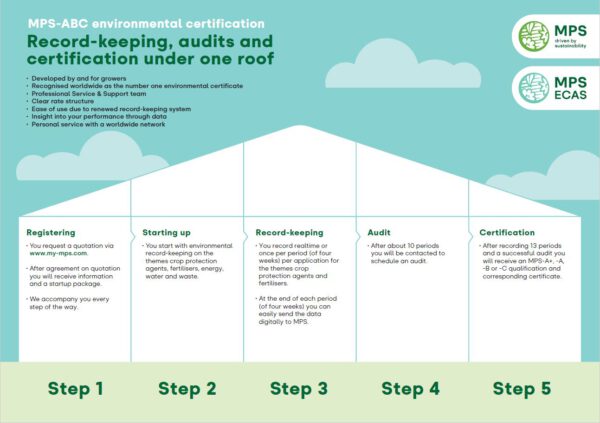 Why choose MPS-ABC?
Obtaining an
MPS-ABC
certificate makes your environmental performance more transparent. This is why MPS-ABC is the first step towards demonstrably sustainable business operations. Besides monitoring, you can also use the certificate for marketing purposes. After all, it distinguishes your company from others. In addition, the certification can bring more structure to your business operations and provide openness towards society. Other reasons to choose for MPS-ABC:
- Personal service and guidance - Help with start-up, if desired at your company - MPS meets FSI requirements - Clear cost structure: all-in-one price with no hidden costs - Ease of use: easily record your usage online - Developed together with growers - Digital overviews every quarter: gain insight into your usage and where you can improve
More Information
More information about participating in MPS-ABC? Please contact
Sales & Account Management
.
How does a grower experience digital environmental record-keeping with MPS-ABC?
Meet the MPS Group
Download more information
Below you can download the MPS brochures about FSI2025, Sustainability, and MPS & MPS-ECAS.
Our rates
Please check the price list for your region. Download your PDF below:
Price List Europe
•
Price List USA and Canada
•
Price List Africa, Asia, Latin America, and Oceania
Contact details & social links
For more information
go to the website of MPS
, or please contact service & support via
[email protected]
. For socials, click the icons below: