International Women's Day is known to be an extremely special celebration and commemoration worldwide where millions of women (and men) go on out to parades and celebrations to give women all the support they deserve while they raise their voices to the world. This year, on American Tulip Day, 80,000 tulips will illuminate San Francisco's Union Plaza in honor of International Women's Day and you cannot miss it!
San Francisco's Union Square Will Be Illuminated With Thousands of Tulips
Yes, this will indeed be one of the biggest tulip takeovers of all time, taking place in San Francisco, California. Union Square will be transformed by 80,000 American-grown tulips, grown from Dutch bulbs, in honor of International Women's Day.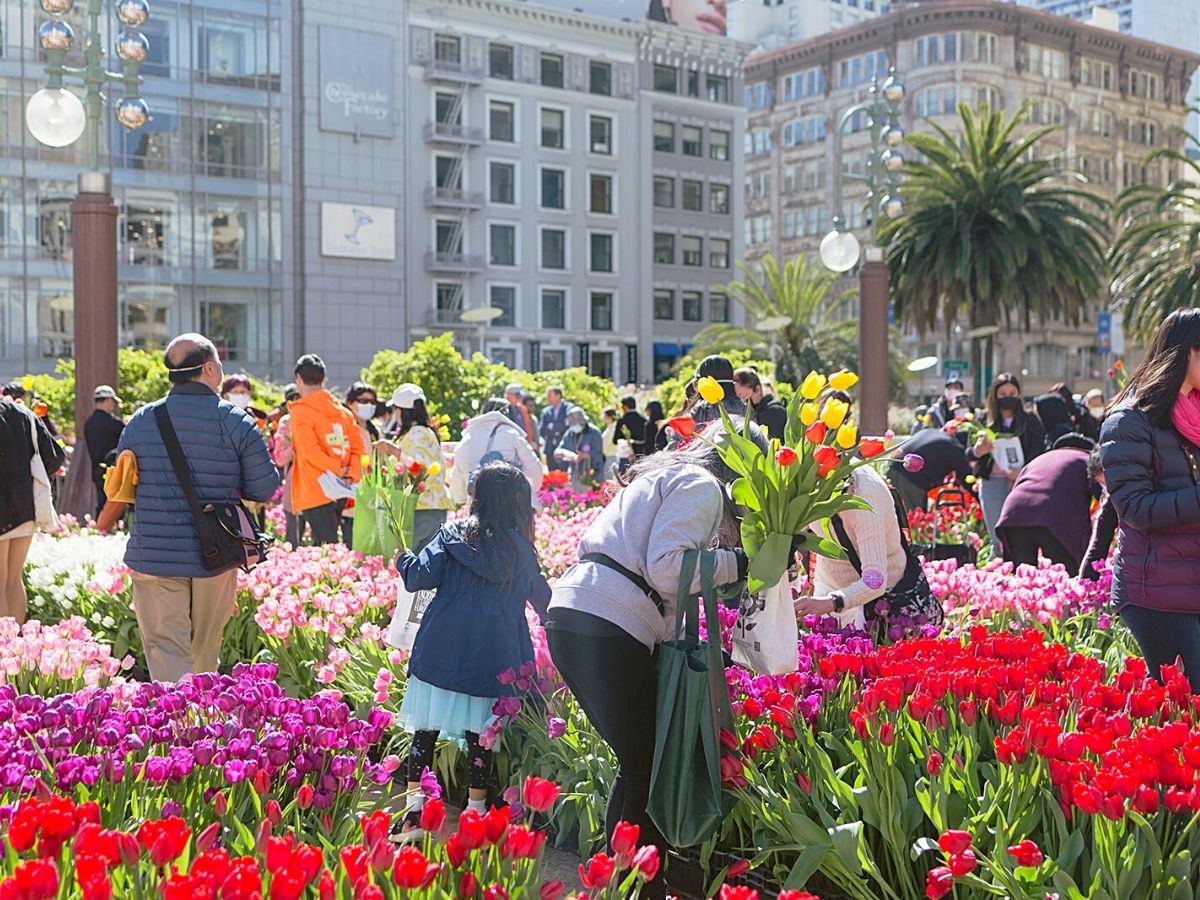 This March 4th, 2023, the public is invited to come and pick a free bouquet of tulips for themselves or as a gift to a woman who has inspired them this past year. Henk Westerhof, President of Royal Anthos shares:
"We are so excited to be back in San Francisco for our popular American Tulip Day. A bouquet of tulips is the perfect way to honor the extraordinary women who inspire us every day. Tulips symbolize unconditional love, new beginnings, and charity."
What to Know About the Tulip Display in Union Square
The Mayor of San Francisco, London N. Breed, and the President of Royal Anthos, Henk Westerhof, will open the ceremony at 12:00 pm on March 4th, 2023 at San Francisco's Union Square (conveniently located near Powell Street BART station). At that time, Henk Westerhof will present a bouquet of tulips to the Mayor named after her and share his gratitude towards the Dutch people for their strong relationship with the City of San Francisco.
The 'Tulip Garden'" will then open to the public at 1:00 p.m. and will be closed at 4:30 p.m. By that time, all 80,000 tulips will be picked and give many American households a wonderful feeling of early spring. And you are invited to visit the square and pick your own bunch of tulips (the maximum is 15 tulips per person).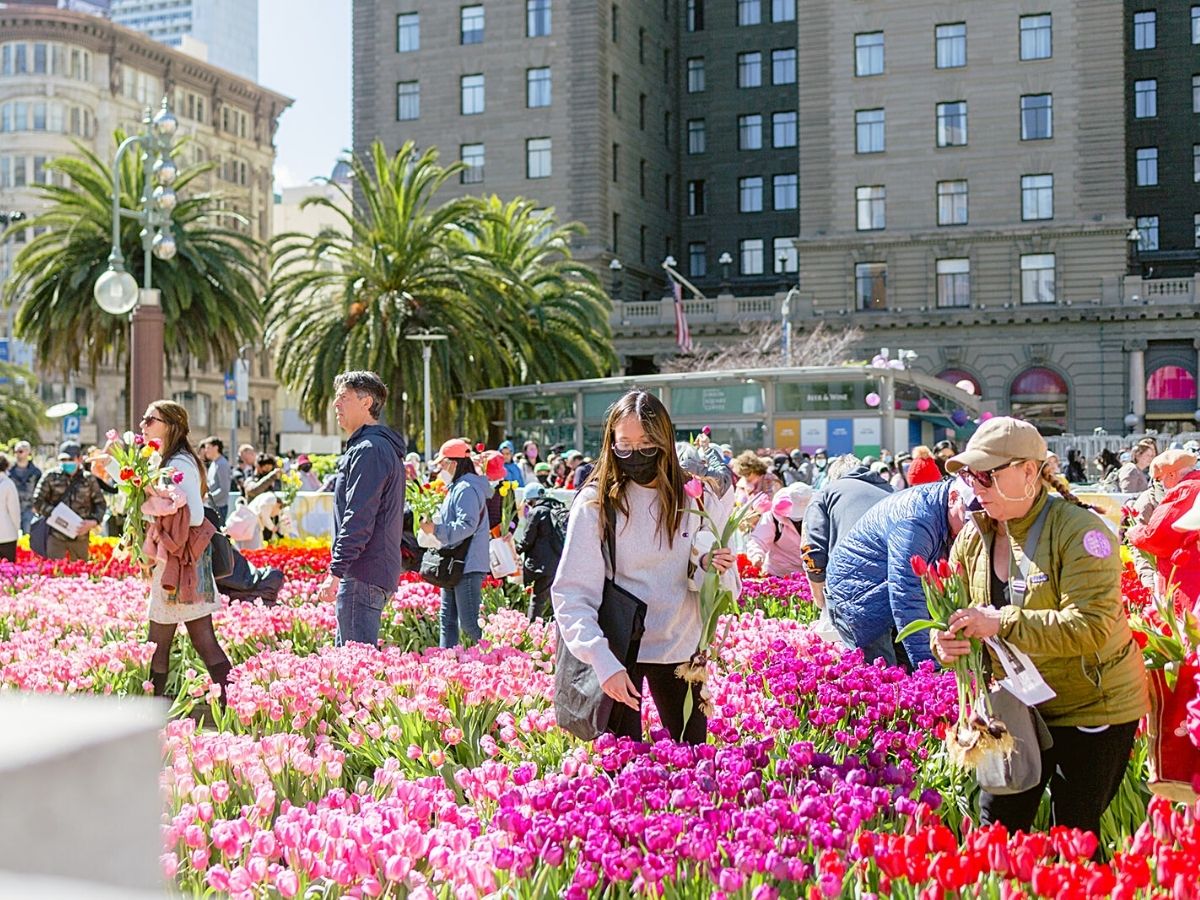 Tulips to Honor Women Around the World
Tulip Day brings so much color and joy to Union Square. There's no more spectacular way to welcome spring than picking a bouquet of tulips in San Francisco's iconic public plaza. But what will you actually be doing at Union Square and what is the intention behind the 'American Tulip Day?'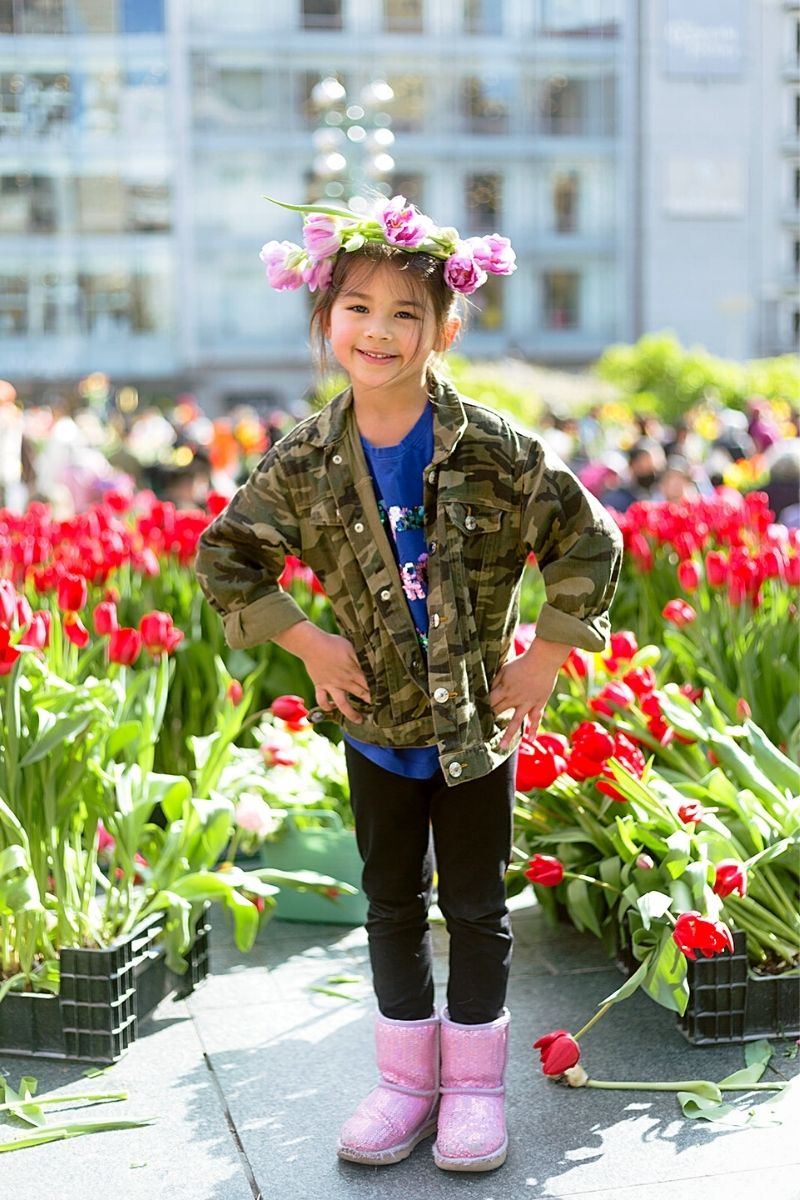 During the tulip event, you can pick your own bunch of your liking and build your own bouquet or one to share with a woman who has inspired you in honor of International Women's Day. As always, access to the Tulip Garden in Union Square is free, and so are the flowers.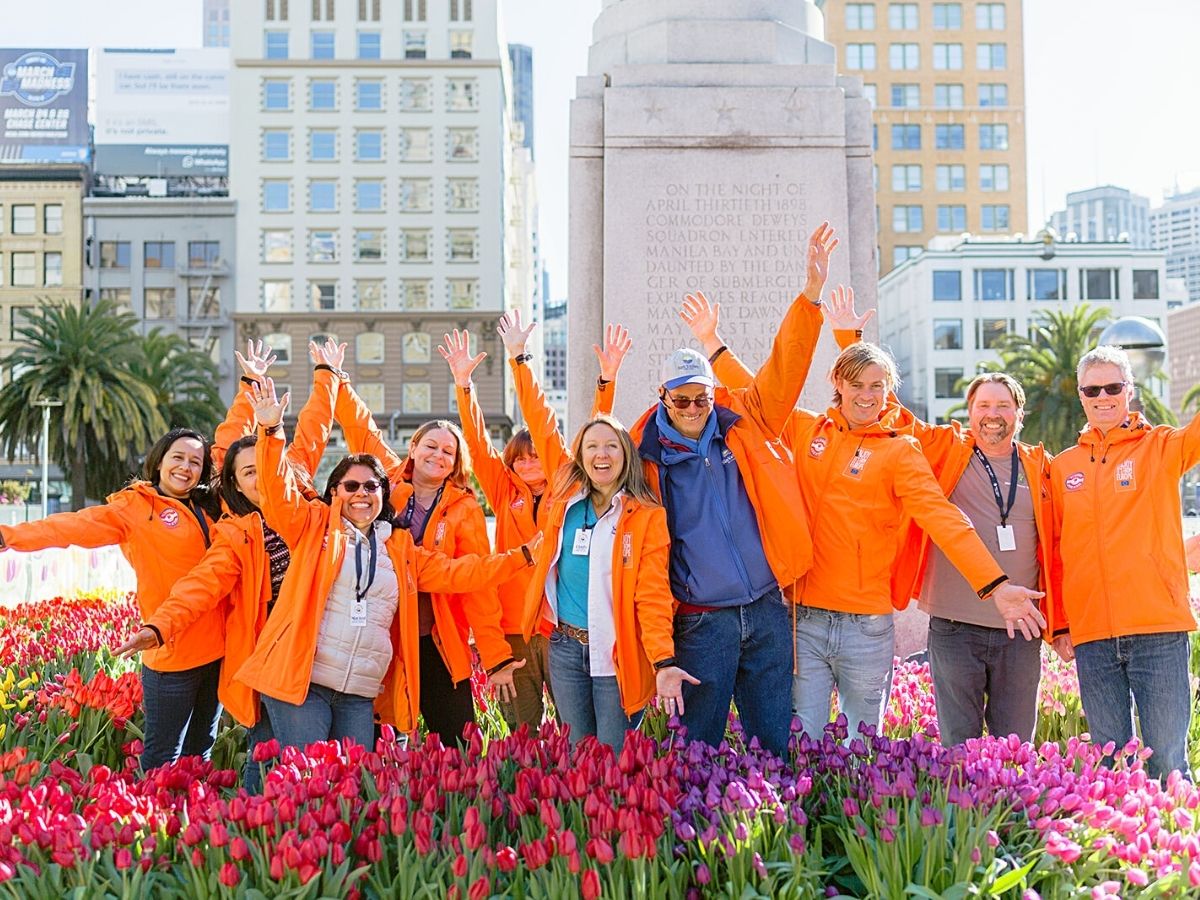 Peggy Anne Montgomery from Garden Media Group shares that there is nothing else like the feeling American Tulip Day brings. Tulips are the perfect way to honor women and spread the joy that only fresh flowers can bring. The organizers of this amazing display hope it will become a new tradition to share a bouquet of tulips with the special women that make part of your lives on International Women's Day.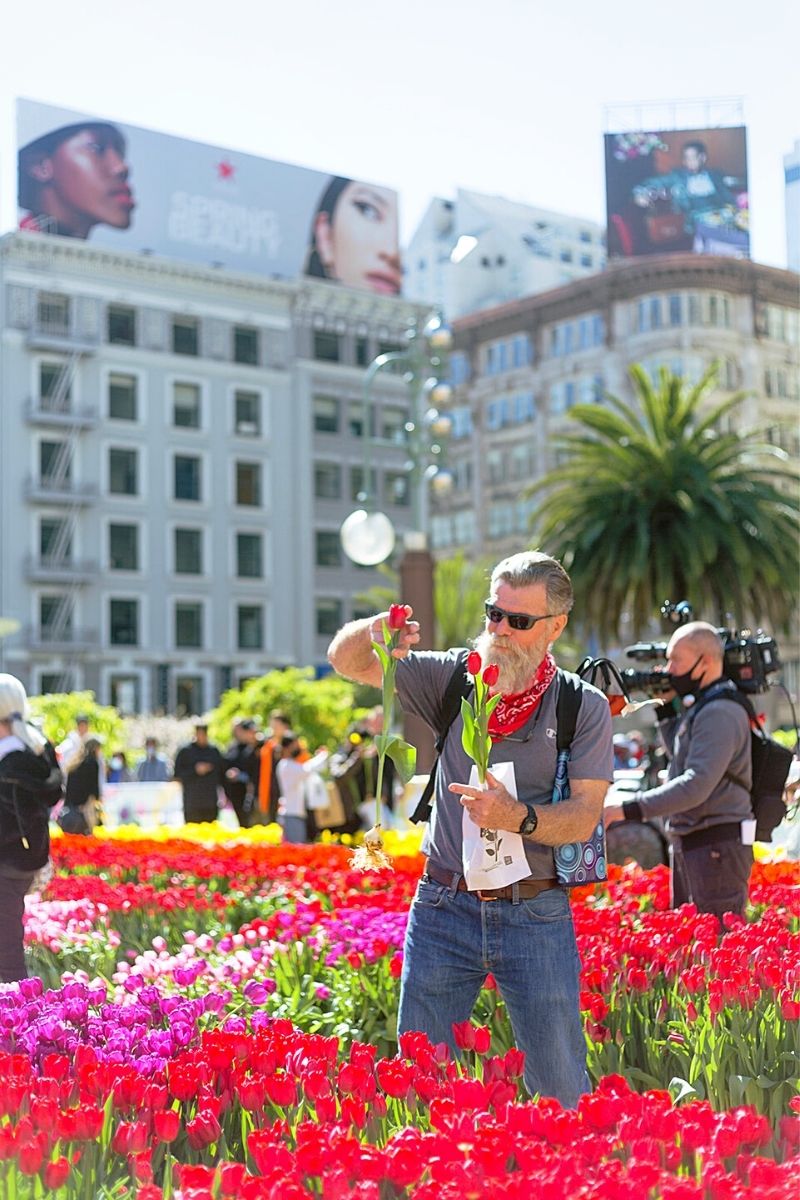 American Tulip Day
The 'American Tulip Day' 2023 is presented by Royal Anthos with the San Francisco Recreation and Parks and the Union Square Business Improvement District. Behind this special day, there is a very special intention as well having to do with the promotion of flowers. Why promote flowers? Here are some of the most important reasons they share:
Fresh flowers promote innovation, creativity, and productivity.
The presence of flowers triggers overall positive emotional health with general life satisfaction, delight, and gratitude.
Flowers reduce feelings of depression, anxiety, and agitation.
Flowers provide comfort due to an inherent tendency of humans to be drawn to nature.
Flowers boost the well-being and general health of senior citizens.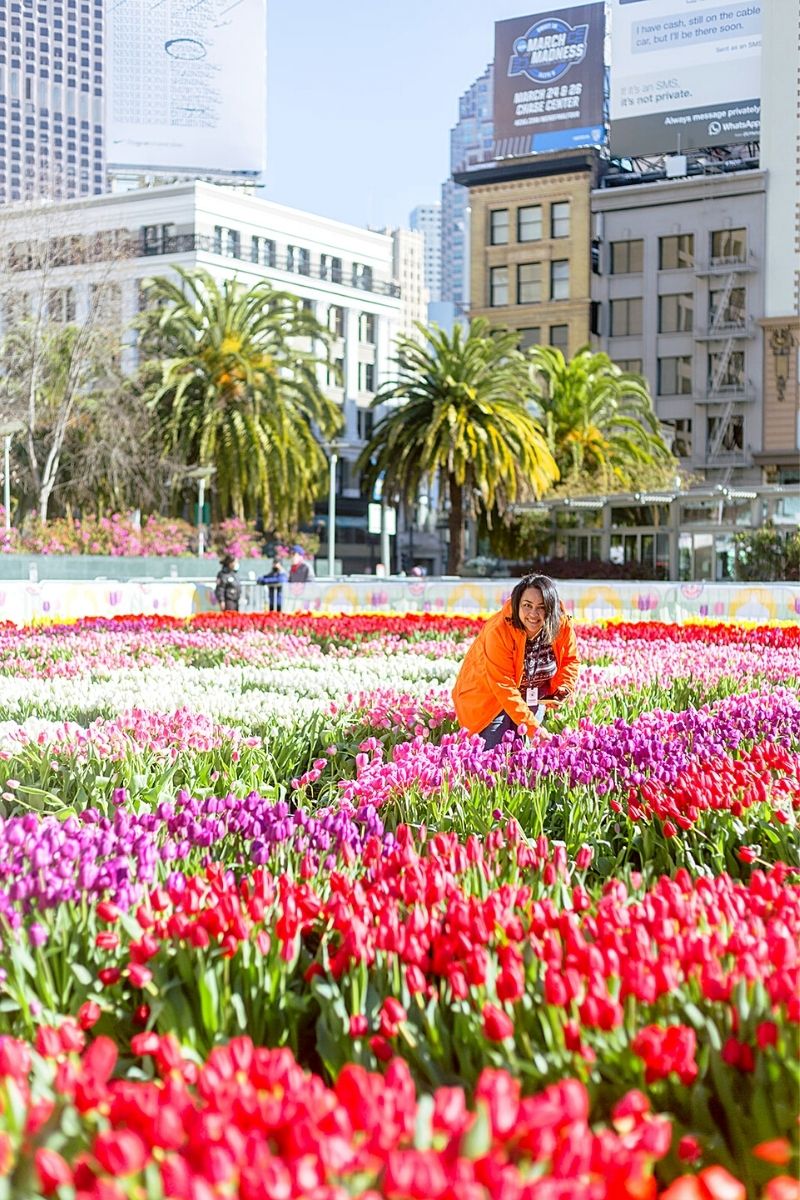 To find more information, head to
Flower Bulb Day
.