So many flowers are still uncommon and not present in flower shops. Although these flowers are strong and beautiful and when bought, highly loved. And most of all very decorative. We call them 'unique flowers'.
Unusual Flowers to Take Your Floral Arrangements to the Next Level
Beautiful, colorful, and somewhat unique. Bouquets come in all different shapes, sizes, and colors. We want bouquets to grab attention. To stand out. To surprise. And to fall in love with the combination made. Of course, there are many flowers to choose from when creating that special floral arrangement. Therefore, we have selected some of the most unique and unusual flowers to add that extra oomph to your bouquet.
Celosia
Even though celosia is mainly known as a garden and houseplant, the flowers can also be used in bouquets or floral arrangements. The celosia is diverse in its shapes and flowers, but the colors are always dazzling. Especially the Celosia Dara attracts attention with its compact yet full shape. The flowers have an extraordinary pattern, a velvety look and feel, and a long vase life. Available in various exotic colors from April to October, this flower is a real eye-catcher on its own as well as when combined with other flowers. The origin of celosia is subtropical; it grows in tropical parts of Africa, Asia, Indonesia, and South America. It is thus no surprise this is a summer flower. The name 'celosia' is derived from the Greek word 'keleos' which translated to 'burning' and refers to the flame form of the primordial celosia. Not only the name but also the symbolism of this flower is extra special. In general, flowers resemble love, trust, hope, and similar attributes. The celosia, on the other hand, symbolizes boldness which matches its outstanding shape. So, if you want to give someone courage or a bold and beautiful bouquet, celosia makes an excellent gift. Grower of this product: Bosbloemen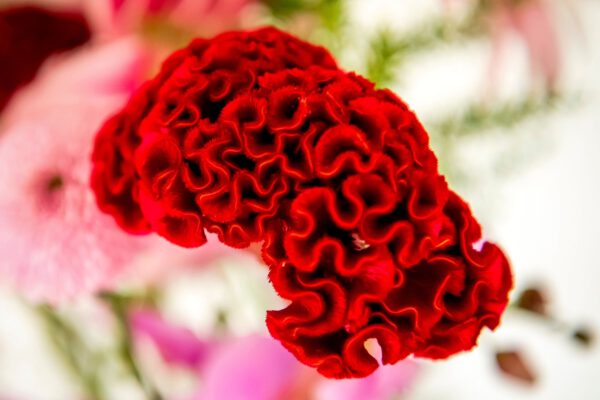 Curcuma
We already know the Curcuma of the turmeric spice which is extracted from the plant. Even though the plant itself comes from Thailand, most of this cultivation takes place in India, where the delicious spice originates from. However, did you know Curcuma produces beautiful, unique flowers? With its sturdy, long flower stems and extravagant flowers, Curcuma is a real eye-catcher in any interior. Curcuma pot plants can often be found in the Netherlands, but Decorum grower Villa Curcuma is currently the only nursery producing this special plant as a cut flower. The light green leaves with red veins form a beautiful contrast with the radiant flowers, making the cut Curcuma very suitable for use in bouquets due to its exotic look and origin. Spice up your floral arrangements with the Curcuma cut flower. Grower of this product: Villa Curcuma
Orchid
Naturally, we are all familiar with the orchid and you may not think of this as the most unique plant or flower at first. Nevertheless, there are many orchid varieties with unique-looking flowers or patterns of which the most outstanding example is the Cambria orchid. In contrast to the more common Orchid varieties, the tips of the Cambria petals are more pointy. Moreover, this plant displays magnificent vibrant colors, ranging from orange to yellow and purple. Discovered by an ancient Greek botanist, we now know more than 20,000 species in the world of which the moth orchid is the most popular. Due to their symbolizing, these flowers have been associated with love, fertility, and elegance throughout the ages. Grower of this product: Kwekerij Duijn-Hove