Any flower will do for the boutonniere at a wedding, so why stay with the tried-and-true selections? Fortunately, there are many options. But how can you choose an ideal boutonniere for your wedding that will win your approval and still feel like a unified element of your floral design? Here are eight ideas that make the perfect fit.
What Is a Boutonniere Anyways?
In case you're not familiar with the word, here's the full explanation. A 'boutonniere' (some write it like the French: 'boutonnière'), or 'buttonhole', is a small but important part of a groom's wedding attire, and may also be worn by his groomsmen and other important family members. Pinned to the left lapel of a suit or tuxedo it makes a handsome fashion statement that is meant to complement the bouquet and wedding color palette.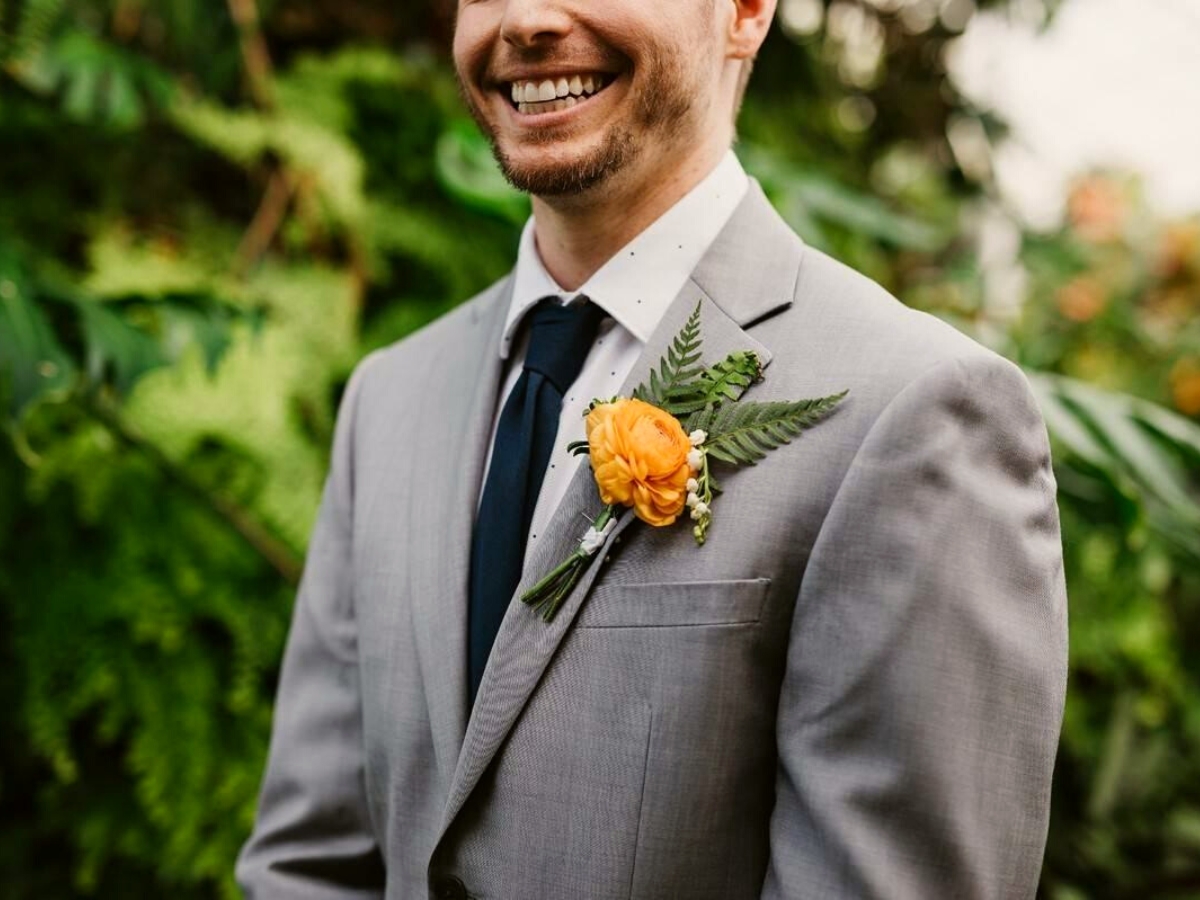 While usually made of flowers, berries, greenery, and other non-floral items, heirlooms, and feathers can also play a part. You can also read the article 'Wedding Flower Trends That Are In For 2022', to know what colors, styles, and trends are in for weddings, especially if you have a wedding coming up soon.
How to Choose the Perfect Wedding Boutonniere
There are so many important details that go into a wedding. Some may say that the wedding bands are the most important detail; however, finding the most suitable boutonniere is just as crucial. Just like when you were choosing the wedding rings, start by choosing a color palette that goes with your personality and of course, your overall preferences. Popular colors include yellow, green, and white. Bold greenery is a fantastic technique to further balance out a boutonniere.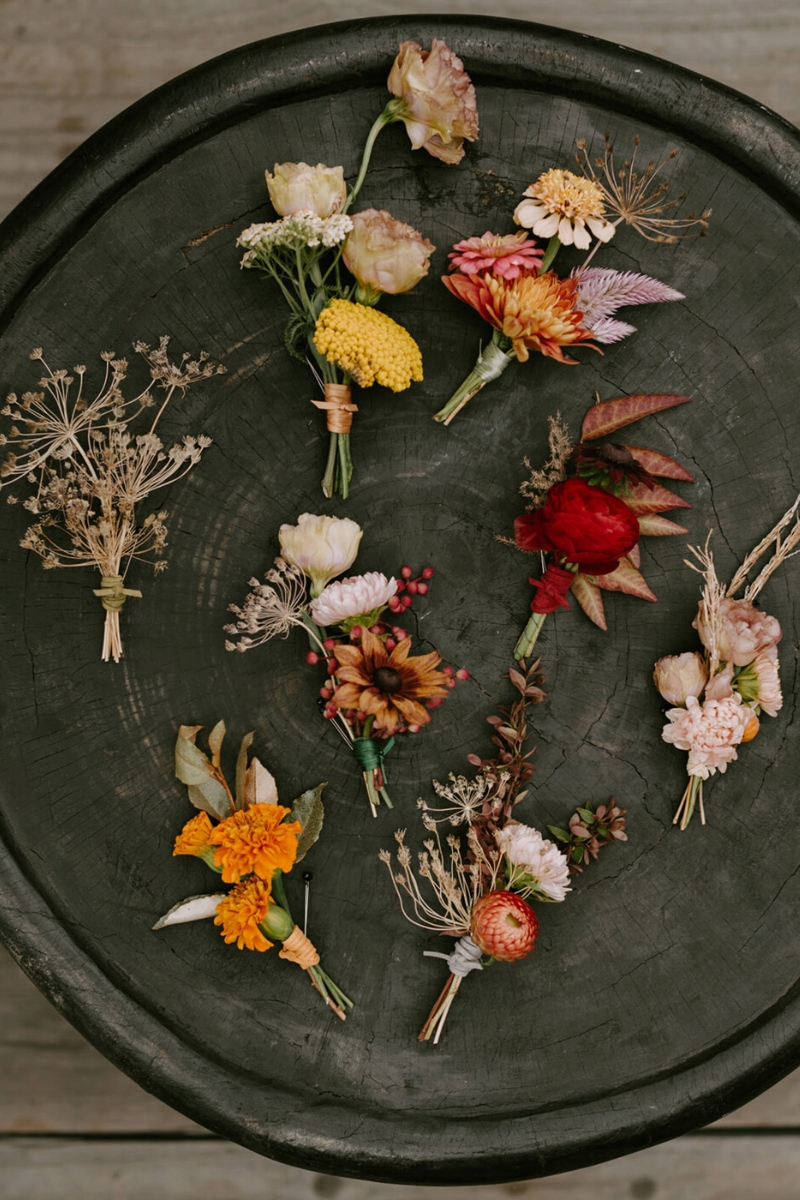 For softer-hued flowers, fresh herbs, leafy greens, or a contemporary succulent are all excellent choices to add as well. For a look that conveys a more contemporary style, use a single giant succulent, a cluster of greens or berries, or a barely perceptible off-white cluster of non-traditional bridal flowers. These are eight stunning blooming boutonniere ideas for that big day!
1. Blue Grape Hyacinth Boutonniere
Nothing captures the essence of a dazzling wedding day like this delicate-looking boutonniere of blue grape hyacinths wrapped in unbleached, natural burlap. As you may notice, the lavender tones combine perfectly with an aesthetic color palette of earthy, natural tones.
2. Dried Grasses and Helichrysum Boutonniere
This boutonniere speaks classic, yet elegant with a rustic, bohemian edge. A boutonniere of bleached, dried grasses and helichrysum adds a touch of nature to the oh-so-sophisticated formal tux. The color scheme will make your guests enjoy a very well-thought-of bloom and color mix.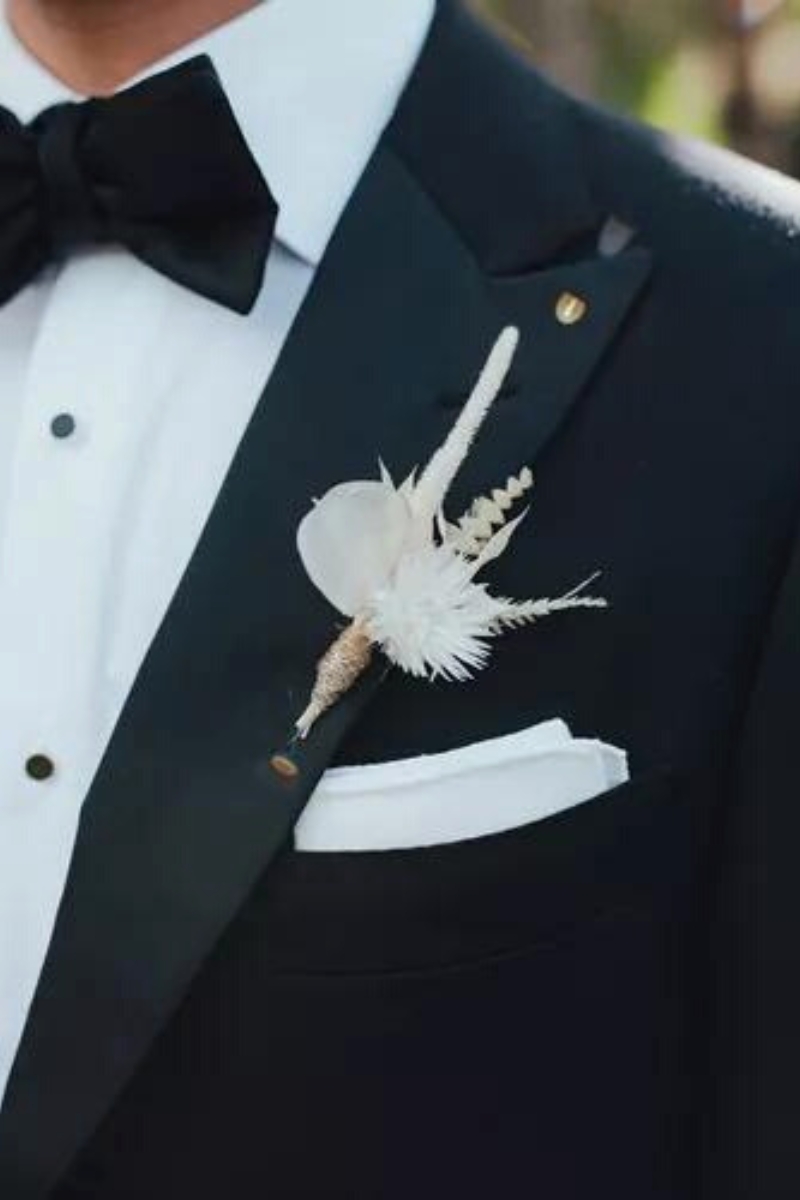 3. Scabiosa and Rosemary Boutonniere
Looking for a more elegant look instead of just the usual 'pretty'? Go out of your comfort zone with this incredible boutonniere mix. This amusing package displays a surprising arrangement. Scabiosa lollipop and fragrant rosemary combine in the most tasteful way to create a sensational wedding boutonniere.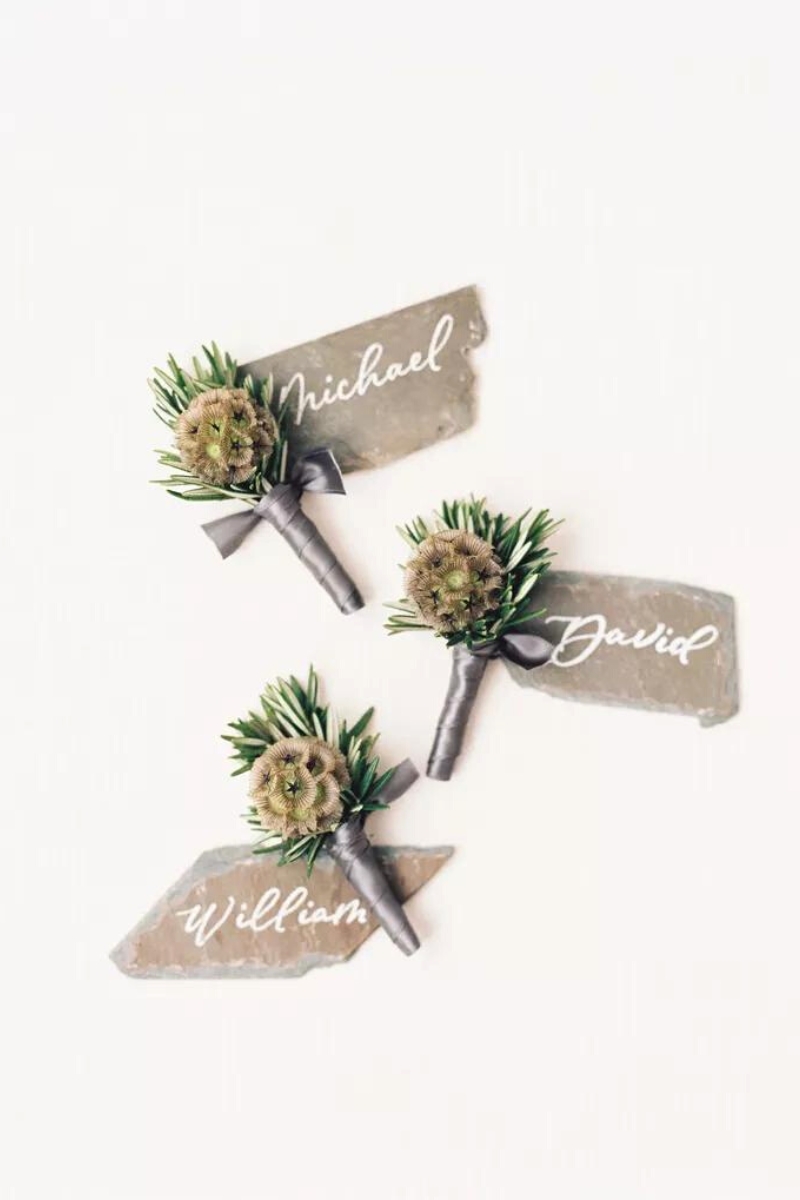 4. Lisianthus With Tuberose and Delphinium Boutonniere
Take a hint at this marvelous combination. Here's a cute and romantic boutonniere that'll do just the right job at a wedding celebration. Gorgeous lisianthus is surrounded by delphinium, tuberose, and delicate pink and cream blooms for a color scheme that elegantly complements the light tuxedo.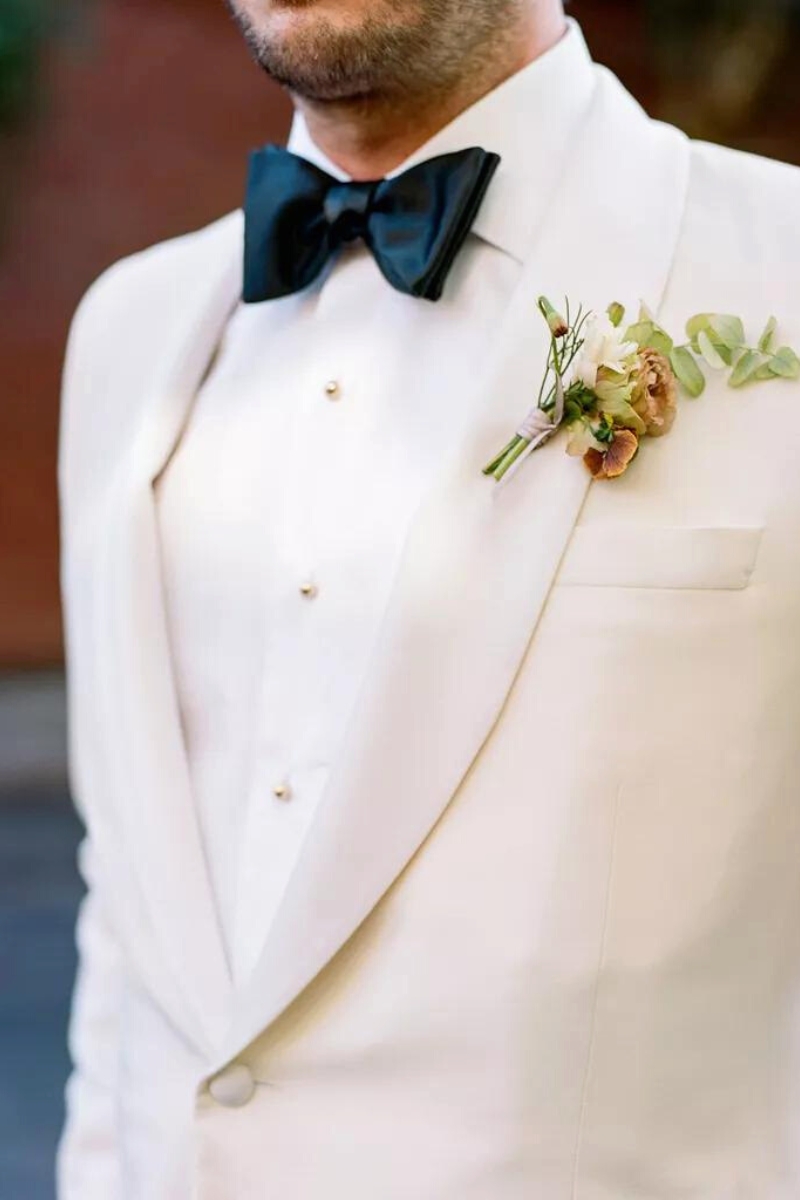 5. Bleached Lagurus Boutonniere
Bleached lagurus can be literally used anywhere, and this wedding boutonniere knows it for a fact. Accessorizing an inky tux with a black shawl collar might be challenging. This vibrant boutonniere made of lagurus contrasts beautifully in both texture and tone without getting lost in the crowd.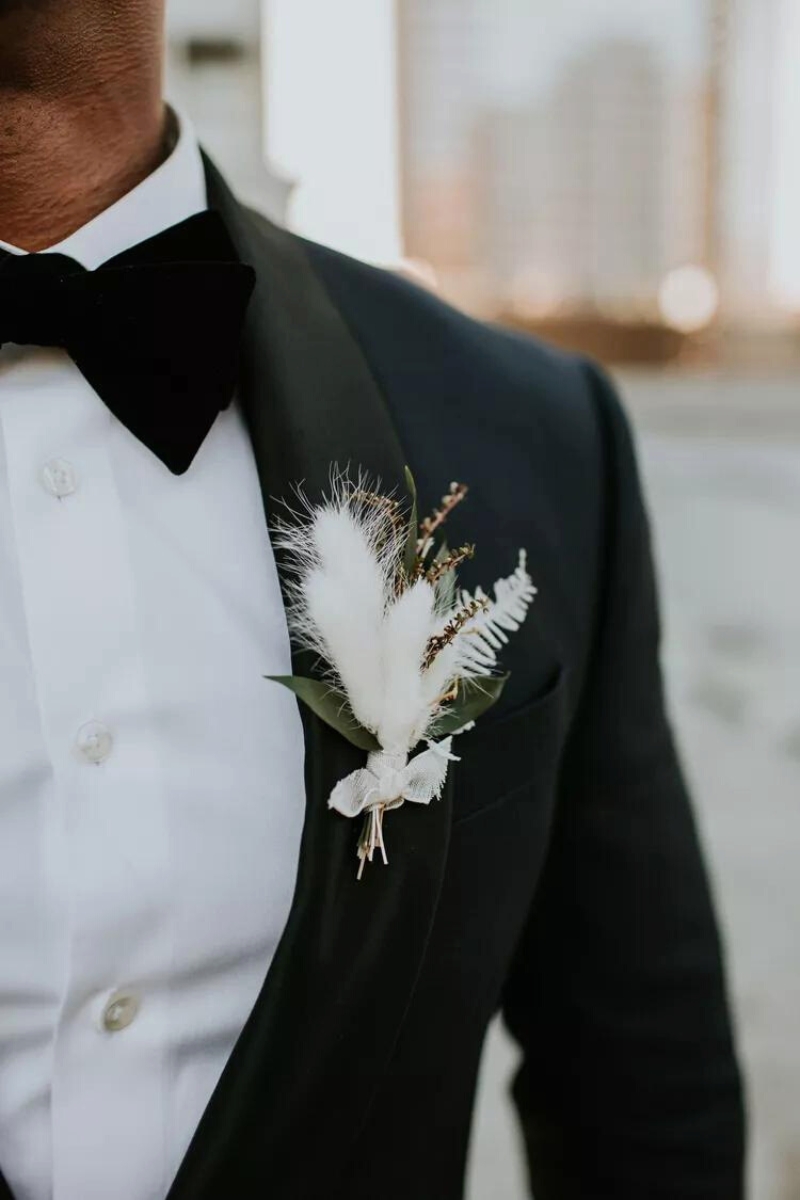 6. Helleborus Boutonniere
Time to think outside of the box when it comes to wedding colors. Not only are the traditional soft colors the only ones that can be seen at weddings, but stronger colors like purple can also make a grand impression and look wonderful at the same time. Although purple and blue are very different from the usual wedding color scheme as mentioned previously, a helleborus boutonniere and gray-blue suit unquestionably support the pairing.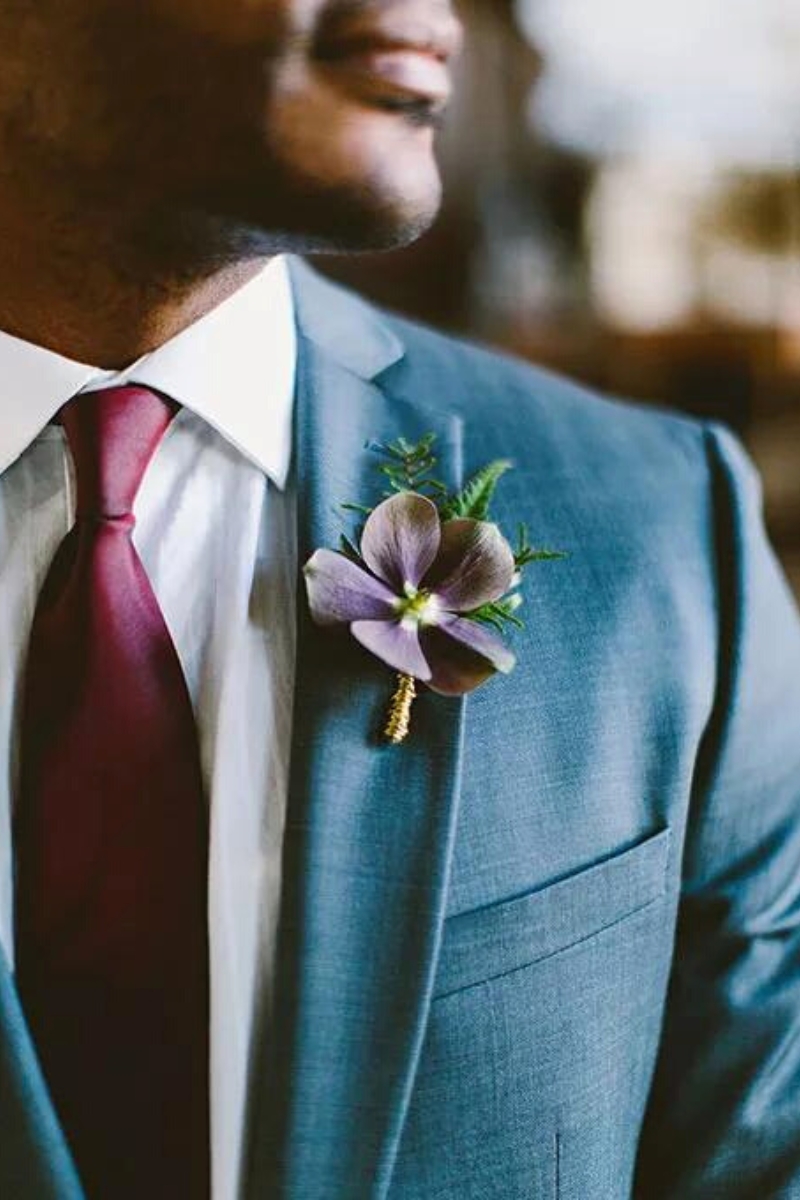 7. Ivory Rose and Rosemary Boutonniere
It comes as a surprise to not see more roses and rosemary coupled up together because they seem to blend well and look aesthetically pleasing as well. A single ivory rose and clumps of rosemary make up this herbal potpourri, which is bound together with a matching satin ribbon. A very delightful boutonniere option.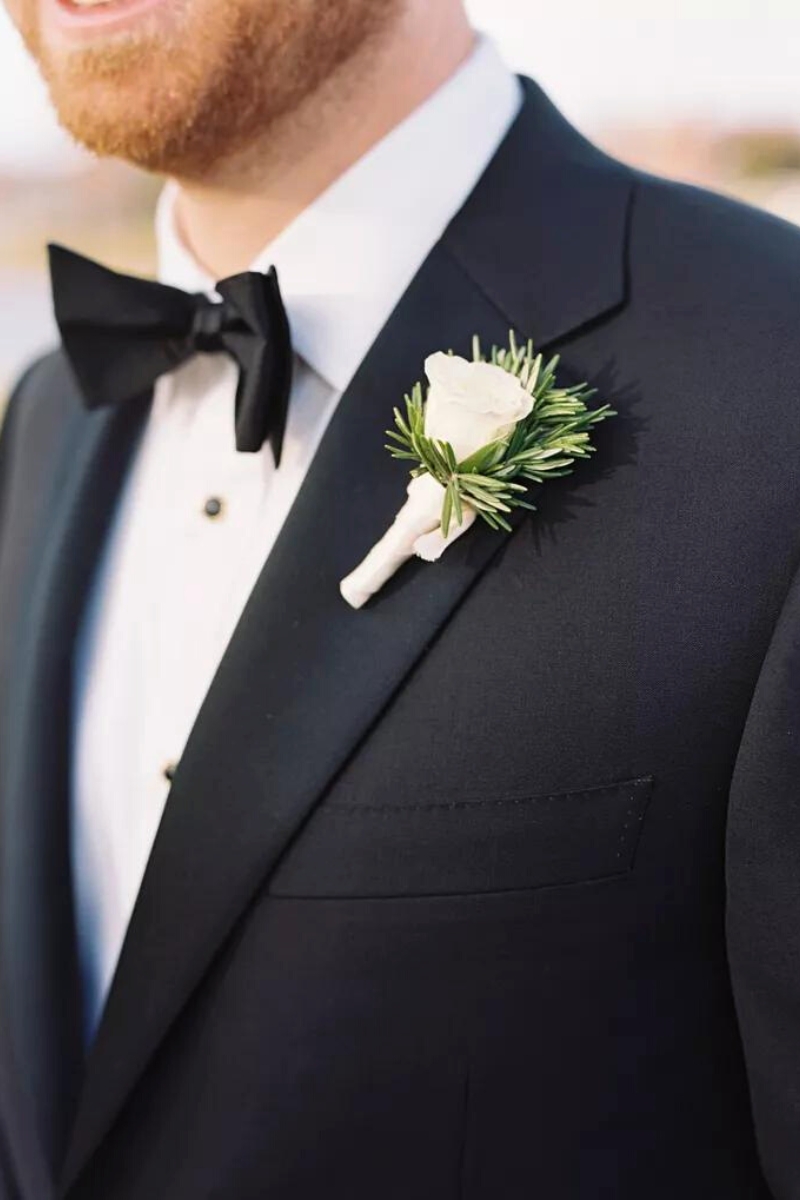 8. Peach Ranunculus and Silver Brunia Boutonniere
This is a very different and unique boutonniere idea that you've probably not seen or heard about before. But the truth is, it works and looks marvelous. This boutonniere, made up of a single peach ranunculus and a silver brunia, demonstrates how well-matched peach tones and silvery greens are. The innovative use of silver and black duo-chrome to ribbon off the medley can be appreciated in this one.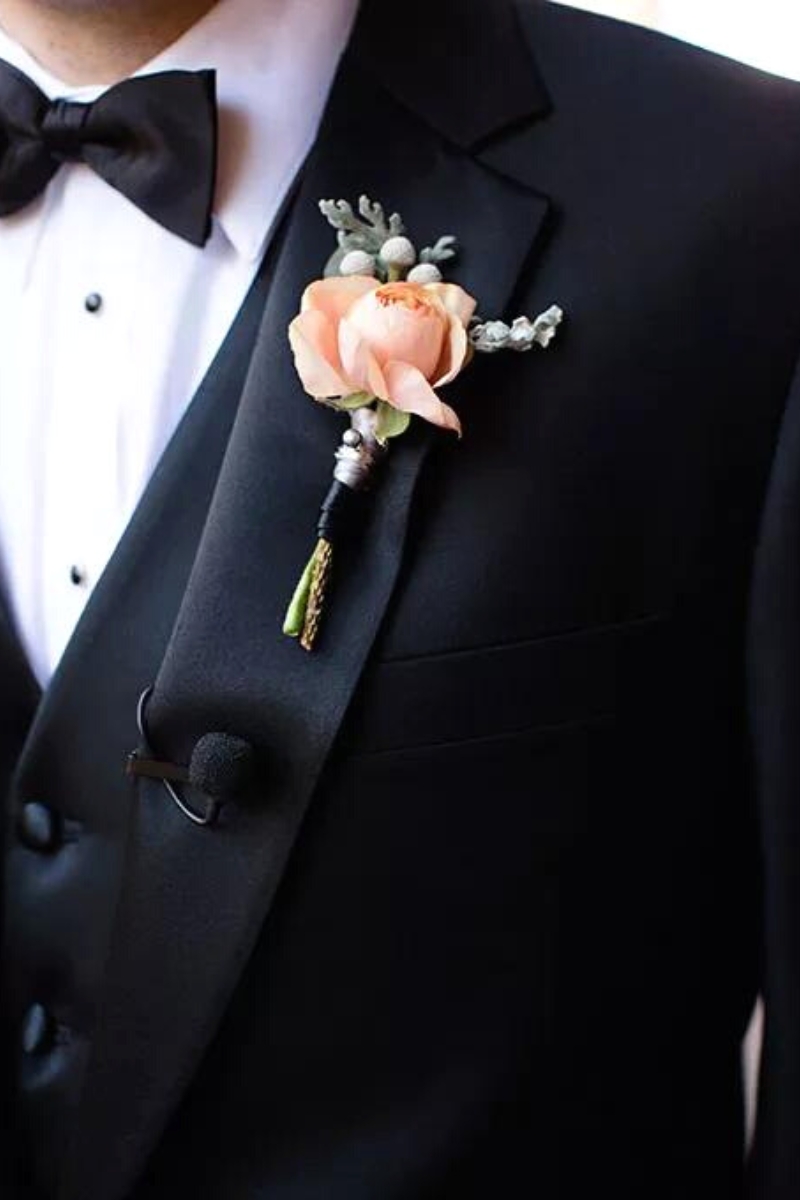 Tips on How to Pick the Correct Boutonniere
But it doesn't stop here! It's also very important to know how to choose the correct wedding boutonniere according to your preferences. Here are a few tips that'll help you out.
1. Color Coordination
Use the wedding colors and the bride's bouquet as a guide to color coordinate. At least one blossom or accent from the bouquet should be included in boutonnieres, as well as a hue that is used in other flowers, linens, or decor. The color should complement the rest of the outfit and look excellent against the lapel, of course.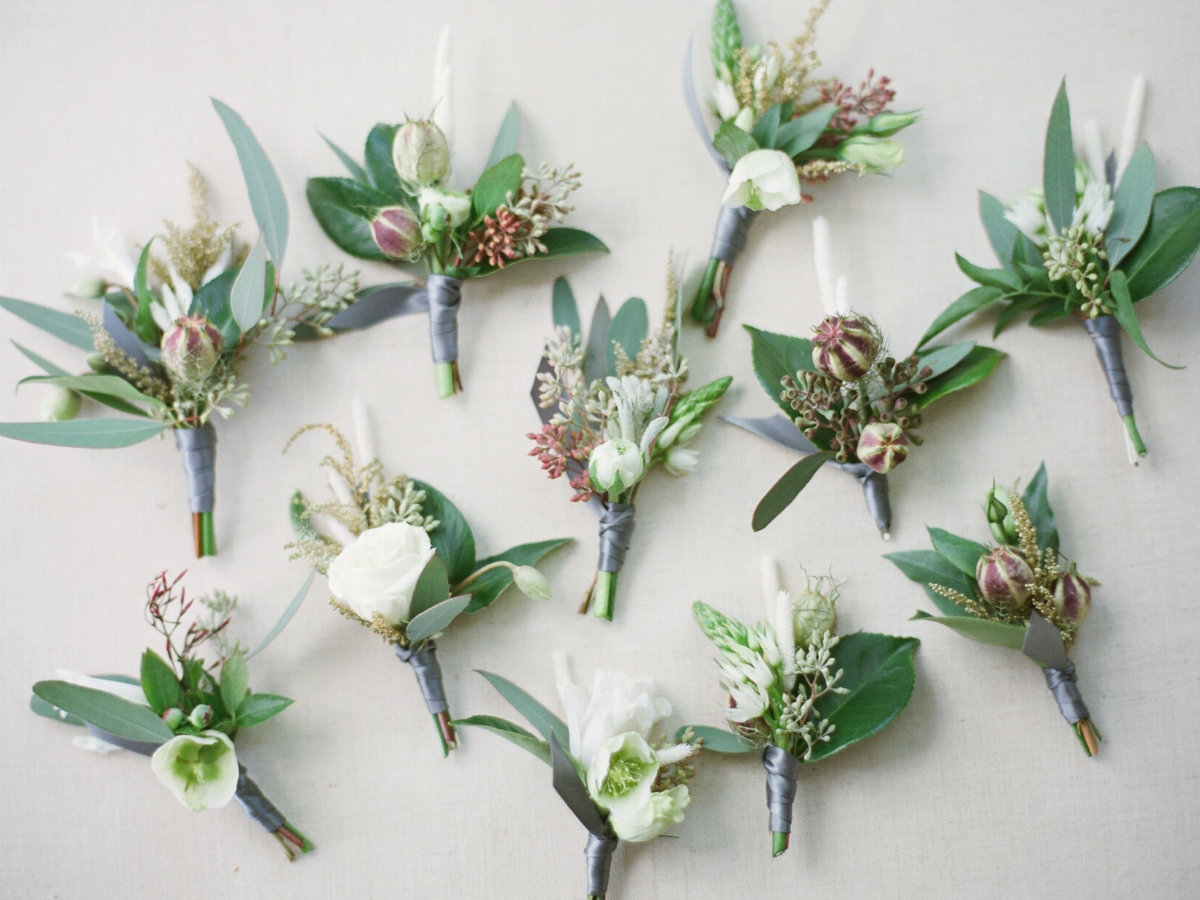 2. Be Careful With the Size
Keep the boutonnieres size small enough to complement the groom's attire without being in direct competition with it. Large blossoms are difficult to handle as boutonnieres but work well for bouquets.
3. Keep the Flowers Fresh
Make sure the flowers are kept cool and hydrated, then fasten the boutonnieres right before the wedding.
4. Choose the Appropriate Flowers for Your Boutonniere
Pick a boutonniere that won't wither or disintegrate. While fragile flowers may appear gorgeous, the heat and sun can sometimes make them lose their beauty (if you live in warm areas). Consider roses, dahlias, and zinnias, as well as non-floral options, if you're planning an outdoor summer wedding when the temperatures will soar. Save the flowers that fade fast, like tulips, daffodils, and hyacinths, for colder spring days.
5. Positioning Is Important
Place the boutonniere directly beneath the left lapel's buttonhole. As if you were creating a long stitch, flip the lapel over and press the pin from underneath to over the boutonniere and back under. To prevent pivoting and pointing in the wrong direction, use two pins spaced about 3/4 of an inch apart. Make sure that the boutonnières are placed similarly on each person who will participate in the ceremony by taking a look at the attendees.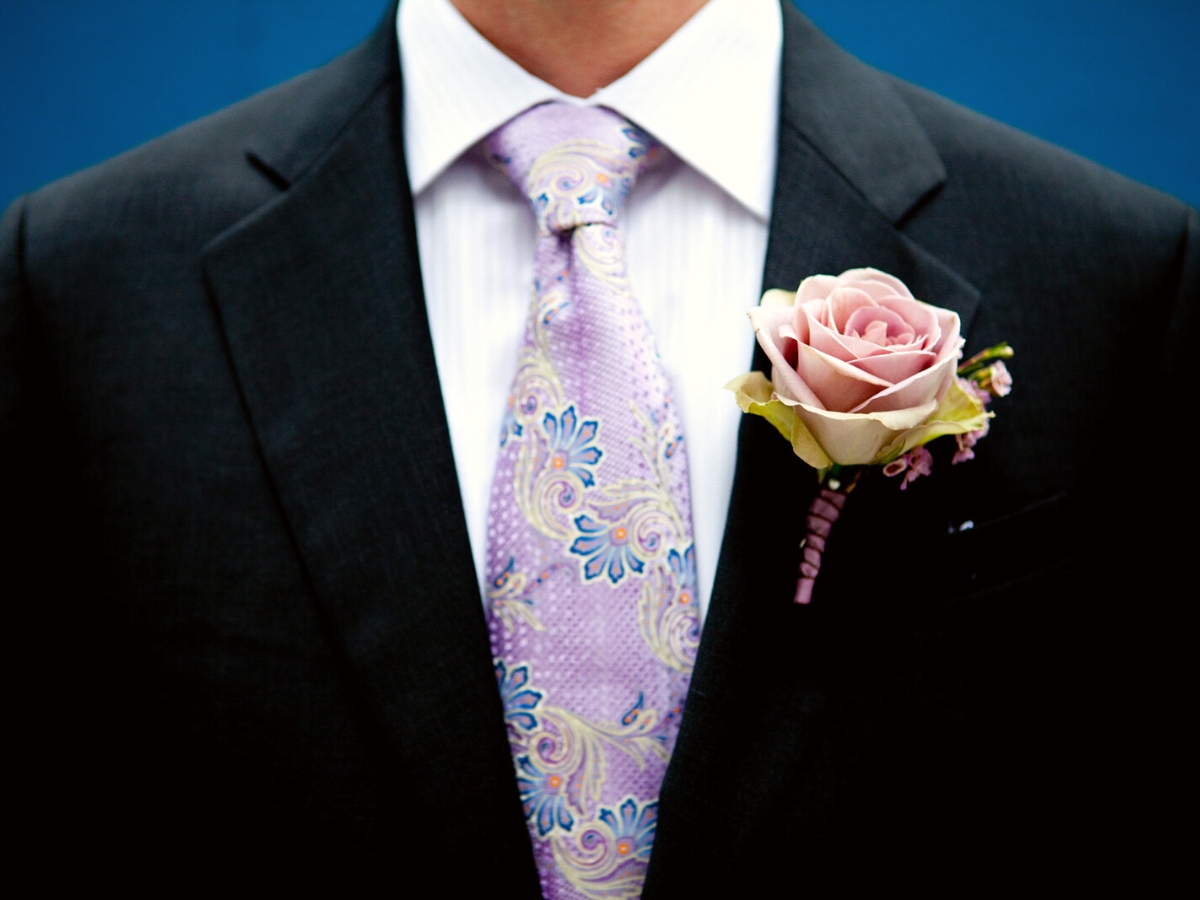 With all of these tips and tricks, as a groom, you'll be rocking your wedding and boutonniere style. Although these are not all the options to create the perfect boutonniere, Brides.com magazine gives more than forty other options on its website.