Three Varieties, Six Growers
Breeder Dümmen Orange started off with their flower trials a white, filled chrysant called Pina Colada. After a successful introduction, this led to the development of other colors. The natural order is to get a yellow one first, then a cream variety. And the future may bring a pink one too... Up 'til now, six renowned Dutch growers have one or more varieties of Pina Colada and pushed the product forward towards the floral chain. Here is an overview of who has what.
The Varieties
The introduction of white
Pina Colada
was in 2014. This was followed by the
Pina Colada Yellow
and the Pina Colada Cream.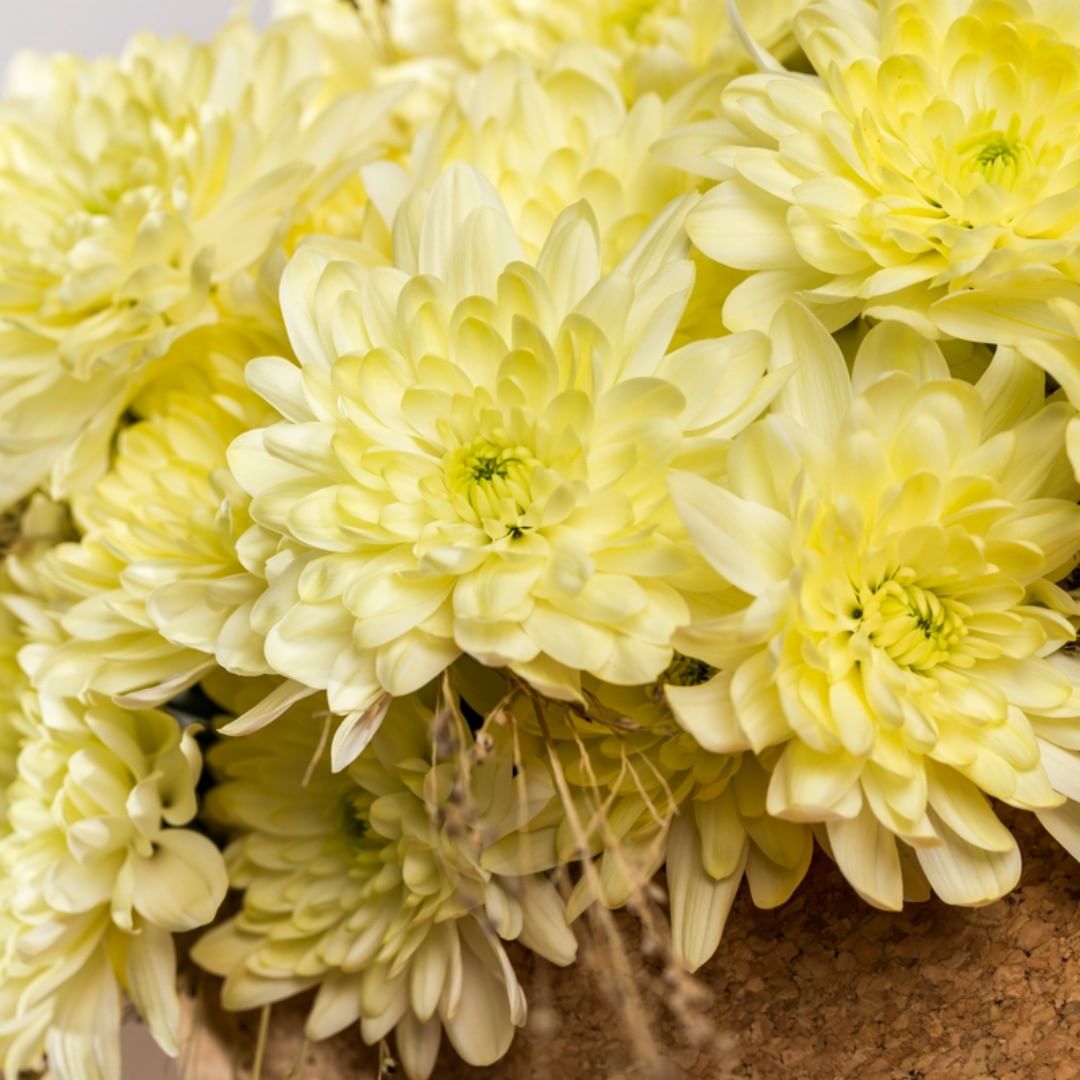 The Growers
There are six growers of one or more Pina Colada varieties. Here's an overview of who they are and what they grow for you.
Fred Van Paassen / VannoVa
Growing: chrysant Pina Colada, chrysant Pina Colada Yellow and chrysant Pina Colada Cream
Fred van Paassen
is a Master Grower with the
VannoVa
collective of chrysant growers. Fred van Paassen and his son Jan have always done the rooting themselves. The added value of doing this is that the quality of the flowers is higher when cut.
MG Grand / Zentoo
Growing: Chrysant Pina Colada, chrysant Pina Colada Yellow
MG Grand
is a grower under
Zentoo
brand. The MG Grand Nursery sells chrysanthemums through the auction system, forward orders, and day trading. Since they are located close to the Royal FloraHolland Naaldwijk flower auction center, they can organize transport quickly, deliver extremely fresh flowers – within a few hours of harvesting – and effectively meet the needs and desires of their day-trading customers.
Kwekerij Sensation
Growing: Chrysant Pina Colada, chrysant Pina Colada Yellow
For many years already
Kwekerij Sensation
is a top spray chrysant grower, delivering year-round quality flowers. A well-respected and highly appreciated grower by their loyal customer base.
Retine
Growing: Chrysant Pina Colada, chrysant Pina Colada Yellow
Retine
cultivates and processes flowers to a consistently high quality. Their use of organic cultivation methods wherever possible allows them to keep chemical corrections to a minimum.
G&G Flowers
Growing: Chrysant Pina Colada, chrysant Pina Colada Yellow
G&G Flowers
by the grower couple Gert and Gerdi van Genderen is the year-round chrysant specialist from Gameren, Netherlands. They are proud to offer a wide assortment of varieties and colors that are available at the clocks of Royal FloraHolland and in their own webshop.
Lewis Flowers
Growing: Chrysant Pina Colada
With a constant supply and diverse assortment,
Lewis Flowers
offers not only beautiful flowers but also reliability. They continue to innovate and automate so that the quality of their flowers remains stable and improves.