You've probably encountered a wedding arch before when attending a wedding venue. They are nonetheless stunning and serve an incredible purpose of enhancing and even transforming weddings. Here are some inspirational wedding arch ideas that'll have you thinking about which one you want for your own wedding.
Wedding Arch 101
What is a wedding arch and what is the purpose of using it at a wedding celebration? A wedding arch may also be called a wedding arbor or bower. They can be made from branches, twigs, driftwood, or metal and decorated with flowers, feathers, or fabric.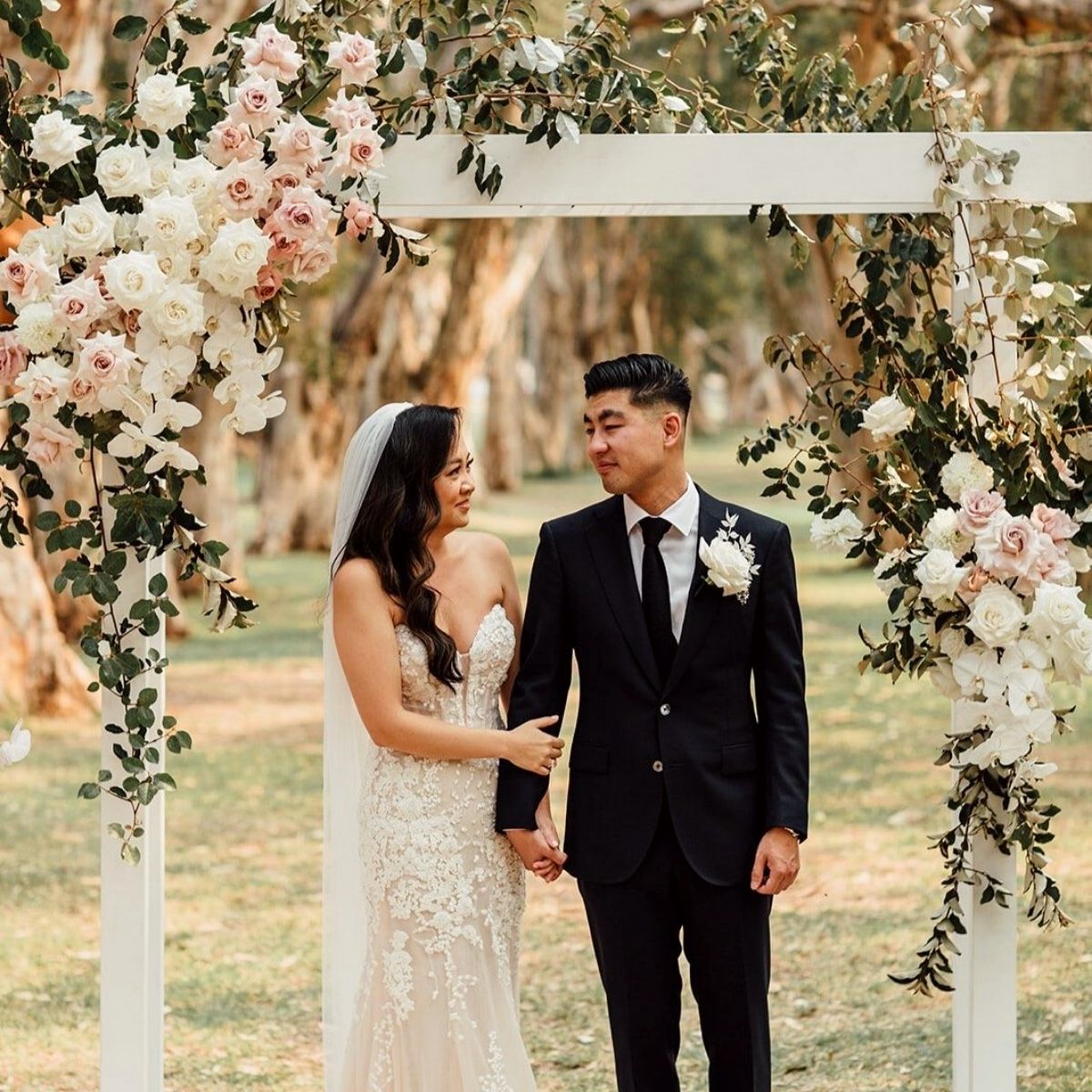 Couples usually stand underneath or in front of the arbor to make their vows, perfectly framing the action for those important wedding photos. Most importantly, a wedding arch has the intention of making the ambiance feel more sentimental while portraying feelings such as emotion, love, and excitement for what is about to come. See also '5 Timeless Wedding Color Palettes' to see what colors can match the creation of your wedding arch.
How to Style a Wedding Arch
Normally, a wedding arch has as its main character the use of lovely flowers within each person's preferences. Floral arches are still in style, but nowadays, people are also enjoying watching how couples and event planners reinvent the traditional wedding arch design. There are many inventive ways to match your wedding vision to any style arch or arbor, from asymmetrical designs to unconventional materials like pampas grass and palm leaves.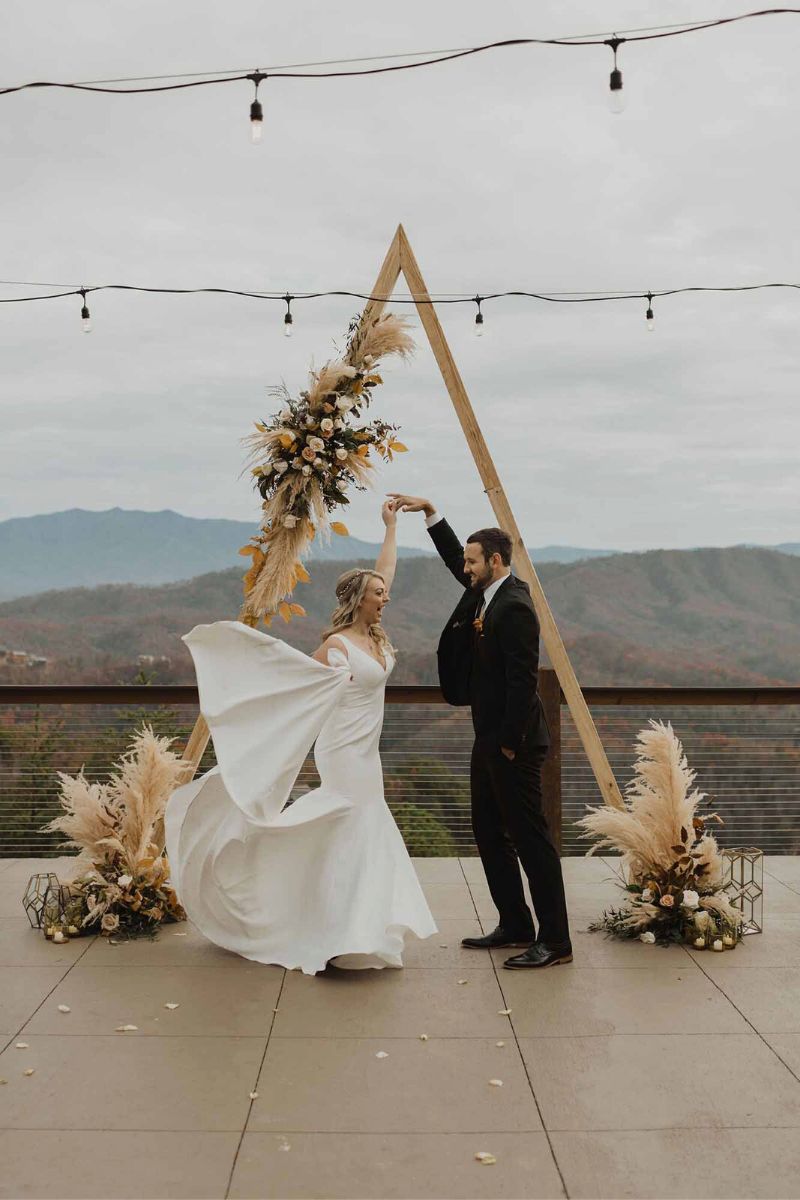 A wedding arch completes the remarkable scenery of the altar and makes it a statement piece at every wedding venue. It's where most of the magical photographs are taken and a beautiful wedding arch will leave the best wedding memories embodied in the attendees' heads. To get more inspiration as to what wedding arch styles there are and which suits your personality best, click here!
Inspirational Wedding Arch Ideas
Weddings can sometimes be overwhelming especially when it comes to the time of picking all the details, the style, and trends you want to include in this special day. Although a wedding planner would usually take care of everything, there are some people that prefer doing their theme and decor their own way. This is why having a few wedding arch inspirational ideas will always be a good idea. Take a look at a few charming ones below:
1. Go for Garlands
Would you like to give your wedding arch more depth? Think about including garlands in the layout. This magnificent type of greenery-based chuppah is enhanced by the hanging white blossoms, which bring color and motion. Seemingly a great wedding arch inspo idea!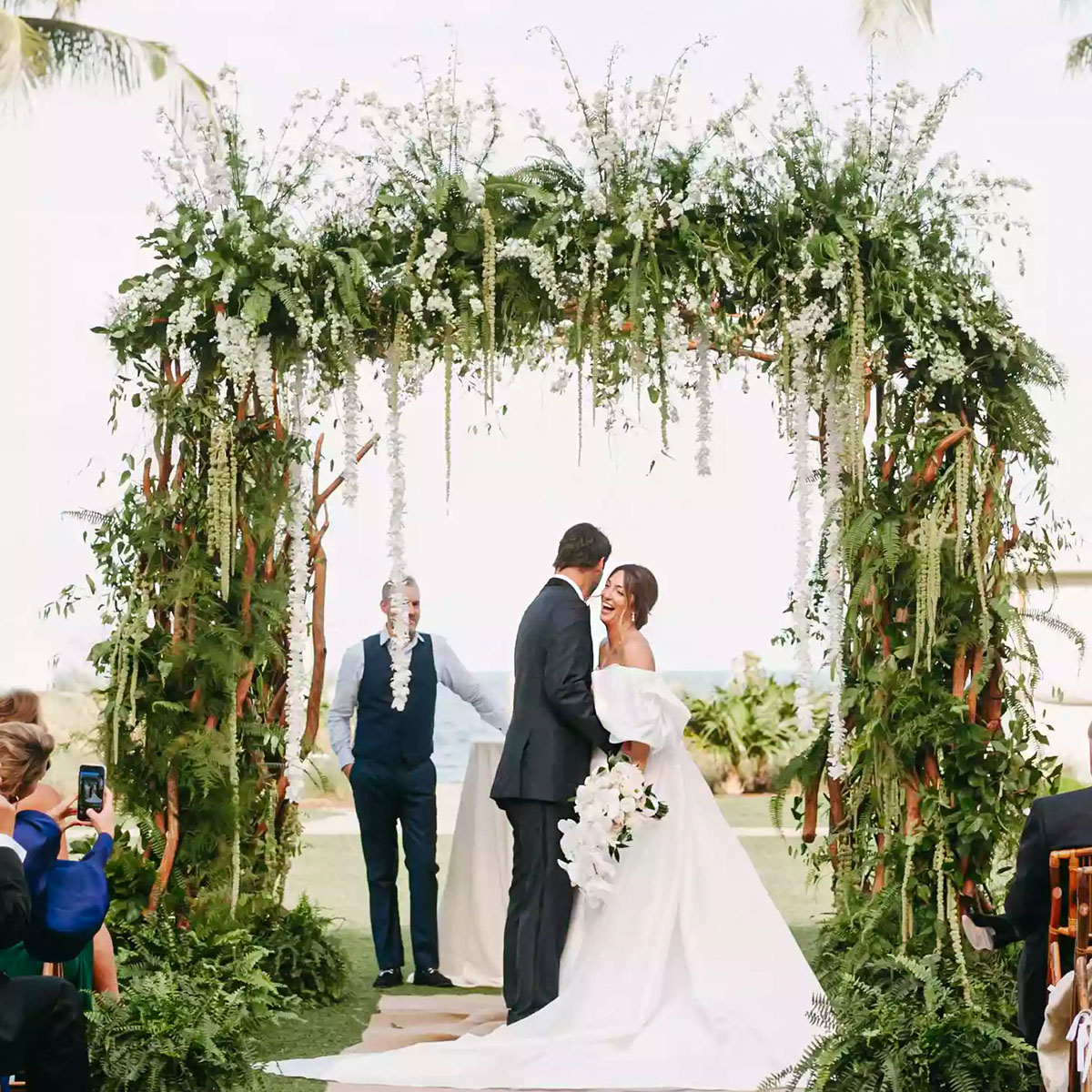 2. Choose an Adequate Color Palette
A great wedding celebration starts by having the people you love the most, but also the style and decor you love the most for this very dreamy day. Make sure to think about the color palette you want to reign over your wedding, and accordingly choose adequate types of flowers that go with the chosen colors. In this wedding arch idea, a couple will say "I do" in front of a massive arch of garden roses, wild grasses, larkspur, smilax, and Italian Ruscus. In this scenery, the neutral palette lets the setting shine on its own.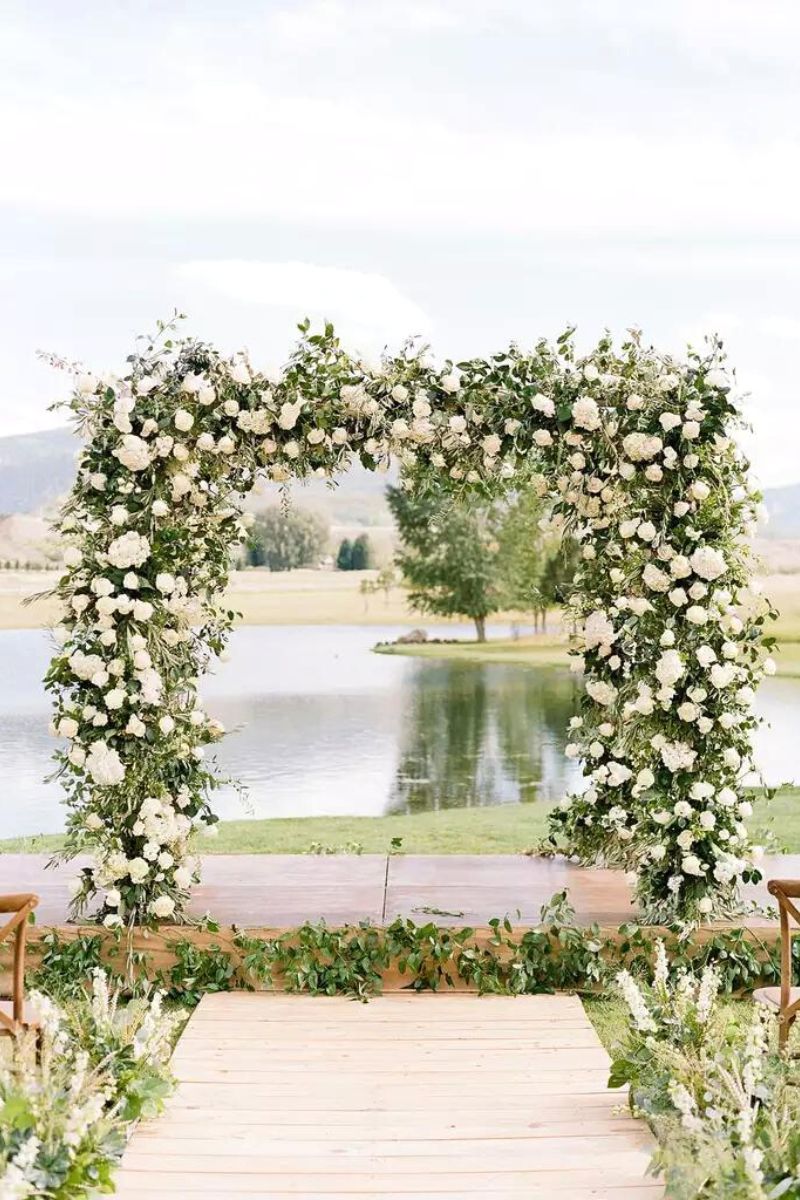 3. Mix Different Styles
An unconventional idea in a conventional environment is what is accomplished when you mix different trending styles that you know would blend well together. In this wedding arch idea, the scene has been repleted with contemporary hanging plants and an arch made of long vines, foliage, and white roses demonstrating that both are indeed possible and mix beautifully.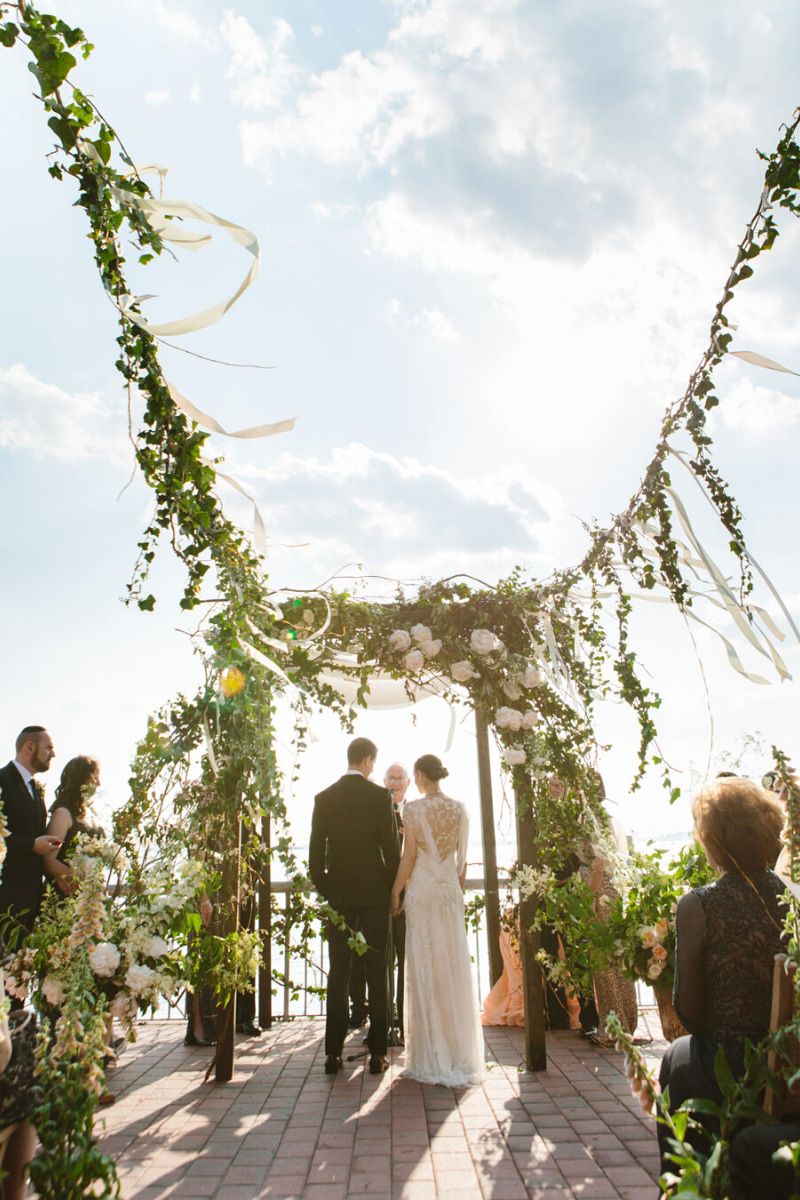 4. Go Out of the Ordinary
Not everything has to be white, classic, and extremely elegant at a wedding. This wedding arch proves that owning the tropical vibes will indeed give you the wedding of your dreams as well, fully surrounded by greens and gorgeous tropical flowers placed in the wedding arch. Consider accentuating the natural beauty of your wedding venue for a modern floral feel by building a lush altar to complement the lush greenery of the environment.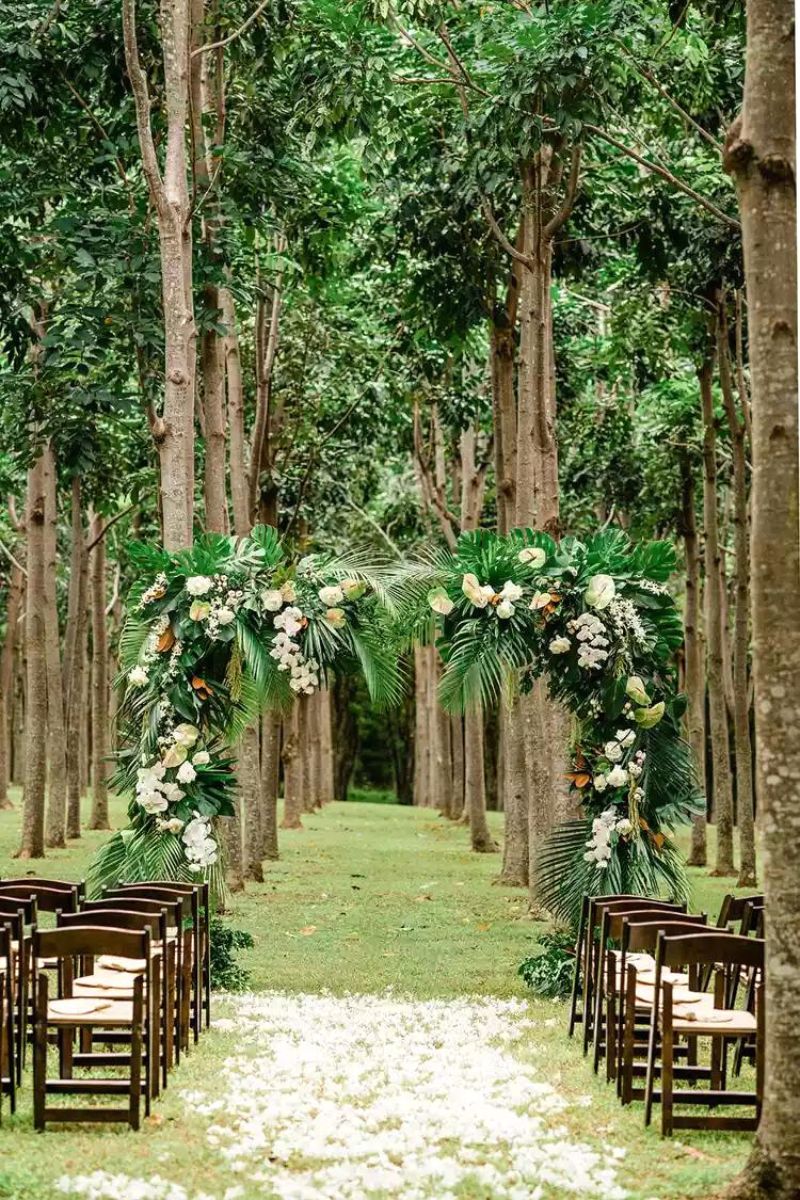 5. Into the Woods
A straightforward arch of loosely arranged flowers can serve as a focal point that blends in perfectly with the environment for a wedding set against a stunning wooded background. In this wedding arch, a runner of flowers and low decorations assist in directing visitors' attention forward.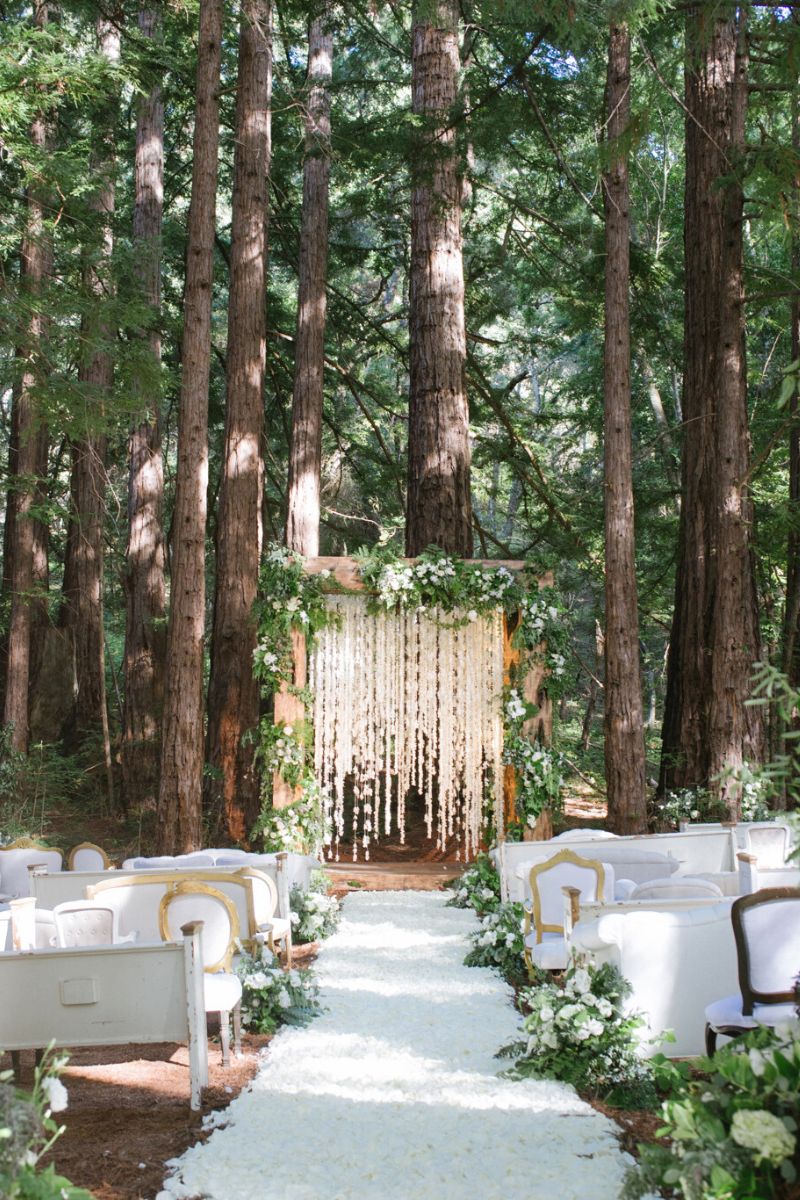 6. Opt For More Than One Wedding Arch
Why have one wedding arch when you can also have three? A trio of arches beautifully sets the scene for your wedding in the most special and romantic way while adding more volume to the most important part of the venue, where you say 'I Do'. The tiered ceremony design at this ombré-themed wedding makes the light pastel tones in each motif stand out even more.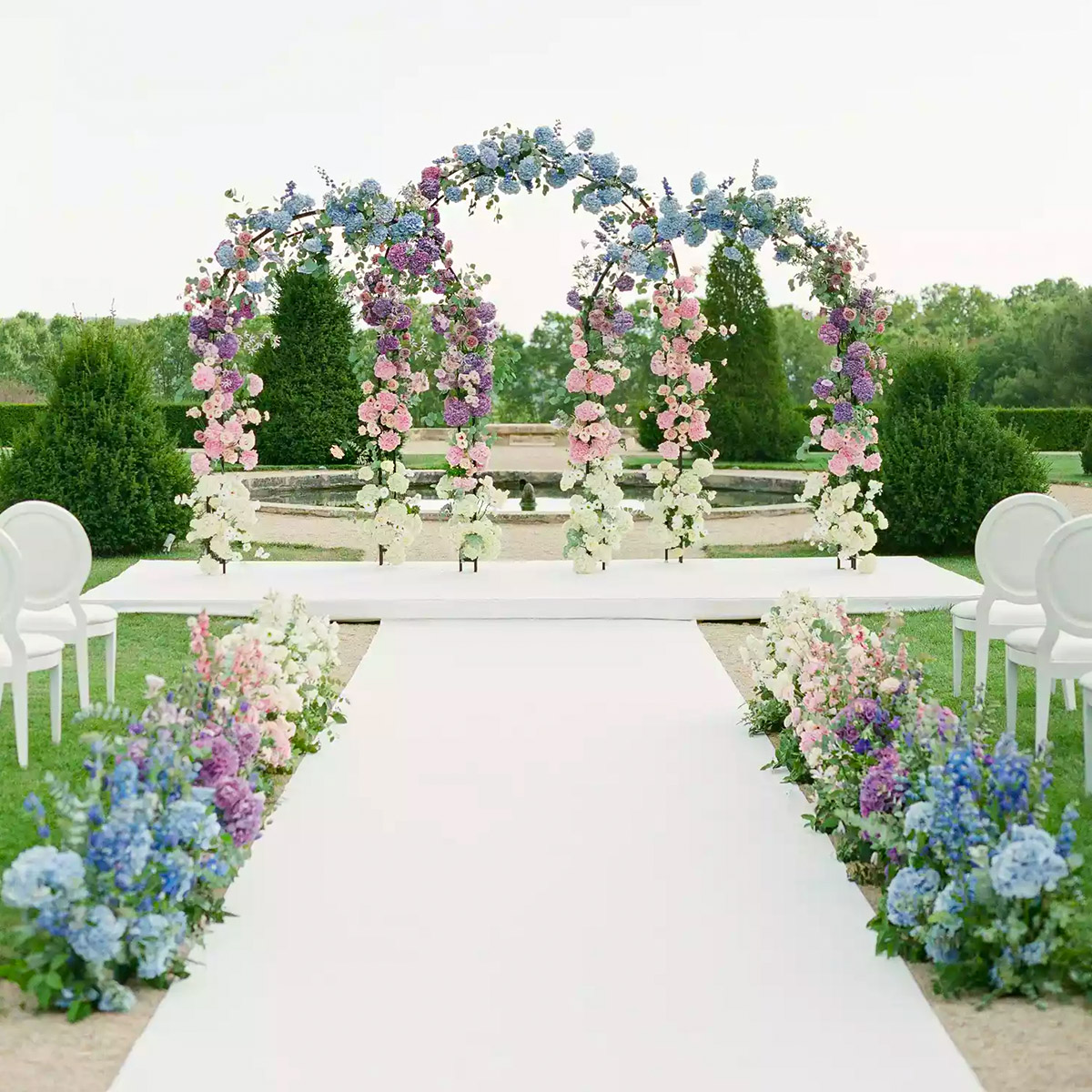 7. Blend in With the Natural Surroundings
Another great option that will make a wedding ceremony look stunning is choosing a background that mixes in naturally with the surroundings of your site. When choosing the flowers or greenery you want for the wedding arch, make sure they go in harmony with the natural background of the venue. In this case, green blends with green, and the wedding arch looks absolutely amazing as well.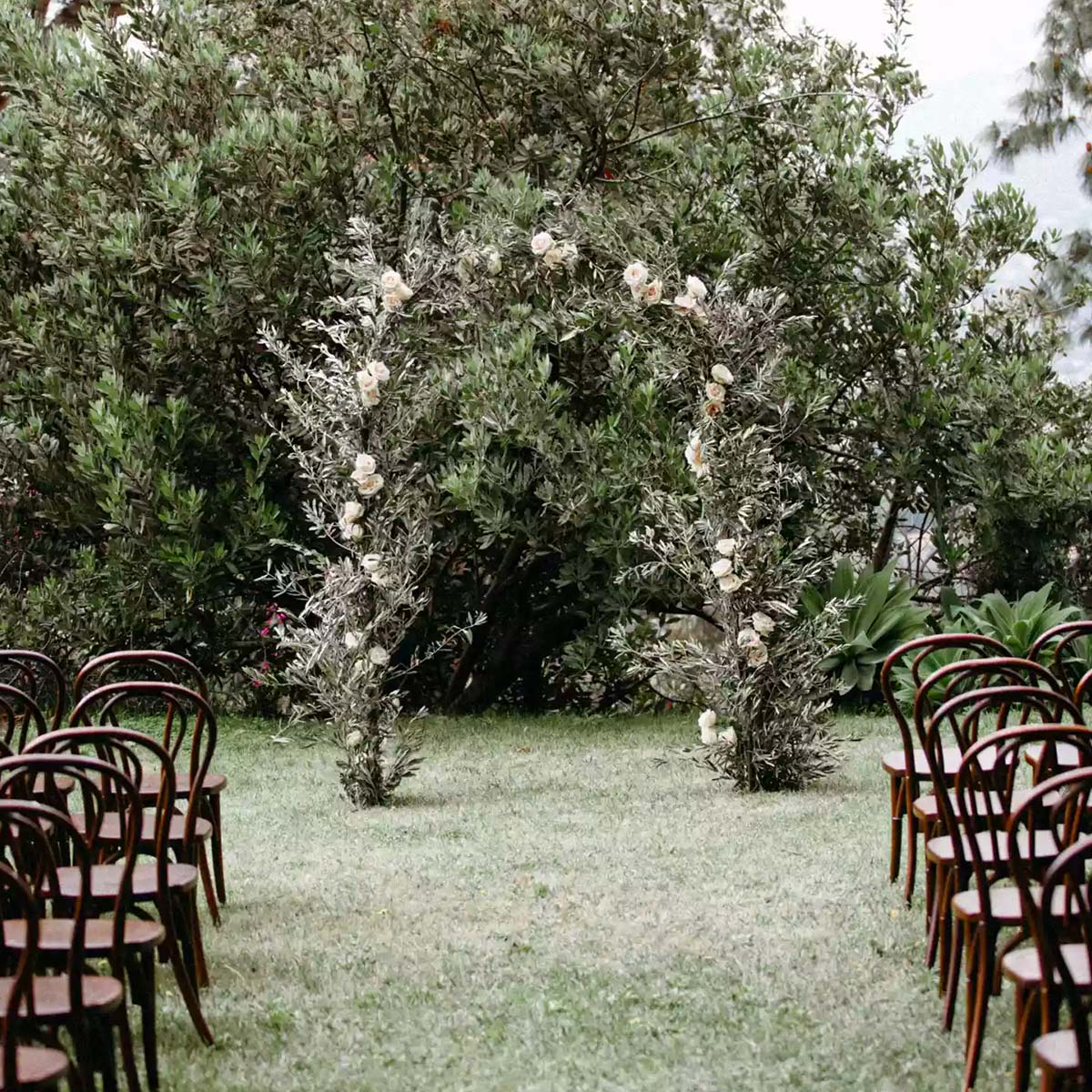 8. Balance Your Blooms
The framing of two wonderful urns filled with comparable flowers highlights this lovely wedding arch loaded with pink roses and other light florals. The design looks cohesive and well-defined when it is bound together with a jute carpet.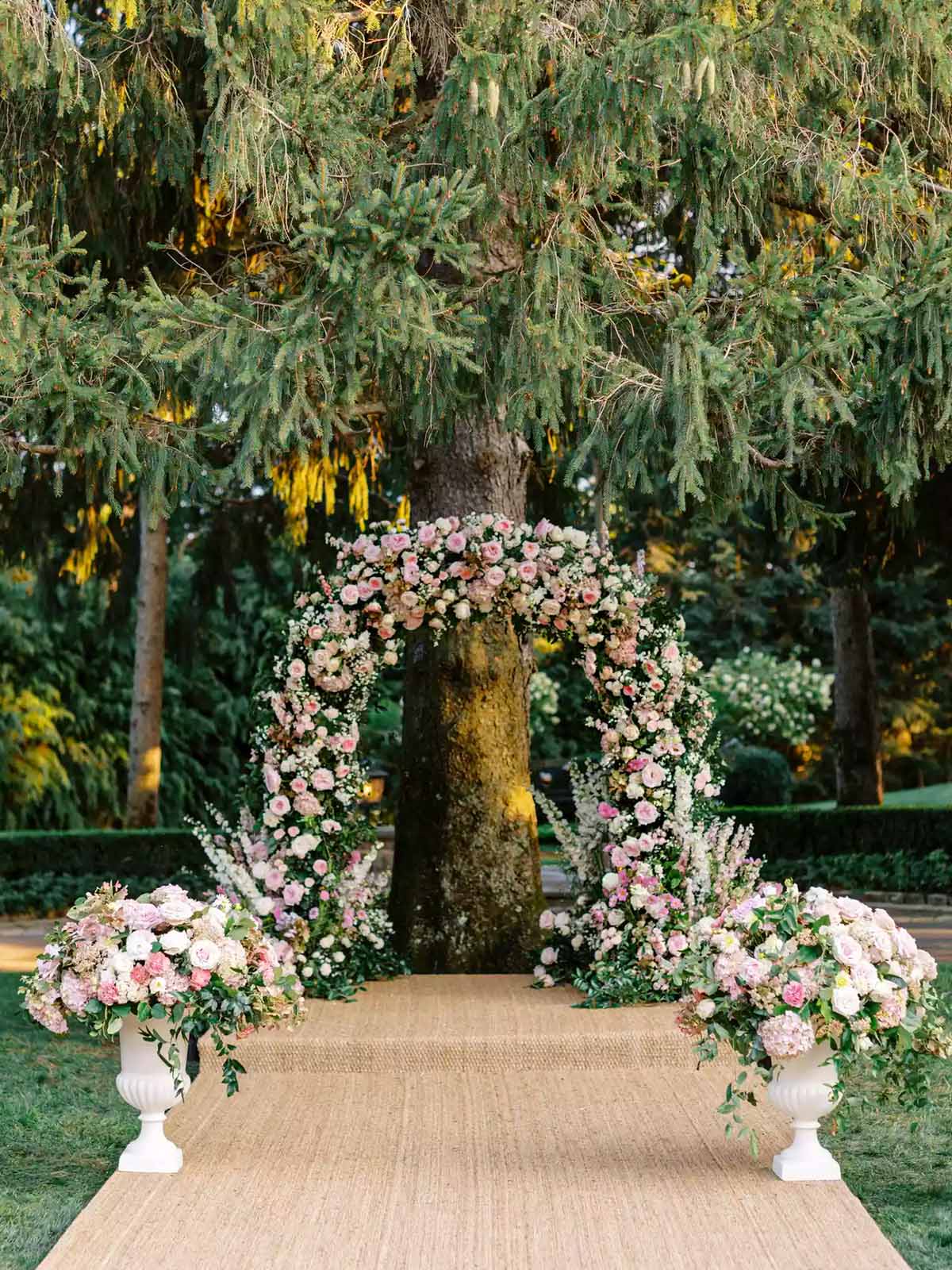 9. Climbing Steps Towards the Wedding Arch
Has the location of your ceremony a staircase? Consider making floral arrangements that end in a floral wedding arch while romantically climbing the stair railings which are also full of lovely blooms to complement the entire scene.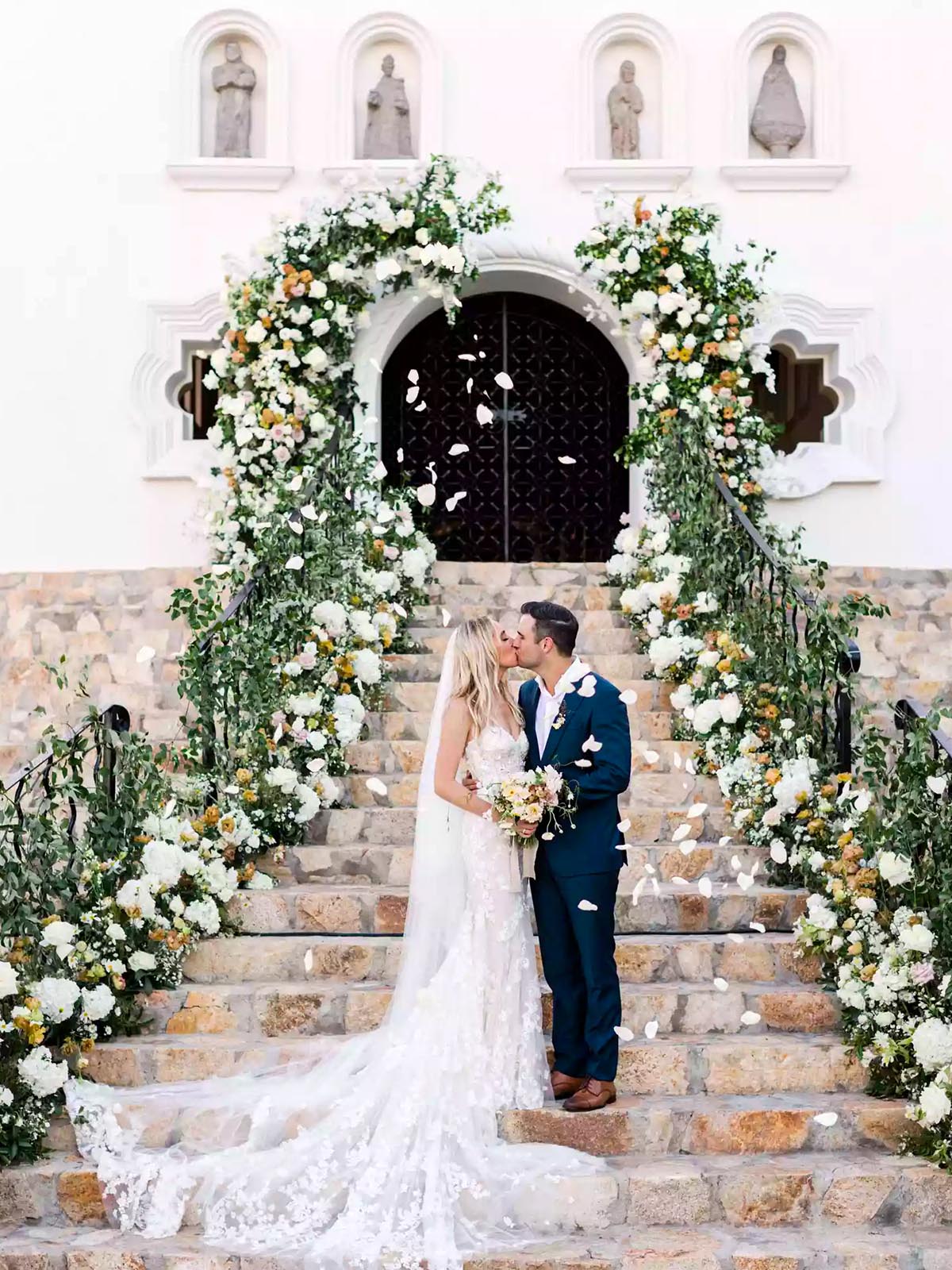 10. Layer Textures
By layering several types of textures, your wedding arch will have attractive, contrasting textures thanks to the use of a variety of flowers and plants within a color scheme, which draws attention to it. One of the most popular options is the use of feathery pampas grass to add much more volume and a delicate, yet romantic perspective.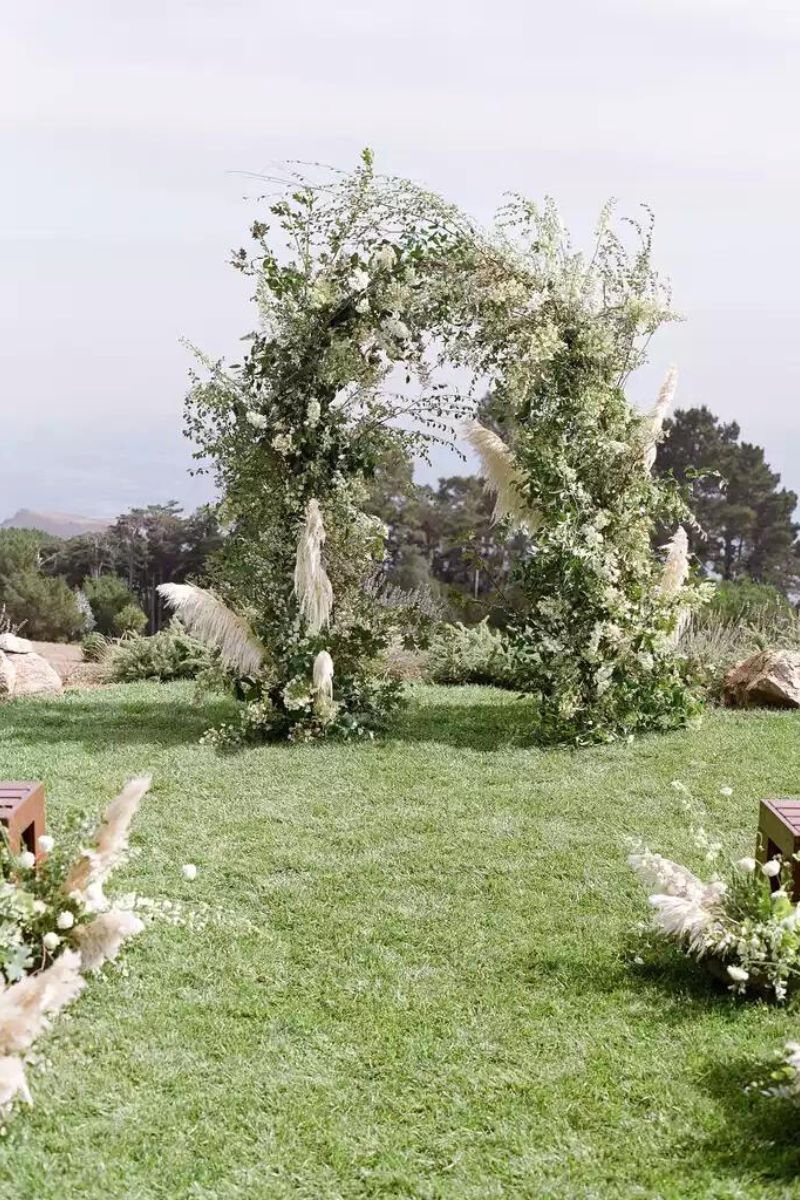 So, what will your wedding arch choice be? There are so many ways to mix and match colors, textures, and shapes to create the perfect wedding arch for you!
Ultimately Why Is a Wedding Arch Important to Have?
The wedding ceremony is the most important part of a wedding day. It is where two people publicly proclaim their commitment to each other. Such a significant moment needs to have a focal point and in an outdoor wedding, there is nothing that will anchor the space more than a wedding arch.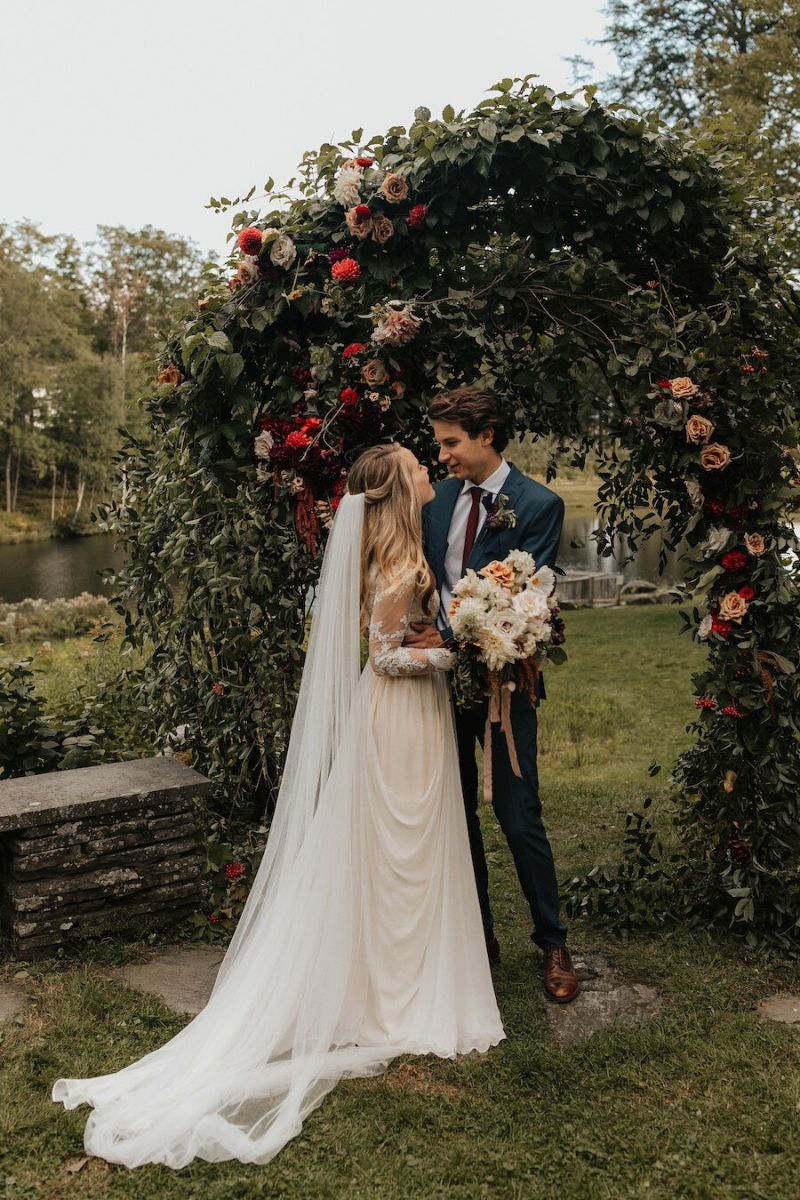 It frames both people as they proclaim their vows and is the backdrop for when they first face their guests as husband and wife. A wedding arch is probably the most photographed decoration on the day so a little bit of thought needs to go into what you are going to have and how it will be decorated.