The municipality of the coast city Middelkerke came up with a fantastic initiative: an artistic journey through the Flemish coast area. Geert Pattyn was asked to design 6 Land-Art creations for this project.
Artistic Journey Through the Flemish Coastal Area
Geert is a master in using natural materials to create grandiose creations that add value to the environment. Land-Art plays with elements from nature and makes you look at nature in a completely different way! The 6 projects are to be visited until the end of September 2021.
The Sight
From the Warande Tower You can discover the natural area Of the dunes, the sea, the polders Here you can discover the marram grass of the Warande Tower Symbol of this fantastic region Place: Duinenweg Middelkerke next to the Warande Tower
Water Nest
A safe place, hidden from any danger A floating platform made of natural twigs Place: Pond 'Ter Yde' Middelkerke
The Cathedral
A cloud of heavenly spheres Slender pillars reach to an unreachable height sojourn  in a blissfully refreshing way in the shadow of the cathedral of the North
Walking Wave
Walking between swaying branches to discover the wide-open countryside
A Dream Catcher
A vegetative telescope captures your natural dreams: clouds, birds, waving branches, sun and moon Place: IJzerdijk Mannekensvere
Cocoons
Just like the weaver birds high up in the trees make an artful and roofed nest for their young, so creates Geert Pattyn natural cocoons as a symbol for the current cocooning trend
Discover the Artworks by Bike
You can also discover these works by bike. Middelkerke has designed a special bicycle route of 32 km, especially for this purpose. So if you like cycling, you can make a nice day trip. If you are not a bicyclist you can also explore the works by car or on foot!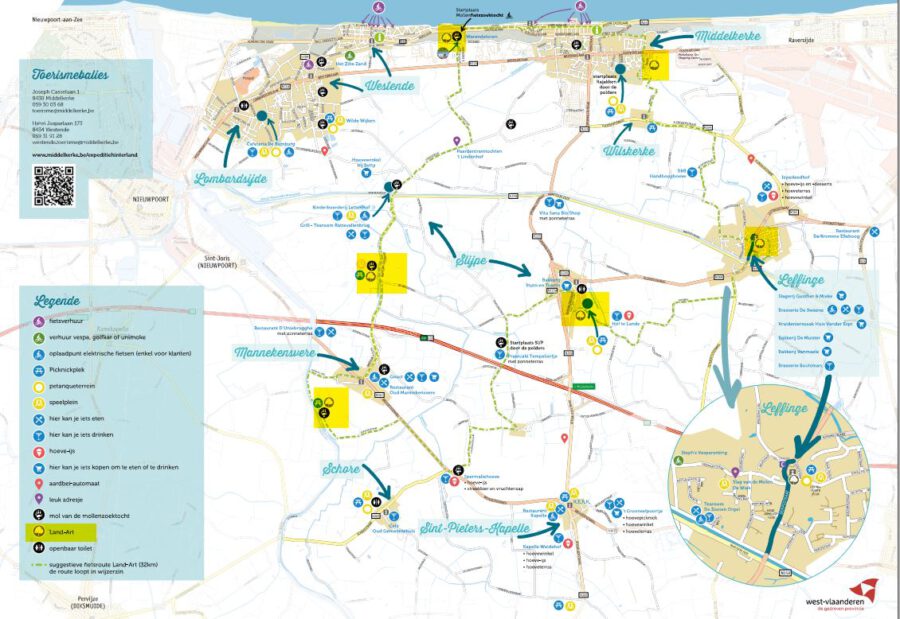 More info? Surf quickly to
the website of Middelkerke
.