Tulipina
Last summer, about a year ago, I saw the beautiful work of the famous American floral designer Tulipina, which she and her team made for a Hindu wedding on Lake Como in Italy. There was an absolutely beautiful flower mandap, a sacral structure in the Indian wedding tradition, a pavilion decorated with flowers and garlands, where the bride and groom sit and receive their blessings. It symbolizes well-being and growth. It was made so cleverly. Tulipina's mandap was an explosion of color and a creative piece of floral art. I was so impressed that I couldn't stop dreaming about creating what I called a 'rainbow design'. Since I didn't have an Indian wedding (also called Vivaha) on my agenda last year, I asked an Amsterdam based photographer Consuelo Edeling, with whom I used to work a lot last year, if she is interested in working with me on an Indian style wedding photoshoot. She agreed and suggested that we can do an Indian wedding in my rooftop garden in the heart of Amsterdam. The location provided us with everything we needed. I have a large lounge seat that we could convert to our version of a sacred flower mandap. The date was set and we started our preparations.
Flowers I used
To begin with, I made a list of flowers that I needed for my "rainbow design". I wanted to use roses and orchids as focal flowers and lisianthus as a supporting flower, plus other materials to add texture and richness to the design. I worked with van den Berg Roses in the past and knew they had a diverse collection of Avalanche roses in different colors. Their collection looked just right. It formed a very good basis for my "rainbow". I love their pink Sophia Loren roses and think they are brilliant. The grower has achieved real perfection with this rose in my opinion. I also selected soft "Avalanche Peach", yellow "Buttercup", bright orange "Clarence", red-edged "Jumilia" and cerise red "Layla" roses. A perfect color gradient base was ready and the "rainbow" started to appear. I was lucky to receive a message from the Ansu Vanda grower, about the same week when I selected my flowers. They introduced me to their beautiful orchids. A visit to the greenhouses in the south of the Netherlands and a private tour with the owner Steef van Adrichem was an exciting experience and a huge privilege. I chose the right colors for the Indian wedding and left Ansu Vanda office with many boxes filled with absolutely stunning jewels. My third main flower was eustoma, commonly known as lisianthus. I've asked Jolanda vd Lugt-Kats from Van der Lugt Lisianthus if they were interested in participating in the project and was excited to get her positive answer. Their Lisianthus collection has a beautiful range of pure colors and very high quality. Exactly what I was looking for. With all the high-quality material collected, the work started.
The Models
While I was working on my preparations, Consuelo was looking for models, traditional Indian bridal costumes, hair stylists and make-up artists. It was great to receive confirmation from talented make-up artists Sabila Darmawan and Anna K. We had to find models, beautiful Indian people, who would make two nice couples. Consuelo was very lucky to have confirmation from former Miss Global India Shalini Audhoe and a nice couple of friends finalist Miss India Holland Poeja Bridjmohan and a model Sheru Santokhi. At that time almost everything had been arranged, we only missed a second "groom". It became a joke, but it is also a true story: one night while checking the hashtag "indian in Amsterdam" on Instagram, I found Arjun. He was tall and handsome, I asked Consuelo to invite him to the project. He is not a model, but quite opposite, a PhD student at the Institute of Molecular Sciences University of Amsterdam. Arjun turned out to be a gifted model for our Indian wedding and became a good friend of mine.
Team and family effort
This photoshoot was really a team effort and, in a way, also a family job. Our families helped us a lot during the shoot. That week my mother was on vacation in Amsterdam, she helped me to make garlands. Consuelo has two little daughters, her youngest Isabella was only six months old at that time. Because we had to work all day and Consuelo was still breastfeeding, the children stayed with us, under the supervision of Consuelo's husband Jeroen, and my mother. My husband Chris also helped us a lot. Jeroen and Chris both assisted me very well with the installation of the "rainbow". At some point, I had lost my nerve for a moment and Jeroen helped me to pull myself together and move on. I am very grateful for this. With fourteen strong we started the shooting.
Shalini Audhoe
Memories of the Day
I've asked our team members to share their memories about the shooting day. I think their words describe it in the best possible way:
Arjun Wadhawan's memories:
On the day, I remember a sense of passion in the air, the sort of energy one could experience when surrounded by talented people. We had a beautiful rooftop with sun glancing above us on a typical Amsterdam's vibrant summer day. The extravagant floral setting by Katya was simply fabulous and I am sure every picture depicts it. Consuelo's camera work was flawless and made us feel very comfortable. The most special moment was when at one point during the shoot I felt like a groom in a real wedding with me playing with the petals around other models. The connection was very strong. In just a span of 6 hours we went from not knowing anyone to dinning together commemorating a successful shoot. The entire shoot wouldn't have been a success without the tireless support of Chris and Jeroen. All in all it was a memorable day that I love recollecting.
Growing up in a punjabi family in India, I have always witnessed the exuberant Indian weddings. To us, wedding is an emotion, a symbol of love and connection for which we plan and wait for months. The essential elements that have glorified the Indian wedding over years are the colors in the decoration, extravagant dresses, euphoric music and luscious food. This festivity lasts for around 3 days on average where one detaches from all the worldly problems to just enjoy the celebrations. This is also the time when many artists work together to forte an awe-inspiring masterpieces ranging from floral decoration, in house lighting, beautiful ornament and photography. The impression of an Indian wedding is so strong that every reminiscence of it makes me happy, like now. Almost every aspect of an Indian wedding is inspirational.
Memories of Make-Up Artist Sabila Darmawan:
When I heard from Katya & Consuelo they were working on a project for an Indian Wedding Photoshoot, I was excited to be a part of it! I was actually not available that day, but I made time for it because I loved the concept and also Katya & Consuelo were so talented with their craft. Upon arrival, I saw the floral arrangements & fell in love with all the bright colors and how it evokes such happiness. It would be the perfect environment for 2 lovers on a summer day, to profess their undying love for each other. It was such a romantic and playful setting. Then I met Anna, the other makeup artist who is talented and sweet. The 4 models on the shoot, were so friendly and welcoming. Each had a story of their own of how they came to be in this project. I had the chance to have ready the two male models makeup & hair and did Poeja's Make-up and did Shalini's hair at the time. It was a perfect day for the shoot. I loved all the bright flowers which combined so beautifully together. Katya did an amazing job identifying each character of the flower and arranging them to create art. Her flowers are her tools to express and match the beautiful emotions that there usually is within a wedding. Overall I am impressed with everyone's work and how the photos turned out. Truly a timeless masterpiece which can be enjoyed year after year.
Memories of "bride" Poeja Bridjmohan:
The photoshoot was great, thanks to the great team! The team was well prepared and very flexible. Because of this the results are also beautiful and everyone can confirm this. What I like the most about an Indian wedding is the vows that the bride and the groom make to one another. There are 7 laps around the sacred fire and each round represents a promise. And the most beautiful thing about the Indian wedding is that the whole family can see it.
Memories of "groom" Sheru Santokhi:
I had a nice experience at the Indian bridal photoshoot. My most beautiful moment of this photoshoot lays on the roof of the photo location. Both the flowers and the view of Amsterdam in combination with the traditional Indian outfit made it an experience not to be forgotten. Indian clothing is not only a piece of clothing fabric but represents a piece of culture from India as one of the oldest cultures in the world. Indian culture has a close connection with flowers. In India they offer flowers to their goddesses. The decoration setup that the florist and the photographer created gave the end result and a beautiful dreamy effect. The Hindi filmcinema (popularly known as Bollywood) inspires me to take part of this photoshoot as many Bollywood stars wear an Indian costume which is mostly seen in film songs. And when it comes to the Indian wedding, the dream is incomplete without the Sherwani – the Indian traditional wedding dress of the groom.
NB: Sheru brought his beautiful original Sherwani suit with him.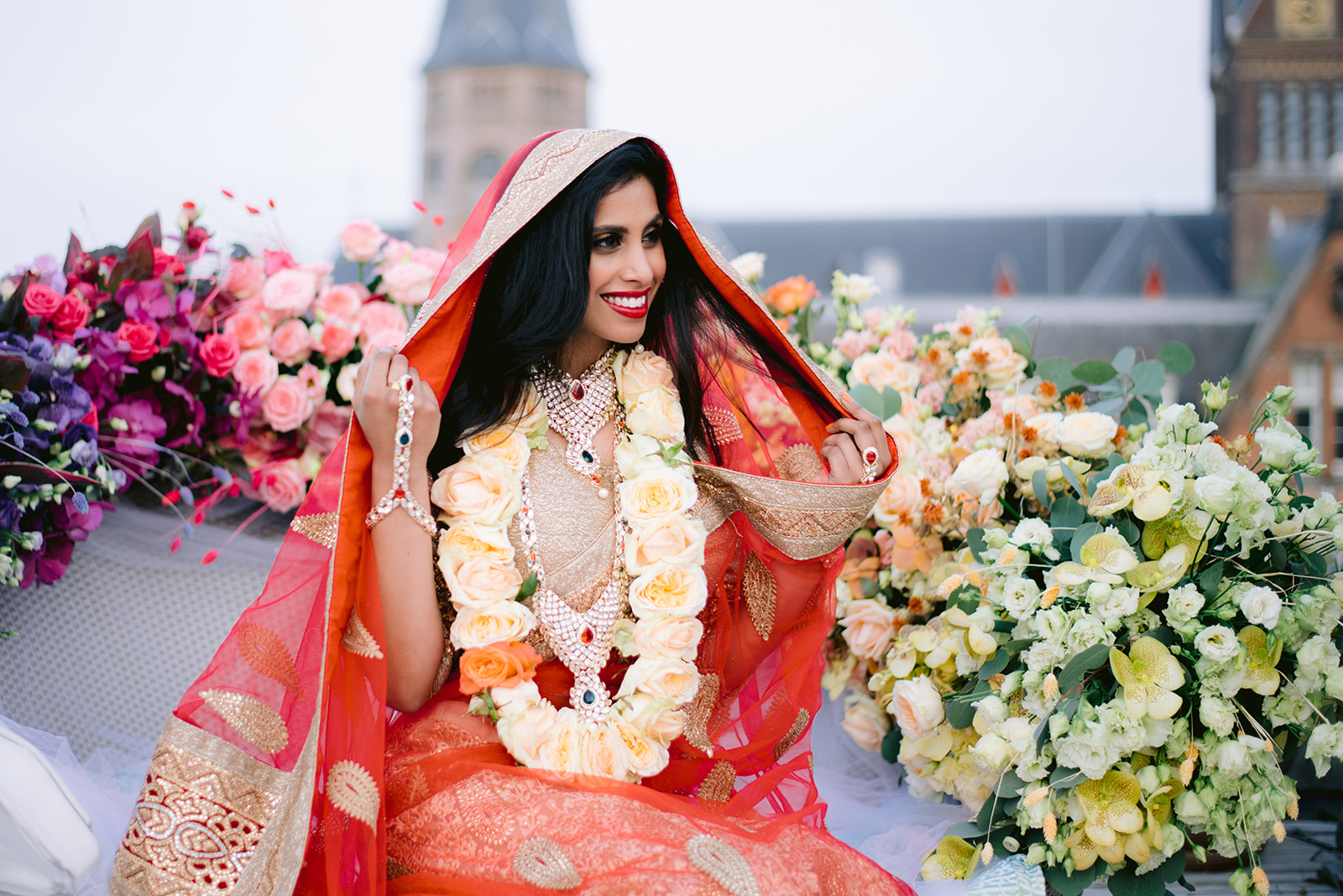 Shalini Audhoe
Memories of make-up artist Anna K:
I was truly honored to be part of that huge project, filled with beautiful people and gorgeous flowers.I remember the set looked like garden in a fairy tale, like a beautiful kingdom of kind dreams, where magical creatures live and miracles happen.This atmosphere, of course, became my main guideline in regards to makeup and hair, to complement the scene, the idea of colors, freedom, happiness and love.
Memories of photographer Consuelo Edeling:
It was beautiful to be part of this photoshoot with so many talented people. Colors is the essence of Indian culture and was amazing to see the powerful, vibrant and positive energy brought together.
Memories of Shalini Audhoe:
Everything about this day felt so magical! This was definitely one of my favourite photoshoots. I genuinely felt the passion of each and everyone included during the creative process. Flowers, good vibes and smiling people everywhere. I loved being part of this project and I am grateful for the lovely people I met during this day.
We All Enjoyed It
Well, there was even a full moon during our photoshoot! It was an absolute magical experience. Although it was also a moment of high concentration and some stress, good stress which is needed to solve problems. When working on such a complex project, there are many aspects to consider. It is as if you work for a few customers at the same time: growers, models, make-up artists, bridal shops, photographer and florist. Ultimately, everyone should get good results and be satisfied. It is a great responsibility. I sincerely hope that Steef van Adrichem from Ansu Vanda, Marina and Arie van Berg Roses and Jolanda from Van der Lugt Lisianthus are just as happy with the results, as we are. You never know if you missed something. I am a perfectionist and when it comes to quality, I am demanding in the work process. I take my work very seriously, my work and that of others must be done at a high level. I am also not afraid to show vulnerability because I believe it stimulates creativity. When you work with so many people from different cultures, you experience all sides of this unique collaboration. There was an absolutely beautiful, friendly, and cooperative atmosphere during the photoshoot. We all enjoyed it and then had a delicious dinner cooked by my lovely husband and a food photographer Chris Hutter. A well-deserved treat and an unforgettable evening. Thank you to everyone for this unique experience and the beautiful images!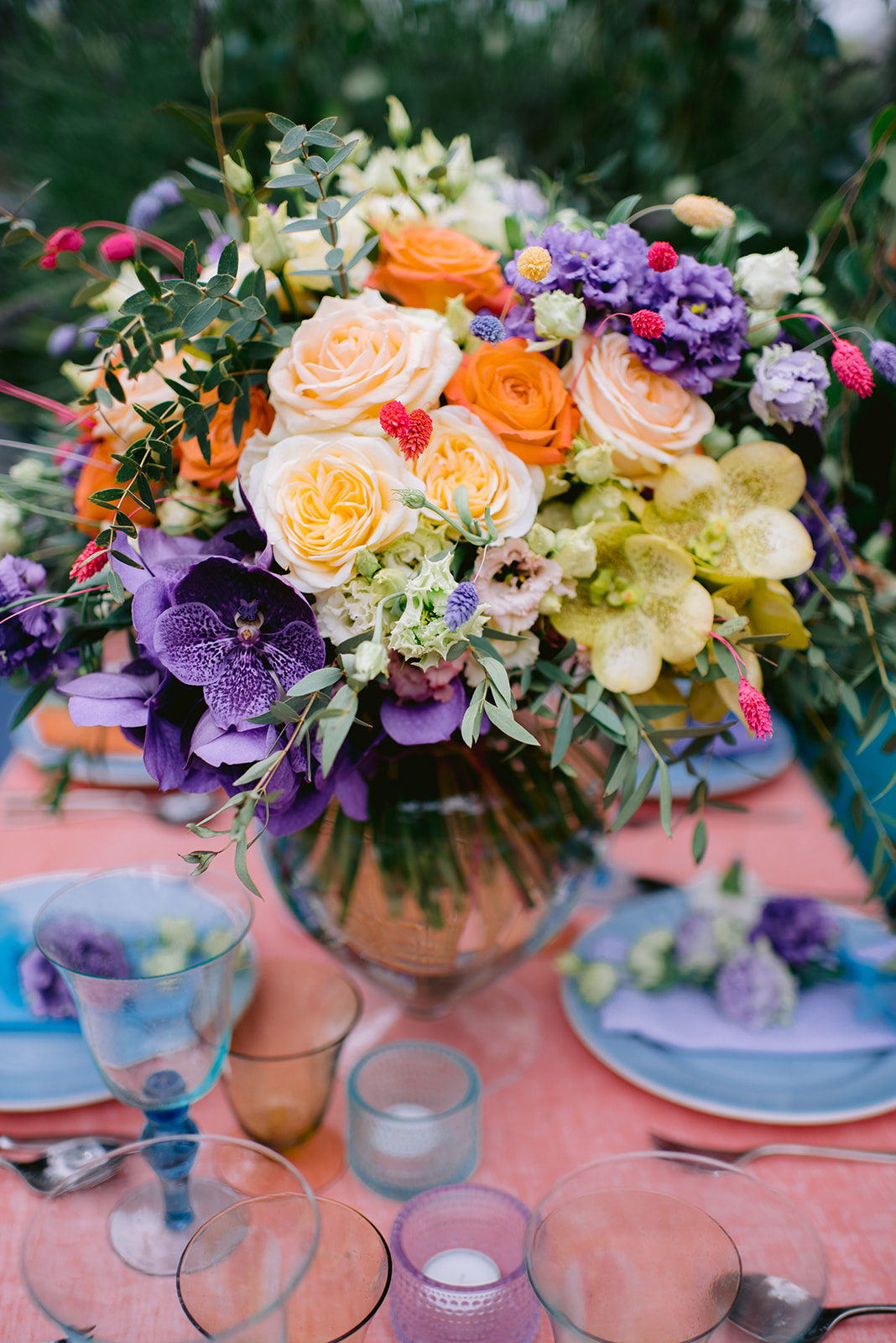 PS: when Arjun's mother saw the images, she was really upset that he married in Amsterdam without even letting her know, the images looked so real. Only when he showed her photos with another model, she believed that it was a styled photoshoot. His friends and family members are still sending him their congrats and best wishes ;-)
Credits
Idea and Production: Katya Hutter & Consuelo Edeling
Photography: Consuelo Edeling @consuelo.edeling.photography
Floral design and styling: Katya Hutter Floral Design
Make-up and hair: Anna K @annak_makeupartist (Shalini Audhoe), Sabila Darmawan @aoraglow (Poeja Bridjmohan & male models)
Models: Miss Global India Shalini Audhoe @shaliniaudhoe, Finalist Miss India Holland Poeja Bridjmohan @poejamalika, Arjun Wadhawan @arjunwadhawan37, Sheru Santokhi @sherusantokhi
Flowers: Ansu Vanda orchids, Berg Roses, Van der Lugt Lisianthus
Traditional Indian wedding costumes: Beautiful Fashion Almere @beautifulfashionalmere_, Mina Creations @minacreations
Wedding dresses: Wedding boutique "I do, I do" in Amsterdam @idoido.amsterdam
Backstage photography: Arjun Wadhawan