International Women's Day, 8 March, is an important holiday in Russia. After an often cold and dark winter, it is a day in early spring, when the Russian women are put in the limelight. The attention of the Russian man then goes to his wife, his mistress, his mother, his grandmother, and his female colleague.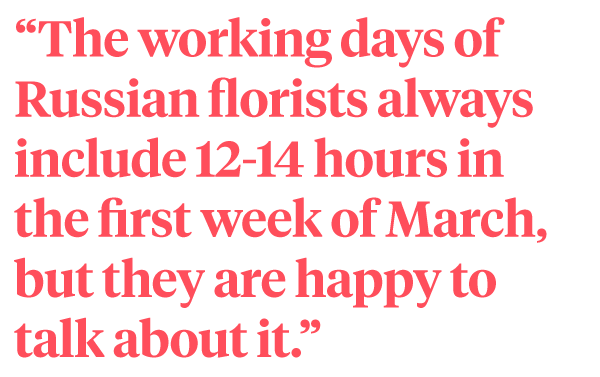 A Man Soon Needs Five Bouquets
Of course, the Russian women do not only receive attention, but they also receive gifts and, last but not least, beautiful bouquets. That is also why 8 March is an important day for Russian florists. A man soon needs five bouquets to give the women around him the attention they deserve. This means good turnover for flower salons and trade. Many shops achieve a turnover that is equal to a turnover of 1-2 other months around 8 March.
A National Holiday
Also because 8 March is a national holiday on which everyone is free, the making and delivery of bouquets and other flower arrangements already start around 3 March. Business customers are served first. That part already comprises about 25% of the turnover. Then the other orders follow: from the large flower arrangements ordered by VIP customers to the bouquets that are sold in large numbers.
Sobolj Spoke to Russian Florists
In the run-up to 8 March 2021, Sobolj spoke with florists in St. Petersburg, Moscow, and a number of provincial cities to hear what they expect from International Women's Day for their trade. In general, the expectation is that sales will not lag behind last year. The number of regular customers at the florists is up to 90% of the customer base, and the vast majority will place their orders before 8 March. This has been the case for years, which gives many Russian florists a high degree of certainty regarding the expected demand around this holiday.
8 March in these Special Times
In these special times, emotions surrounding International Women's Day undoubtedly play an even greater role than in other years. Grandchildren who come to collect a beautiful bouquet for grandma with the money saved will move many florists particularly. Incidentally, mothers also give flowers to their mothers, and female colleagues surprise each other with a beautiful bouquet. The tulip remains much in demand, if not the most in-demand, flower in Russia before March 8. After that, roses, hyacinths, mimosa, and chrysanthemums are also particularly popular for this day. Pot roses and pot chrysanthemums in beautiful baskets or pots are also in great demand.
12-14 Hour Working Day
The working days of Russian florists always include 12-14 hours in the first week of March, but they are happy to talk about it. Not only because of the turnover they make. Also because of what they can contribute to getting Russians to say with flowers on 8 March what they feel for the recipient of the bouquet: love and appreciation.
Stylish Women Conquer the World!
We have a sense of purpose, flexibility of mind, and beauty. We easily translate bold ideas into reality, move with the times and introduce fashion trends into our lives! Without us, this world becomes too correct, clear, and unbelievably boring. We are the ones who bring a touch of adventure, show familiar things from a new side, wear flower hats, and amaze others with our splendor.
On this festive day in spring, I wish every woman a lot of love! Shine, develop, surprise - and every goal is at your fingertips!
Best wishes, Natasja Mironova from FlowerExperience/Sobolj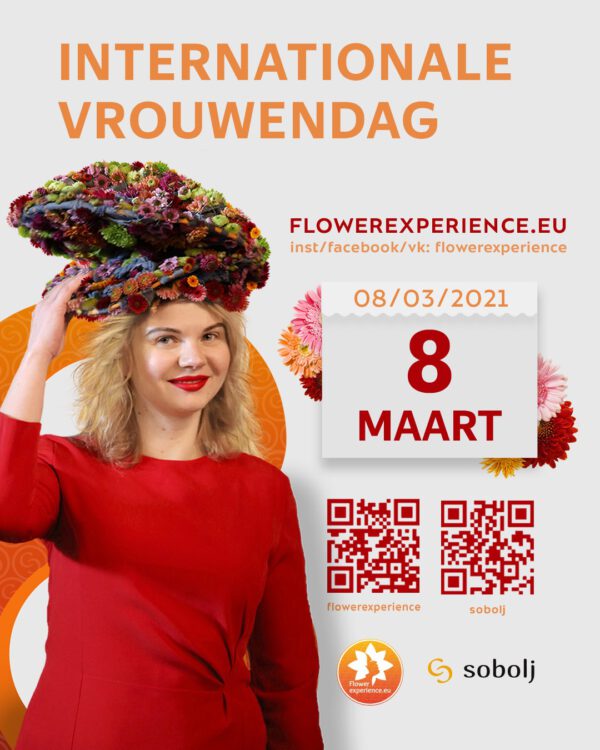 All images in this photo shoot from the Just Chrys campaign in Russia