Unique Designs for Lovers who Dare to be Different
Indulge into the fearless blooms and everything romantic, evocative, unique, breathtaking and bohemian with Bohemian Blooms. An exclusive interview with
Bohemian Blooms
, an intuitive event design studio established by head designer Jerin-Lei Malacrida.

Head Designer Jerin-Lei Malacrida
Jerin-Lei, can you enlighten us a bit about your philosophy "Bountiful, beautiful and bohemian. A decadent feast for the eyes, bursting with magic and romance". How does this circle back to you as a person and your relation to flowers?
"Can I enlighten you about my philosophy of bountiful beautiful and bohemian a feast for the eyes bursting with magic and romance and how does that circle back to me as a person in relation to flowers? Well, I think it's not just about the flowers, it's about the overall picture of what you're trying to create. I think the philosophy and what it means to me, bohemian in general is an unconventional and artistic way to view things, I think. So for me, that's what bohemian is, it's not boho or beachy or anything like that. It's just unconditional and artistic and bountiful and beautiful along with that. You really can't go wrong with something that is almost too much, too much of mass beautiful and artistic and unconventional. For me, that's really what the design process and everything that I do is all about. But I do think that the flowers are part of creating that picture, but for me, it can never just be flowers alone.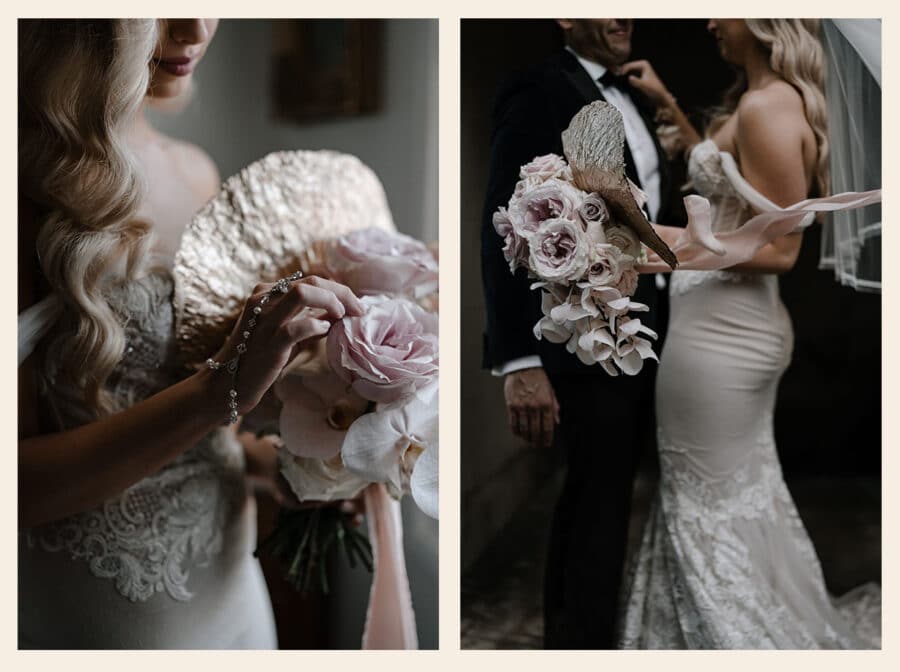 Flowers are I guess a tool in which to create the picture that I've dreamed up with my clients. It's just as important as, you know the styling, the lighting, the treasures, anything that you can find that pulls together this dream. And I guess this whole idea about it being a feast for the eyes, again it just has to be everything I guess on mass that pulled back at the right points. So when you walk into a space and you see this set up, it is just an overwhelmingly beautiful experience for the senses. I definitely think that is innovative and it's hugely creative and I think that's I guess bohemian as well, because it is such a huge part of what I'm about. It is really about taking risks and being brave and having the freedom to express. Breaking rules to create something that really pulls back to the client and potentially taking it to a level that they never even thought of. But they are the starting point, they are the muse for the entire design really. It's just about taking it to another level."

Your work is described with quotes like 'evocative, statement-making, daring to be different'. It seems like Bohemian Blooms likes to push boundaries in the traditional floral industry. Is that something that drives you and your team?
"Always, I mean it is not necessarily about always having to push boundaries, but we're not scared to push them. We're not scared to like smash those boundaries to pieces. If it means being authentic and creating something that is just going to completely leave the client just breathless and overwhelmed, in a really good way. It's not that we like breaking rules, but we don't let rules get in the way of the creative process at all."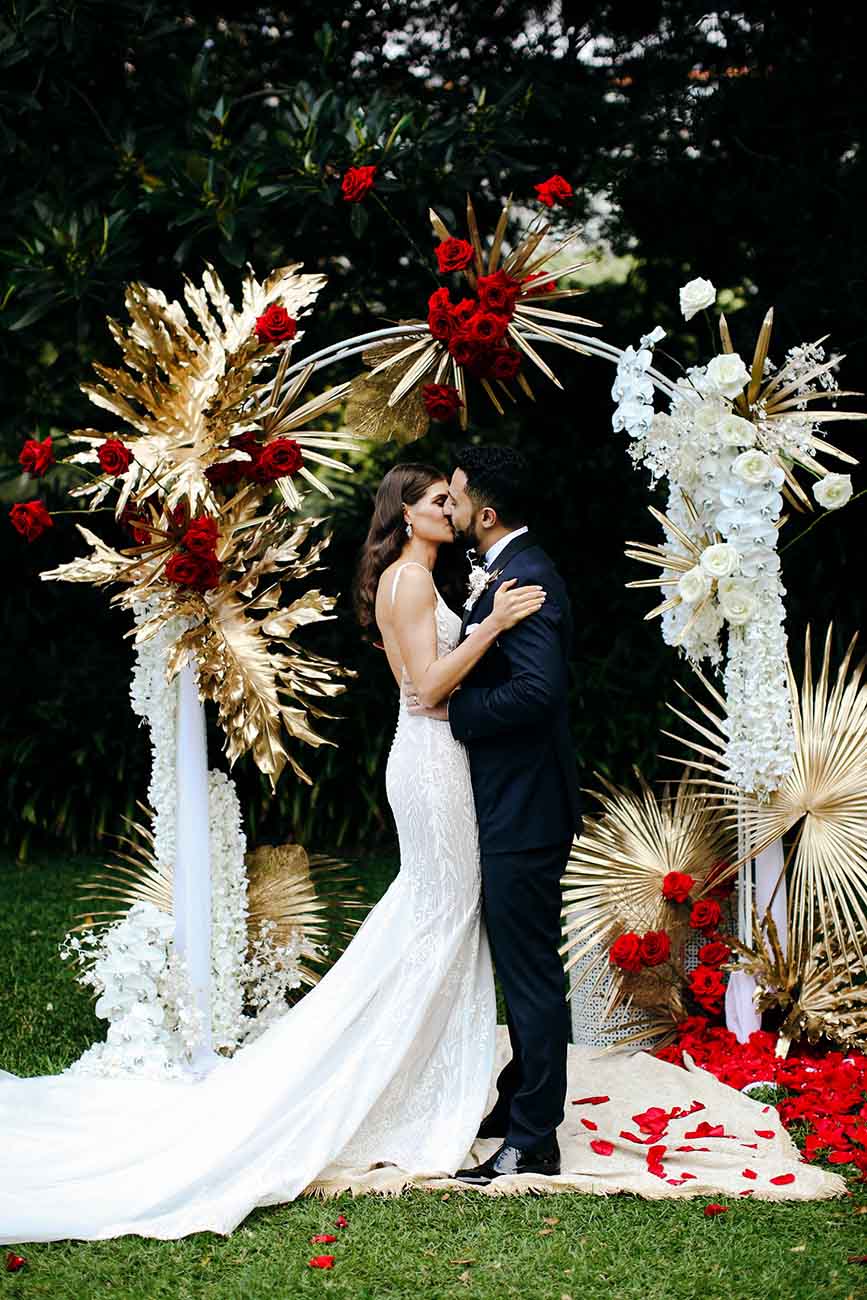 You have your own event design studio based in Sydney, yet you travel the globe for all your star crossed lovers and statement-making business folk – which international experience has stayed with you the most and why?
"Well, I think immediately it's a wedding I did in Queenstown, not that that's particularly that international in terms of it is not across the globe or anything. But I mean Queenstown in general, New Zealand, in general, is just so particularly beautiful. The venue as well was incredibly evocative and moody, I don't think I've ever been in such a brooding space before. And so, as much as you do, do a lot of research and you organize all the flaws beforehand and all that kind of stuff.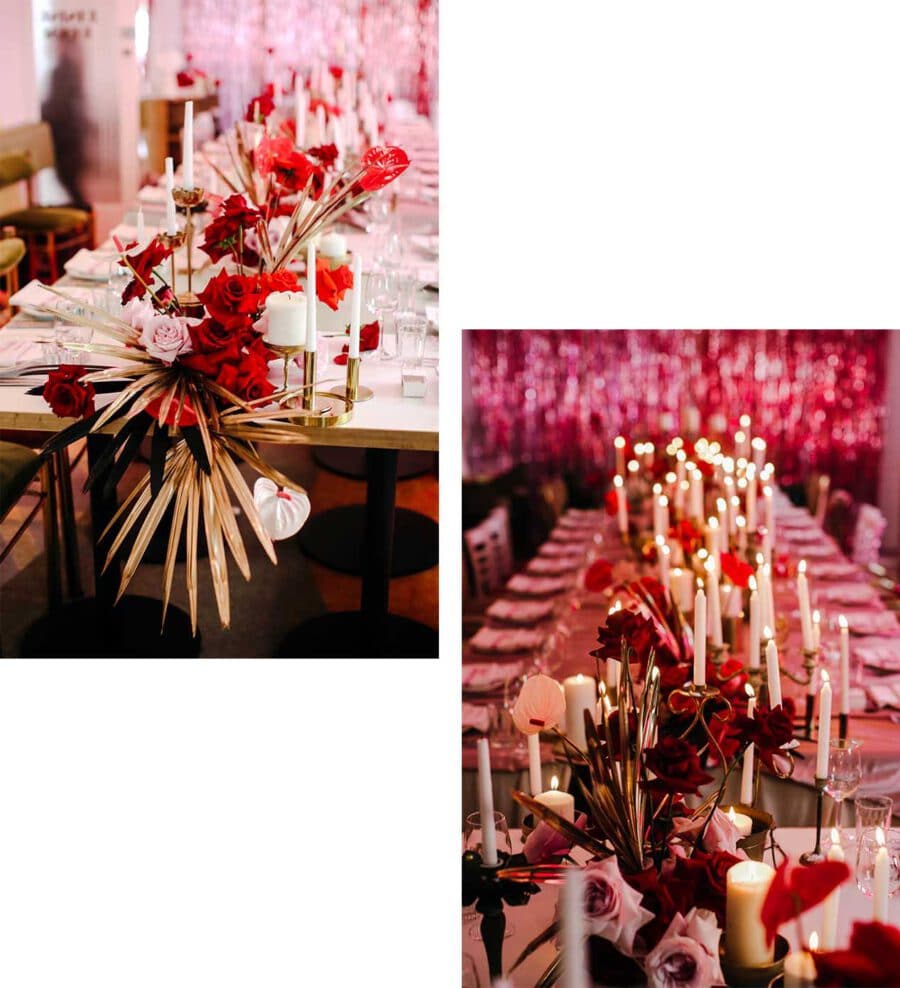 I think once you're in the space, that's when everything starts to get out of the box and you start to push through maybe some boundaries you really set for yourself in your mind. And then you're inspired by the space and thus create something that you didn't even know you're going to. So yes, I think that Queenstown was wonderful and inspiring, but the venue as well was pretty special and it definitely took on a life on its own."
You have two babes - a.k.a. little floral apprentices - Rio and Bowie Aphrodite. Running an event design business equals flexible and long hours, how do you balance your work-family life and make sure you stay connected?
"I love it, it suits me down to the ground. I really enjoy being in control and having time for both parts of my life that make me so happy. Being a mom and being a business owner and being so creatively free, they bounce off each other. The business makes me a better mom and being a mom makes me a more adventurous and brave stylist and designer. So they are very interconnected.

My children inspire me, keep me positive and I guess it is about bringing money into the household so that I can give that to my family and children. But it is amazing actually, how they both just inspire the other. I wish I had more time for my husband and I. He takes the kids while I do this in the weekends. I wish we could see each other more, but as long as we prioritize date nights every now and then, we kind of keep it together. But yes I definitely think as a mom who wanted to stay at home but also wanted to run a business and be part of the workforce, it was a perfect combination. It gets very stressful sometimes but, mainly sometimes and most of the time it's just pretty wonderful."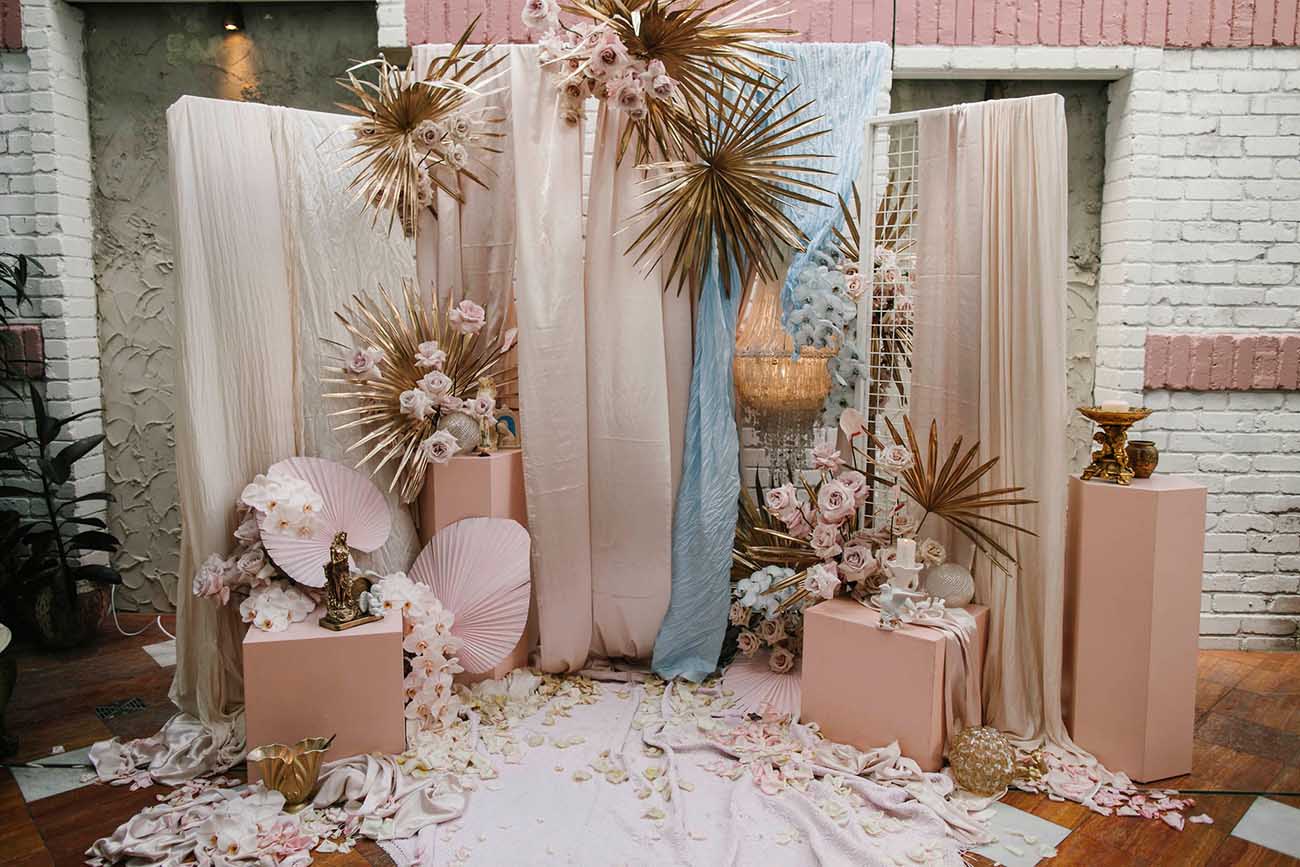 We must say, you love your drama. The decadent floral designs are a feast for our eyes. We'd love to hear you indulge us in your personal favorite theme.
"My favorite theme of the moment, has been for a little while and it reminds me of my children is, you know the gods and goddesses, the statues and anything that resembles something from the ocean or like Venus, Aphrodite, Zeus. For me it's very magical but all of the symbols and imagery that come with that just make my heart burst. So that's definitely my favorite vibe at the moment. It just resonates with me, even just like the colors that go along with that, the textures that come along with that, the gold and the luxiness, the pullback to nature. I absolutely love it."

We see a lot of colored orchids from the stem, dried palm leaves and lush lotus leaves in your work.. things that aren't always available to the worldwide flower market. Which new trends do you expect to be adopted in 2020/2021?
"I don't know, I don't really go by trends. I mean I can appreciate that say, orchids have been very on-trend, but that's not why I use them. I love the shade that they make. I think people are definitely going to start to become more global warming aware and trying to use less and recycle more. And use even more dried stuff than they have been using or preserved stuff. Because you can use that over and over again. So that lends itself to the way the world needs to start being treated. So, maybe not necessarily visual trends but I think in general we are all going to start to recycle and reuse things a lot more. And you know what, trends are always changing and one person will come up with something and then next week everyone's doing it and it happens all the time. It's just the cycle of invention and creativity. Things you would never even think of and now being used in installations and you're like that is amazing, how did I not think of that. So I just think it's constant but I definitely think that being environmentally friendly is what is going to start to be more important than anything else."
In your work, we see a lot of flowers out of their original context. From a colored orchid to a rose that's folded open and gold sprayed palm leaves. What kind of product is next on your wish list to experiment with?
"I spend a lot of time walking with my kids, like in the prem. I'm going to the beach and walking around nature. And I definitely think that every time I'm on a walk, I'm always looking around and looking at things that, potentially the colors are alright, but the shape is amazing. And if I dried that out and sprayed it what could it be, what would it be good for. So I just think it's not necessarily a single product on my wishlist, I think it's just anything you're proud and you're inspired by. I'm in the middle of creating some chandeliers that look like jellyfish, so I think I'm really inspired at the moment by the ocean, so I think just creating stuff that I guess looks like the ocean is the stuff that I'm making at the moment. But yes, I just think using anything you can out of context is awesome and is what we should all be trying to do to give it another meaning."

A new style in floral designer land – originated in Australia we presume - is to fold open the outer petals of a rose. You can imagine that this trend isn't always understood by the rose breeder. Can you explain the intention, and it's effect, to our Thursd. people, from a passionate designers' perspective?
"Yes, I mean there is nothing more spectacularly beautiful or romantic than a big blooming open rose. It takes hours and hours to open every single rose. And you probably wonder, what is the real point of that? But it's how much space it takes u. So, it's more budget-friendly because when you have these it takes up more space and it's more dramatic in its shape. But I think really for me the reason why I always will open a rose, flex the pedals, is because of the shape. It then creates a really romantic image of a rose and especially with the long slim stems, particularly when you take off the leaves.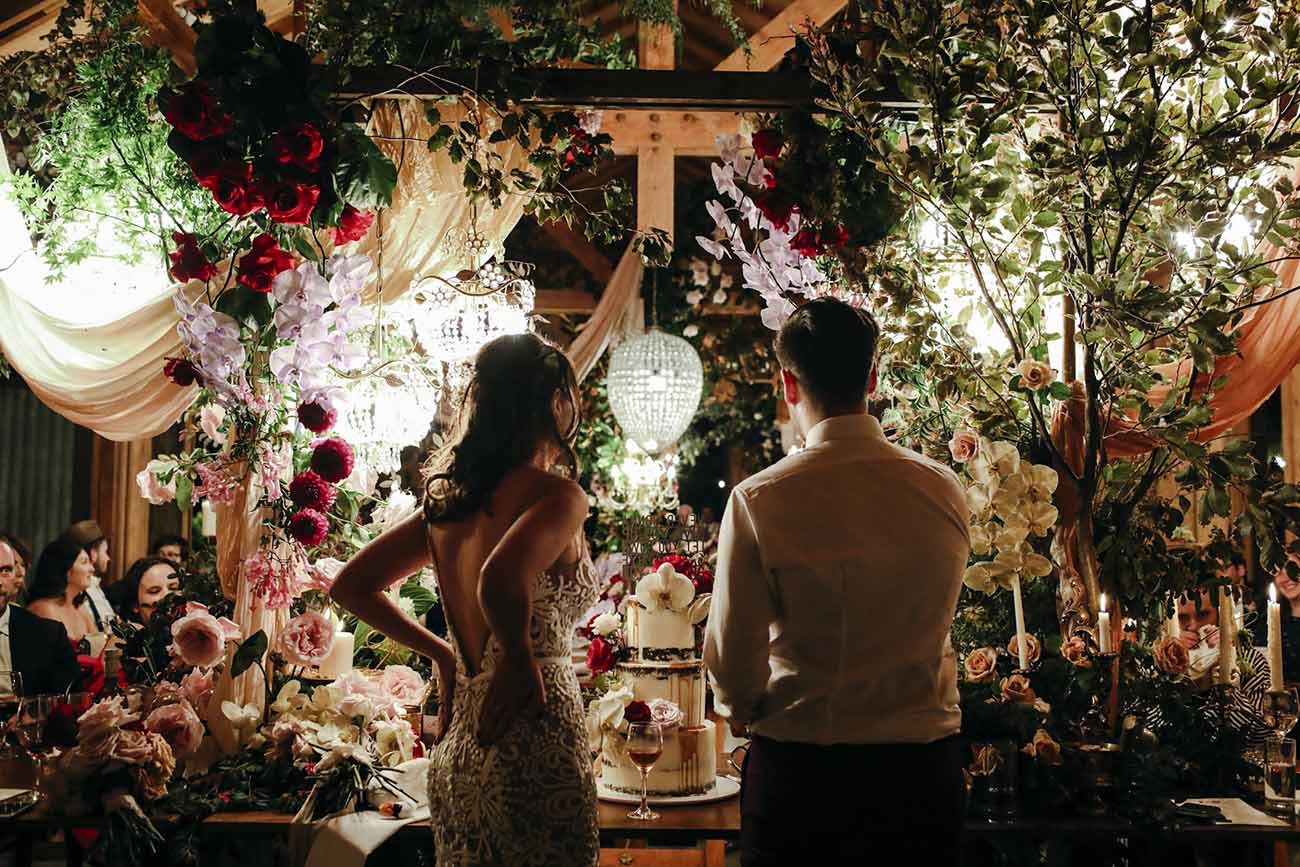 And it's just big and bold and blossoming and this massive rose heads that is just dramatic and beautiful and utterly romantic. So, I'll always take the time and insure that we'll open up the roses. Honestly I cannot even imagine using a rose that is closed. I mean the ones that are grown locally, they will open to a certain point and they are beautiful in their own way. They're more organic looking, but in the kind of designs that I do, I tend to use more imported ones that lend themselves to being flexed open and give you that really bold dramatic look. So, yes bold, dramatic looks."

Giving up floral foam seems to be the new sugar-free diet. How does floral foam fit in your designs and what are your thoughts on this?
"It's hard, being in Australia, it is hard to do installations in the high season when it's warm without using floral foam, that's one point. Second, the structure you get, the shapes you can create using floral foam, is something I haven't worked out how to do it yet without using floral foam. But I think the most important thing is using the biodegradable stuff. It takes more time cause you need to buy them in the single pieces and then cut them into the right size. But look, it's important and I'm not quite ready to go completely floral foam free. And I am completely in if anyone can create huge incredible installations without them. I'm just not that good yet. Hopefully one day. It's on my list of things to do, just for the environment. In the meantime the biodegradable stuff is good."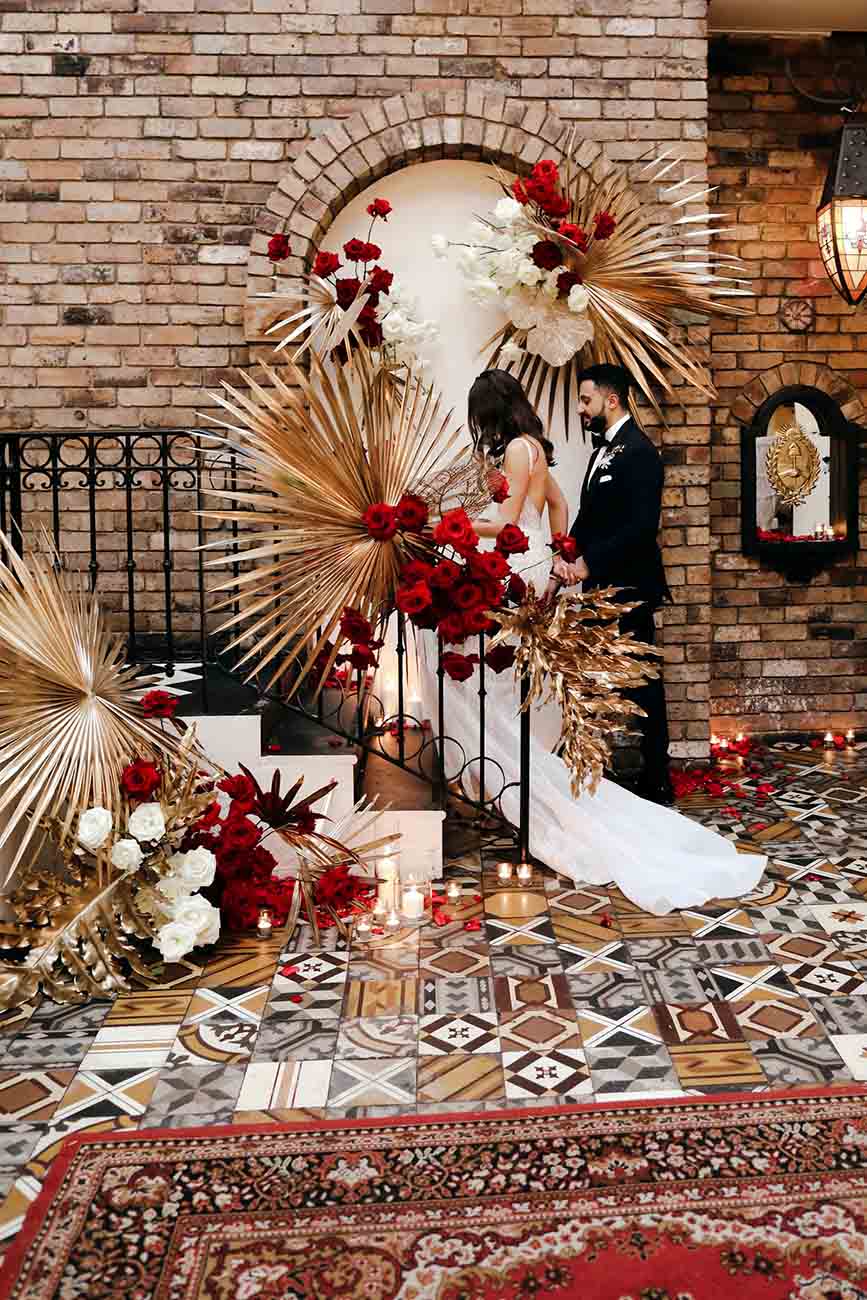 Each of Bohemian Blooms designs is unique and evocative. Can you walk us through your creative process and what inspires you, besides the clients' wishes?
"It's never really about the clients wishes, it's more about the clients themselves. I think when you get to know them, you know what they find beautiful, because they will send you a few inspiration photos. And I think that when you actually meet with them, even just over the phone and you get an idea as to who they are and what their love story is, like particularly with weddings, I need to know about the love story.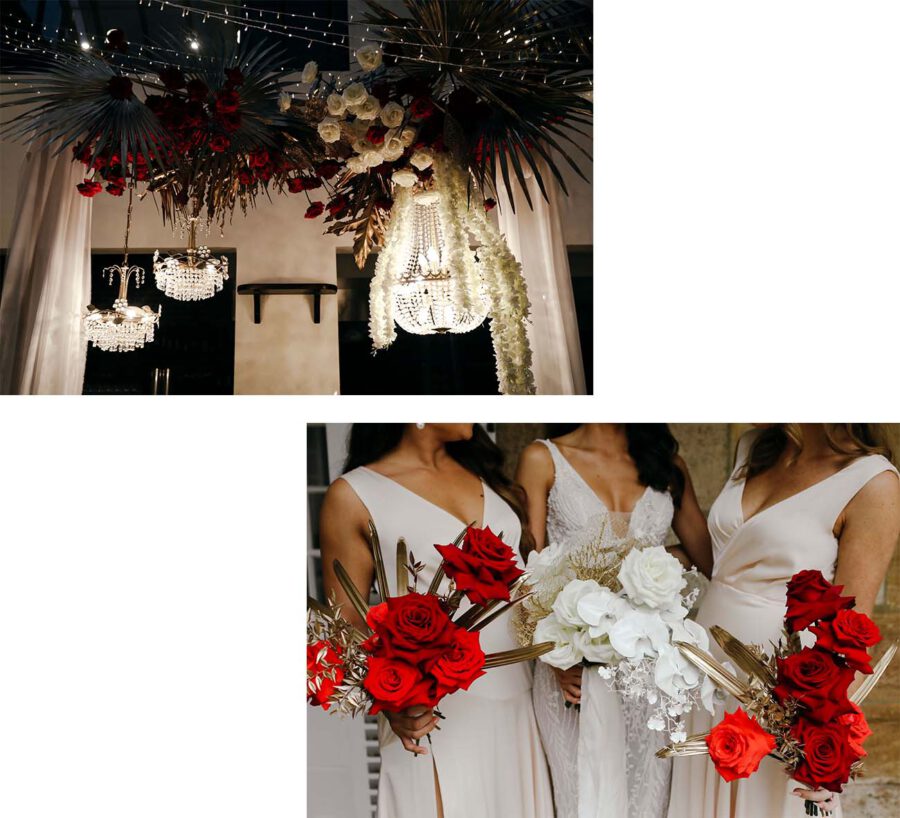 That then plays a part and then, for example, I had a client that was obsessed with Disney and fairytales and really loves 'Beauty and the Beast'. But she really wanted it, she was quite a glamourous, bold woman who had this very beautiful love story. A very deeply romantic love story, but still quite modern, a very modern woman. So it ended up being a kind of throwback to 'Beauty and the Beast', but in a very modern way.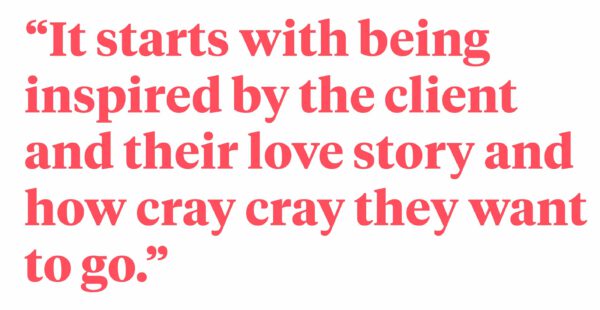 So I think the love story, the clients themselves, not necessarily their wishes, cause I think sometimes they come to you and they have an idea what they like the look of. But they're not going to be like, right I want an x amount of arrangements and I want this kind of bridal table and I want to use these kinds of leaves and use these kinds of flowers. I think most of the clients that I do attract are the ones where they come to me and say; "Look I love your work, this is the palette and the kind of vibe we like, this kind of thing inspires me, this our love story. Now go and do your thing". So that's definitely the creative process without walking you through it entirely. It starts with being inspired by the client and their love story and how cray cray they want to go. I love the freedom to be inspired by them and then to create something that they might have been scared of but they just trust me so it's fine. Everybody ends up happy in the end. That's good, we're all very content at the end, I think."

Where do you buy your flowers (name of the wholesaler/trader)?
"Well, from the markets. But always Harry's, they have the best imported stuff and the best range. And I can rely on them to always pull through with what I've ordered and what I need. They are wonderful. In terms of like foliages and greenery I got a few different suppliers who just do the most outrageously beautiful branches and things like that. But I'd say in terms of flowers, definitely Harry's. Harry's is my go to."
Thursd. is about breaking the traditions and creating transparency in the floral industry. We love it when this outs itself in an interview. Keeping this in mind; which bespoke floral designer would you like to introduce for our next interview and why?
"There's so many, how can I put one forward. I'm sure you've already heard of Bloodwood Botanica and Fleur and Threads. Both really creating wonderful strides in floral designing and they've got their own very unique and striking looks. Hermetica obviously, there's so many. But I'd say that they're probably my favorite ones. Oh look, there's a ton. The Make House is amazing, Au Naturel Art Flowers obviously is incredible. There's millions that I'm so inspired by. The Wild Flower in Perth, wow, love her stuff too, beauty and dramatic. I have a million people to put forward."