As Evanthia, being involved in breeding, sourcing, seed trade, and production of young plant material, we're one of the first links in the floriculture chain. For us, it is so much fun and rewarding to see consumers – especially the new generation - enjoying our products and being creative in many ways. We can gain so much by learning from their new perspectives. The popularity of tropical plants has grown immensely over recent years, something we have clearly noticed within our own company as well. It brought a lot of new ideas and even lifestyles, with mindful concepts like plant bathing and plant parenting. Online, plant communities grow as fast as Alocasias!
Apartment Living Room DIY Plant Wall
In a new blog series, we follow Rotem and Jan-Willem, a young couple from Berlin, in their plant parenting adventure. In this first episode, they will introduce themselves to you and tell you all about their motivation for building a plant wall with a wide variety of tropical house plants in their own living room.
Rotem: "Building a DIY plant wall inside our living room was one of the most rewarding projects we have ever done. After a long love affair with house plants, it was time for us to be brave, free up our space, and GO VERTICAL!"
The Background Story
It all began when we moved in together to our new place in early 2020. We found ourselves a nice 53 square meters apartment and had to fit in all of our pots and plants. The problem? Our apartment is quite small, and each of us already had a big house plant collection. We ran out of floor space quite quickly… something every plant parent knows all too well.
Luckily, Berlin's old apartments (a.k.a. Altbau), have a unique charming style, and they are known for their very high ceilings. So there we were, with a lot of plants on the floor, but very large, tall, bare walls, just like an empty canvas, if you will. We were toying around with the idea of building a green wall even before the move, and now, we finally had this amazing opportunity to actually start designing it and building it. There are many different ways to grow vertically, so my suggestion would be - explore the internet before you start! Find which option will fit your needs the most.
The Inspiration
Our inspiration came from the amazing works of French architect and botanist, Patrick Blanc. Blanc is known for his stunning giant scale, outdoors vertical gardens, climbing gracefully on buildings' facades. His work can be seen in many major bustling cities around the globe, like Paris, Bangkok, Sydney, New Delhi, Madrid, and also Berlin.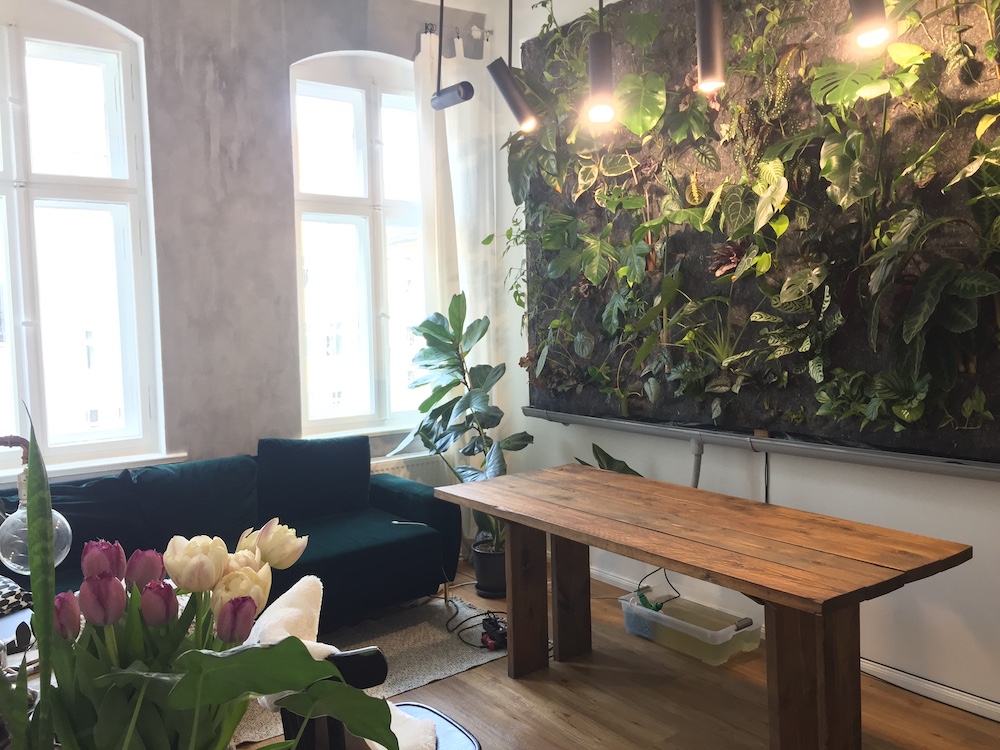 We started studying his methods and techniques and translated them into our own requirements and needs. It helped us immensely with designing the Urban jungle living room of our dreams.
It's All About the Plants in This DIY Plant Wall
We love tropical house plants! You can find in our collection many types of beautiful aroids like Monstera, Philodendron, Anthurium, Alocasias, and yes, even Calathea! We also have different colorful varieties of Begonias, Pothos, and Caladiums.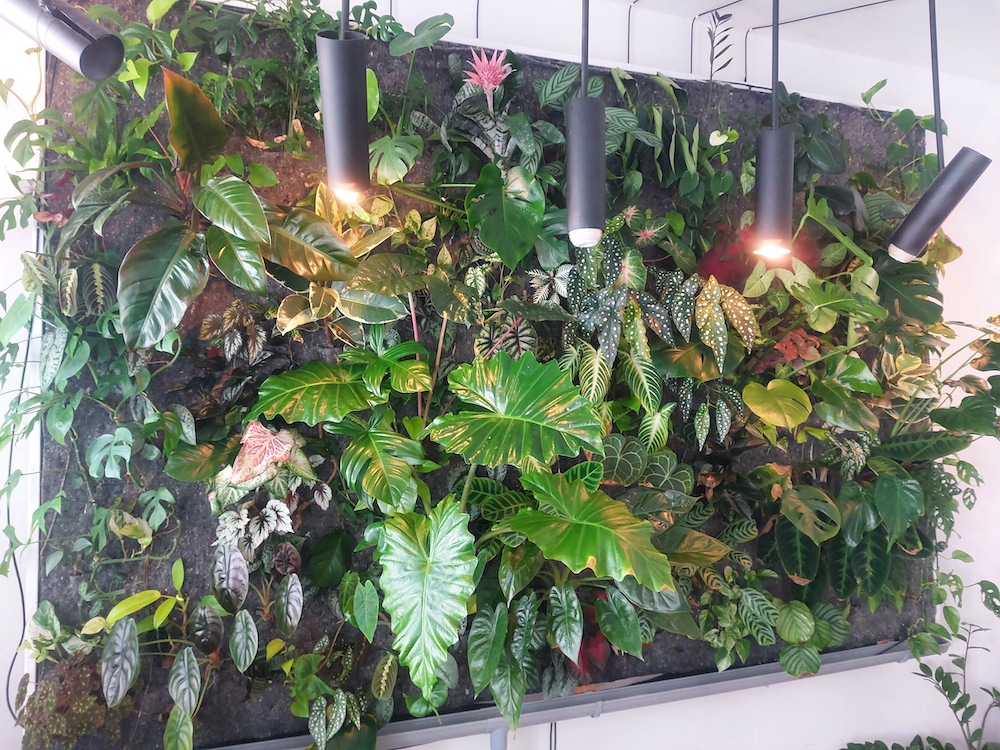 What to Consider When Selecting Plants For a DIY Green Plant Wall? When we were designing, our main goal was to account for the plant's needs. Keeping them alive, happy and prosperous was our top priority! The list of questions below will give you a better understanding of where to place your plants and how to choose them wisely. Our best tip: Get to know your plants! When selecting plants to place on the DIY plant wall ask yourself: Are they originated in a tropical climate, or desert climate? Would they like a dry or moist environment? Climber or a crawler? Does this plant grow on the forest floor, or on treetops? Will it enjoy proximity to light? Bonus questions: Will it look good on the wall? Am I willing to take the risk of transferring my plant into a new growing medium? Once you can answer those, you are ready to start!
The DIY Plant Wall Process
Doing this DIY project was so much fun! First of all, because we were super excited to start! We knew that we are taking a risk, but we were so ready for it. We started building in April. Spring is the perfect time to build a green wall. You know why, right? During the growing season, the plants have the best chance to acclimate to a new environment. For the next part, you will need some power tools like a drill, jigsaw, and a staple gun.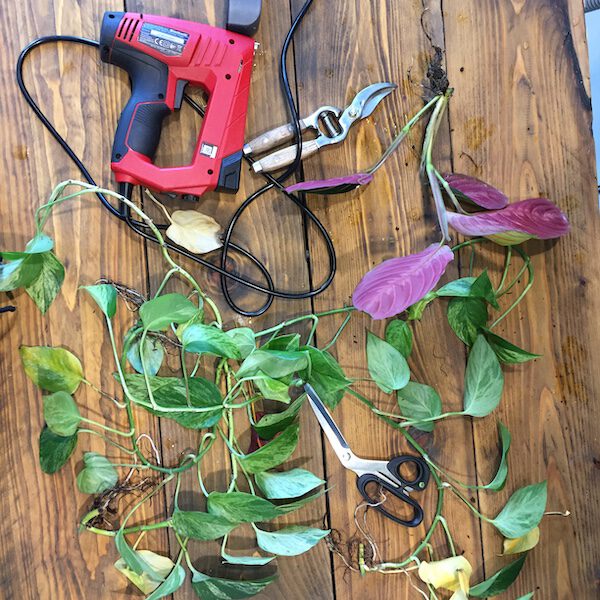 Then, it was time to start layering. A black builder's plastic sheet was stretched along the backside of the frame to provide isolation between the actual wall to prevent any moisture build-up that may come from the green wall. The second layer is made out of 3 panels of 10mm thick corrugated plastic which is used for balcony roofing, or greenhouses.
Then comes the growing medium - the first layer of felt. After long research I made online about the right type of felt, I can tell you it MUST be 100% synthetic recycled felt. Trust me, the last thing you want in your living room is funky smells from biodegradable fabric material. So what you are looking for is called PET felt, and it's made from recycled bottles. How cool is that, right?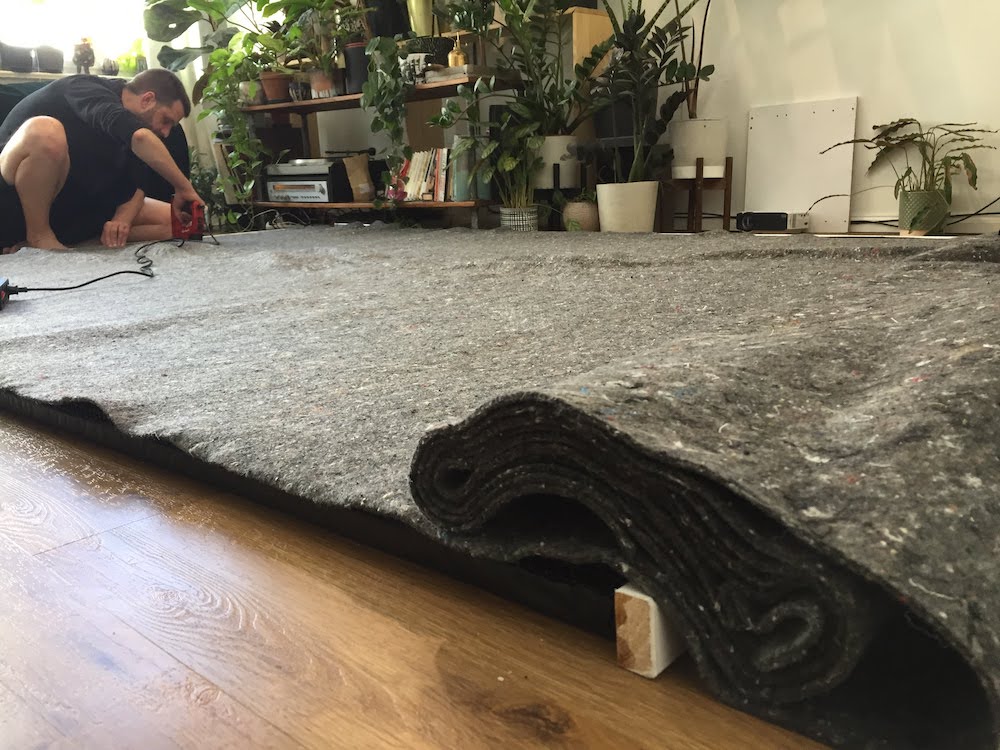 For watering, we also use a very cool circular closed system: a large water tank with a pump. The pump is shooting water up to 2 pipes from both sides of the felt. At the top, we have many drippers. The water trickles down the felt through capillary action. Water is collected in the gutters, back to the water tank.
Finally, we DIYed the grow lights system, and when it came to deciding where each plant goes, the plant wall is always a work in progress. It takes time to learn it. There are so many variables it reacts to, conditions like light exposure, watering schedule, fertilizing amounts, and many more. It's been 7 months since we built it, and I can tell you the plants react so well to it! The growth was tremendous, for the plants for sure! but also for us.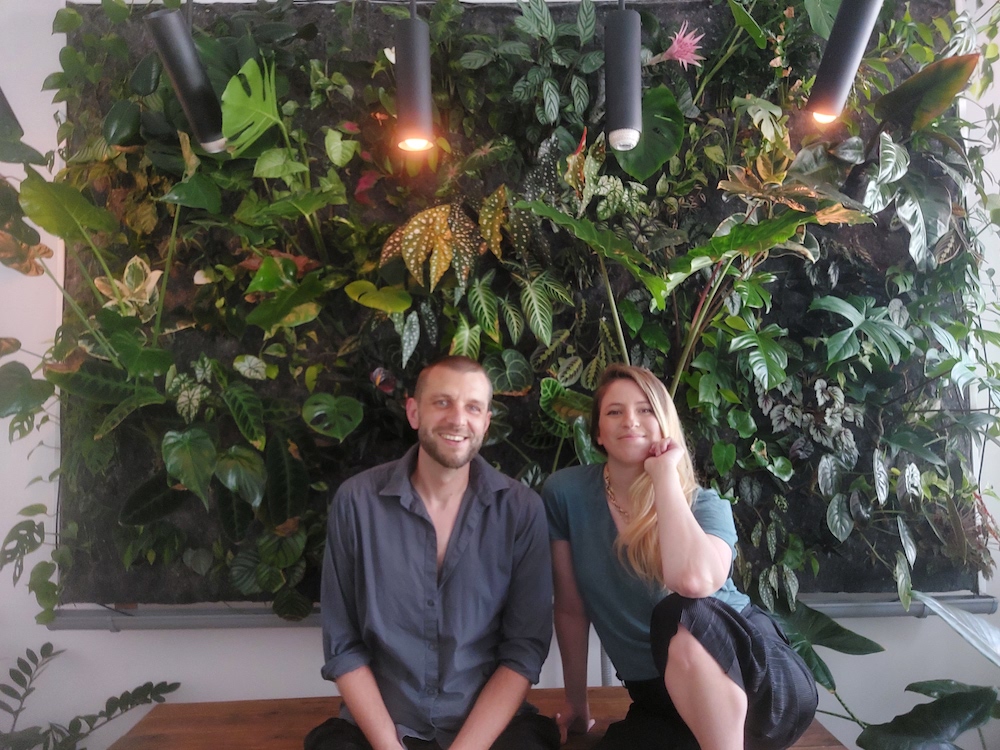 Make Your DIY Plant Wall a Reality
So if you were to ask me if I recommend that experience? ABSOLUTELY! I am so proud of how beautiful and lush it turned out to be. Drinking my morning coffee in this indoor jungle just feels so good! It feels truly natural, and calming, simply to sit there and let myself immerse in the experience. Do you also have dreams to build a DIY plant wall inside your apartment? Do you plan to make it a reality? If you are looking for more information, inspiration, or just want to ask us a plant wall question- find us on Instagram: @myplantwall