De Bloemenmeisjes stand for pure, unique and personal floral services. It's all about the most amazing flower installations for events and weddings. This interview takes you along on a journey that represents
De Bloemenmeisjes.
Natalia, the founder of De Bloemenmeisjes, talks about following her passion for organizing, misassumptions about floristry and having a business mentality.
Flower Girls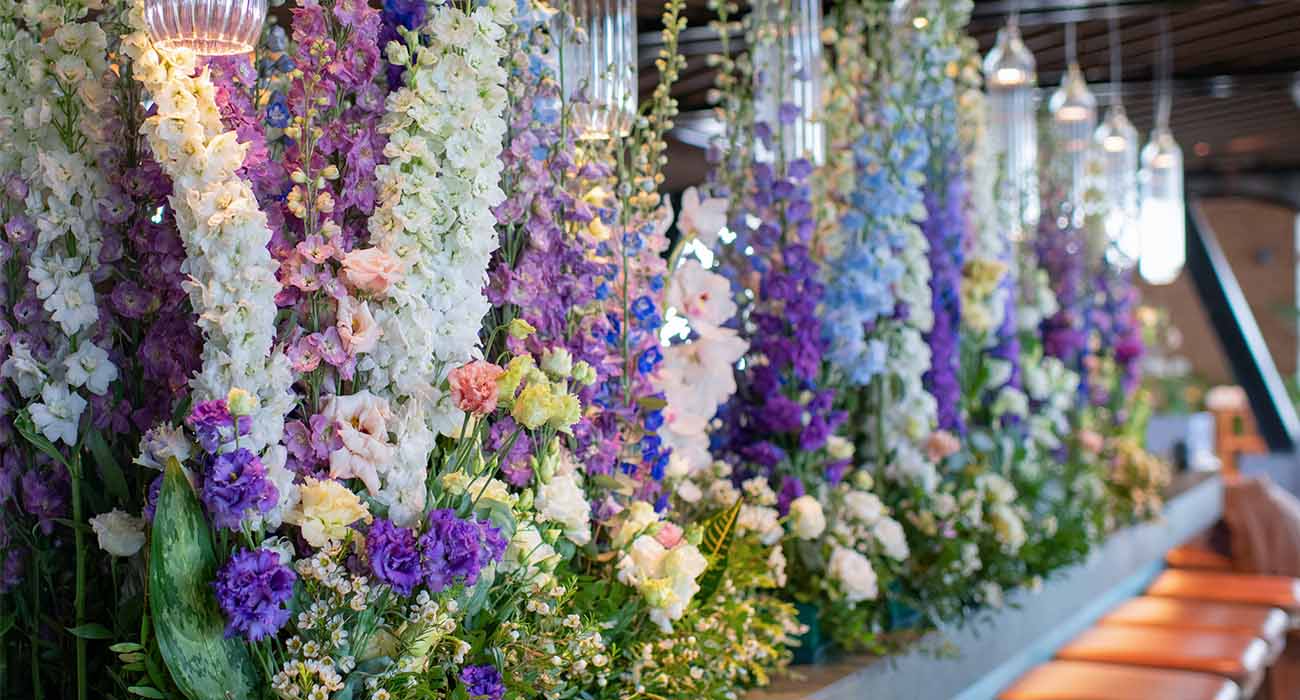 De Bloemenmeisjes consists of four other women, ranging from floral stylists to event designers. How did this collective of women called 'De Bloemenmeisjes' come about?
'De Bloemenmeisjes' basically means 'the flower girls'. This answers the question of why there are only women working in our company. Flower guys and boys are more than welcome, but the name is dutch for, the flower girls. I have a master's degree in communication & marketing. For me, flowers are the way to communicate with people. I create a medium with flowers by using the meaning of the flowers. My background helps me a lot with helping my clients understand their goals. Because most of our clients are agencies and they have their own rules and clients, who also have their own needs. I think this is an important part of understanding floristry. You are not just creating a flower arrangement, you are communicating through the flowers to a certain group of people. You are delivering a message, not your own message, but a message for someone else.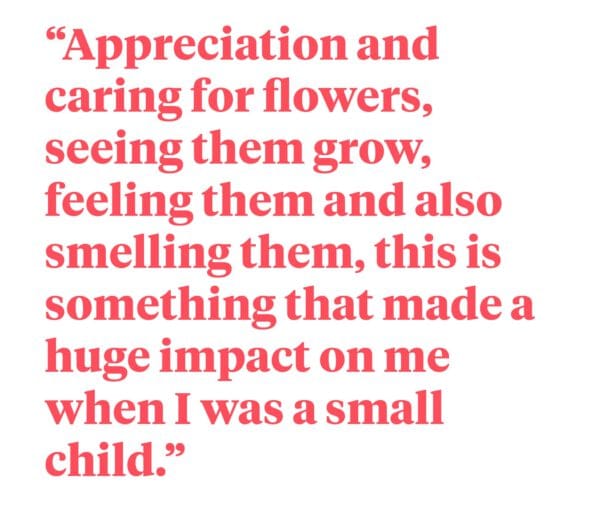 On your website, it says you visited your grandma's garden with beautiful peonies often, in what way does your grandma's garden inspires you today?
I grew up gardening and working with my hands a lot. My grandmother had beautiful peonies and a beautiful garden. The care, respect, and appreciation of growing and caring for flowers, came from her. Appreciation and caring for flowers, seeing them grow, feeling them, and also smelling them, this is something that made a huge impact on me when I was a child. This is also something that helps me at this moment, right now.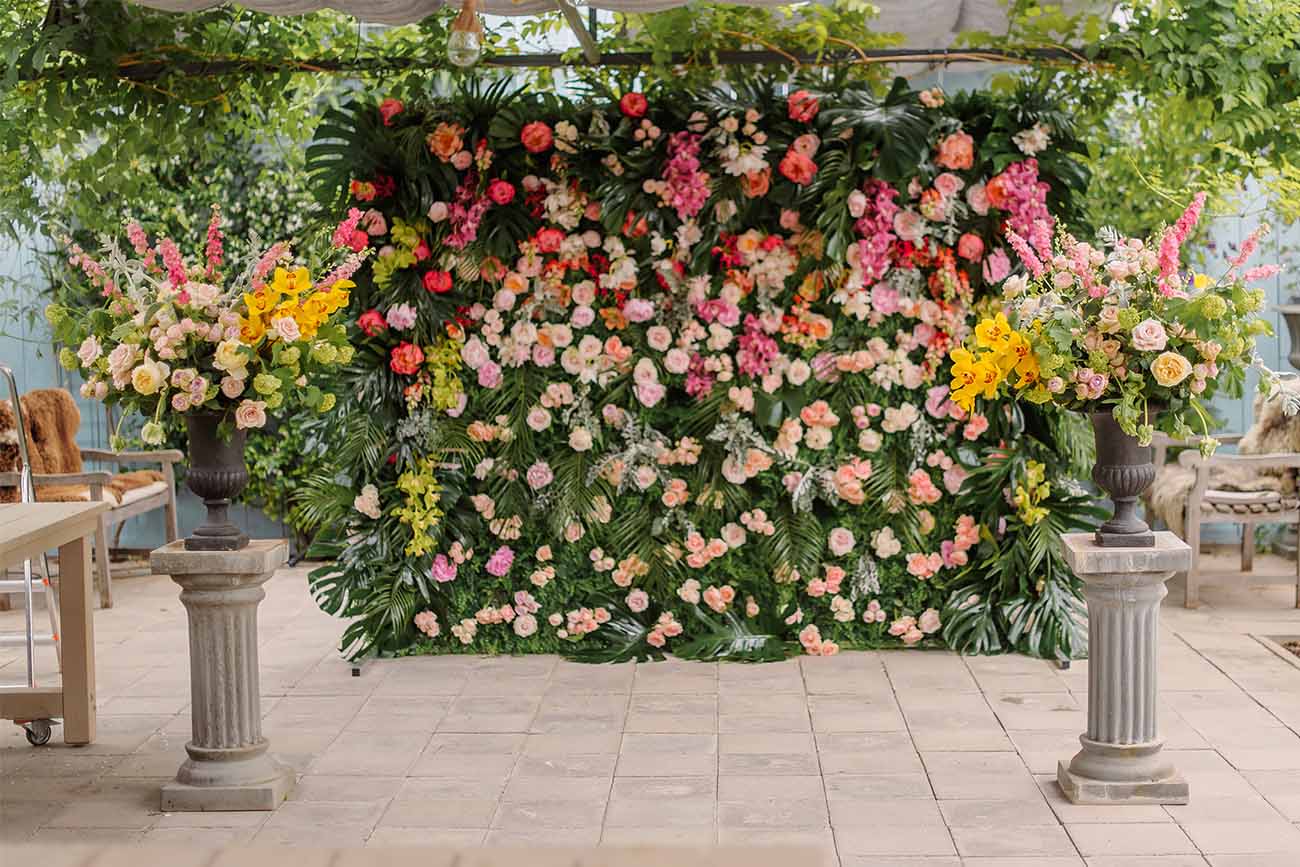 You graduated with a master's degree in Marketing and Communication to now give coaching and workshops in flower styling and shoots, but also on how to start your own business. Do you think it's important to have professional training when starting out?
The things you see on the outside and the things you see on the inside are two totally different worlds. When starting your own business you are not only creating something with flowers, but it is like every other business. You have to make sure your margins are good, having enough profit, and are visible at certain platforms like Instagram. You also always have to keep thinking about your clients and their needs. So it's more than just creating pretty flower arrangements and having a nice Instagram. It's about a business approach. I have seen that a lot of girls who have studied secondary education or higher education in floristry are actually lacking business knowledge, by that I mean that creating flowers is totally different than running your own business.

You have to think about it as a business, not just as a hobby. I don't think that regular education sees it this way. They are more focussed on educating pupils to work in a floral shop, not to start their own business. I think it can be an advantage to see all the ins and outs of the shop and to be able to have the right training and to start your own business.
What was the biggest challenge for you when deciding to start De Bloemenmeisjes?
To realize that you are starting a business, finding a workspace and thinking about what kind of clients you would like to work for and what kind of clients you don't want to work for was the biggest challenge for me so far. In the beginning, when I started my business I gained as much information and applied for as many online and offline courses as I could. I gained a lot of information from all different kinds of media and from abroad. I attended various workshops in The United States. To see me from different perspectives, to see things that I liked and did not like, to find the voice that I needed, the creative voice that I have today has been a challenge.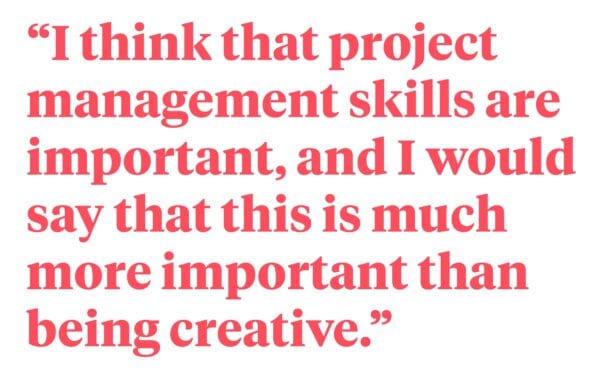 Florists in the Netherlands have easy access to most of the flowers and plants and there is a lot of education available. Do you experience that it makes Dutch florists more creative and experienced than florists from around the world?
I think there are two types of florists. The main street florist, which I find the traditional dutch florist is, and then you have the florist that makes the things you mostly see on Instagram. Regarding creativity, I would definitely say that dutch master florists are not creating the most creative things, but in terms of technics and different ways of treating flowers is where the Dutch are really strong at. In terms of creativity and trends, you see around the world, like the dried flowers and wedding trends are coming from The States, particularly from California. Also, the studio's in New York, Australia (Melbourne), I use for inspiration in the matter of uplifted constructions, clouds, chandeliers, hanging installations, all different kinds of really creative work.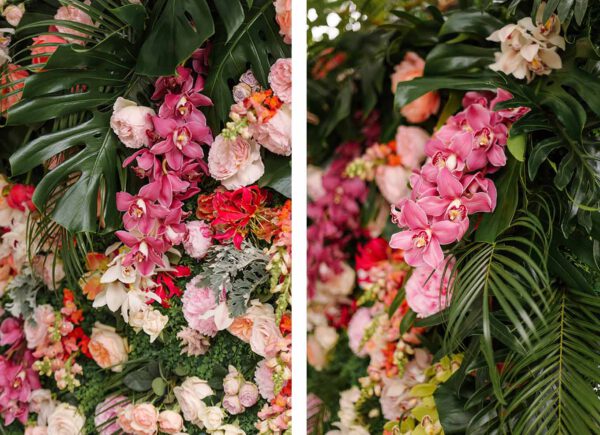 When opening your email, what is the 'Design Job Request' that really makes your day?
I am grateful and excited to receive every request. I'm very grateful that a bride, event agency or brand willing to trust me with their most exciting happenings with me. I am really grateful that in the past years we have created very unique and special weddings and collaborated with a lot of brands like Bulgari, H&M, Crocs, Valentino, and Gucci. The most exciting part is to be able to understand their wishes, the things they are trying to communicate through the flowers and what they are trying to achieve through different floral decorations.

You also give coaching and private workshops, can you tell us what coaching others has taught you?
The coaching part is a small part of all the things I do, but it does give me an opportunity to share my knowledge. I like to share the knowledge, to be able the help others and to help them start their own business to make a living out of it. This is one of the misassumptions in the business. I am running a business, not just making flower arrangements. I think that project management skills are important, and I would say that this is much more important than being creative. This is not something everybody wants to hear or sees in the beginning.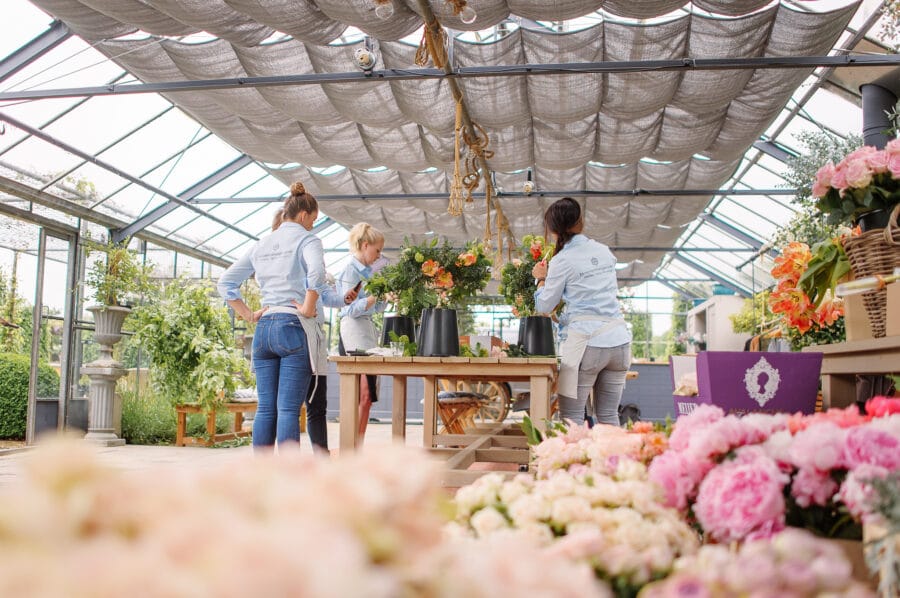 The first thing the clients say to me is: ' Oh you live in a fairytale' and 'You see all these beautiful flowers all day long'. But the truth is that I am dealing with a lot of demanding clients, I have sharp deadlines and I have clients that request a certain kind of quality. For instance, wild colors, patterns, painted or dried flowers. So I have to deal with all this product management in the first place, and thinking of designs is, of course, an important part of the project. You have to be able to maintain a project and make the project on time and to even exceed the expectations of the clients. This is what makes it more exciting for me to work in floristry. I would say creativity is only 15%, and project management takes most of the work. This is what makes a project successful.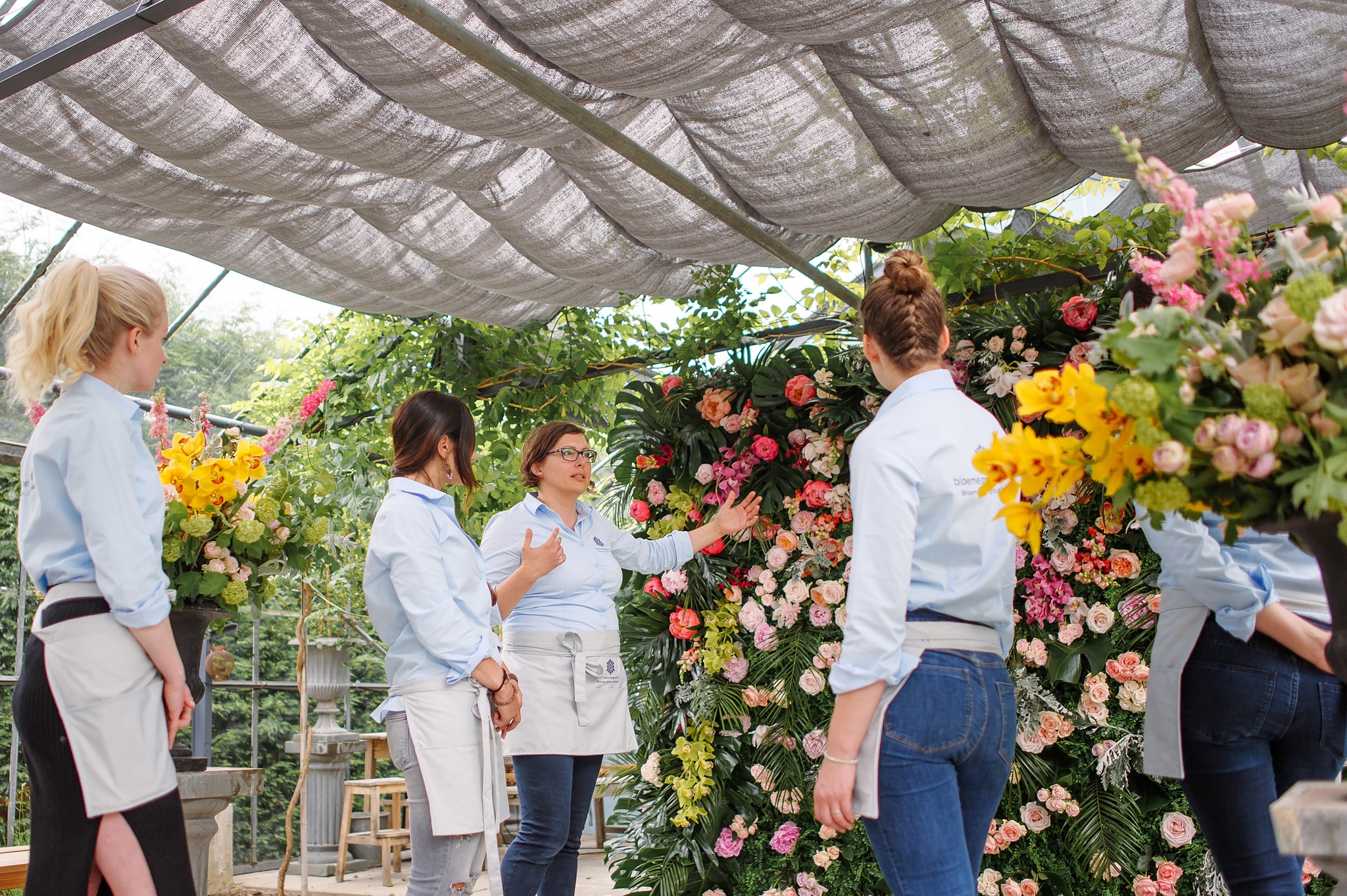 We've noticed your team consists of only women, was this a conscious choice you made or did it just naturally evolve into a women-led business?
De Bloemenmeisjes means the flower girls, that's why we are a group of girls, but maybe in the future, we will also have guys involved in the business. I've noticed that since we started to work with international clients, De Bloemenmeisjes is a rather unpronounceable or understandable name. I am thinking of changing it to something more understandable, pronounceable and international. I am open to suggestions for a new company name.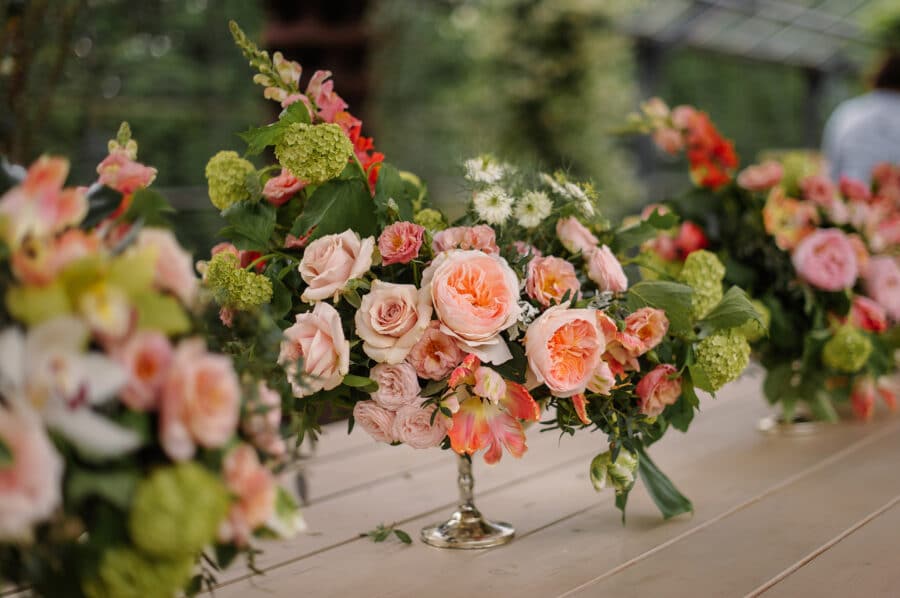 The floristry business can be seen as quite male-orientated. Did you ever feel like you are not taken seriously in the industry?
Not really, not that I've experienced myself. What I said earlier about the misassumptions about living in a fairy tale and only seeing beautiful things all day from the people outside of the industry applies here. I think you are being seen for the things you do and how you do them. What you did previously and the reviews from clients show what you are capable of and what you were able to achieve. And for me, this is more important than to see if it is from a male or female business. But from another perspective, the male-orientated business has something to do with how hard this business is and how much heavy lifting and stressful situations are involved. That's probably why men can handle a little bit more in this industry than women. But this is just a suggestion, I don't know if I am right on this or not.

Final question: where do you buy your flowers? (name of the wholesaler/trader)
We buy our flowers at a Dutch auction in Aalsmeer. We pre-order most of the time from the growers via Van Dijk Bloemen. We pre-order a day or two, or even a week in advance. My roses are from Leiden.  I have strong connections with the breeders and growers as well. By knowing your product, you know what to offer. Knowing how the flower, plants or greenery will behave during an event, in winter or in summer is the most important thing that you should know. We are privileged and lucky to be working with the best quality products and flowers that we have on the market right now.