Crazy Stuff
In my life, I've heard crazy things and seen terrible stuff. Also in the flower industry, I've had my share of ups and downs with people and stories. But nothing compares to what I've heard now.
Start of the School Year in Romania
In Romania, as in many other Eastern European countries, we have a tradition when schools begin. The children offer flowers to their teachers! This is one of the most joyful moments for the little ones on their first day of school, but this year was so different.
Flowers Spread COVID-19
'Someone' with absolutely no knowledge about flowers and Covid-19 said that: Flowers spread COVID-19. After that, for all florists in Romania, hell unleashed. The mainstream media immediately took over this fake news. You quickly saw it on national TV, Facebook, Instagram... it was everywhere!
A Special Garbage Can for Flowers?
The worst thing I have heard so far is that in some schools the school managers put a garbage basket in front of the school asking parents to throw away all the flowers they brought for the teachers. How sad. Everything happened so fast, that florist didn't even have a chance to react to this, and again they lost lots of flower business. Not only money but also faith in recovering from the hard times since the outbreak of COVID-19. For most florists, the start of the new school year was a chance to earn some money again, there was some light to see at the end of the tunnel. But instead, they lost a lot of business again. All due to this fake news about flowers.
Fake News That Everyone Believed to Be True
This fake news, that everyone just took for granted, had a terrible impact on our business. The business that already was hit so hard since the COVID-19 madness began. Personally, I searched everywhere (since the lockdown occurred) for information about the possibility that flowers could spread COVID-19. But I found none. Even more so, as an argument about this being fake news, is that no other country was talking about this. Also, here in Romania all of a sudden everyone just forgot that florist everywhere offered tons of flowers to doctors that fought against COVID-19. And at that time no one even considered that flowers could spread this virus. And we all know that those flowers reached the hospitals and then doctors and nurses homes and yet, no case of COVID-19 was confirmed.
The Saddest Day in the Romanian Flower Industry Ever
It was the saddest day ever, the children were soooo disappointed, I don't really think that they understood this fake news about flowers, but I guess they will remember this for a long time. You can say that by the end of the day, this news affected everything and everyone, not only the florists. I wonder if normal people who usually buy flowers for their loved ones, now are second-guessing this decision, hopefully not, but I think it is the truth. I did react to this matter on my social media account and everyone applied my manifest to their feed: FLOWERS SPREAD LOVE, NOT COVID 19. I even found a small conversation (in America) about this subject and doctors reply to this by saying that it's very unlikely - if not even impossible - that flowers are contagious. Last week I was invited to a national TV show to talk about this matter, and I gave them the simplest explanation that any normal human being can understand (because florists understand and know):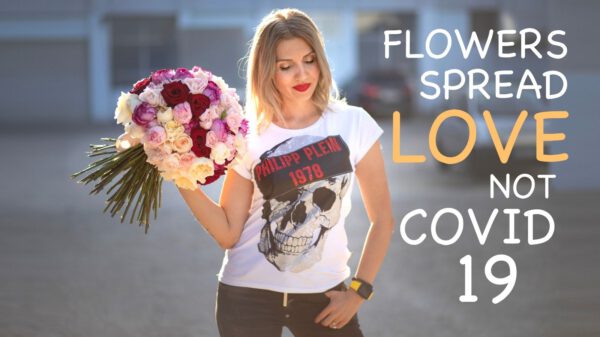 Flowers absorb moisture and water from the air, even more so, they absorb water through all of their surfaces, so … if a drop (from someone sneeze) lands on the surface of the flowers, it will be absorbed. I guess you can all understand this, right? I truly hope this nonsense and fake news about flowers will soon be forgotten. With all this said, I wish you all a wonderful fall. -Warm hugs from Alina Perfumella!