When I was asked to make something joyful, not too big and expansive, and in a way they could use the designs to give away as presents at the end of the party, I knew Chrysanthemum Santini Maverick Sunny was the right choice. This bright yellow flower brings the sun literally into space, is long-lasting, and has a decorative character to use in high glass vases.
Chrysanthemum Santini Maverick Sunny Is the Right Choice
I have many clients without any idea what they want as flowers for their events when they come to me. They only know what feelings should come along with them. They know what kind of emotions should be there, and I have to help them create that.
So when this client asked to light up the entrance I thought about a smiley made with chrysanthemums and yes, the Chrysanthemum Santini Maverick Sunny is perfect to use. These days people do not just want a design, it has to fit into the story. In this case, the person organizing was going to start her life enjoying the beautiful things after a long career. Time for retirement. Chrysanthemum Santini Maverick Sunny is the right choice.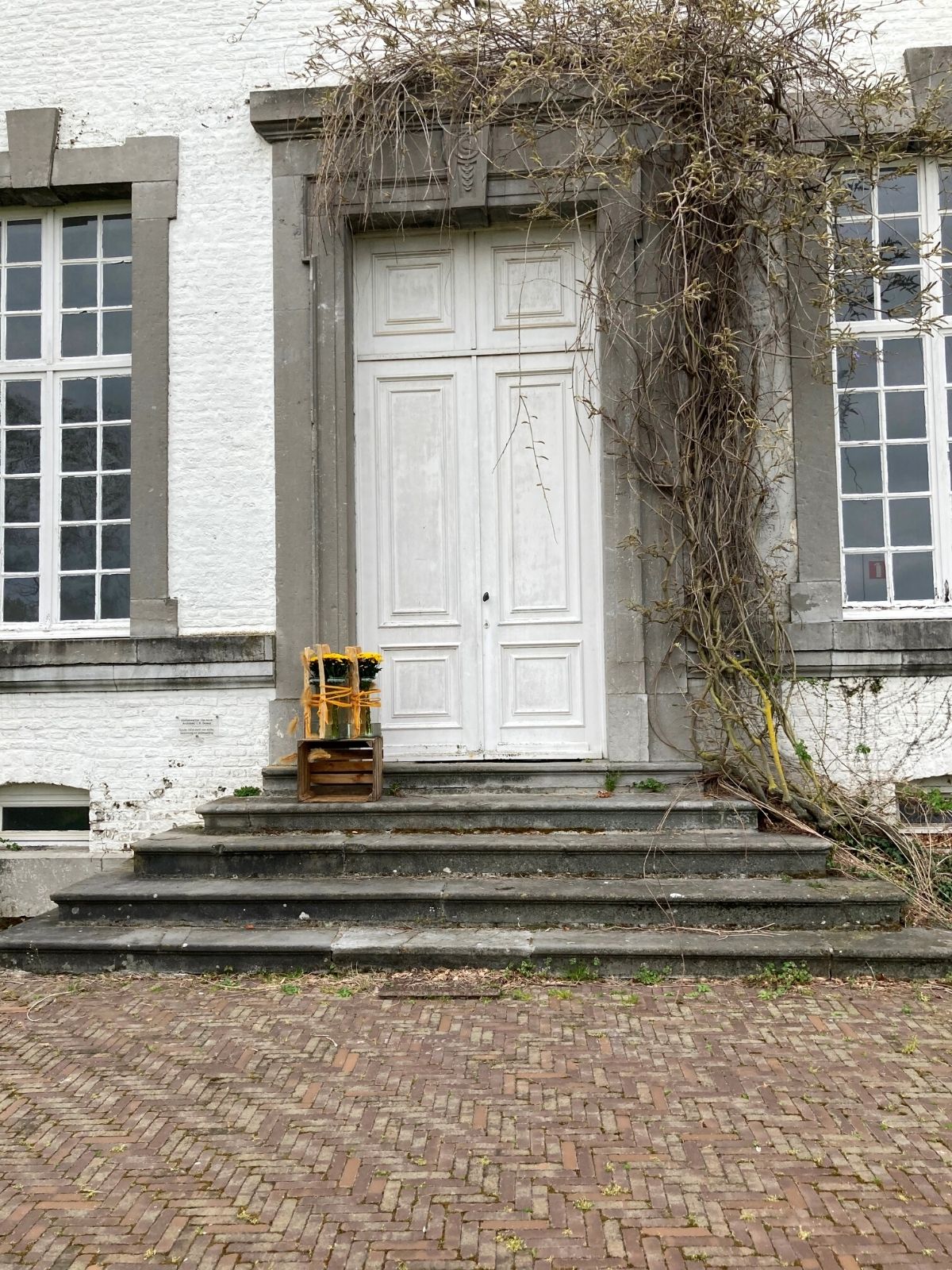 The Purpose of Having These Designs
Not only did the designs have to decorate the entrance, she afterward wanted to gift the designs to three persons she wanted to thank at the end of her working career. Glass vases are very decorative, and with the mulberry bark bound against the vases it created a strong line coming back at every vase, making an impact to have a beautiful and sunny entrance. And each vase separately also had its own strength. It was the purpose to gift them to her husband who had been there for her on every good and every bad day, to her boss who had supported her for over forty years, and to the colleague that started together with her and worked ever since by her side.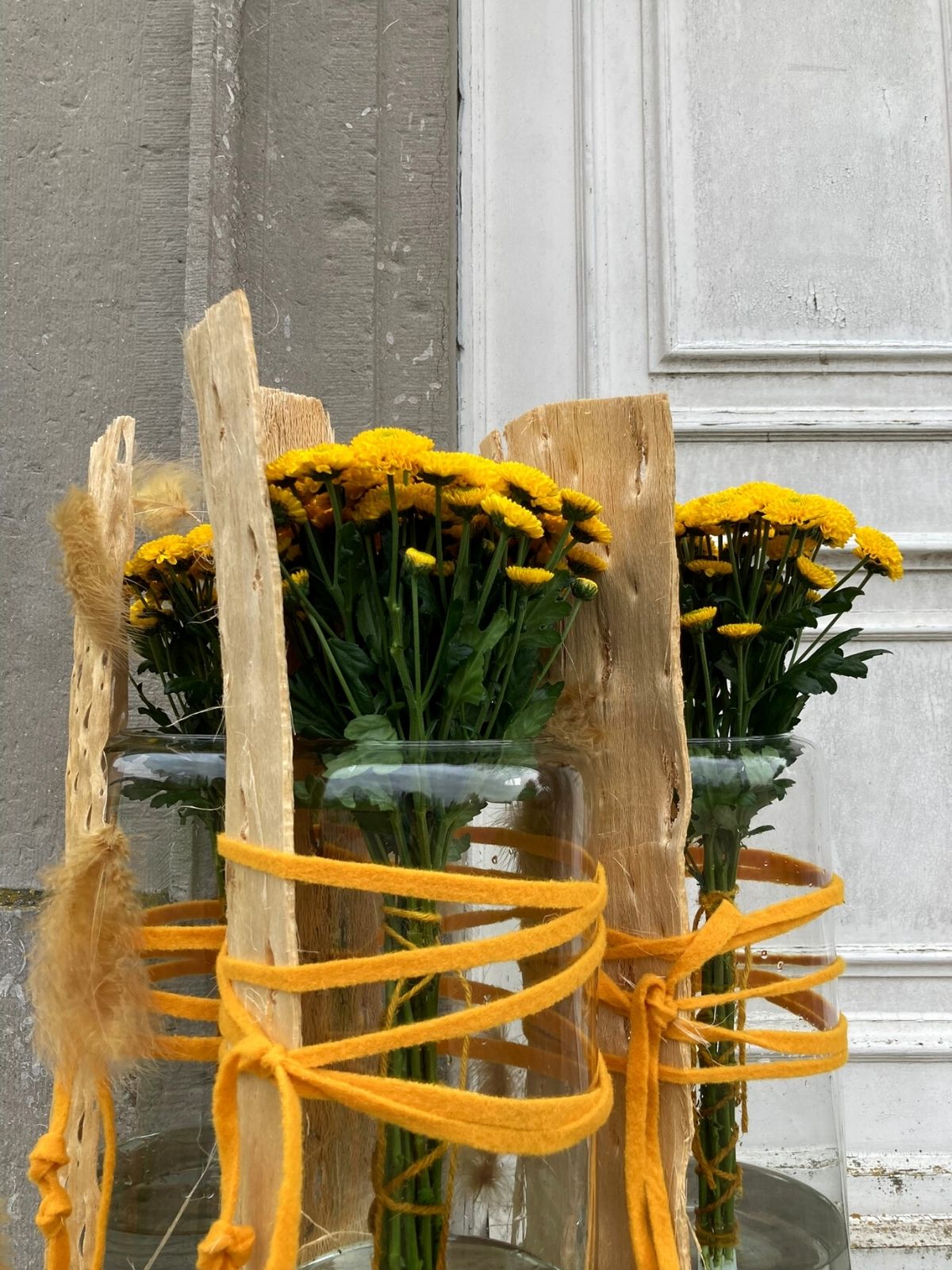 Goosebumps
Hearing her story, Chrysanthemum Santini Maverick Sunny was surely going to do the trick and bring smiles to their faces, give them a long-lasting pleasure of vase life and fulfill the purpose of the gifting. A big thank you. It gave me goosebumps to hear her story, not often do people have the luck of staying in the same job, with the same people surrounding them.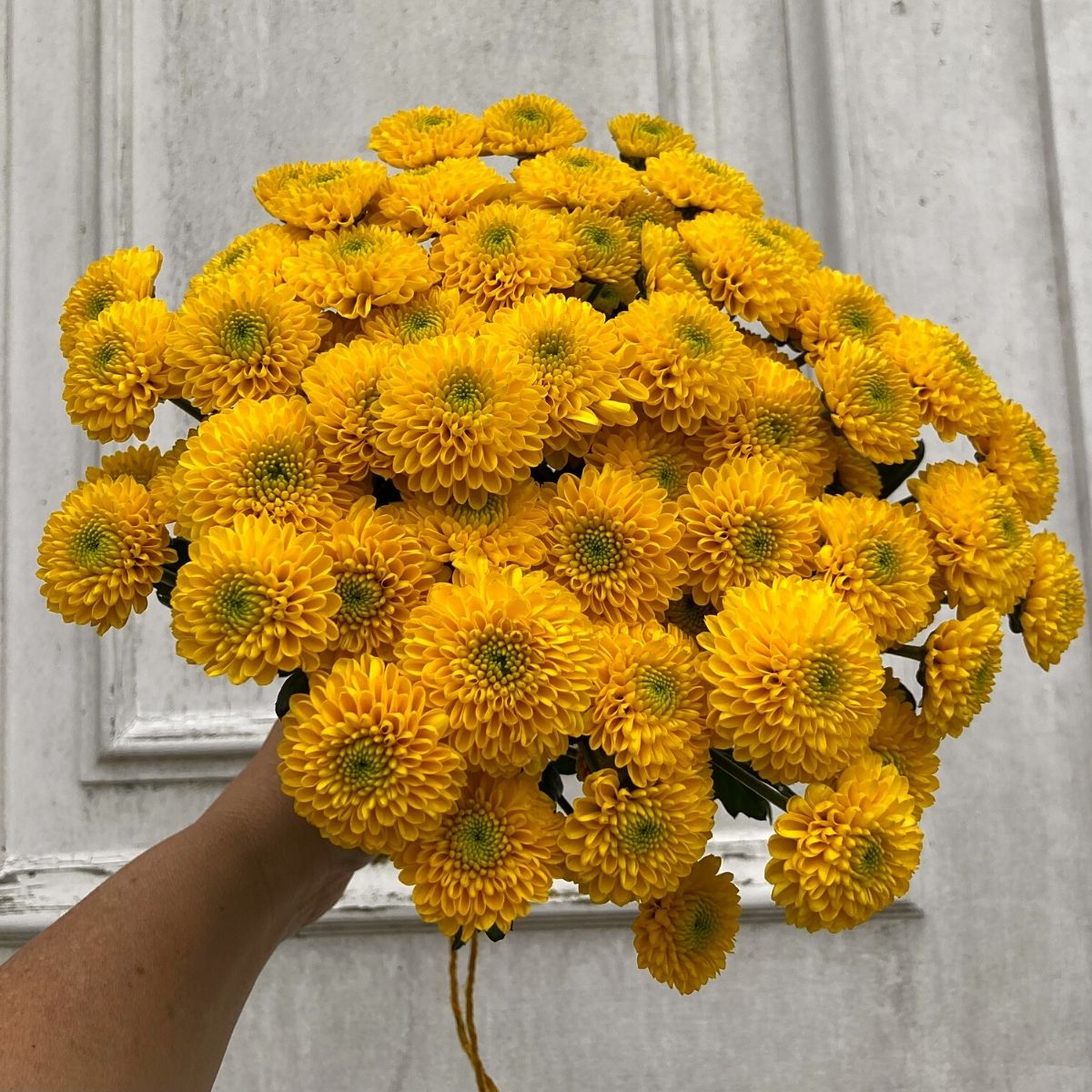 The Story Behind Chrysanthemum Santini Maverick Sunny
Floritec is a Dutch company that is specialized in the breeding and distribution of varieties of cut flower chrysanthemums and pot plants. Maverick Sunny is one of their varieties, and I'm always curious to see where flowers come from. Floritec's head office is located in Woubrugge in the Netherlands. They organize sales through a worldwide network of dedicated business relations and strategic partnerships including grower panels. Maverick Sunny from grower Richard van Schie, who is specialized in growing this strong santini, reached me through my wholesaler, Heemskerk Flowers.