Easter Is Coming and with This Crazy Virus Crisis a Lot of Florists Face Lots of Problems
For example me :-) ! I had no Easter Flowers! Today, I planned to make a really nice flower arrangement for Easter to show on Thursd. You have to know that right now in Romania, I can get local flowers. The import of flowers from abroad has been a bit more difficult, and I sold pretty good. So there are not so many flowers around today.
Boiled Eggs
I put aside some beautiful Romanian daffodils. I boiled some eggs (yes, you are reading it good, -don't laugh- because I needed some egg shells and I couldn't find them anywhere to buy right now). I got some forsythia (that I stole from a bush aside the main road), and I found a really beautiful yellow velvet box.  And then, I received a phone call from a very good friend of mine who asked me to make a beautiful flower bouquet because it's her mom's birthday. At first, I said no, I only have the flowers for my planned Easter flower box…..but she was really pushy… and eventually, I said YES…fine girl, you won!!! Now I have a friend and client that is happy. With a happy mother….but what about me? What about my flower arrangement for Easter? What about MY Easter flowers?
No Easter Flowers
Man, I really wanted to make that arrangement to show to you guys! I already sold all my stock of fresh flowers and my truck with flowers from the Nederlands will arrive on Thursday…. now what?!? Ok, now breathe in, breathe out, breathe in, breathe out.  And think. What else can I do with basically NOTHING?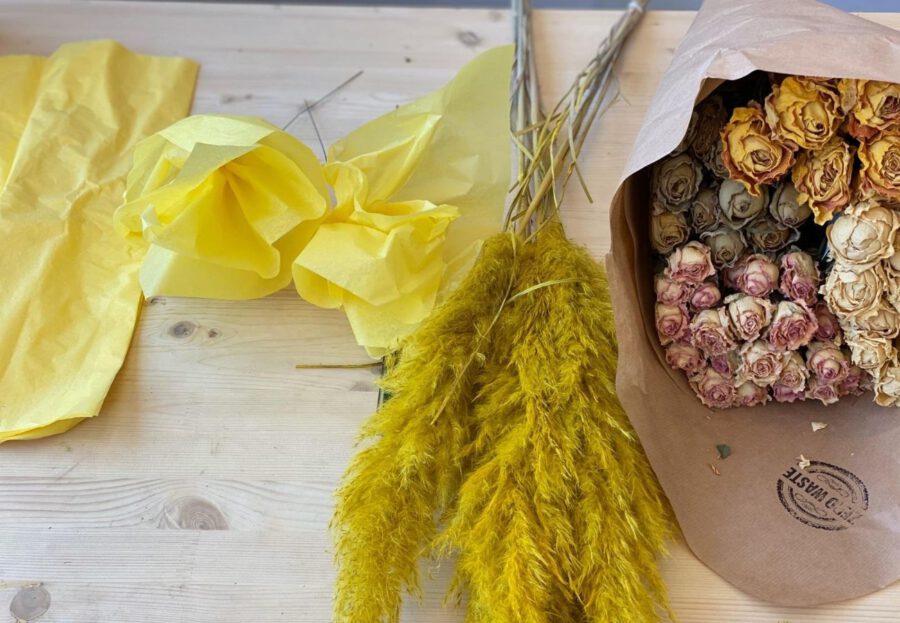 After 30 minutes of some floral panic …I found a magic box with dried roses, ZERO WASTE roses from
Parfum Flower Company
……. yeyyyy, and then I found some dyed yellow pampas grass from
Greenflor
and some silk paper, and VOILA! I honestly think that these dried flowers will be the new trend! You can use every dried flower that you want but I just love these dried garden roses, I just love them. Love 'm. Sorry, I keep on repeating myself. I did have some easter flowers! The video will better explain my design. I wish you all a Happy Easter and may this CORONA virus disappear forever! Pretty soon if possible! PS: In all this dark times, there is light, and I learned to think different and to use what I have in my advantage. A warm and scented hug from Alina Perfumella!