The color Genuine Pink is a color that I learned to love! Really, if you see all the moody colors that are so trendy, this pink fits in that atmosphere. It is a little off-pink, pastel but moody. It fits for all occasions, and it's often a bridge in floristry. Like these scented orchids. But also a bridge in life. The color of ...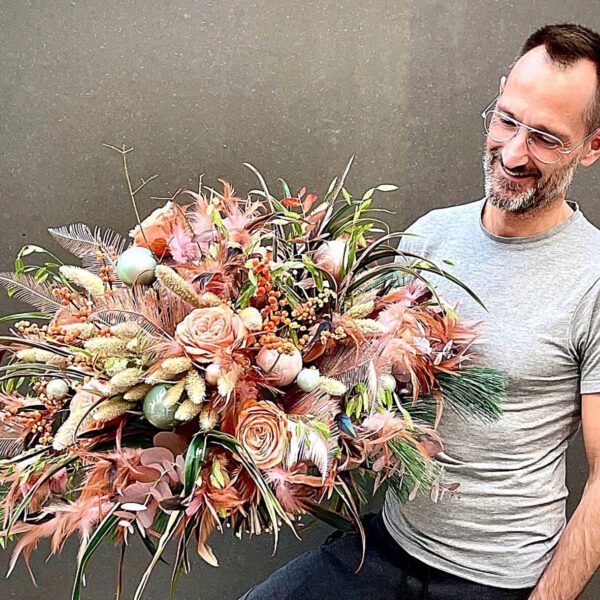 These 'Genuine Pink' Scented Orchids Inspired Me
Did you know that there are orchids that have the most amazing scent? Well, I know now for a fact there are. And they inspired me to work with all the colors you see in the orchid. It's the light yellow in the color palette of Genuine Pink, the pink of course, but also the darker fuchsia. For Christmas, this is very nice to have a table decoration.
Brownish, Genuine Pink Colors In This Bouquet
Feathers, dried flowers, X-mas balls, colored eucalyptus, and the most beautiful roses in brownish genuine pink: this bouquet will brighten up your place for the holidays. In a nice earth-colored container it will give rest and peace to your home.
Not Only Genuine Pink Scented Orchids for Table design, Also These Gorgeous King Proteas
Table decorations are a fun thing to do. And to come up with new and innovative ideas. To decorate in a transparent way with these high vases, green leaves and this touch of pink in a king protea give a special effect. Different, a little bit tropical feeling in a modern setting. Personally I love these simple but gracious designs. Especially when you have many tables repeating the simple design, it creates a huge visual impact. And like I said before, this pink color is so nice to build a bridge between the plates and greenery and yet to stand out.
Genuine Pink
When I heard about this Thursd Trend Color of the Year 2022 Genuine Pink, I was so happy that my feeling regarding this color was correct. It is and it will be a beauty for the next year to come.