Let it be a Valentine's Day show for Keune. That was my idea behind this design. Keune Hair Stylist Awards is a hair styling competition organized by Keune Hair Cosmetics. The competition celebrates the skills and creativity of hair stylists around the world and provides an opportunity for them to demonstrate their expertise, network with other professionals in the field, and gain exposure to their work. I worked together with one of these hair stylists for this spectacular project with these extravagant colors.
A Heart for Keune Hairstylist Awards
One of the elements of floral design - color - the most important element, the one with the greatest visual impact, is highlighted in this spectacular project. Check out my blooming heart.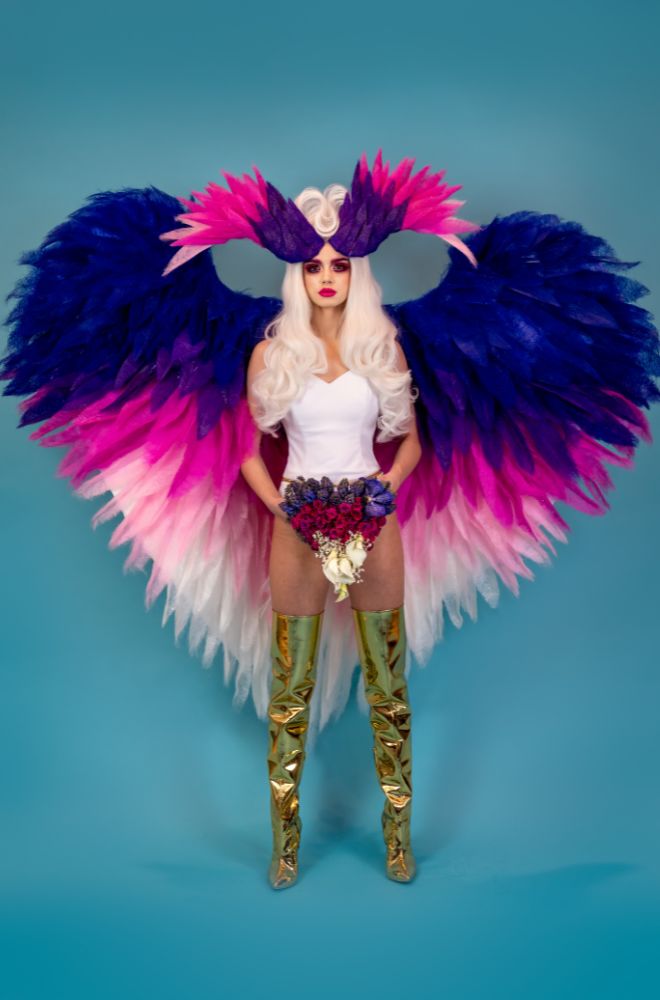 Collaboration Is the Key
I created the heart from natural flowers, - perfectly matched with the wings from natural hair - from almost unbloomed purple hyacinths to get the desired color, mini cyclamen roses with a slight touch of purple on the petals, white callas, and the special Vanda orchids for drama.

Corina Musat created and styled the natural hair wings - yes, all four wings are natural hair! - and Ioana Mateescu makeup artist completed the image with powerful and electrifying make-up.
The images were captured by the super-talented Julie E. Photography team. And Alexandra Moraru, also "plays" this character perfectly, in the clothes created by Sorina Badea.
When people are creative and allowed to dream, that's how the show comes out!

Floral design: Laura Draghici Emc/ Chic Fleuriste, model: Alexandra Moraru, make up: Ioana Ruxandra Mateescu, hair: Corina Musat, designer: Sorina Badea, photography: Julie E. Photography.