What gives you so much inspiration other than flowers? Even when I was in not such a good mood lately, just a box of wonderful Pastela Chrysanthemums that I received started up the creative me again, resulting in five autumn designs that come from the heart.
The Power of Flowers
What is actually the Power of Flowers....? In each city or town, there is a flower shop with such a name. Have you noticed this? I do!
I think it is very interesting that such beautiful, tender creatures as flowers have such great power in this world. What makes them so powerful... awesome colors, gorgeous shapes, unique aromas, ancient meaning and medical sense, all elements of the Earth... this all-in-one creature makes people change their minds, opinion, mood, thoughts, and attitudes.
Last few weeks I was terribly ill, tired and my mood was always bad. Also almost more than a month away from my family, son and husband made my state really grey and unhappy. Actually, I thought that it can be changed only as I come to my beloved people.
But then I received flowers. Chrysanthemums. And their power started to work. These flowers were the best medicine for me. It is a miracle that chrysanthemums were so helpful to me.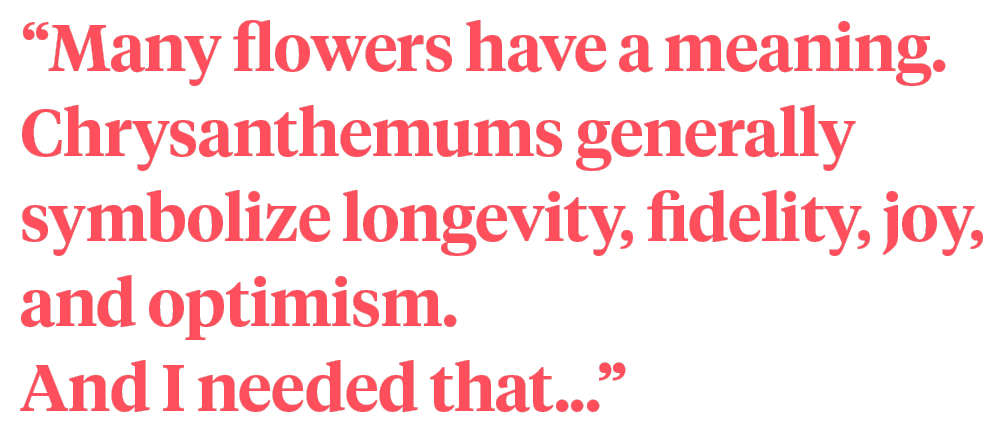 Chrysanthemum as a Symbol of Autumn
For me, the chrysanthemum was always the symbol of autumn. From my childhood I remember they were the last in my granny's garden, blooming under the first snow. They always made grey autumn pictures cheerful and colorful. It is very symbolic for me to work with the chrysanthemum in autumn.
This time I worked with various Pastela chrysanthemums that were sent to me by Dutch flower exporter Verbeek & Bol from breeder Dümmen Orange and grower Zentoo: the light pink variety Chrysanthemum Pastela Rosé, ocher-yellow Pastela Favori, and the light-yellow Pastela Bellini. These varieties are not so bright and do not have such autumnal hues, but still, now is autumn and I decided that my five designs would still be named after this season.
1. Autumn Romance
'Autumn Romance' is a bouquet on a frame decorated and integrated wild clematis lianas which match the beauty of Chrysanthemums Pastela Rosé and gives the filling of autumn but without bright colors.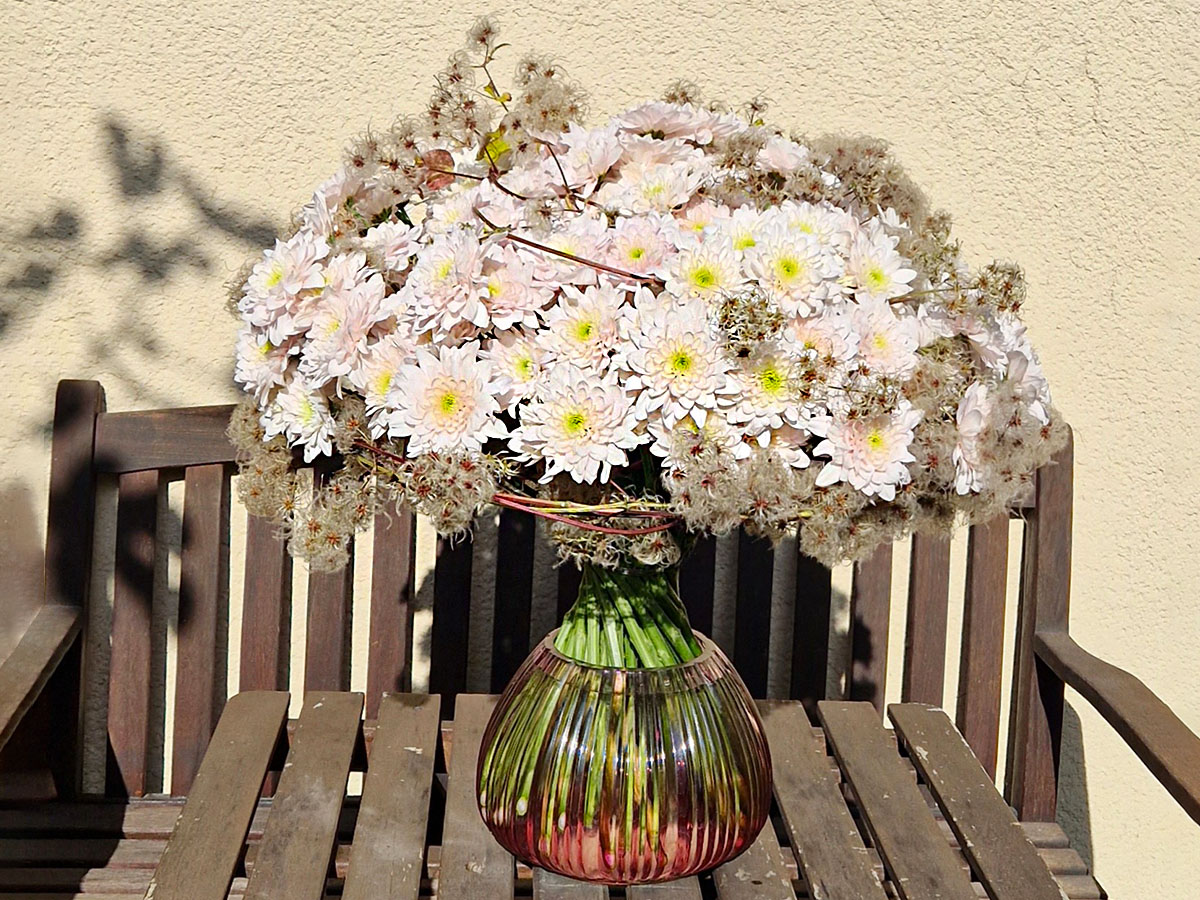 2. Autumn Sun
My design 'Autumn Sun' is a bouquet on a frame made from birch. The Chrysanthemum Pastela Bellini in its contrast makes a circle and gives a mood of a sunny autumn day when the sun is already not so bright and hot, and the middle, a birch wreath, like a nest, which is left by birds in the autumn.
3. Last Garden Vase
'Last Garden Vase' is a free-standing interior arrangement that is made especially for this room design. It has the same mood as a painting on the wall. The painting feels as if the last summer garden flowers were just picked up and without extra order put in the vase. It's already not summering anymore, says this arrangement, although it is still warm and bright from the Chrysanthemum Pastela Favori.
4. Autumn Leaves
'Autumn Leaves' is an arrangement in Oasis floral foam in a bowl of bright maple leaves with a yellow ball of Chrysanthemums Pastela Favori and Pastela Rosé. Together with different autumn branches with berries and leaves, it gives the design a really bright 'Indian Summer' mood.
5. Autumn Smile
'Autumn Smile' is just a textured carpet on a wet moss pillow on a forest path, where people walk for pleasure. It has the form of a light smile, just to show that in autumn we can also be in good mood as in spring. Even when the weather is not so warm and pretty, the colors of autumn make us happy.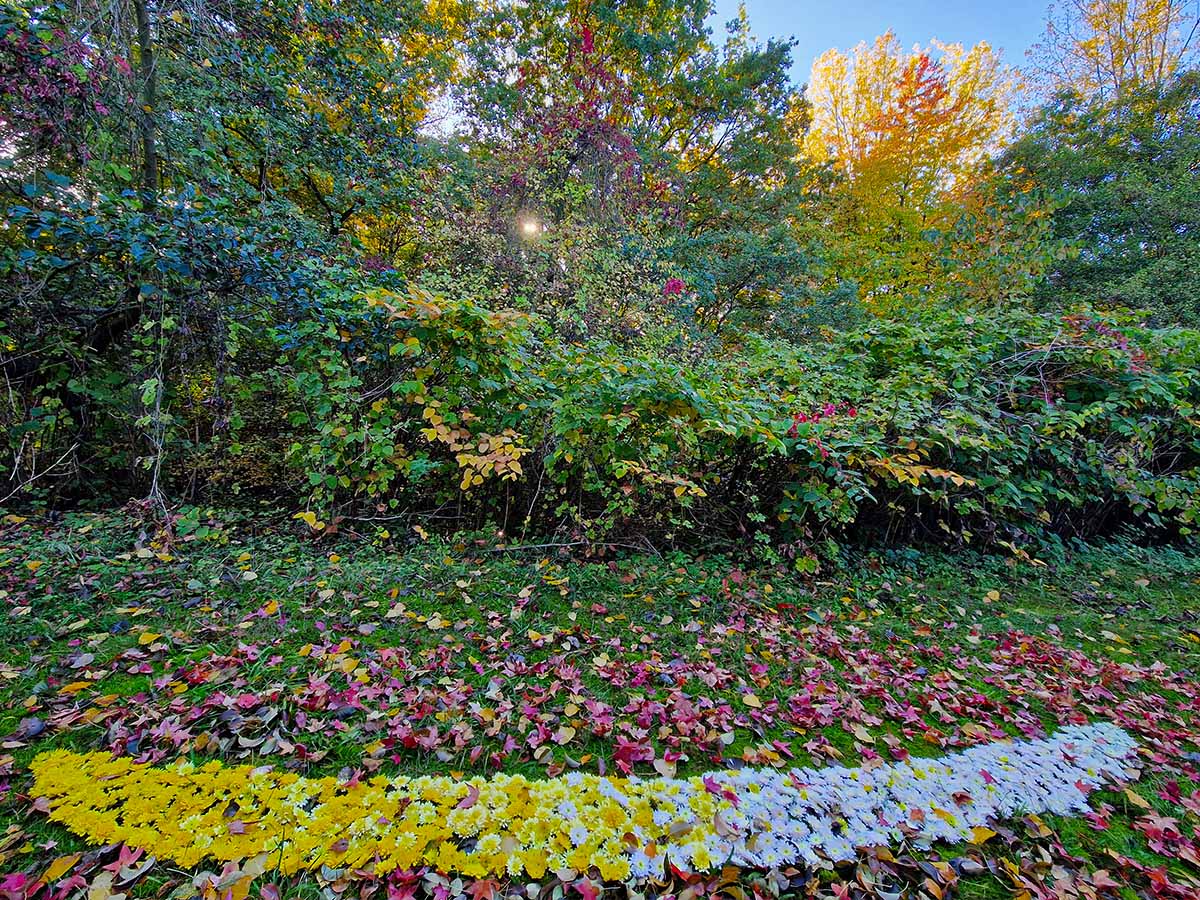 Writing the Blog
In the evening I was thinking about what to write for my blog I decided to read a bit about the chrysanthemum. I found a lot of curious information.
It is interesting to know that chrysants appeared in ancient Chinese writings as early as the 15th century BC and were used as an herbal remedy. From China, these flowers made their way over to Japan by Buddhist monks in AD 400. Soon after its introduction, the Japanese were so enamored by this beautiful flower that it was soon adopted as the emperor's crest and official seal.
In the 17th century, the flower was introduced to Europe, where Swedish Carl Linnaeus, the 'father of taxonomy, coined the Western name 'Chrysanthemum', derived from the Greek words 'chrysos' (meaning: gold) and 'anthemon' (meaning: flower).

In the Mood for Chrysanthemums
Many flowers have a meaning. Chrysanthemums generally symbolize longevity, fidelity, joy, and optimism. And I needed that... My spirit was lifted, and I had a wonderful day designing, a day of pleasure, being in the mood for really beautiful color combinations, the perfect shapes of chrysanthemums, the smell of autumn, and deep ancient meaning. A day to recognize the Power of Flowers.