Floral insights by Kwiaty and Miut about their flower farm, the flower industry in Poland, and how their journey in flowers started. Besides an open-hearted moment of the gents in our Being Proud In The Floral World Campaign, learn how color is their decisive aspect, what ecology means to them and how Instagram helped them to get where they are today. Get inspired by Łukasz Marcinkowski and Radosław (Radek) Berent and their ecological flower farm in Poznań.
Ecological Flower Farm in Poznań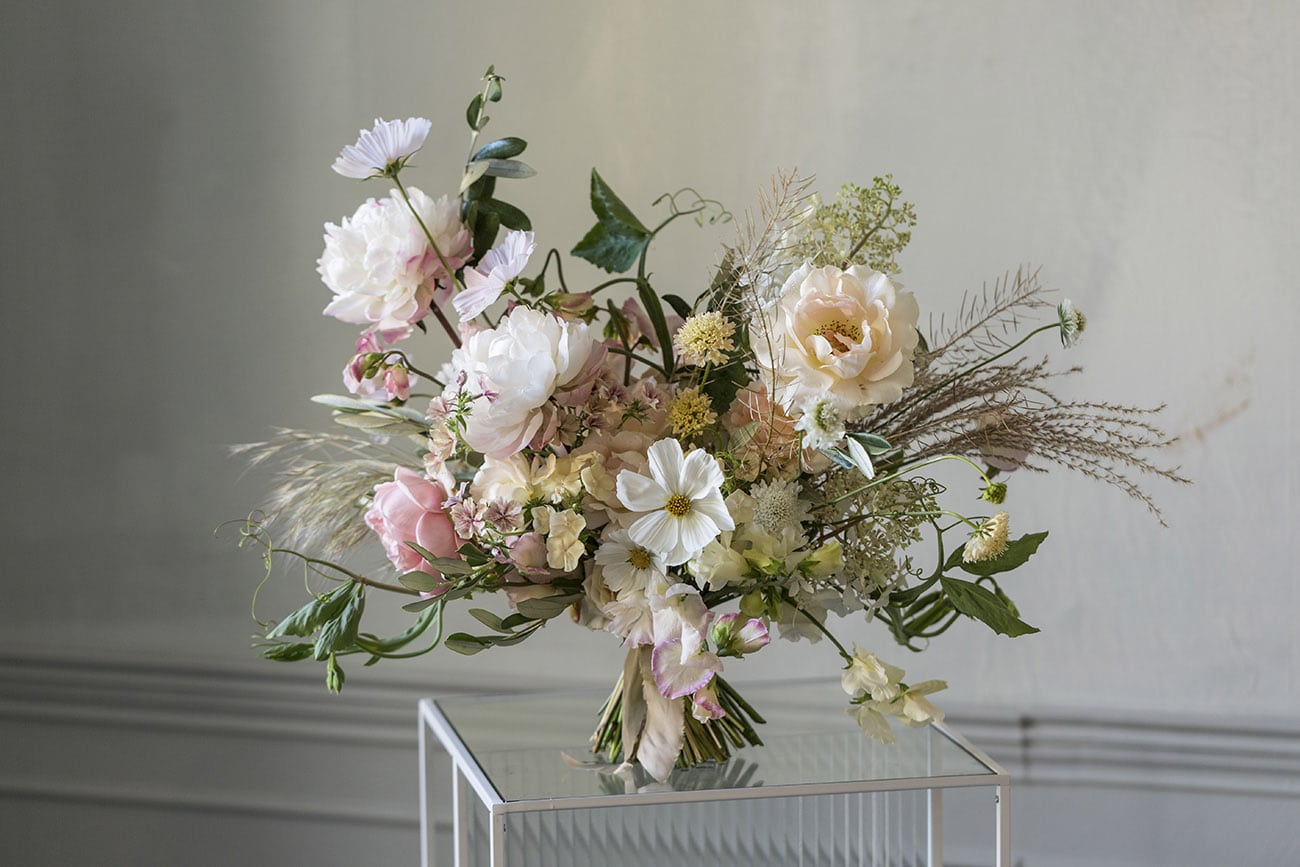 First of all, flowers in Poland were not always entirely public. A few varieties were available, such as the freesia, gerbera, carnation and the rose. Basically the primary flowers. I am talking post-war times. However, earlier, so before the war, we had a fairly large floristic tradition. There was a flower festival in Wroclaw, which was a very large event, a gardening exhibition.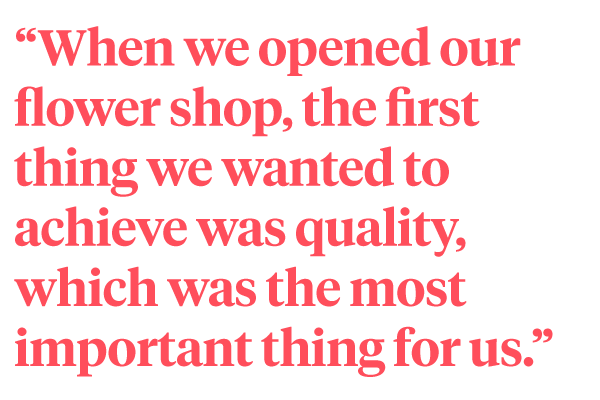 Flowershop of Quality
In general, Poland has always resembled German and Dutch floristry in style. It is all quite constructive and solid. When we opened our flower shop, the first thing we wanted to achieve was quality, which was the most important thing for us. So that we have fresh flowers, which would have a long vase duration. The most important thing for us is that the flowers are beautiful and sustainability is second. The awareness of the Polish people is changing in this aspect and also the general approach to flowers. For example, we see water flowers from Japan, which are stunningly beautiful, but we are also aware of the price. The price corresponds to the quality of the flowers. We just showed that flowers can be natural, that there can be garden flowers. Everything was influenced by other flowers from the Dutch market, which people really wanted. As it is said, demand generates supply, so within 3 years we had wholesalers who had great things.
The Influence of Social Media on Flower Demand
You can say that, in the past six years, the flower market in Poland has changed drastically. I think this is because we are becoming an increasingly wealthy society, but also because of Instagram, Facebook and the internet in general, which causes us to see the flowers from all over the world and just want to have them. But we also see a different aesthetic. When we opened our store many people told us, "gosh, you will never be able to sell that", "it will be a difficult product" and so on. And this turned out not to be the case. Suddenly it turned out that everyone was impressed by our natural bouquets.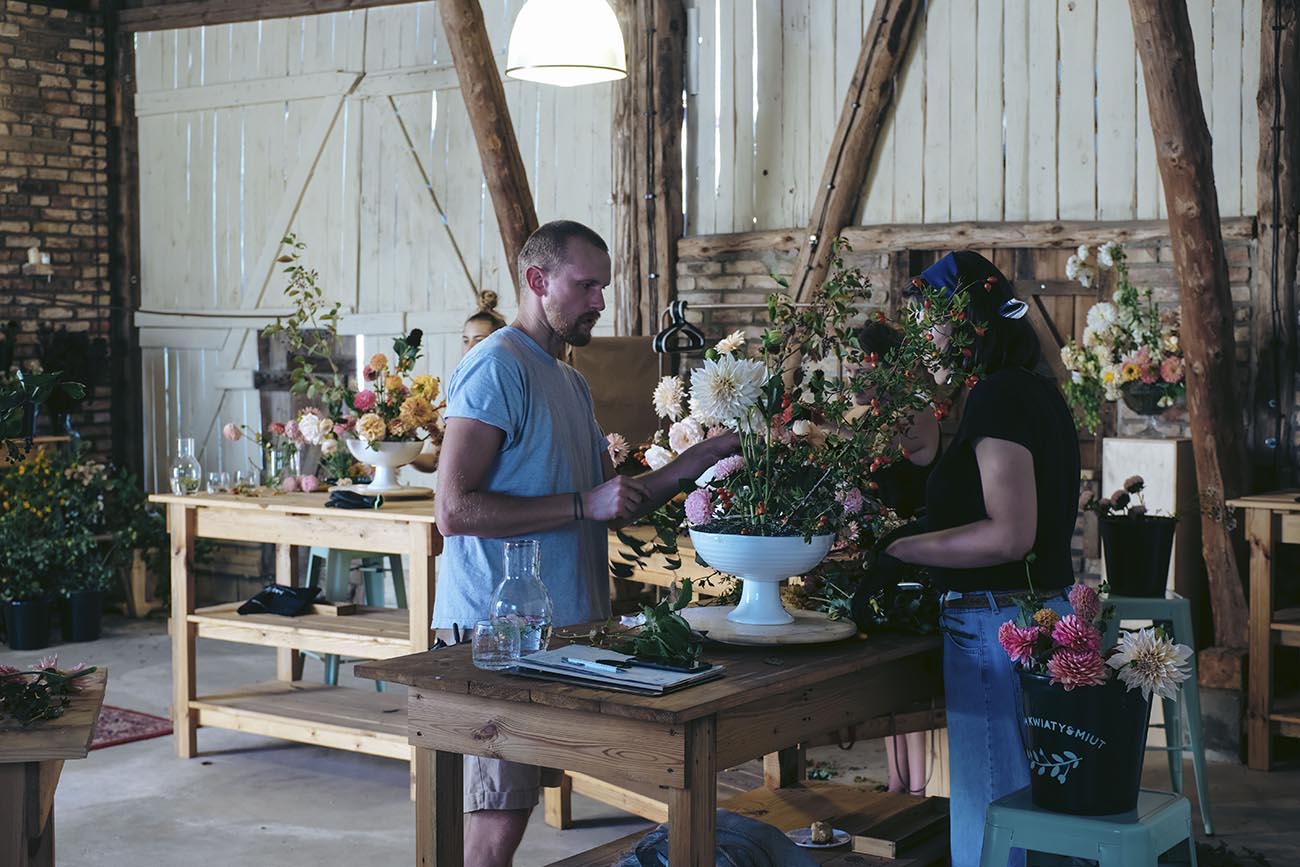 Flowers & Sensitivity
People often associate our flowers with the past, that is, with their grandmother, vacations to the countryside, with an allotment garden. Flowers bring up emotions, I think this is the most important aspect, the driving force. We can just get a flower, leave it in a vase and enjoy it for a few days. In my opinion that is sufficient. But I think that sensitivity is also necessary so that the flowers appeal to us and that we will see more in them. We would like to teach this sensitivity to others so that people stop and experience the beauty of the flowers. When we are in the run-up to spring we are waiting for the flowers that grow on our farm. The winter period calms us down a bit and we have some time to think about things. This time is also to see how the market works, which new products we can introduce. So, for example, other flower shops will be inspired by us and would like to have this product. We also show them that it is possible to walk this path. The path of good quality, thoughtful choices, and awareness.
The Ecological Aspect of the Flower Trade
We have been working with flowers for 6 years. Lukasz has been in this business a little longer, he started working in a flower shop in high school. Our awareness is increasing, we see what we are working on, we see what happens to our planet, moreover, we also think about the ecological aspect of all this and that is precisely why we have started to grow our own flowers. We started our farm, because of ecological considerations, because we wanted the most beautiful flowers. The first time we brought Dahlias from the Netherlands, we were very happy with the flowers, but there was one important thing: that they were transient.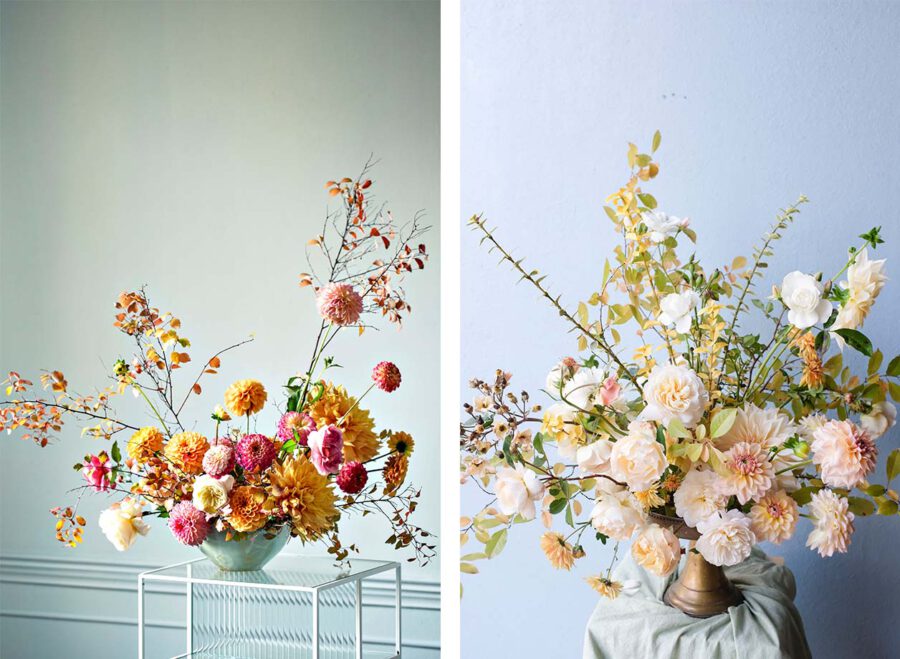 Why we don't Import Flowers
The question then arises why we don't import flowers. This is a very interesting question because we believe that the entire European market is dominated by the Dutch market and what we buy is the result of the demand. So when English roses started to become fashionable, the availability of this flower increases, but the price of these flowers is so high that they are simply unreachable in Poland. I mean, for example, we use garden roses in projects such as weddings or some very important events where customers want to use this flower. But a problem arises when, for example, someone orders a bridal bouquet and they want two garden roses in this bridal bouquet. We then have to buy twelve of these roses, on which we later have the problem of selling the remaining roses. Usually, we brought the flowers back home with us. We also started to find out where the flowers are actually produced, where they come from. Most people think that flowers just come from Europe, while the majority of the flowers are imported from Africa or South America. There are large plantations that breed the flowers. We try to limit that a bit, in the sense of sustainable florists and talk about restoring local markets. We are simply aware that we can breed our own flowers, which are top quality. We can have the varieties we want, which we love. We can simply choose the flowers that we would like to see on our table or receive from our guests. Therefore the idea came of ​​starting our own farm. In the beginning, we were concerned with the quality, later on, we also saw the ecological aspect of all of this.
Local Flower Markets
Now we see that this is simply very important, that the local markets are restored, that it is possible to work with beautiful flowers. They do not have to be imported from abroad, and they are also simply of better quality. When we need a garden rose, we simply walk into the field and cut two roses. We choose from twenty shrubs of the same type and choose the best opening of the flower. I'm kidding that running a flower shop is a bit like running a restaurant, these businesses can be compared. We work on things that are perishable; food is perishable, flowers are perishable and when looking at the trends in the catering industry, there now are restaurants that have their own nursery, have their own suppliers, where vegetables are grown, animals are kept. When we have the right ingredients, the end product is beautiful, so the bouquet or composition is beautiful. We go into the field in early March and put the Dahlias in the ground, wait three months, after which they start to grow and the flowers appear. The energy we give to these flowers, the flowers repay us with just something absolutely beautiful, phenomenal. We held an open day in 2018. Everyone could come to our farm to see our flowers, to see how we grow them. The reaction of the people was great for us. My point is also that we show people how it works. When we import the Cafe Latte rose from the Netherlands, these are used up after 2 days. Sometimes even the first day if these have already been unpacked. Florists who buy from us often call us to tell us that the flowers lasted three, four, five days and looked great.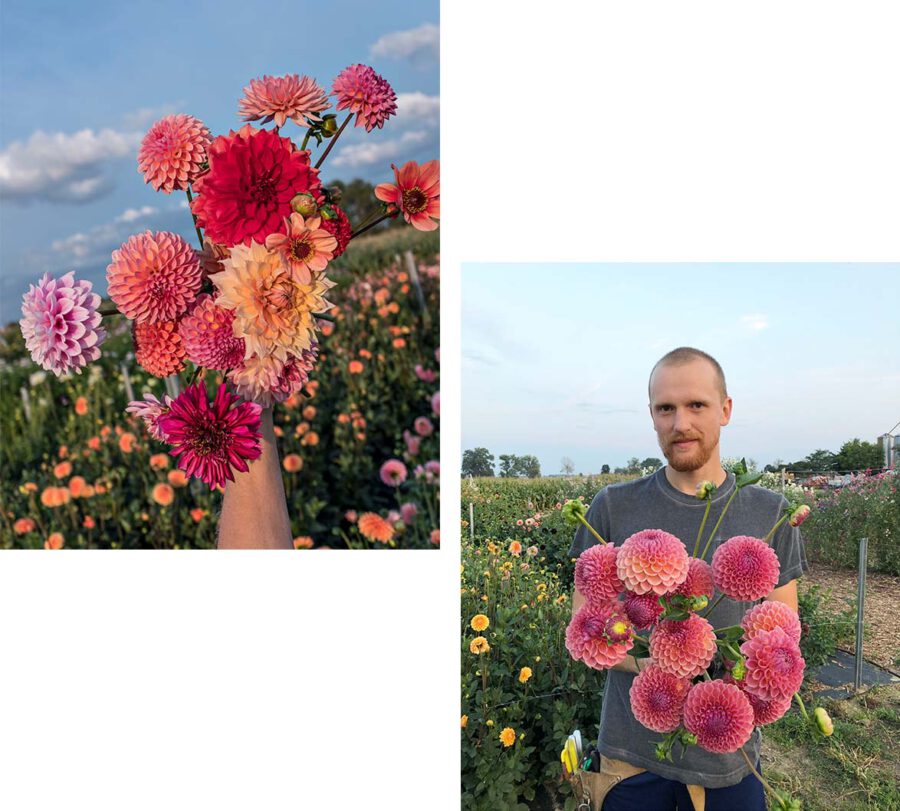 "Real" Flowers
The more "real" the flower is, the more beautiful it is and the more it is its own. This also concerns a type of uniqueness. When you buy a bucket of roses, they all look the same. For example, when we cut Caffe Latte or Spartakus or Red Rock, each Dahlia is colored differently, a different color tone. I think that has the greatest value for us. That the flowers are different and don't look the same, like in a classic flower shop where the Gerberas look like they were cast out of a m All in all, to summarize our whole statement on this subject, we mainly grow flowers,
because we want to have the best quality and grow what we want
. The second aspect, of course very important at this time and especially in the flower industry, ecology. Because many people are not aware of the way the flowers are grown, how much fertilizer and chemistry is used and the whole industry is not very organic. Of course, there will be people who use industrial flowers and they may not think about it at all, but there will also be people who appreciate this and want this kind of organic sustainable flowers.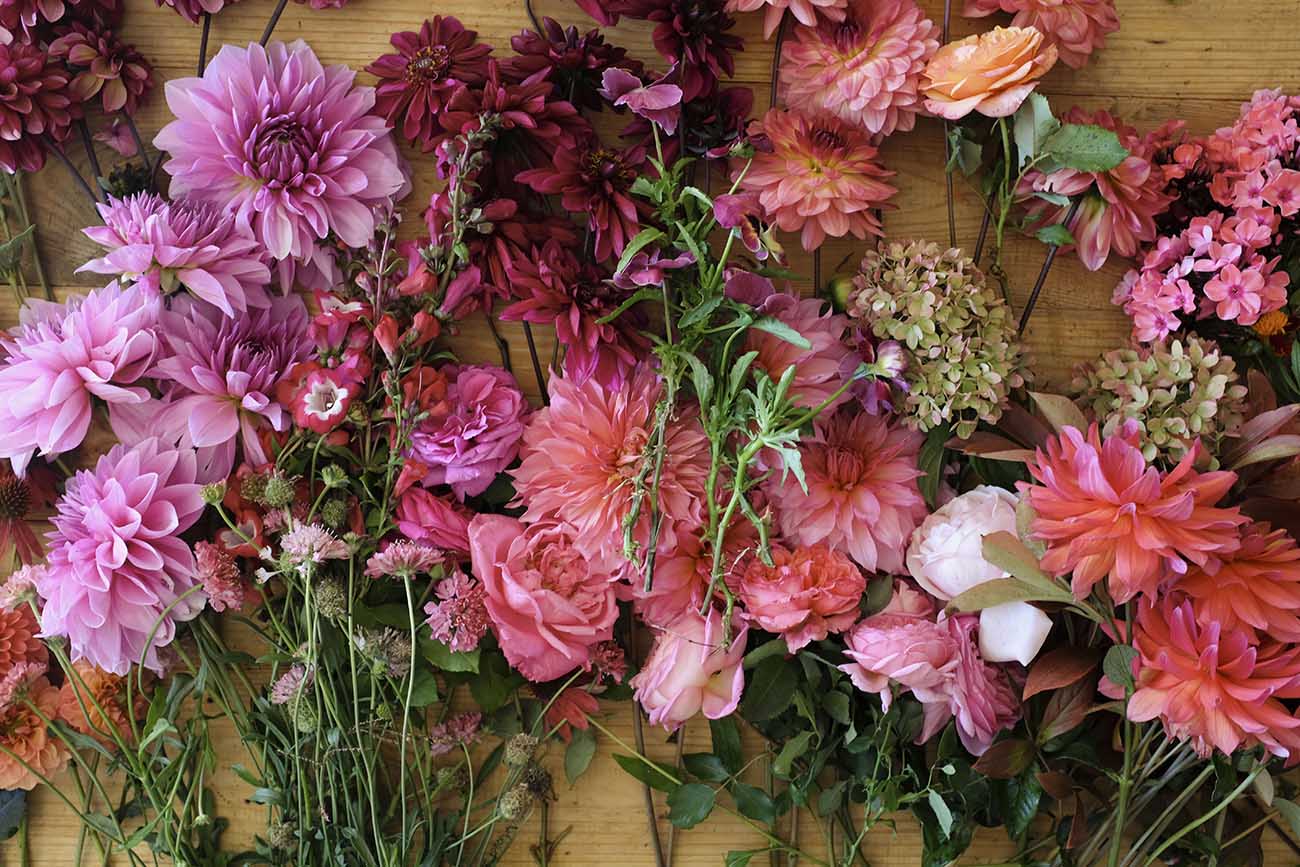 We now see that when we post something on Instagram; "our flowers of today, our dahlias of today", we then receive phone calls from our local flower shop. Our regular customer then says: "Save 15 Caffe Lattes for me". I think we are only at the beginning of this road, the beginning to create demand and make our customers aware. This allows us to show people in Poland that there are other flowers, that the garden flowers are not "lame". As most Poles think: I want to pay a lot of money for the flower that has been imported, but not necessarily for the garden flowers that are grown 30 km from Pozna. Large industrial flower productions are always charged with the ethical aspect. I think every part of this industry is loaded with the ethical and ecological aspects. We don't want to eat industrial meat, we don't want to buy clothes from factories in Bangladesh, we just don't want to do this, we just don't want to add to how this industry functions. Of course, we support ourselves with flowers from the Netherlands, but we ensure that the flowers come from European gardeners. The essence of these flowers, the beauty we have, is simply fantastic. We can just drive outside the city and buy a small bouquet at a small stall near a farm or next to a garden center. Nothing more is needed, everyone loves flowers.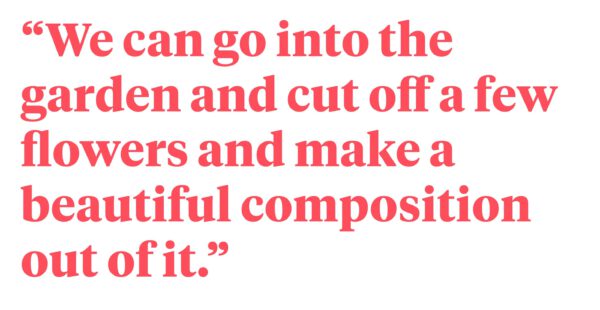 Let's Love Flowers in their Easiest Form
Actually, Constance Spry said the exact same thing: "We don't have to import flowers". We don't have to use greenhouse or imported flowers like orchids, strelitzias, anthuriums. We can go into the garden and cut off a few flowers and make a beautiful composition out of it. I think this is just a phenomenon, something that had given such a thrill to florists around the world that people started to look at many things differently. The gardens that produced flowers were on such a small scale that it went to the large plantations, although all organic nurseries are actually small scale nurseries. What Lukasz said: "When you have beautiful flowers, it is impossible to make an ugly composition with them. Constance Spry said: "Don't exaggerate, just put these flowers together." That's it, I think this idea is so easy that it literally scares people, that a bouquet is something we put together and give to someone and that's it, nothing more is needed. We don't need foil or weird decorations.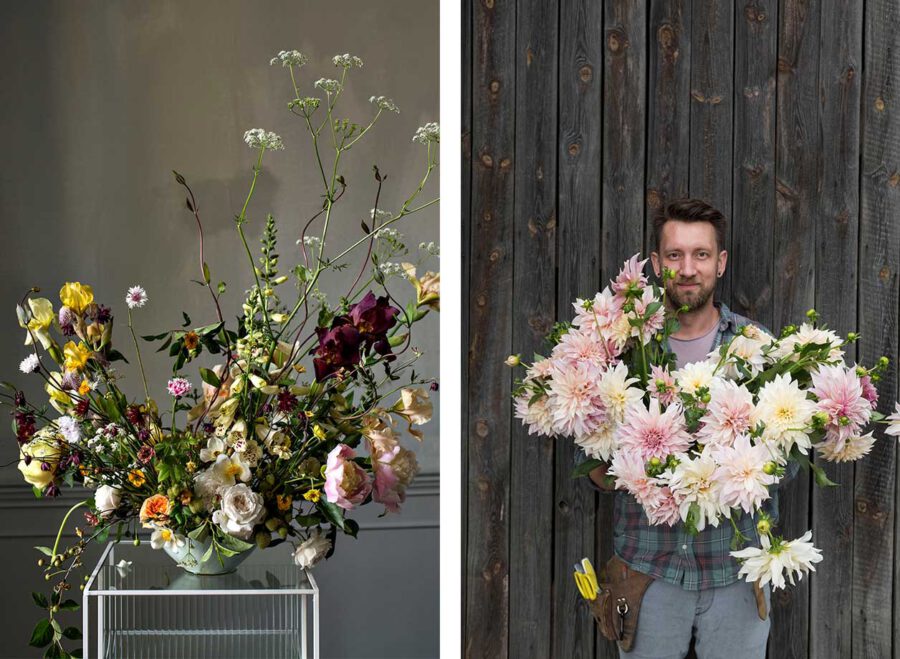 An important thing for me is the place where we make our flower installations or our flower projects. We like to first go there to see what it looks like, what our technical possibilities are, what the lighting looks like, what materials there are, what we can possibly remove. When we enter, Radek always immediately has a vision of what it will look like, in the sense of, Radek thinks very photographically. When we start a project and we already have the concept ready and know which direction we are going in this, we start thinking about what kind of vegetal material we will use, what is available in that season and I think that is very important. Seasonality, the main aspect of which flowers we use when making compositions.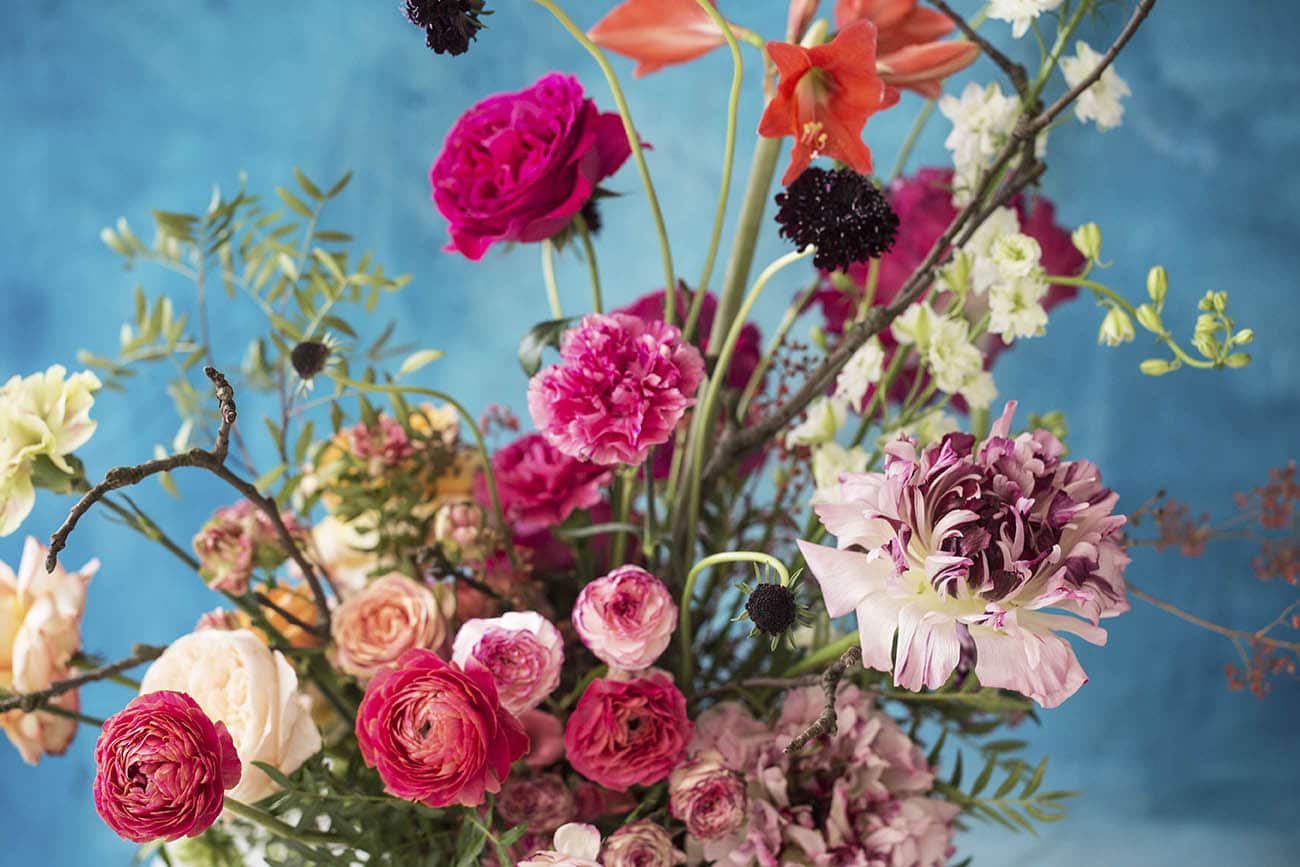 Left-over bouquets
When there are almost no flowers left on the shelf at the end of the day, Lukasz makes the most beautiful bouquets from the leftovers. He then creates something that impresses people so much. Lukasz in general is guided by feeling, it seems as if the flowers are speaking to him which one to choose. However, this is largely because he has completed the Academy of Fine Arts and has all the necessary foundation which is so intuitive but also sophisticated. Education and intuition together give me the creation of such things, but when you have fewer things to choose, the more beautiful things arise.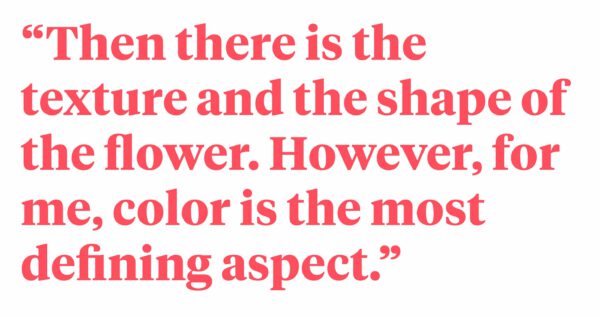 Color Combinations from Nature
What inspires me the most is nature. When it comes to colors, the color combinations that come from nature. Conscious attention and observation of what is around yourself. Inspiration for flowers can come from many sides. From fashion and trends, for example. When it comes to making flower arrangements, the color is the decisive aspect for me. We don't have to have sophisticated flower types, we don't need very rare flowers. It is enough that something is just the right color and that it's natural. Then there is the texture and the shape of the flower. However, for me, color is the most defining aspect. We treat flowers as a color palette. We approach the moment of formation as a canvas as if we were painting using flowers as paint. We can weaken the colors, we can duplicate or multiply these colors to make a bigger shape. We can make something monochrome, something that is based on a large contrast. We can actually do anything, but there is a small aspect: it must be harmonious. If it is not harmonious, then the composition is not right for us. Often we see things that are beautifully made, for example, beautiful plant material, but it is not right coloristically, which ruins the whole effect. Of course, this is a matter of a person's artistic expression.
Don't Limit Yourself
Let's get out of our comfort zone, let's do something different, let's get carried away by emotions, by the texture, by the shape of flowers. For example, I tell Luksz to work with flowers that he normally doesn't like to work with. As Constance said: "Take risks, do it." Confronting ourselves with something we don't like, kicks us out of our rhythm, out of routine. We have to re-evaluate things, and the moment when we look at the flowers as a palette, it's just much easier for us to compose something. In my opinion, looking at a painting, in general, studying paintings, can simply be a great inspiration for what we want to create. We can make compositions with flowers that look just like Dutch paintings, we can create minimalist shapes, we can create graphic shapes. All of this depends on us, we don't limit ourselves, we really get inspired by everything.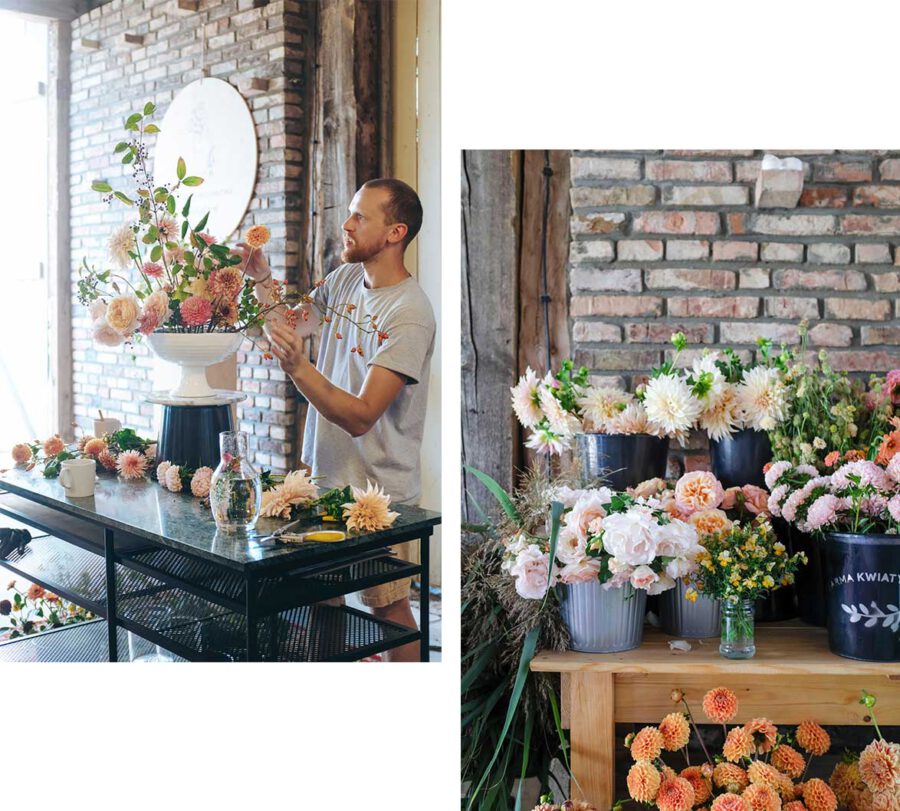 Today we need so much. We must have these frames, we must be able to make a construction, we must be able to work with wire, technology is the most important thing. To be honest, pardon my language, screw all that. Technology is the least important. The main thing is to get carried away by flowers, which is a completely different energy. When we opened the flower shop 6 years ago and started our company, Instagram was not that big in our country. We started posting photos on our Instagram. However, we did not do this for marketing reasons, in the beginning, our Instagram was very private. We posted a lot of photos about where we were, our holidays and the flowers we were arranging. When we opened the flower shop we didn't think about where this would take us, I never thought we would be where we are now.
It's funny how it turned out, it seems as if a star shines somewhere above us all the time. And I never thought in my life that I would be where I am now. And Instagram, I think this is just fun, when you look back in our Instagram feed you can also see what progress we have made. It's not like we set up an account and started posting beautiful things. It is more of a diary, of our emotions, a glimpse into our professional world. Our life, because our work is our life. I believe that Instagram has opened many doors for us. Those doors that opened, have created many unexpected situations, propositions, and possibilities. In addition, we got to know many beautiful people through Instagram. In general, we are open to everything. I believe that we are only at the beginning of something big, which I do not know exactly, this remains to be seen in a few years.